7 new Abu Dhabi experiences you can't miss on a stopover in 2023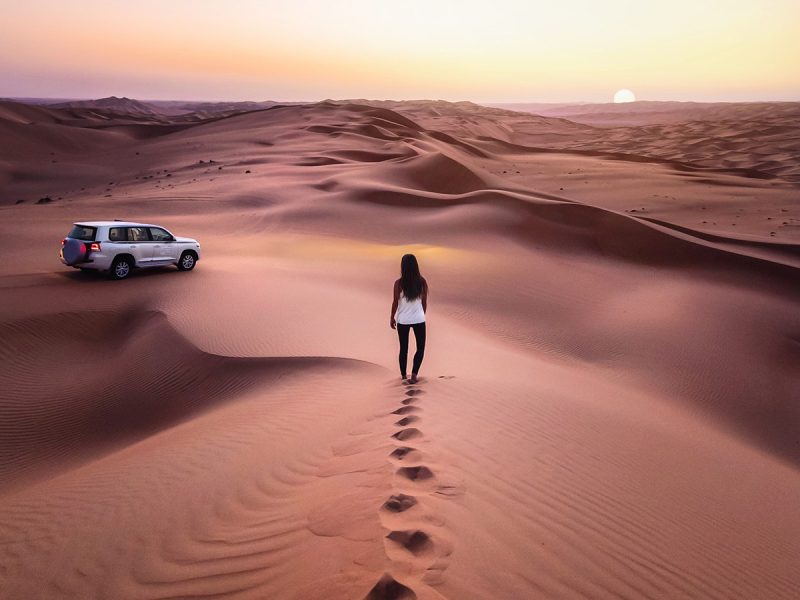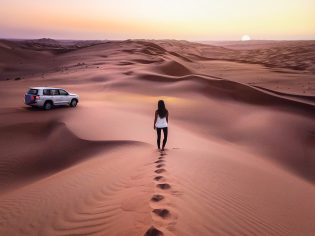 |

THIS ARTICLE WAS CREATED IN PARTNERSHIP WITH DCT Abu Dhabi

|
Chances are, you've been to Abu Dhabi. As one of the most popular layover destinations for long-haul flights, you might even know Abu Dhabi International Airport like the back of your hand. But have you ever thought to set foot outside of it?
It's easy to see cities like the sprawling metropolis of Abu Dhabi as too overwhelming to explore. Oh, but how wrong that assumption is.
Yes, you'll find busy streets with Michelin-star restaurants and towering skyscrapers, but you'll also find clear blue waters that are always warm enough for a dip, the most luxurious and innovative resorts to immerse yourself in, natural wonders to experience and sprawling malls filled with every brand you could want; from high street to luxe list.
This is how to really do Abu Dhabi in 2023.
Go swimming at Saadiyat Island
Hop in a taxi and, in under 30 minutes, you'll reach Saadiyat Island – but you'll think you've been transported to the Maldives.
The water here is so blue it shimmers, and in tandem with Abu Dhabi's desert climate (hot, dry days with bucketloads of sunshine), it's the perfect place to rest and recoup after a long flight.
Book into one of the luxury resorts that line the sand; the St. Regis and Park Hyatt are always sure bets, and well worth the high-end price tag. Don't forget to hop between beach clubs if you're looking for the beachside cocktail experience with a chill-out soundtrack.
Hop between Abu Dhabi's best islands
Beyond Saadiyat you'll find plenty of smaller islands with stunning resorts that will have your eyes watering.
Pura Eco Retreat is an adults-only immersive experience in Jubail Island's incredible mangrove park. Stay in a chic eco-dome or glamping tent – both feature on-demand room service, king-sized beds, and fire pits for relaxing by all evening.
Further out you'll find Nurai Island, a boutique private island resort dotted with beach villas that cater to everyone – from couples looking for some private serenity to groups who can book six-bedroom beach estates. Expect private beaches, fine dining and incredible views of the Arabian Gulf.
Closer to the city, sleep in a stylish Airstream, luxury tent, renovated wagon or van at the eclectic Bab Al Nojoum, deep in the natural wonder of Hudayriyat Island. The resort has a focus on sustainability and chooses zero-waste, zero-carbon and plastic-free wherever possible.
See world-class art at Louvre Abu Dhabi
Yes, the Louvre has made it to Abu Dhabi. Staying true to the Louvre's artistic roots, the building was designed by French architect Jean Nouvel. The first element you'll notice is the expansive dome, designed to filter sunlight through its winding metal structure and cast the colours of the sunset across the platform below.
Art and architecture from throughout the ages are what you'll find inside, with many incredible artefacts from the Middle East and surrounds. Additionally, The Parisian Louvre has loaned art and sculpture pieces by everyone from Gauguin to Monet.
Zoom around Ferrari World Abu Dhabi
Got the kids in tow? Whether you're looking for entertainment for them or you're a big kid at heart, Ferrari World Abu Dhabi is where to head.
There are 40 rides to choose from under the giant dome (the park is indoors, keeping things temperate in the desert heat) including the world's fastest roller coaster, the Formula Rossa, which reaches 240 km/h in 4.9 seconds.
The more kid-friendly Speedway Race is also available to let little ones zoom around a track safely.
Visit some of the UAE's oldest mosques in Al Ain
Head out into the desert to experience the historic city of Al Ain. Some of the best souk markets can be found here, plus plenty of greenery; Al Ain is renowned for its oasis landscape.
One of the oldest mosques in the country, the Sheikh Khalifa Mosque is worth seeing, as is Al Jahli Fort; a magnificent structure originally designed in 1891 to protect palm farmers in the area.
Marvel at the Sheikh Zayed Grand Mosque
No expense was spared in creating the stunning, imposing Sheikh Zayed Grand Mosque. It features 82 white marble domes and several giant chandeliers, each with 24-carat Swarovski crystals.
You can tour the mosque and enter many of the worship spaces to marvel at the incredible handiwork that has gone into its design, like the 5,400 square metre carpet made by 1,200 artisans that is classified as the largest carpet in the world.
Visit at sunset for incredible colours that illuminate its exterior – just remember to check the website for the mosque's dress code, as you will not be allowed in if you don't adhere to it.
If you can, time your trip for the Sheikh Zayed Festival. Held annually from November until March, it's perfect for family fun. Expect light shows, fireworks, and plenty of exhibitions and activities across the city.
Discover the Abu Dhabi desert by dune bashing
Booking one of the many dune-bashing tours in Abu Dhabi is well worth your time. Yes, they are very structured for tourists – most feature the same line-up of dune bashing, sand boarding, camel rides and a buffet dinner – but the Abu Dhabi desert is spectacular.
The immersion you get from being taken to its centre, allowing you to enjoy all its facets, is worth it even for the most seasoned traveller.
A trip with all the inclusions will only take up one afternoon and evening, from flying over the dunes in a 4WD with skilled drivers to dining under its starlit night sky, so it's a great choice if you're tight on time.
LEAVE YOUR COMMENT