Unravelling history in Nuremberg: A city of trials and tribulations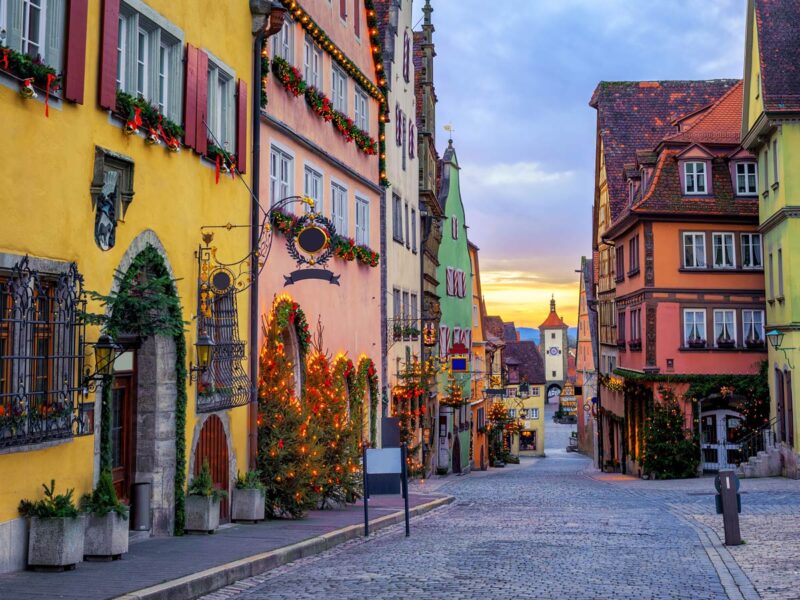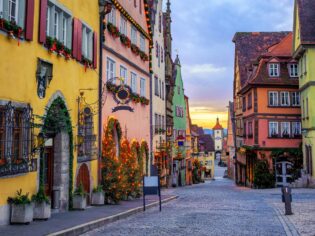 From medieval emperors to untouchable hangmen, there is more to the history of Nuremberg than meets the eye.
As I look out rounded Butzenscheibe-glazed windows, the sirens go off in Nuremberg. I quickly turn to my sister, who has joined me on a tour of the 600-year-old house of Renaissance artist Albrecht Dürer, who once lived in the German town. Her eyes are wide as both of our smartphones begin shrieking, adding to the din.
"Don't worry," I say, quickly. "It's just Warntag – warning day. Germany tests the alarm system in case of emergency."
It is purely chance that Warntag happens when we are here. Like several other European countries and cities, these warning system tests are normal and used to acclimatise the population to what it would be like to be in a real-life emergency.
But I can't help but relate it back to the history of Nürnberg (known as Nuremberg to English speakers). Once famous for having some of the best preserved medieval architecture in all of Europe, it had most of its Old Town destroyed in allied bombings in the final days of the Second World War.
Would the locals have heard sirens like this before the bombs began to drop? Undoubtedly, this city in Upper Franconia has had an incredible history – here is how to discover it.
Medieval history in Nuremberg: A city of a thousand years
According to tour guide Sergey Povolotskiy, the origins of Nuremberg can be traced back to an 11th-century love story.
"The first official documents [recording the town] are called the Sigena documents," he explains as we stand at the bottom of a sandstone hill, in the shadow of the fortified Nuremberg Castle. "Sigena was the name of a serf woman, who Holy Roman Emperor Henry III liberated to enable her to marry a noble."
"It is here for the first time this area is mentioned as Nürnberg – the German word 'berg' means hill, and the old German word 'nor' could be translated as rock or rocky."
You can enter the castle today for €7 ($11.50) (or purchase a Nuremberg Card for €33 ($54.30) to get in here as well as a bunch of other Middle Ages and modern historical sites), and see for yourself where the travelling emperors of the Holy Roman Empire would stay when they visited Nuremberg.
In fact, it was here that 400 years later, the precious stone-studded crown of the empire was kept safe – until it was taken to Vienna to avoid looting by a certain Napoleon Bonaparte.
Is Nuremberg Castle original?
While parts of the castle date back hundreds of years, plenty of it had to undergo major reconstruction after the war. This is because Nuremberg faced enormous damage after the bombing raids of the war, with 90 per cent of its Old Town destroyed in just one hour of one air raid.
Since 1947, the locals worked carefully to reconstruct and repair the medieval elements of the town.
What else is there to see in old Nuremberg?
The home of Albrecht Dürer
There is a mix of original and updated architecture, leaving plenty to see and discover about how life in the Nuremberg Old Town operated. One of the most celebrated attractions has to be the home of Albrecht Dürer, across from Nuremberg Castle.
Luckily, the home received limited damage from shockwaves. It is something I (and the many others who have entered to peer at the living quarters, reconstructed workshop and strikingly odd prints from this German master artist) am very grateful for. While the home gives magnificent insight into one of the great German artists, with replicas of his paintings, the house set-up also helps to imagine what life in Middle Ages Germany might have been like at this time.
Tanners' Lane
A quick walk from here takes you past the ancient city walls of the town (another highlight of historical Nuremberg) and to the town's most impressive, preserved area: the Weißgerbergasse (Tanners' Lane). Named for the tanners who once worked here, the notoriously smelly trade has since given way to a sparkling street of half-timbered houses. It's stunning enough to have you dropping your bags and grabbing your cameras for a quick photoshoot.
Max Bridge
Next, walk towards the River Pegnitz and the town's oldest stone bridge, Maxbrücke (Max Bridge). To get there, you will need to pass the Weinstadel: Germany's largest half-timbered building. Gorgeous aesthetically, it also has a colourful history as a home to lepers during Holy Week, a spinning house, a wine warehouse, and (today) a student dormitory.
Hangman's Bridge
Fans of macabre history can then look upon – or drop by for €3 ($4.95) – the Henkersteg (Hangman's Bridge).
"The hangman lived inside," explains Sergey, as we look at the 16th-century water home. "He was an untouchable person. That's why he had to live in segregated accommodation – a person who touched him could be excommunicated."
Hauptmarkt square
There is plenty to do to end your explorations of the Nuremberg Old Town. There is Hauptmarkt square, home to the Christkindlmarkt at Advent.
Don't miss its 14th-century Schöner Brunnen or beautiful fountain, with its magic ring that must be turned three times clockwise by hand to get your wish granted.
See the churches of Lorenzkirche, Sebalduskirche and Frauenkirche, with its procession of mechanical clock figures at midday.
World War II and Nuremberg
Despite a long, storied history long before the twentieth century, outside of Germany the city is still remembered as the site of key events during, before and after the Second World War. In fact, it was this that played a major role in the destruction of much of it.
From the infamous Nuremberg Racial Laws that allowed the National Socialist German Workers' Party (Nazi Party) to discriminate more fully against Jewish, Roma, Sinti and black people, to being the host of the Nuremberg Nazi Party Rallies (something you may have seen in Leni Riefenstahl's propaganda films) and, finally, the site of the post-war Nuremberg Trials, it all makes up a past that is still grappled with here.
Documentation Centre
One place to start to understand this recent past is at the Documentation Centre. Here, at the Interim Exhibition (while the wider centre is being remodelled) you can learn about the Nazi's rise to power, resistance and support in Nuremberg, propaganda and the contemporary struggle afterwards to adequately memorialise and remember the horrific events of the Second World War.
Afterwards, walk the 15 minutes around the Grosser Dutzendteich lake to arrive at the Zeppelin Grounds, also known as the Rally Grounds. After having watched at the Dokumentation Centre the footage and listening to the testimonies of those who were horrified – or enthralled – by the marches, it was an exceedingly odd feeling to walk up the stone steps, dirty, graffitied and covered in weeds and look down on the grounds.
Historic art bunker
For a tour that is a deep dive into what the town was like during the war, drop by the Kunstbunker or art bunker, up by the castle for €9.50 ($15.65) or 50 per cent off for holders of the Nuremberg card.
It was at this fortified site where the Nazis hid precious works of art, taken from across the 'third Reich'. Rather tellingly, it was completed years before any bunkers for the town residents were.
We are standing in the old brewery cellars, 25 metres under solid sandstone, as Alan Cairnduff, guide and Nuremberg resident for 20 years explains just how much destruction the town underwent during the bombings. As a major industrial hub and a symbol of the 'city of rallies', the city was one of the most damaged in the country. In fact, so much was dropped here, that townspeople still find bombs.
"You still hear on the radio about construction sites, road delays because of unexploded bombs," he explains. "Can you imagine what it was like in the fifties?"
Where to eat in Nuremberg?
If you, like me, eat meat, the delights of eating in Bavaria are endless. Think dishes of crispy pork Schäufele, Nuremberg Bratwürste sausages served with horseradish and sauerkraut and liver dumpling soup known as Leberknödelsuppe.
But travelling with my vegetarian sister, or even craving something a little light amongst the dumplings and pork, can make things a little trickier. Yet once you find the right places, the whole experience of eating in Nuremberg is even better.
For snacks, we devoured oozing raclette and jam slathered on bread at the Herbstmarket (the autumn market – there are seasonal and weekly markets throughout the year) and snaffled a fresh salty pretzel from various Brezen Kolb stands, smeared with the Bavarian speciality of obazd'n spiced cheese spread and fresh cucumber.
Things really kicked up a notch at Die Wirtschaft, a gourmet restaurant whose owners go beyond the classic dumplings and pork with Franconian-style tapas. Think pulled pork croquettes with herbed garlic sauce, little dishes of pickled vegetables – sourced from the delightful-sounding Knoblauchsland or 'Garlic Land' outside of town – flavoured with herb and walnut pesto, and a delicate special of pea soup.
Opening just last year, the fairy light-speckled garden of Bodhi Vegan is only a ten-minute walk from the castle. The menu here very much leans into 'Franconian – but make it vegan'. A rich mushroom ragout with Semmelknödel or bread dumplings, Schlutzkrapfen truffled ravioli and soy schnitzel are offered, as well as more 'mainstream' vegan dishes like cauliflower wings and veggie burgers.
When is the best time to visit Nuremberg?
Nuremberg is very much an all-year-round destination, so the best time to avoid it might be the peak summer season. However, if you're a fan of German Christmas markets, one of the best is held here during winter, meaning you can get your Yuletide and history fix all at once.
The writer was supported by Tourismus Nürnberg.
The currency exchange rate was accurate at the time of publishing.
LEAVE YOUR COMMENT