8 amazing street foods not to miss in Mexico City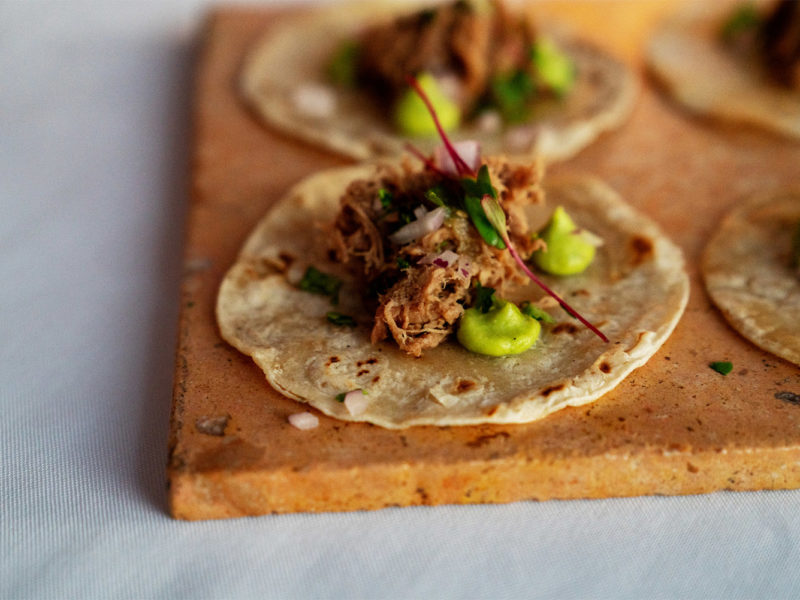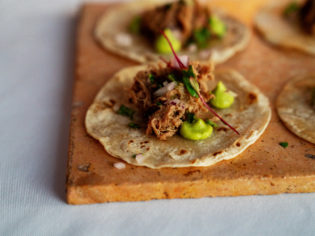 If you're someone who likes to try as many different foods abroad as possible without filling up on one taste, Mexico is the place for you.
The sprawling, historical capital of Mexico City has a veritable smorgasbord of street food snacks or antojitos to sample. These snacks are a fabulous way to try many dishes for very little cost or effort.
Antojitos translates to 'little cravings or whims', and you'll find carts selling tasty morsels to satisfy these cravings at every landmark, parque, plaza, station or busy intersection throughout the city.
The best rule of thumb with any street food vendor is to look for one that the locals are buying from: a place that has a high turnover and is trusted by locals will almost always be a safe place to eat. Morning and evening are the best times to head out for antojitos as lunch is usually the largest meal of the day for locals.
If you're looking to fill your face with as many flavours as possible in a short period of time head to the Mercado De La Merced situated just off the historic centre of Mexico City. It is the largest food market in Mexico City and is open every single day from 6 am to 7 pm. There will be crowds, no matter what day you arrive, which is all part of the fun.
If you have limited Spanish and want to find the most popular and tourist-friendly carts, you could participate in one of the many food market walking tours found online. Or follow your nose and your gut to explore and take in the sights and sometimes overpowering smells of the markets. You definitely won't go hungry.
These are some of our favourite Mexican snacks to try in Mexico City.
1. Tortas
A torta is a kind of sandwich in Mexico. The fluffiest of buns is smeared with butter and stuffed with a plethora of fillings: refried beans, cheese, hot peppers and chilli are stacked high with meats, the most common being fried pork carnitas. The torta is then drowned media ahogada (half or partially drowned) or bien ahogada (well drowned) in spicy salsa and served cold, hot, or grilled/toasted in a press.
Think 'taco' in terms of taste (due to the similar fillings), but imagine a taco and a sandwich having an incredible affair, the torta being the result. However, where a taco is often a snack, the torta is more of a meal.
Hot tip: This dish of fluffy, toasted drowned buns and spicy meats definitely isn't recommended for a first date, unless you plan to impress with a mess.
2. Tacos Al Pastor
The humble taco will hardly be a stranger to most palettes. The delicious folded corn tortillas (rarely, if ever made with wheat) and packed with a variety of fillings are the most common Mexican food found abroad with 'Taco Tuesday' being a regular night out for bargain tacos and cervezas (beer) in cities worldwide.
The most famous variety in Mexico City is tacos al Pastor. Based on the lamb shawarma kebab brought by Lebanese immigrants to the country, Al Pastor combines traditional Middle Eastern spices with indigenous Mexican flavours and grills them to perfection on a vertical spit.
Look for a very impressive looking vertical spit slowly rotating the meat, ubiquitous on many street-corner taquerias all over the city. The pork is often served sliced straight onto a tortilla and topped with fresh pineapple.
Hot tip: Don't stop at tacos al Pastor, try all the other amazing cuts of meat like a tongue (lengua) or flank steak (falda).
3. Elotes
Fresh corn cobs served from street food carts near subways, bars, parks and tourist spots are impossible to miss and the roaming vendors singing 'Elotes, elotes, elotes' on public transport form part of the city's soundtrack. These huge cobs of corn are visually stunning and far larger than the sweet corn you may be used to.
In fact, Mexican elotes aren't naturally sweet at all and have a chewier, more fibrous texture.
They are almost always cooked above a charcoal grill, where you can order them either on the cob and covered with queso cheese and chilli, or as elotes y esquites (little corn cups). The kernels are shaved from the cob, boiled in chicken broth and then ladled into a plastic cup to eat with a spoon. This version is reminiscent of the best cup 'o' soup you've ever and is far easier than munching a giant cob covered in red chilli. Especially if you don't have a bib handy.
Hot tip: You get to choose your corn for serving, so go for a smaller cob if you want it to be less fibrous and chewy.
4. Chicharrones
Everything tastes better fried. Chicharron is no exception: this incredibly addictive artery-clogging snack of seasoned and fried sheets of pork fat is quite possibly tastier than bacon.
Chicharron is widely available in convenient snack-sized bags from most supermarkets and corner stores and is a popular beverage snack in bars. There are a few companies in Mexico that have created delicious yet commercialised vegetarian versions made of puffed cornmeal batter, but the most authentic way to taste the glory of a pork chicharron is direct from a market vendor.
It's impossible to miss the veritable wall of crackling stacked up to two metres high.
Hot tip: If you ask nicely you may get to sample the stock for free. Which will definitely taste better than bacon.
5. Flautas
Flautas (or flutes) are stuffed and fried tortillas that are an essential pre-dinner snack in Mexico.
Often confused with a taquito, which is strikingly similar, a flauta is generally made with a large corn tortilla as opposed to a small flour one that the taquito is usually constructed from. When outside of Mexico this rule is often "flauted" with the wheat and corn tortilla being interchangeable. It would be rare to find a wheat tortilla in Mexico, which coincidentally makes the country a coeliac haven.
As with the chicharrones, everything is better fried. The flauta is stuffed with a seasoned protein such as chicken, beef or pork, rolled into a cylinder and deep-fried until crispy.
Hot tip: Order the flautas topped with lettuce, avocado and queso. A more filling dish that is best shared over a beer.
6. Tostadas
There is a theme to many Mexican snacks that they either fall into the fried variety, or the corn tortilla variety, or both. A tostada is a fried or toasted flat corn tortilla, not unlike a taco, in that it is served with similar toppings such as beans, queso, salads, meat and salsas.
However, rather than having to fold around the toppings, the flat tostada is piled quite high and precariously with them. This is not a neat food to eat. In fact, your first tostada experience may very well end up with most of the ingredients down your front.
Hot tip: Look for the carts selling raw fish ceviche tostadas, the fish will be lightly cured in citrus juices, served with pickled onions and fragrant herbs such as coriander and mint. The flavour is so fresh and divine it will be a feat of willpower to stop at just one. Also, avoid wearing a white T-shirt at all costs, especially if you're a fan of salsa!
7. Tepache
This fermented beverage made of pineapple rind is available quite widely from markets, corner stores and food carts and looks like an iced tea. That's where the similarities end. Other than that they are both served cold.
With a flavour reminiscent of a sweet pineapple flavoured kombucha and the slight smell of a musty foot, it takes a few sips to get used to the drink. You're likely to either love or hate your first tepache. If you do like it, take comfort knowing that it's full of great gut-friendly probiotics and good bacteria that aid digestion and hydration on a hot day.
Hot tip: Don't drink your tepache if it smells like ham or meat; that's a tepache gone bad!
8. Tamales
A tamale could be a little hot pocket of surprise for anyone who doesn't speak Spanish. Since they come in savoury and sweet versions, it's worth brushing up on the lingo to get what you want.
Tamales are made from masa (the corn dough used for making corn tortillas) and are filled with a variety of meats, cheese or veggies then wrapped in a corn husk or a banana leaf and steamed in a large pot. To find these tasty parcels, look for a woman (or two) with large, covered steel pots outside of supermarkets, nearby stations and on popular street corners and chances are you've found a local tamale seller.
Hot tip: Don't stress if your tamale is red when you unwrap it, it could have been boiled in delicious chilli and seasonings. Use the banana leaf wrapping as your plate for a super tasty snack on the go.
LEAVE YOUR COMMENT