8 essential things to experience in Oaxaca City, Mexico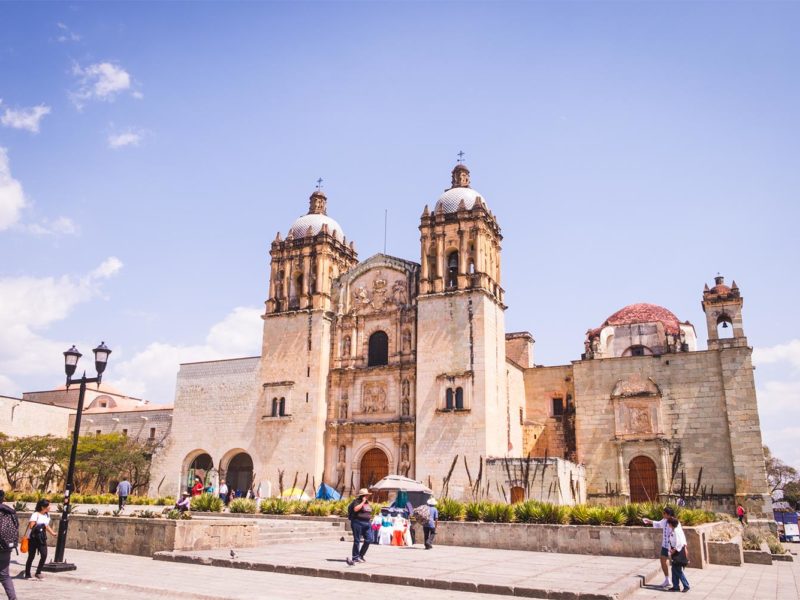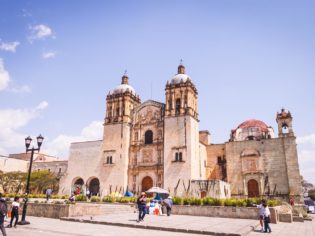 Mexico's Oaxaca state is renowned for its coastal beauty and incredible beaches, but the charming centre of Oaxaca City deserves its own spotlight as an essential travel destination.
The city is filled with iconic, culturally rich buildings, with brightly-coloured concrete facades lining gorgeous cobblestone streets. In fact, the historic centre of Oaxaca City and the nearby archaeological site of Monte Albán are both UNESCO heritage listed for preservation.
Learning how to pronounce the name of the city should be number one on any traveller's list. Not a tongue twister but something overheard in many and varied pronunciations on any flight there.
"WA-HA-KA": say that about 10 times and you'll be good to go!
While it's not essential, scrubbing up on your Spanish can make travel in Oaxaca and many other parts of Mexico a little easier. Knowing how to ask where the toilet is could be as important as ordering another round of chapuline topped tlayudas.
1. Eat everything
Oaxaca is renowned as the foodie capital of Mexico, in particular for its indigenous and traditional cuisine. UNESCO added such food to its Intangible Cultural Heritage List in 2010, underlining the importance of preserving traditional Mexican cuisine as found in Oaxaca City.
A quintessential Oaxacan dish is their mole. A rich sauce served over a variety of meats, made from up to a staggering 40 ingredients. Oaxaca state boasts an impressive list of seven mole variations, each as delicious as the last. They are Rojo, Coloradito, Amarillo, Verde, Negro, Chichilo, and Manchamantel.
It would be easy to get wrapped up (or smothered in) trying just moles, but it's worth sampling as many traditional dishes and ingredients as possible, such as:
–Chapulines: fried chilli grasshoppers
–Tamales Oaxaqueños: large, hot-steamed tamales available from street vendors
–Tetelas: grilled triangle-shaped corn masa treats, stuffed with black beans
–Tlayudas: large, thin, crunchy, partially fried tortilla covered with toppings
–Huitlacoche: corn-smut, a fungus that grows on corn (and is delicious!)
–Quesillo: white, semi-hard Oaxacan cheese
2. People watch at the Zócalo
The Zócalo refers to the main plaza in any Mexican town. Heading straight to the Zócalo in Oaxaca City centre is a great place to start your exploration of the city.
Morning or night, it doesn't really matter what time you arrive, the Zócalo will be bustling with markets and al fresco dining from AM to PM. The cool shade of the square is a relief from the heat and the area is made available only to foot traffic. The Zócalo is the ultimate place to soak up the local atmosphere and appreciate buskers and artists trying, sometimes quite persistently, to sell you their wares.
3. Stroll the streets
Wandering on foot is a great way to take in the city's beauty. With its leafy public parks filled with markets and street food vendors hawking delicious snacks, its colourful buildings lining charming cobblestone streets, there's a new alley to discover on every turn. A bonus being that the city is formed in a grid, so you're unlikely to get too lost!
Whether you take one of the many walking tours or meander in a self-guided fashion you'll find yourself gazing in awe at the array of famous street art and you're likely to come across the Santo Domingo Guzman Cathedral more than once as it dominates much of the city centre.
Calle Macedonio Alcalá is the main pedestrian-only street running through the centre of the city from the Zócalo north to the cathedral and is worth strolling down at night for its rather romantic, fairy-light ambience.
4. Explore the markets
Like any big city or town in Mexico, it's worth visiting the local market for the hustle, bustle and the bargains. Oaxaca City markets are particularly essential to those wanting to grab some locally-grown coffee or purchase some authentic indigenous art to take home.
For clothing, head to the Mercado de Teotitlán del Valle. You'll need to be an early bird to catch the bargains as this market occurs from 8 am to 11 am every Monday morning. You'll find an abundance of brightly-coloured traditionally woven clothing and the locals are particularly friendly and welcoming.
Want to sample some amazing street food consisting of a lot of meat? The Mercado 20 de Noviembre is like no other. The El Pasillo de las Carnes Asadas aisle is quite literally a large hall dedicated to grilled meats. Select a raw piece and have it grilled to perfection right in front of you. Don't let the name fool you, it's not just on the 20th November – it's on every day from 7 am-9 pm.
Not feeling the meat? The Mercado Benito Juárez is one block to the north and has amazing displays of fruit and vegetables and is also a stellar spot to get your mole fix.
You'll find the Mueso de las Culturas de Oaxaca situated next to the iconic Santo Domingo Guzman Cathedral.
Even if you're not a big art or history buff the breathtaking monastery building, with its long and airy cloisters surrounding a large stone antechamber are worth experiencing. The museum displays take you on a chronological journey from local pre-Hispanic Zapotec and Mixtec through to the colonial and modern times.
Sitting and enjoying the views of the courtyards and gardens from the large open stone windows is a wonderful relief from the heat and a great vantage point to view the beautiful city.
The museum is open from 10 am to 6:15 pm from Tuesday to Sunday.
Viewing the lush gardens from above is easy from the huge windows that frame the Museo de las Culturas building. However, strolling around the gardens is not so easy, as there is limited access to the public.
Sitting across 2.32 acres of the former monastic grounds of the temple of Santo Domingo, you can only enter the grounds on a guided visit, or view from the building above or through the portals surrounding its vast area.
With all of the flora in the garden being native to Oaxaca, the most biodiverse region in Mexico, there are some rare and fragile specimens inside being protected. However, the restrictions to the public are fairly recent due to vandalism, not theft. So now it is truly a quiet oasis in the middle of the city.
English tours are available for a fee from 11 am exclusively and are only held on Tuesdays, Thursdays and Saturdays.
The UNESCO World Heritage Site Monte Albán was founded by the Zapotecs in 500BC. Meaning 'White Mountain,' it is one of the earliest cities of Mesoamerica and is conveniently located close to the city of Oaxaca. It features spectacular 360-degree views of the Oaxaca Valley from its mountaintop location.
Whilst guided tours to the area are available, it's very easy to jump in a taxi to go there without a guide for about 100 pesos. Despite its cultural importance, the pyramids are still accessible by climbing, which offers incredible views of the ruins and the valley below.
Expect the ruins to be fairly crowded on any given day but due to the sprawling nature of the site, it's fairly easy to find a quiet spot to sit and take it all in.
Open daily from 8 am to 5 pm.
8. Try authentic mezcal
Oaxaca's traditional tipple is mezcal. Before anyone tells you that mezcal is a type of tequila (and they will), it's actually the other way around. And you definitely don't need to be a fan of tequila to enjoy a mezcal!
Made from various forms of agave, distilled and aged in a variety of ways, it would take a whole other article to even begin to cover the basics of mezcal. There are many mezcalarias dotted throughout Oaxaca City that will be glad to take you through the initial stages of learning. The popular Mezcal in Situ and the El Destilado restaurant are two such places with native English speaking people ready to start your education into the glorious white spirit.
Even better, go on a Mezcal Educational Tour and spend an entire day learning the history and immersing yourself (quite literally) in the drink. You'll learn and see what it's made from, how it's made, meet the people who make it and have many fine sips and samples along the way.
LEAVE YOUR COMMENT