Where to eat, stay and play in San Miguel de Allende, Mexico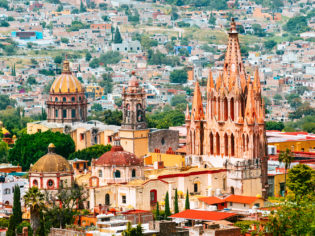 The colonial-era city in Mexico's central highlands that travellers can't help but fall in love with.
Located in the far eastern part of Guanajuato, San Miguel de Allende is the principal city in the municipality of the same name.
Get to know the beauty of this World Heritage Site, and discover all the best bits in this beautiful destination
What to do
El Jardín
Start at San Miguel de Allende's central plaza and social heart, known as El Jardín, to get a feel for the city and watch everyday life play out; pull up a pew on a wrought-iron bench or sip coffee at one of the cafes that fringe the square in arcaded portales.
Parroquia de San Miguel Arcángel
Overlooking El Jardín, this is the city's icon: a pink wedding cake of a church (opposite page) whose fairy-tale spires were designed by self-taught architect Zeferino Gutiérrez based on a postcard of a Belgian church.
Museo Histórico Casa de Allende
Acquaint yourself with the history of San Miguel – and Mexico – at this historical museum based in the birth house of the city's namesake Ignacio Allende, who helped secure Mexico's independence.
Dôce 18 Concept House
Every ounce of history that San Miguel serves up is matched with contemporary cool and Dôce 18 Concept House is a touchstone: a cultural destination that combines a curated store full of Mexican fashion, art and design, trendy eating options, a bar and boutique accommodation.
Lavaderos del Chorro
Follow the cobblestones south of El Jardín, and along one of the city's most winding and ancient streets, Paseo del Chorro, to find a quirky architectural gem: a colourful Spanish-colonial chapel with old communal laundry basins, or lavaderos, that are still sometimes used today.
El Mirador
To best see the city's magical skyline – a baroque, neoclassical and neogothic mix crowned by fanciful Parroquia de San Miguel Arcángel – and surrounding countryside, trail your way from the lavaderos to this popular lookout. It's a steep climb but worth every step.
Galleries to visit
A 15-minute walk from the centre of town, this turn-of-the-century textile mill (above), with some industrial machinery still in situ, has been transformed into the epicentre of San Miguel's art and design scene. Here you'll find over 40 art galleries spanning all mediums, artists' studios and workshops, and stores selling homewares, furniture, textiles and antiques, as well as a selection of cafes and restaurants.
This high-end contemporary and modern art gallery represents nationally and internationally renowned Mexican artists and has two outposts in the old town. The second, opened in 2016, is dedicated to the work of the late Romeo Tabuena, a Filipino artist who, with an interest in Mexican artists like Diego Rivera, came to San Miguel in 1955 and never left.
From Frida Kahlo dolls to miniature moving carousels, there's a fascinating collection of more than 1000 handcrafted Mexican toys at this unique folk museum. The toys were collected over 50 years by the museum's owner Angélica Tijerina: a comprehensive and quirky showcase of the skills, imagination and creativity of the country's artisans.
Where to eat
From single-origin coffee to contemporary Mexican cuisine and surprises along the way, our pick of the city's many foodie delights.
If you're serious about caffeine, head to this funky spot not far from El Jardín. Lavanda Café is a specialty coffee roastery and coffee bar serving Mexican single origin, as well as breakfast, from morning through to the afternoon.
Following on from the success and cult following of Ki'bok's original outpost in Tulum, Ki'bok SMA is an artistic hub in the city that serves coffee sourced from a local co-op of organic farmers alongside breakfasts that include 'el rancho' and 'sin carne' quinoa bowls, plus all manner of pastries.
Time for a typical breakfast of warm, sugary churros dipped in thick and creamy hot chocolate? You can't go past this quaint San Miguel institution, owned by famous actress Margarita Gralia; expect to queue.
With its tasting menu by Enrique Olvera, one of the world's leading proponents of Mexican gastronomy, Moxi is one of the forerunners of San Miguel's fine-dining scene. Serving Mexican cuisine with international inflections, this art-filled, indoor-outdoor restaurant is housed within boutique Hotel Matilda.
One of San Miguel's best restaurants, a hip spot near the Lavaderos del Chorro, purveys hot-right-now Peruvian cuisine. Sip your pisco sour in the pretty outdoor patio and feast on dishes such as ceviche – seafood cured in citrus juice – and 'Los Fresquitos', Peruvian coastal dishes; you'll find vegetarian and vegan options too.
For lunch or dinner with the best view San Miguel can offer – looking square on at the Parroquia – head to the terrace at La Posadita. This traditional Mexican restaurant serves great food and strong margaritas to boot.
Where to stay
Hole yourself up in one of San Miguel de Allende's boutique hotels – stylishly converted from beautiful old mansions and other colonial buildings.
This stunning property (above), masterfully redesigned last year, is a sanctuary in the heart of the old town: a cluster of casonas – or mansions – dating from between the 16th and 18th centuries, with lush landscaped grounds that evoke rural Mexico.
A member of Design Hotels, Dos Casas is – as the name suggests – housed across two 18th-century colonial residences and blends traditionalism with avant-garde touches in its eccentric interiors. Its on-site restaurant, Áperi, is one of the city's best, as is its rooftop terrace.
Once the home of American fashion photographer Deborah Turbeville, whose artistic and romantic aesthetic is reflected here, Casa No Name is now a Small Luxury Hotel with just six rooms, artfully time-worn features like stone floors and fireplaces and a charming cobbled courtyard.