7 days in magical Mexico City & San Miguel De Allende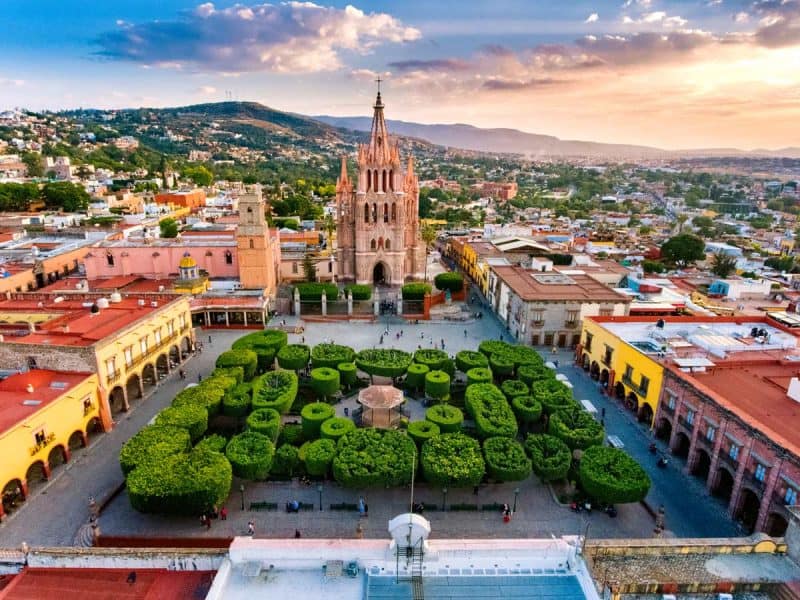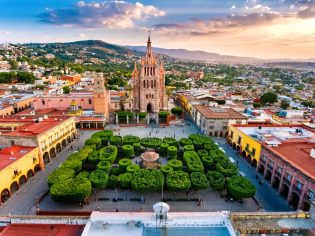 Here's how to combine vibrant, bustling Mexico City and the nearby picturesque town of San Miguel de Allende into one perfectly curated holiday.
These two locales are truly a match made in heaven. Get caught up in the fast-paced bustle of Mexico City's top-class restaurant scene, massive traditional markets, and fascinating ancient culture, then slow it down in the idyllic town of San Miguel de Allende – wandering the cobble-stoned alleys and popping into boutiques that will melt any design-lovers heart.
Together, Mexico City and San Miguel de Allende will immerse you in Mexico's vibrant world of stunning architecture, art, and energetic food scene.
Day 1
Lunch at Contramar
Mexico City is known for its dynamic food scene – specifically long lunches, which are considered the main meal of the day. And there's no better place to post up on your first day in town than trendy, seafood extraordinaire: Contramar in the Roma Norte neighbourhood. Cult favourites that you'll see splashed across your Instagram feed include their tuna tostadas, the whole grilled fish dressed in a duo of colourful salsas and the cloud-like strawberry meringue cake.
Salsa dancing at Salón San Luis
Dance the night away at this retro nightclub with live music and cumbia dancing. Salón San Luis is known for its local vibe and you'll see lots of pros on the dance floor. Come during a night with salsa lessons if you're new to the scene and want to learn a thing or two!
Accommodation Tip: I suggest staying in the walkable (and hip!) Roma or Condesa neighbourhoods. Chaya B&B, Octavia Casa and the renowned Condesa DF are all great options.
Day 2
Food tour of local markets
The streets of trendy neighbourhoods like Condesa and Roma are lined with buzzy restaurants, from sun-splashed cafes to chic fine dining, but you'd be missing out on some of Mexico City's best if you don't try local street food.
TIP: Visitors who aren't used to Mexico's local cuisine should be wary of food poisoning, known as Montezuma's Revenge. Exploring street food with a knowledgeable local guide is a good safeguard against this possibility.
Local companies, like Trippers.mx, will lead you through La Merced Market, Mexico City's largest traditional market. As you weave through the labyrinth of stalls, you'll sample tamales, guava apple tea, mezcal and unfamiliar fruits, like mamey sapote.
Lucha libre fight
Lucha libre fights are an iconic part of Mexican culture and there's no better place to experience this theatrical sport than Mexico City. Throw back some cold Mexican beers as you enjoy a raucous display of flashy costumes and acrobatic tussles in the wrestling ring.
Day 3
Breakfast at Rosetta Panaderia
Rosetta Panaderia is a Roma icon, often hailed as the city's best bakery and rightfully so. With a beautiful space that flows from indoor out to the leafy streets, it's the perfect spot to sample Mexican sweet breads and pastries. Don't leave the city without trying a guava pastry.
Explore museums and the beautiful Bosque de Chapultepec
Comparable to New York City's Central Park, Bosque de Chapultepec is a sprawling, 1,700-acre green space at the heart of the city. With three distinct sections, nine museums, and the Mexico City Zoo all within its borders, there's enough in this park alone to fill a week's explorations. Museo Tamayo is perhaps the city's most renowned contemporary art museum. If modern art isn't your style, opt for Museo Nacional de Historia– which is housed in the historic Chapultepec Castle.
TIP: Bosque de Chapultepec and the museums within it are closed on Mondays so be sure to plan accordingly.
Day 4
Sunrise hot air balloon flight over Teotihuacan
Make a day trip about an hour northeast of the city to experience the holy city of Teotihuacan. Take to the sky in a hot air balloon to see the sunrise over the ancient city's awe-inspiring structures, including the Temple of Quetzalcoatl and the Pyramids of the Sun and the Moon.
Explore the Teotihuacan ruins
With a native local as your guide, learn about the cultural significance of this city as you wander through the stepped pyramids, secret caves and grottos. You'll learn Teotihuacan was settled as early as 400 BC, then flourished as one of the largest and most impressive of its time by 400 AD. However, when the Aztecs came across the mystical city in the 1400s (and named it Teotihuacan, meaning "the place where the gods were created"), it had been eerily empty for hundreds of years.
Dine in a candlelit grotto
Conclude your time in Teotihuacan with an atmospheric dinner inside a cave, just steps away from the temples. At night, La Gruta is lit with candles and on the weekends, you can enjoy traditional Mexican folk dance shows.
Day 5
Travel to San Miguel de Allende
Time to swap the bustling, leafy avenues of Mexico City for the winding alleys of San Miguel de Allende. There are a few options for transportation:
1. I recommend the bus. At Terminal Central de Autobuses del Norte, there are a multitude of bus companies and timetables to choose from. I suggest booking through ETN or Primera Plus. Their double-decker buses are extremely comfortable and include bathrooms, air-con, your own entertainment units, and footrests. The nonstop (or one-stop) rides to the San Miguel de Allende bus station take about three and a half hours and cost about 535 pesos one way ($36 AUD).
2. For bigger groups, booking a chauffeured private shuttle may be the best option.
3. You can fly from Mexico City to one of the two closest regional airports near San Miguel de Allende in Querétaro or León. Both are a short drive away from the town. QRO is 35-50 minutes away and BJX is one to one and a half hours away. Your hotel should offer transportation to and from both airports, or you can always take an Uber or taxi. The flights from Mexico City take about one hour, and can be quite pricey.
Rooftop dinner in San Miguel de Allende
As you take in your first wonderful day in San Miguel de Allende, you have a lot of quality options for dining– specifically, dining with a view. Perhaps due to the town's hilly landscape, many restaurants include a cool rooftop setting. Try Atrio for a trendy aesthetic, La Única for an amazing view of the rosy-hued Parroquia de San Miguel Arcángel, or Luna Tapas Bar for its sweeping skyline views and to check out the rooftop of the iconic Rosewood Hotel.
Accommodation Tip: Hotel Matilda for an artistic and elegant boutique hotel, Rosewood San Miguel de Allende for a grand, luxurious stay, and Casa Chorro for a stunning seven-bedroom colonial home that is perfect to rent out for large groups or events.
Day 6
Explore San Miguel de Allende
It is a truly magical experience to get lost amongst the twisting, cobblestone alleyways of San Miguel de Allende. Every corner turned offers a new picturesque scene and every doorway peeked into reveals something interesting and, most often, aesthetically lovely. As you wander, make sure you visit Brvjas for their unique collection of artisan-made goods, Lavanda Cafe for their coffee and Cumpanio for their fresh-baked pasties.
Day 7
Breakfast at Inside Cafe
Ask to sit on the rooftop of this free-spirited cafe. Inside Cafe is the creation of a young couple – one hailing from New Zealand and the other a local San Miguel resident. You'll notice both of these culinary influences on the brunch menu.
Shop at local markets
A true picture of daily life in Mexico, Mercado Ignacio Ramirez is a vibrant, local market where you can browse for fresh fruit and veg or grab a delicious, cheap lunch. Wander through to the Mercado de Artesanías for a wonderland of crafts, from embroidered blouses to colourful napkins and place settings to hand-painted clay tableware. It's the perfect place to pick up some souvenirs or gifts to commemorate your adventure in Mexico.
LEAVE YOUR COMMENT