Where to eat, drink and sleep in Tulum, Mexico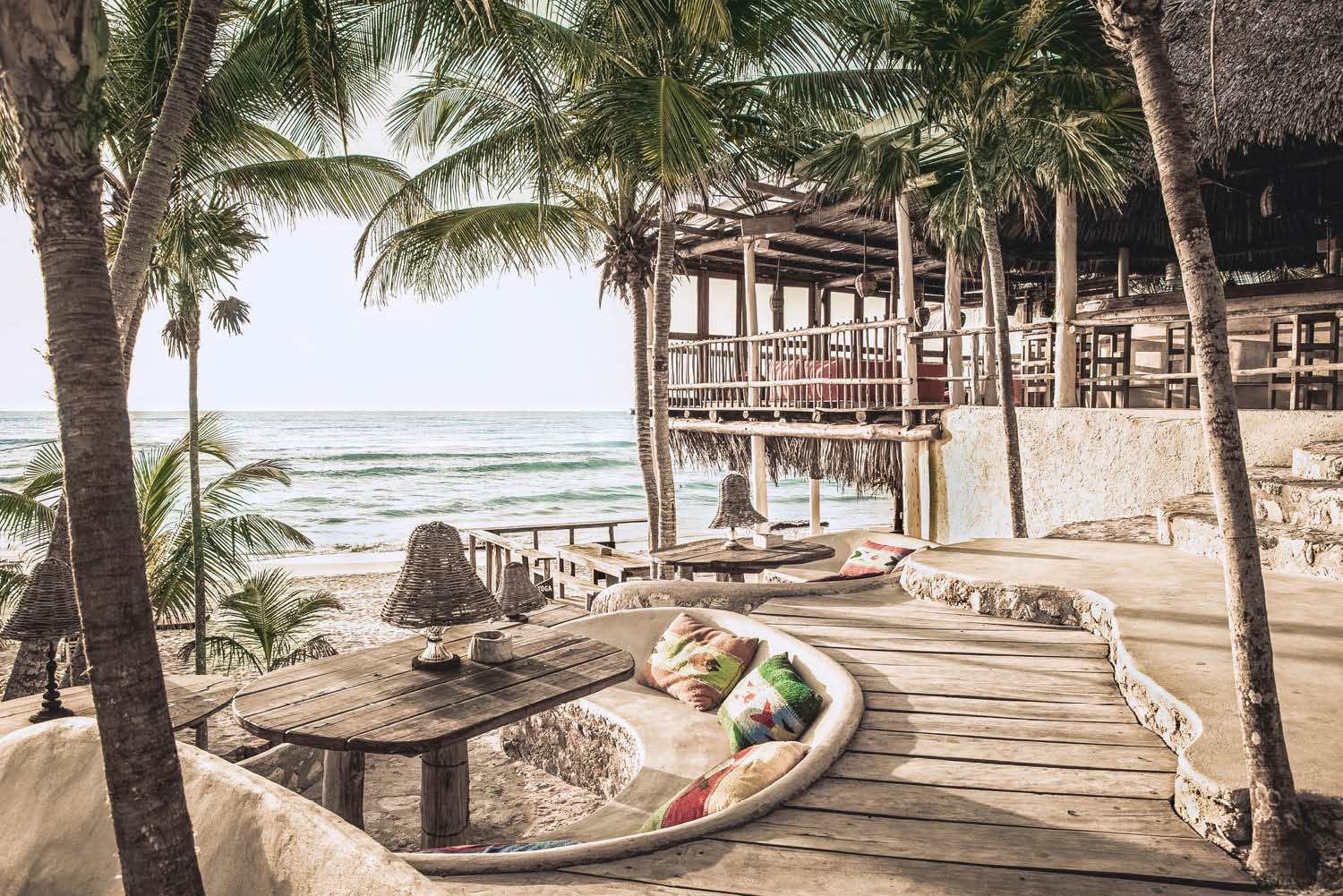 Tuck into inventive Mexican cuisine in secret gardens and sip mezcal by campfire; sleep beach-side in boutique hotels and jump into bright blue sinkholes.
Bikes cruise down a winding road that leads through the jungle. Dreamcatchers displayed outside shopfronts turn in the breeze. Street signs reading 'Be here now', 'Follow that dream' and 'Know thyself' sit between resorts.
Welcome to Tulum, Mexico, the hippie-luxe town two hours south of Cancun on the Yucatan Peninsula. Despite its steady stream of international tourists, Tulum still hasn't lost much of the boho charm that put it on the map in the first place. Most of its hotels are eco-conscious and nearly all of its restaurants seem to be at one with their surroundings.
Though Tulum is beachside, it's more than just a beach town. It's got ancient ruins, stunning cenotes and award-winning dining. If you haven't thought about heading here, do. Here, some picks for what to try when you're there.
EAT
Burrito Amor
Tulum is divided into two areas: a ritzy, beachside tourist zone and a downtown pueblo with more down-to-earth prices. It's in the latter that you'll find Burrito Amor. The vegetarian-friendly cafe is unassuming with open sides, foldable chairs and its most expensive meal is priced at a reasonable 185 pesos (approx. $13).
But don't let any of that fool you, the food – burritos and salads – and drinks – juices, cocktails and beers – here are top-notch.
Charly's Vegan Tacos
Mexico's known for its street food, but if you can't speak Spanish and aren't sure what to order, getting to it can often be near impossible. Enter Charly's Vegan Tacos. The establishment at the far end of the tourist zone has created a name for itself for its colourful, flavourful meals and homemade sauces served at wooden tables scattered in front of a food truck.
Start with the fried plantain bananas with tofu and garlic cream before digging into the porkless cracklings or soyrizo and cheese.
Safari
Also in the tourist zone is Safari. It's another no-frills affair with a fire pit and Airstream trailer setup, and an undercover patio dining area to the side. Inspired by traditional Mexican recipes but adding a campfire twist, the restaurant uses all local ingredients and makes its tortillas from scratch.
Among its tacos, of note are the shrimp, served with mole verde green sauce, and the fire-roasted octopus. If you're still hungry, try the yuca truffle fries. And if you're feeling like a drink, sip on a mezcal.
Cenzontle
Its tagline 'secret garden' should give you some idea of what to expect at Cenzontle. The intimate restaurant, seemingly carved into the lush forest, is an enchanting retreat set back from the tourist zone's busy main road.
Its concise menu consists of mostly meat- and seafood-focused Mexican meals, all with an inventive twist and prettily presented. Don't miss the beef barbacoa with bone marrow sauce and the duck carnitas tacos. And, as with most restaurants in Tulum, don't forget to bring mosquito repellent.
DRINK
Batey Mojito & Guarapo Bar
Within the downtown pueblo, Batey Mojito & Guarapo Bar is known as the place for a night out. The popular dive bar has mojitos made with sugar cane juice you can watch being crushed in a converted VW Beetle, affordable prices – all drinks are about 100 pesos (approx. $7) – and live music most nights.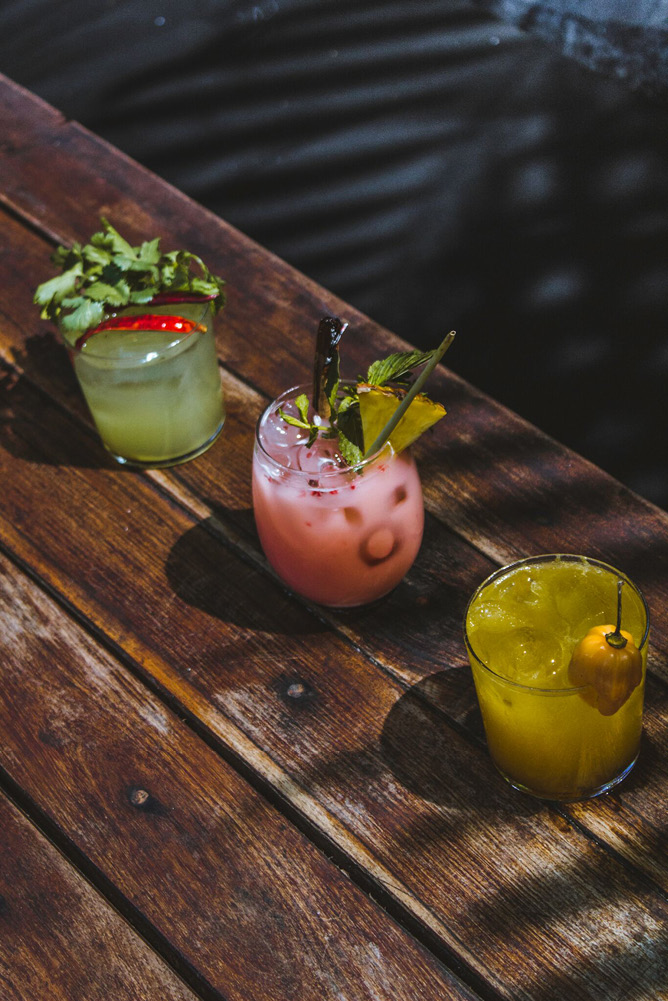 Sit at the front bar or at a picnic table in the back gravel area and choose from specialty mojitos like ginger, passionfruit and watermelon. Word of warning: they're strong here.
Gitano
You'll find Gitano in the tourist zone. It was such a hit that its owners recently opened a second spot in New York City. One look at it and it's not hard to see why. Tucked into the jungle, the restaurant and bar is lit only by candles and fairy lights.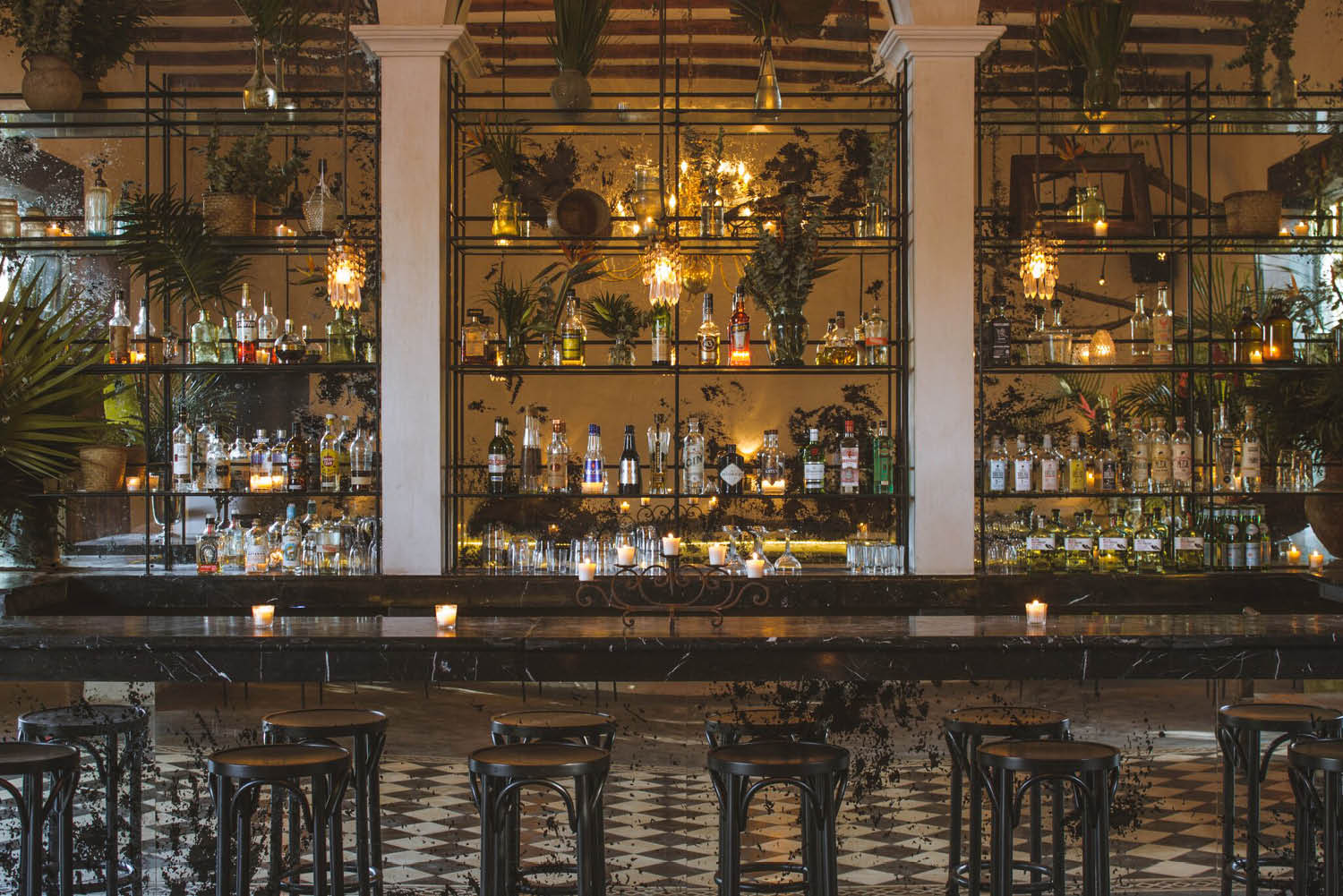 The smoke and aroma of copal, an incense used by the Mayans for spiritual cleansing, wafts through the place. Go on a Friday and arrive at around 11pm when the disco and house DJs begin playing. Slide into a booth or take a seat at one of its three bars and order yourself a mezcal cocktail.
Papaya Playa Project
If Friday nights are for Gitano, Saturdays are all about Papaya Playa Project. If you're having dinner here first, arrive around 8pm.
That should give you plenty of time to tuck into a delicious feed before the party kicks off around 11pm. If you're instead arriving around then, expect a cover charge with its rate depending on the DJ or artist performing. If you're coming with a big group, it might be worth getting bottle service at a booth. Once a month a Full Moon party is held here and goes until 4am.
SLEEP
Holistika Hotel
The Holistika Hotel is only a few minutes' drive from Tulum's main pueblo drag, so a stay here will have you convinced you're in the heart of the jungle. Walking across its sprawling grounds, you'll hear birds chirping, leaves rustling in the wind and little else.
There's an on-site restaurant called Tierra, regular yoga and meditation classes, two massive pools and an art walk. Accommodation is separated into adults-only and family-friendly. With only 24 rooms, you'll want to book ahead.
Casa Malca
A beachfront home-turned-boutique hotel, Casa Malca in the tourist zone has attracted the likes of Elle Macpherson, Leonardo DiCaprio and Cara Delevingne.
Designed and styled by art collector Lio Malca, who purchased the abandoned mansion in 2013, the hotel is filled with striking contemporary art. Sculptures of ants crawl across the ceilings.
A piece by American artist KAWS sits near the impressive doorway. Unmarked front gates and a secret underground pool add to its edginess.
Azulik Hotel
Where to even begin when describing Azulik Hotel? Designed with the idea of reconnecting with yourself in mind, the eco-friendly hotel created by a self-taught architect is a maze of 48 rooms – some ocean-facing and perched above the jungle's canopy – a spa, a clothing-optional beach club, three restaurants and a neighbouring art gallery.
Structures, mostly made from bejuco wood native to the area, are connected by winding pathways and stepping stones over decorative pools of water.
EXPLORE
Grand Cenote
There are more than 3000 cenotes (sinkholes) on the Yucatan Peninsula but within Tulum, Grand Cenote is the most popular. Right outside downtown pueblo, it's actually comprised of several cenotes all connected by wooden walkways.
The water is bright blue in some parts, light green in others, and jumping into it in the searing heat is a real treat. Pay the extra few pesos to rent snorkel equipment and see fish beneath its surface. Post-swim, dry off near the lily pond as you watch turtles swim by.
Cenote Calavera
Despite also being minutes from the downtown pueblo, Cenote Calavera, also known as The Temple of Doom, has surprisingly remained undiscovered by tourists. The cenote can best be described as 'jug-like' with its rocky roof seemingly sliced off to reveal a pool of fresh water below.
A ladder is installed in the largest hole and can be used to climb down, but the two smaller other holes can only be jumped into. If you're lucky, you might spy one of the many iguanas that live around it.
The Tulum Ruins
The Tulum Ruins is one of the only archaeological sites in the world that overlooks a crashing sea below. The ruins provide a glimpse into the town's powerful past as a thriving seaport. Open from 8 am–5 pm, the ruins can get crowded with tour groups so come early.
If you're arriving by car, skip the expensive car parks next to the site – you'll find free parking across the main street. If you're interested in learning more about Mayan culture, opt for a guide. Otherwise, reading the information from a Mexico guidebook or an online site should do the trick.