Seoul Stopover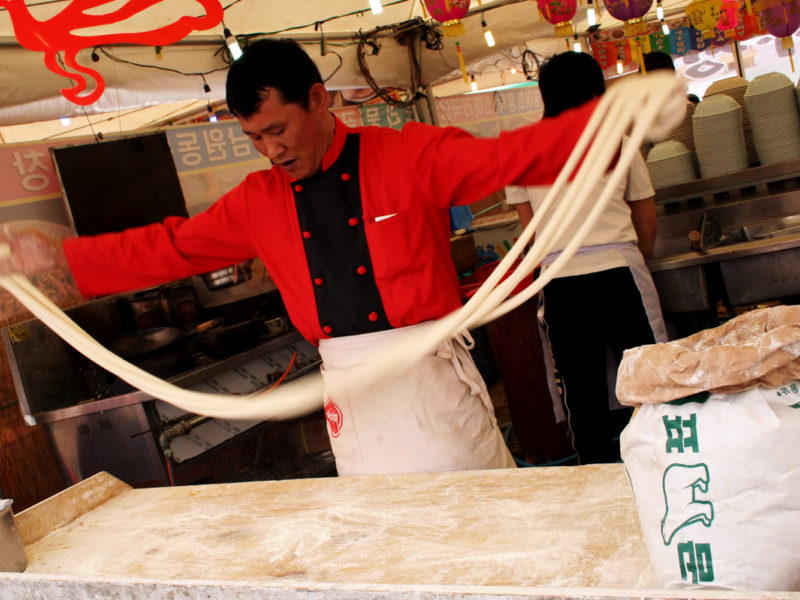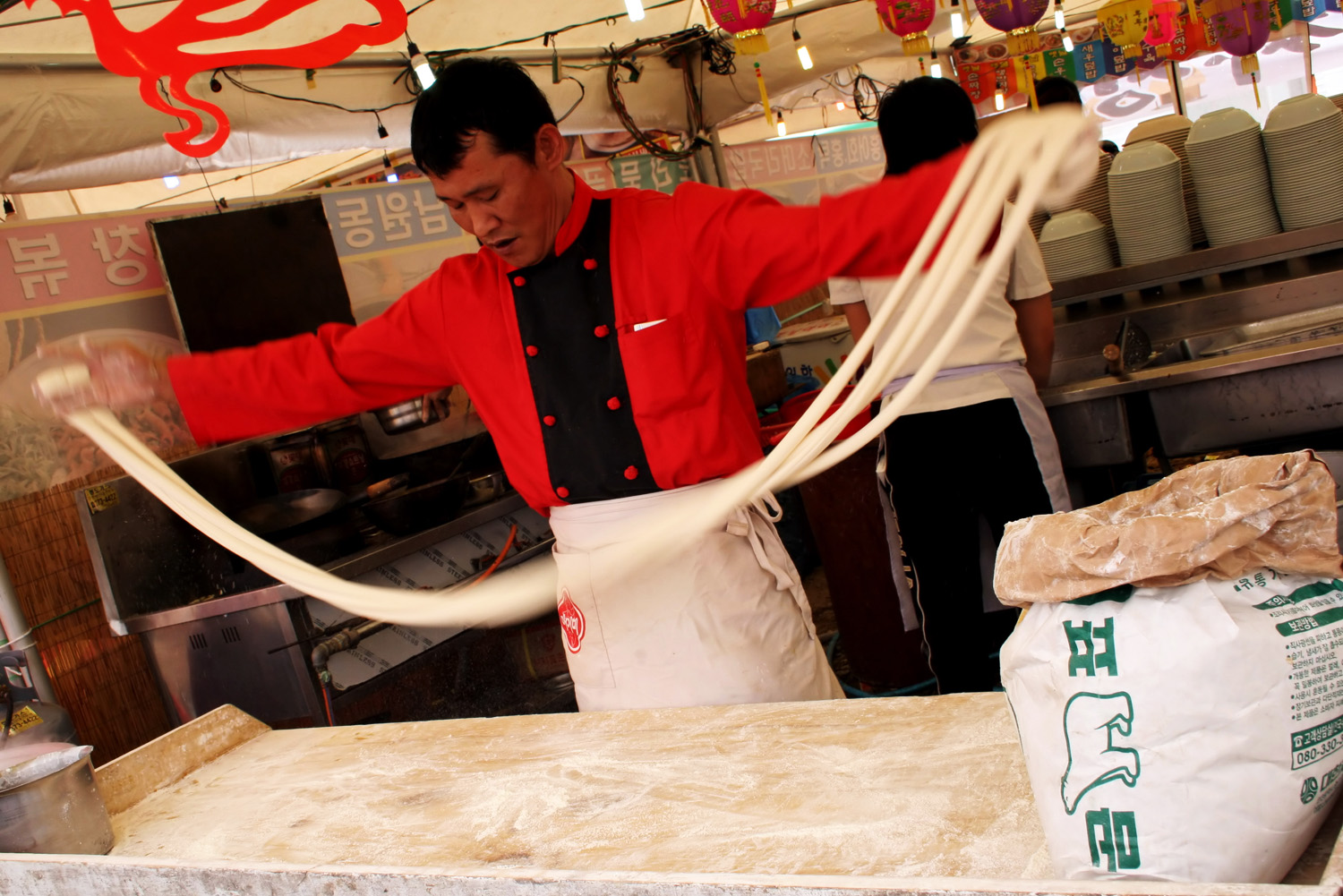 Michael Ryan, chef and owner of Provenance restaurant in northeastern Victoria, recently took his family – and his two Chef's Hats – to South Korea's capital.
The vibrant city with its unique cuisine left a lasting impression… and a hunger to learn more.
Knowing that we – myself, my partner Jeanette and our six-year-old daughter – were going to be in Seoul for two days on the way to ­Japan, I made a point of doing as much ­research as I could.
I read magazines, articles on the net, a number of blogs and watched some YouTube clips – but my first and most useful point of contact was from one of my Twitter followers – @pikeletandpie – and her beautifully photographed blog of the same name (pikeletandpie.com).
The author, Lili, is an Australian living and working in Seoul with a real passion for the food of Korea.
I was armed with plenty of knowledge, but had the feeling that the more I learned, the less I knew.
However, upon arrival, I was so overwhelmed by the sheer number of eating establishments, the wonderfully hectic movement and sound of Seoul and the jaw-numbing cold – top of -8°C; low of -17°C during our visit – that all of my plans and recommendations disappeared into the deep frozen recesses of my brain.
As with all travel I do, it was to be based around food.
My knowledge of Korean cuisine was not extensive and only based on a number of visits to Korean restaurants in Sydney and Melbourne – my hometown of Beechworth in regional Victoria being surprisingly lacking in quality Korean restaurants.
I knew I liked bulgogi, bibimbap, yukhoe, kimchi and few others, and was keen to learn more about this lesser-known – to me at least – cuisine.
As has been said many times before, the food of a culture reflects their nature and soul. In the case of the Koreans, this truism is particularly apt.
Their food, grounded in centuries of tradition, is robust, fiery and upfront with its flavours and spices.
This is matched by a ­people who certainly seem robust – even in such cold weather, I found the streets to be full of people, particularly at night – and who are proud of their heritage and traditions, but equally proud of modern economic success.
The Koreans are one of the most racially and linguistically homogenous cultures in the world; their food, while having some influences from Japan and China, is unique.
The template for a Korean meal sees one central dish ­surrounded by a large number of supporting side dishes – or banchan – which are as important as the main event, often more so.
Two days in Seoul is not nearly enough to explore the cuisine of this city, let alone its ­cultural and historic side. But two days is what we had, so it was straight into it.
Market Forces
We arrived late in the evening, disorientated and hungry, but managed to find a reasonable dinner – a rustic stew of beef with the ­prerequisite of kimchi.
It filled my stomach and, along with the soju – Korea's national drink – prepared me for the next couple of days.
Next morning was a visit to the famous Noryangjin Fish Market, renowned for its ­selection of live seafood.
A fascinating way to spend a few hours, it was cold when we were there – bitterly cold – but still the vendors were there for the whole day, sometimes huddled around old tin cans housing small charcoal fires, every now and then getting up to half-heartedly encourage us to buy some of their produce.
And what produce: prawns almost the length of my forearm; octopuses in nearly any size you could want; endless varieties of fish; innumerable bivalves and crustaceans; a veritable garden of seaweeds and, in another parts of the market, store after store of pickles, fermented fish pastes and other mysterious looking preparations.
Being a traveller, you're not normally in a position to purchase any of this bounty.
But at these markets you can buy whatever takes your interest, then have it cooked it for you on the market's upper restaurant level.
Sounds great, and may well be, but the restaurants seemed just a little to opportunistic for me, so we left the market for a restaurant we'd heard about called Haneuldam, where we had our first real exposure to how varied and delicious banchan can be.
Served with the banchan was an oyster seaweed soup that we were to see again the next day.
It was made with a fine hair-like seaweed called maesaengi, which when added to a broth forms a thick mucilaginous texture – the sort of texture you just don't see in Western ­cuisines.
Confronting initially, but so tasty it soon becomes a non-issue.
The Feast Continues
Dinner on the first night was at a Parkdaegamne, a Korean BBQ restaurant. Korea is ­renowned for these grill-your-meat-at-the-table restaurants, and rightly so.
The meat available is of a very high quality, with lots of different cuts available for different flavours and textures.
It's not cheap, relative to other types of eating available; work on about $200 for two.
Served with the meats, along with of course a number of banchan, was an icy soup – shards of ice were quite literally ­floating in it – made with white (non-chilli) kimchi.
It was such a refreshing start to a meal, and a perfect example of the common thread of contrasting temperatures that you find in Korean food.
Early the next day we set off for the Gwangjang Market, Seoul's oldest covered market.
This is a fantastic place to see the true variety of fermented and pickled goods available in Korea, and is also a particularly good place for some of the capital's best street food.
An essential stop is at one of the many stalls selling ­bindaebuk, a fried pancake of mungbeans and spring onion.
Lunch was a simple affair of a bowl of ­gomtang (beef soup) served with rice and kimchi at Hadongkwan.
It was delicious and life affirming, as only a bowl of rich broth can be.
Our final meal was a traditional lavish multiple-course affair at Doore.
The food, lots of it, comes out of the kitchen in quick succession, until your table is buried under a mountain of rich, complex flavours of fermented fish and vegetables.
We possibly went at it too hard, so by the end of the meal we were too full to truly appreciate all that was happening on the table.
One part of the meal I found quite intriguing was the sashimi course; the sliced fish was actually served semi-frozen, and so was crunchy in texture.
We also chose to have some makgeolli, a milky alcoholic beverage made from a mixture of rice and wheat.
It's what you might call an acquired taste.
In between these meals were occasional stops at some of the street food vendors in the city.
Koreans love to drink and the street food appears to have been designed with this in mind – think deep-fried morsels in a sweet tomato and chilli sauce.
Final Impressions
Getting around the city is a breeze thanks to the very modern, clean and punctual subway, with its ticketing system that leaves most others I've seen for dead.
There's also the option of taxis, particularly the international taxis, which are cheaper than normal ones and guarantee some sort of translating service – one of many such programmes in place to encourage international tourists.
I guess the real test of any destination is: "Would I go back there?" And yes, I would go back to Seoul in a heartbeat.
It was challenging and perhaps slightly out of my comfort zone – literally and figuratively – but so interesting that I now have a real ­desire to learn more about this vibrant, ­complex city. 
Details
Metro Hotel
199-33, Eulji-ro 2-ga, Jung-gu
+82 2 752 1112; metrohotel.co.kr
Noryangjin Fish Market
13-8 Noryangjin-dong, Dongjak-gu; visitkorea.or.kr
Haneuldam
49-1, Samjeon-dong Songpa-gu
+82 2 421 6631; hanuldam.com
Parkdaegamne
Gangnam-gu Cheongdam-dong 124-3, at the Cheongdam intersection
+82 2 545 7708; open 24hrs; pdgn.co.kr
Gwangjang Market
6-1 Yeji-dong, Jongno-gu
+82 2 2267 0291/2; visitkorea.or.kr
Hadongkwan
10-4 Myeong Dong 1-ga Jung-gu
+82 2 776 5656; hadongkwan.com
Doore
8-7, Insa-dong, Jongno-gu
+82-2-732-2919; edoore.co.kr
LEAVE YOUR COMMENT