Japanese onsen etiquette: the dos and don'ts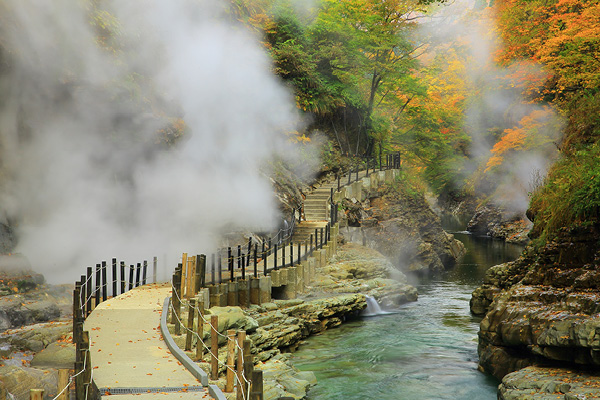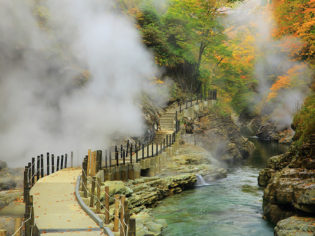 This ancient ritual is an absolute must-do while in Japan, but there are some rules you need to know.
The Japanese ritual of onsen, bathing in communal baths heated by the seething core of the Earth and containing natural health-giving minerals, is a must-experience at least once in your life.
Scarred by millennia of seismic activity, Japan has well over 2500 onsen scattered across its landscape.
And in the northern prefecture of Akita, at the foot of Mt Nyuto, Taenoyu Ryokan presents a glorious setting in which to enjoy the ancient tradition. Indeed, many onsens across the country can be found in ryokans.
Tucked into an unassuming bend in the road, surrounded by beech trees and perched on the edge of a fast-flowing river, the inn offers traditional Japanese hospitality; shoes are discarded at the door, they serve delicious regional specialties such as kiritanpo (a tube made out of pounded rice and toasted over an open hearth), and futon are laid on the floor for sleeping (one modern concession is fast and far-reaching wi-fi).
But the crowning glory is the outdoor onsen, a steaming golden pool overlooking the stunning surrounds.
The water is jarringly hot at first but eventually becomes comforting; the fresh mountain air cools the brow (in winter, the surrounding snow can be scooped up and used as a cold compress).
But, as with almost everything else in Japan, there are strict rituals involved, so if you are considering indulging in an onsen, here are a few things to remember:
No tattoos please
Tattoos are frowned upon at onsens owing to their association with the criminal underworld, namely the elaborate, all-body tattoos of the criminal clans of the Yakuza. If you have tattoos you will be refused entry to onsens outside of the establishments that are popular with tourists. Indeed, it's such a sticking point in Japan that they have released a tattoo-friendly onsen map for rugby fans heading to the 2019 Rugby World Cup.
Always wash before entering the onsen

There are usually always shower facilities attached, complete with low stools and small basins, where you need to wash thoroughly from top to toe. If you enter the onsen sweaty, dirty or even with soap still on your body following a wash, you could be summarily dismissed from the establishment. When washing ensure you sit on one of the low stools, it's rude to sit straight on the ground. Once you've washed, it will mean all those natural minerals from the spring water will be able to get into your skin easier.
Onsen bathing is done naked
It's tradition to bathe naked, so take a deep breath and check your embarrassment at the door. Men and women have their own separate baths or will have allotted times to use the same one, but it used to be that men and women bathed together. This changed during the Meiji Restoration when Japan opened up to the rest of the world and Western ideals of gender segregation were adopted. If you really want you can wrap a small towel around yourself when moving from bath to bath, but don't get the towel in the water. It's better to just do as the locals do and forget your inhibitions.
No cameras please
This one is obvious really, but even though these can be some of the most beautifully iconic Japanese spots to visit – think steaming natural pools surrounded by thick snow in manicured gardens – you really should forget about taking your phone or camera into an onsen to take pics. Firstly, it is rude and invades people's privacy, and secondly it disturbs the tranquility of the experience: onsens are places for healing, both physically and mentally.
Don't bathe for too long
The temperature of the water is scolding hot and can affect you if you spend long periods submerged in it. Onsens tend to have pools with varying degrees of temperature, from piping hot at 42 degrees Celsius, right down to a cold water bath. It's a good idea to vary the baths and have a go at taking the leap from the hottest bath to the coldest to give yourself an invigorating, full-body shock.
Drink lots of water
After a soak make sure you have a good drink of water to avoid dehydration. You might not think it, but sitting in hot spring water means you'll be sweating a lot without realising it. You need to make sure you're hydrated for 12 hours after you've been in the baths as well. An onsen will typically have a drinking fountain nearby for you to have a cooling sip now and then while you bathe, ensuring you stay safe.
Don't let your towel get wet!
When you head to an onsen you'll typically see locals sitting around and enjoying the baths with a white flannel perched atop their heads. As mentioned before this is the small towel that you are allowed to take with you into the baths, used to mop your brow and to provide a modicum of modesty as you transition from one area of the onsen to another. Place the towel on your head to avoid it entering the mineral water; the Japanese do not want your sweat contaminating the pure, healing waters of the onsen.
Make sure you head to our Japan Destination page for more tips and tricks for your travels in the Land of The Rising Sun.
LEAVE YOUR COMMENT