Friends in High Places - Everest Base Camp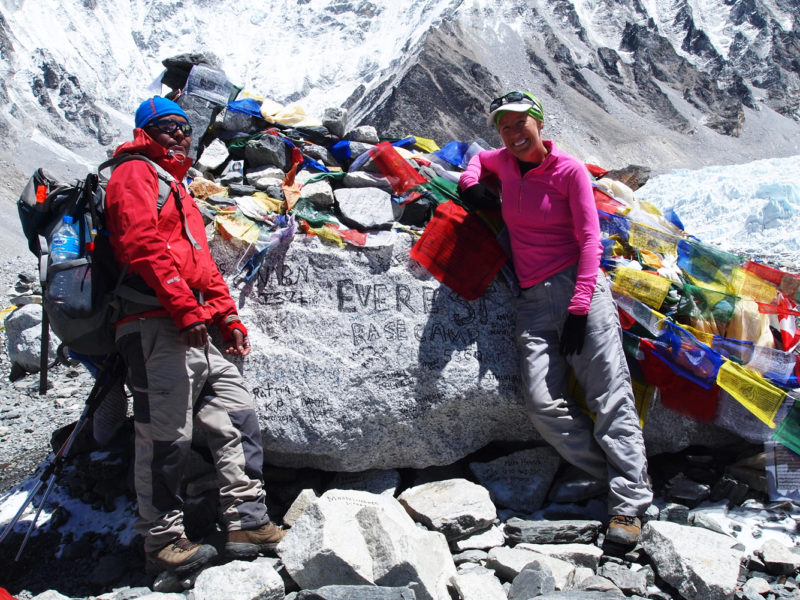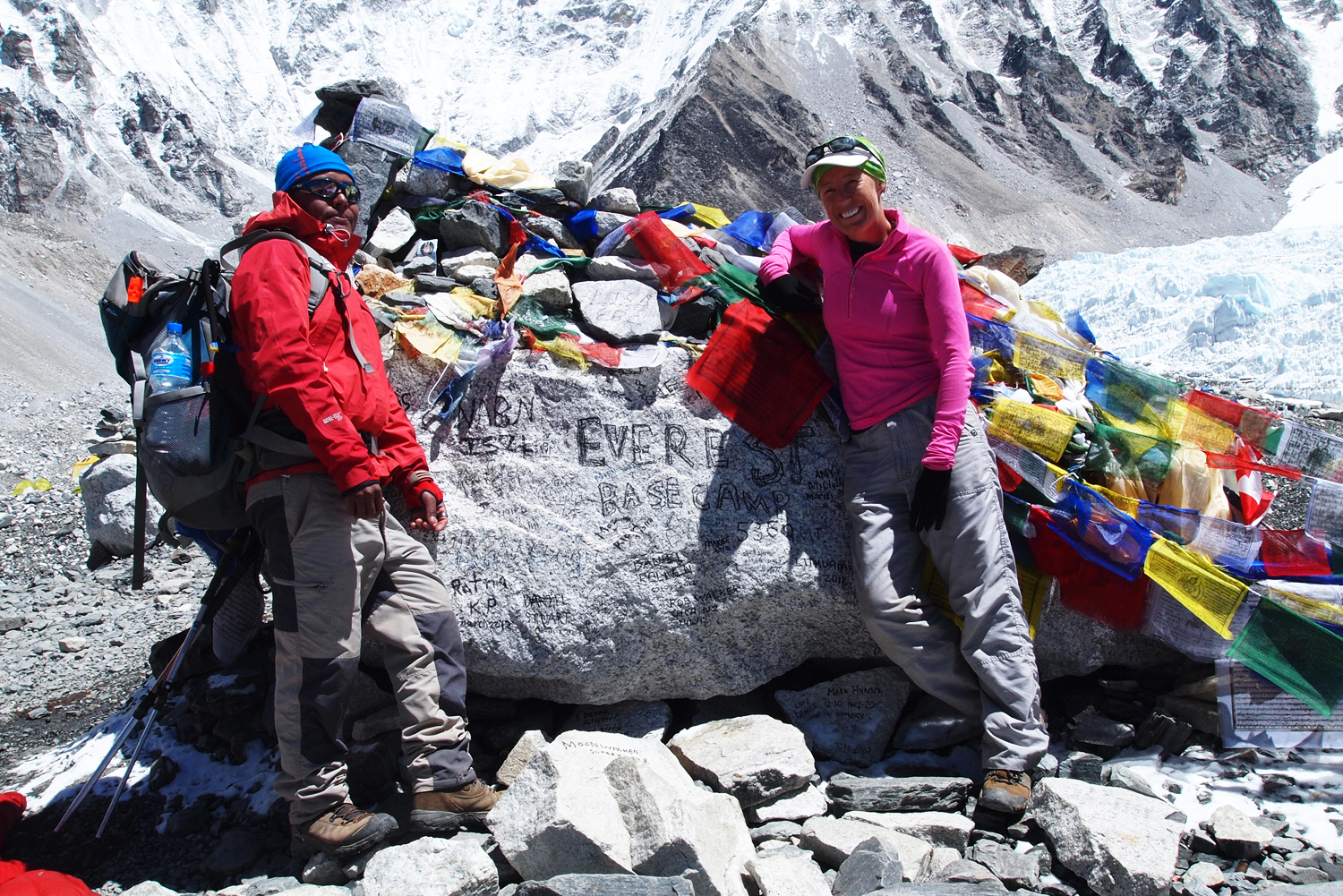 A trek to Everest Base Camp turned out to be more than just a 'life-changing hike' for Flip Byrnes, it almost ended it…
I'm standing with my porter Prem, looking at a series of red and yellow blobs, small tents, sitting on rocky moraine that constitutes Everest Base Camp.
I'm tempted to say, "Is that it?" But as I lean on his shoulder, gasping in the 5364m thin air, we share a smile.
Prem and I have reached some pinnacle, but it has nothing to do with arriving at the foot of Everest, or the Everest Base Camp trek, and everything to do with the less tangible, but more important things in life – spirit, commitment and friendship.
I never intended to hike the Everest Base Camp (EBC) trek. Fresh from the 18-day Annapurna Circuit, I was due to run the London Marathon.
But an entry on the Olympic course in an Olympic year had not miraculously arrived, and with a newfound unexpected 11 days, it was a spontaneous decision to head to Kathmandu, jump on a plane and fly to Lukla to commence one of the best treks in the world.
But is it really?
I was doubtful. I had deliberately chosen to hike the Annapurna Circuit over EBC.
I like an underdog, and in the competition between claiming the title as Nepal's 'best' trek, the languorous, circular, scenic three-week Annapurna Circuit competes with the high-octane, fast-and-furious, there-and-back 11-day EBC.
The former is the quiet, yet adorable underestimated cousin with lesser-known spectacular scenery, the latter an attention-grabbing Moulin Rouge showgirl – all sequins and jazz hands with a big-name cast.
However, while Annapurna wins with less trodden trails and remote enclaves, EBC comes into its own with the final, iconic destination, EBC – the ultimate pilgrimage site for lovers of history and mountaineering. With mountaineering season in full swing, it was time to head for the hills to see what the hype was about. But not alone.
I've got Prem. Having just experienced group single-file-style trekking, I'm keen for some Girls vs Wild, solitude-oriented mountain moments.
But with a little back-up. Father of three, 35-year-old Prem, a Tamang local, is my porter organised by an Australian trekking company. With a cheeky smile he is a little non-plussed by this girl who enjoys her own company. It will be a journey with a difference – for both of us.
A difference between the treks becomes clear quickly. Unlike the gradual incline of the Annapurna Circuit, EBC is known for the sting in its tail; terrain that ascends, only to plunge and ascend again.
Luckily the first two days are a gentle introduction, weaving past Phakding following the Dudh Kosi river through tiny, charming hamlets like Benkar and Monjo.
It also takes this time to adjust to the crowds (scores of trekkers a day) and the 'taxis', yaks laden with everything from household goods to mountaineer equipment en route to base camp.
I'm still blasé about the trek, until the famed three-hour, tortuous zig-zag ascent to Namche Bazaar, one of the busiest, and prettiest villages in Khumbu.
I immediately fall in love with the cobbled streets, perched at 3420 metres overlooking a dramatic vista of mountains. It's a natural sun trap for the yaks, hikers and guides jostling through the labyrinth of winding alleys. With the Everest bakery churning out pain au chocolats, it's a Nepalese version of Chamonix.
Namche Bazaar is a turning point, where my trek experience becomes a little richer, less about base camp and more about the trek itself, and it's because of Prem.
It has taken three days to realise he is completely unable to heed my initial request for space. He's been ambushing me, laying in wait around corners, popping out from behind tea house doors like a gentle-hearted sniper.
But on day four, continuing on from Namche to Phortse along a glorious ridge under the wide arms of an endless blue sky, I decide to turn the tables. After crossing the Imja Khola River,
I rush ahead and hide behind a stone fence in the terraced potato fields.
I spy through stones as he turns the corner and stares, bewildered at the empty fields. He pauses, and begins to retreat. Just as he passes, I launch an attack and jump out. "Surprise!" He almost collapses in a series of never-ending giggles.
It turns out Prem is a real giggle-puss. And with that little ice breaker, we become as thick as thieves, two partners in crime who love a joke. I've finally become aware that just being us two, I have all the flexibility I need and his soft singing and regular giggling behind me unexpectedly becomes the welcome soundtrack of the trek.
He also knows the area like the back of his hand and at night we pore over maps planning our next days route. We both like to walk hard and stop often, in short, by day five as we pull into the Orsho tea house, we are the ultimate trekking dream team. And this is where the adventure becomes even more interesting.
In general, EBC attracts a certain style of trekker; one with solar panels, carbon fibre walking sticks, a top-of-the-range GPS and big tales of bragging-rights walks.
But in April and May, when the jet stream lifts over Everest allowing climbing, mountaineers flock like moths to a flame. And today the tea house is full of them, en route to EBC.
For an amateur mountaineer, this is overwhelmingly exciting. The group is generous with their knowledge and I absorb their stories like a sponge. To be this close to so many climbers of Everest calibre is wildy rendering me as giddy as a groupie.
The allure of Everest is still lost to me, but it's becoming clear why I'm here, to meet the kind of people that perhaps one day, I would like to be.
The rendezvous is inspiring and Prem and I decide to spice up our itinerary with a spontaneous itinerary change. We change course for the foothills of Ama Dablam, one of the most alluring mountains in the Himalaya, to be closer to the mountains than the trail has allowed thus far.
We hike 500 metres above Dingboche, wind whipping, peaks snagging clouds twisting them into new formations. Cresting a plateau, the plan change has been worth it, the deviation affording a view not seen elsewhere on the trek.
Ahead, the valley terminates in a horseshoe with an Oscars cast of superstars. Island Peak, surrounded by Makalu, Nuptse and Lhotse and within a hand's breadth, sexy and voluptuous Ama Dablam herself.
Drinking in the view, I describe the European Alps to Prem. How, despite their beauty, there's always noise. A cow bell, a helicopter, another trekker.
"You're never alone". He understands immediately. "Here", he says, "It is only the mountains talking. The quieter we are, the louder they speak."
And so we sit high on a Himalayan meadow, my new Nepali BFF and I, basking in sunshine, listening to the mountains talking; glaciers sighing, the flap of birds' wings, wind ruffling grass.
The mountains start talking in whispers; "Time means nothing to us. Slow down, you don't need to rush anywhere. You're already exactly where you want to be". And I am deep in the Himalaya with 8000-metre high mountains, having a magical alpine moment.
But the gravitas of our surrounds comes shortly after. Continuing to Lobuche, the path becomes lined with chortens, stone-cairn memorials to those who went to Everest and never came back.
The inscriptions written by loved ones are heart wrenching: We love you and we miss you, Always Aim High and for Scott Fischer, a guide enmeshed in the 1996 Everest disaster which claimed eight lives, a simple – His spirit lives on.
The mood is eerie in this valley of lost souls, the memorials sobering, and we shuffle onto the Eco Lodge.
If you ever head to Eco Lodge, there is only one thing you need to know. Do not, under any circumstances, stay in room 1A.
To fuel up for base camp the next day, we eat the entire menu; pizza, garlic soup, omelettes, and in a move that will become regrettable, I rehydrate with a litre of hot chocolate.
Before the plate has been cleared, cold sweat begins dripping down my back. And I make it back to room 1A just in time to turn it into a crime scene, decorating it with hot chocolate instead of blood.
Is it the beginnings of potential fatal altitude mountain sickness (AMS)? Food poisoning? Either way it's the start of a long night – for both of us. From around 8pm, when it's clear this may indeed be AMS (which requires immediate descent) I call out for Prem next door.
He rushes in, finds me on the floor wrapped around a bucket in the foetal position, lifts me up, and places me on the bed making concerned clucking noises, fatherly instincts coming to the fore.
Prem stays with me all night, over 10 hours, hovering in the corner of the room, bringing water, rinsing out wash cloths as waves of nausea turn to tsunamis cramping every part of my body.
But suddenly, at 6am, I make a miraculous recovery. In the small hours, Prem had packed our bags anticipating descent. But no, we agree to attempt base camp, on one condition. If I'm sick again, we retreat. Immediately.
"This base camp had better be good," I tell Prem, gritting my teeth for the final push. There's no giggling today. He stays closer than ever, a shadow, a voice of reason to order me down if necessary.
It looks like I too have succumbed to the Everest fever mountaineers speak of but which I've never understood until now, involving an inexplicable magnetic pull towards her base.
I've committed both of us to walking 13 hours, seven of those above 5000 metres, on an hour's sleep and a Mars Bar. Overnight snow makes the jumble of rocks slick as we scramble alongside the bleak, grey moraine.
At times we pause while I lean on Prem's shoulder, but never for long – we are completely focused as we inch towards camp, feet like concrete, minds scrambled in the thin, breathless air.
Finally, there it is, a temporary village on a glacier with gaily-coloured tents like scattered Smarties, small specks of people moving around.
During the trek, the idea of base camp had grown in my imagination, swarming with climbers in aviator sunglasses and Gortex pants strumming guitars. I'd finally see the entrance to the legendary Khumbu Icefall. Maybe even have a Martini.
Instead, we all but fall on the EBC welcome sign in a heap and share a rare hug. The moment has a touch of jubilation, less to do with achieving base camp than having made it together, a team.
Large mountains teach us something. Mountaineers learn humility. Trekkers, the reward of challenge. Me, the value of companionship. It looks like my accidental trip to EBC was a piece of serendipity.
But we still have a long way to go. We briefly soak up the atmosphere, watching multiple puja blessing ceremonies where expedition members ask the Gods for safe Everest passage. For some, it's in vain. Two weeks later there are four deaths on Everest in one day.
Long queues on summit day result in a bottleneck, climbers running out of oxygen, and perishing…
Ten minutes after arriving we begin the long descent retracing our steps. An axe-grinding headache, indicative of AMS, sets in and we almost sprint to the AMS clinic in Periche, dosing up on Dexamethasone (a steroid to reduce swelling), Diamox (used to adapt to altitude), and Ibuprofen.
High on pharmaceuticals, it's a short hour sprint to Orsho, sighting the twinkling lights of the tea house as the final layer of darkness falls.
Relief turns to disbelief as we've not only made it, but walked into a conference of American doctors staying at the teahouse, who are studying AMS in Nepal.
They leap on me as a curious case study. Having been above 5500 metres for 10 days previously, and experienced in handling altitude, I should be acclimatised. But AMS doesn't follow rules.
So was it AMS, or a rogue hot chocolate? I'm told it sounds a lot like AMS. But it could also be gastro, with a dehydration headache. "Or maybe", says one doctor helpfully, "You've just had both".
I report back to Prem, who's lying on a couch. I ask if this was a big day for him too. "Biggest ever!" he says, "Most clients only walk six hours!" And we each head off to sleep like people who haven't slept in 36 hours, but walked to the top of the world and back.
But the trip is not over yet. At Lukla, we need to have a conversation. Prem, in his thirties, is still a porter. His people skills, unconditional loyalty and sunny nature have not been recognised.
Amongst the hundreds of porters who compete for the roles of guide and assistant guide, we need a way for Prem's potential to be noticed, and for him to be promoted.
And so my last stop in Nepal is to his employers. I retell the story of the journey, how despite the illness, the trek was one of the best of my life, and all because of Prem who showed me the local ways and guided me towards the highlights of the EBC.
That they have a gentle-hearted nugget of gold in their ranks, an employee that any trekker would be lucky to have.
After leaving Nepal, I hear from another trekker that they saw Prem. Working not as a porter, but an assistant guide. It's a huge promotion, one that will change his life and the knowledge he is doing what he loves, hosting trekkers like me, makes me aware our mini Himalayan adventure altered us both.
Him – a new career, me – an unlikely, simple friendship that I remember more than the mountains.
It's true, the quieter we are the louder the mountains speak.
When I left preconceptions behind and listened, it became clear on the EBC trek that they had a lot to say.
The details
When to Go:
Most trek with the clearer post-monsoon skies of September/October. But in October 2011, Sagarmatha National Park recorded over 10,000 trekkers. This past May, there were 3,000 (and still good visibility). With the 60th anniversary of the Tenzing/Hillary Everest summit climb on 29 May 2013, base camp will be a buzzing hive of activity.
Highlight:
The knuckle biting airplane ride to Lukla airport, perched at 2800m up a cliff with a 460m runway terminating in a rock wall, is the only way to access EBC (unless committing to an additional 3 day trek).
Take a camera and sit in 1A or 1B – they leave the cockpit door open for thrill seekers to watch the landing.
Pack:
Cold weather gear, even in May it snows.
Acute Mountain Sickness:
AMS results when the body doesn't acclimatise with the rate of ascent and can cause Cerebral (HACE) or Pulmonary (HAPE) Edema (swelling of the brain and fluid on the lungs).
Walk slowly, hydrate, take acclimatisation days and consider Diamox, a high-altitude drug. Oxygen at 5000m is 50 per cent less than that at sea level.
Contact:
To trek with Prem Tamang, contact Intrepid Travel: intrepidtravel.com, 1300 018 871. Intrepid also organise Lukla flights.
Cultural:
If trekking as a female, be respectful of cultural gender rules, extending to your porters and guides.
LEAVE YOUR COMMENT