How to prepare for an international scuba diving holiday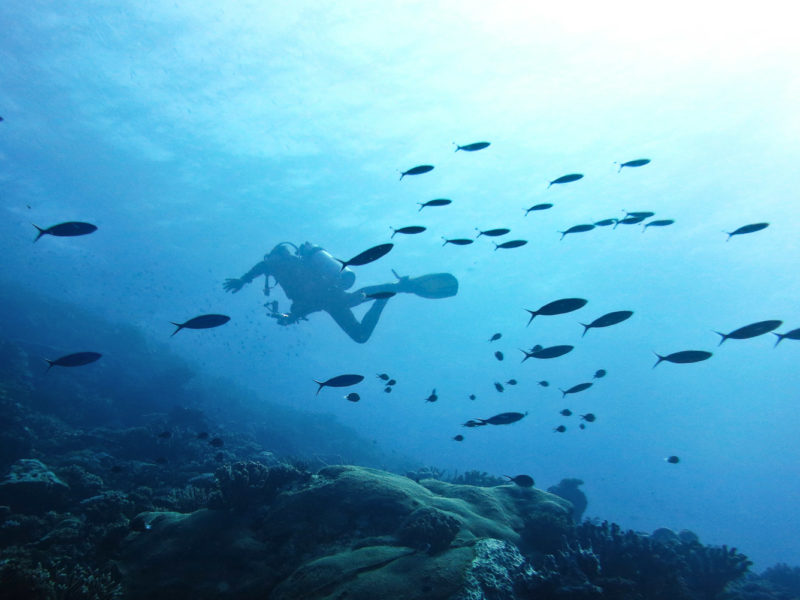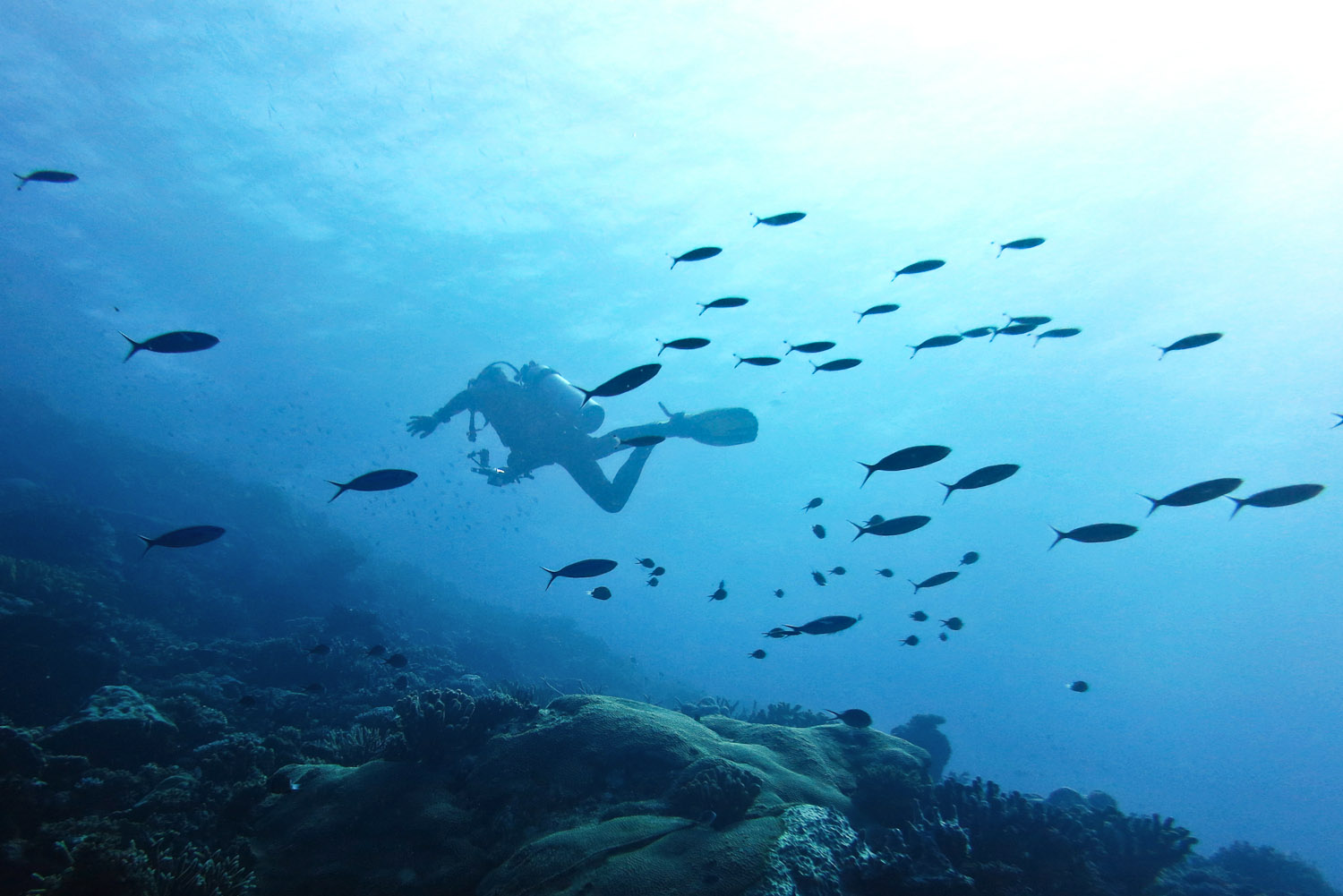 A holiday spent scuba diving is becoming ever more popular with intrepid travellers and novices alike. Here is what you need to know before you take the plunge.
The coral reefs of the South Pacific and Indian Oceans really are as spectacular as they look on TV and they are far more accessible than you might think.
While a diving holiday may take more planning than your average snooze-by-the-pool resort variety, the rewards are more than worth it.
Here's how to journey from dreaming to doing.
First things first, can you dive?
Much like skiing, which carries the risk of something going wrong if you throw yourself down a mountain at full pelt without learning how to stop, diving presents the risk of something going wrong if you don't first learn how to use your equipment (although diving actually poses fewer risks than many other holiday pursuits, and requires far less physical fitness or coordination).
The fact is that without training you won't be able to dive, and there are two options available in order to tick this box: get qualified at a local dive centre before you go or do your training while on holiday.
The first option gives you more time to relax on your trip without three days of training and reading dive manuals. The second is an opportunity to learn how to dive in idyllic conditions and clear tropical water.
If you are qualified to dive, but you haven't done so in a while, it's a good idea to invest in a top-up course. Most dive resorts offer refresher courses if you don't manage to get around to it before you depart.
Are you fit enough to dive?
Scuba diving doesn't really require a great deal of exertion; so you don't need to be fit enough to compete in triathlons.
It does help, however, to be swim-fit, or at least a reasonably good swimmer, as this means you will use less air and be able to stay underwater longer.
Don't dive if you have a head cold or any kind of ear infection as it will affect your ability to clear your ears as you make your descent, which can result in a perforated eardrum in extreme cases and put you off the pursuit for good.
One of the main reasons a lot of people cite for not choosing to dive is that they tried it once and had problems with their ears.
Choosing your dive destination
Planning a diving trip involves a few extra questions on top of your normal holiday destination decision process:
What type of diving are you interested in?
Pretty coral reefs, wrecks, macro diving (really small stuff) or pelagic diving (sharks and other big stuff)?
Who are you travelling with?
Are there plenty of activities to keep non-divers happy while you go diving? Or, are you travelling with a group of diving buddies that want to go diving five times a day and little else?
How experienced a diver are you?
Can you handle a dive that might include challenges such as strong currents or low visibility, or would you prefer to dive in shallow coral reefs?
Make sure you ask the dive resorts you are considering how challenging the diving is and how advanced you need to be.
Don't make the mistake of taking off to Nusa Penida in Bali or Palau in Micronesia if you're not a particularly good swimmer and struggle in strong currents.
Other factors to consider include the time of year to visit.
Weather conditions vary, even in the tropics, affecting visibility, water temperature and the creatures you are likely to see. A good rule of thumb is to not plan a dive holiday to a tropical destination during or immediately following the wet season.
Scuba diving equipment
If you're planning on doing a lot of diving locally as well as on holiday, then it's worthwhile investing in your own equipment, as this drastically lowers the cost of diving in the long term.
But even if you're not quite a fanatic it is still worthwhile investing in what divers call 'basics': a mask, snorkel and fins.
The mask is particularly important as it's vital you find one that fits the shape of your face without leaking or making you feel claustrophobic. And if you're planning several consecutive days of diving, you should consider taking your own dive computer as not all resorts provide them (make sure to ask when booking).
You should also investigate what the water temperature is like to figure out if you will need a wetsuit and, if so, how thick it needs to be (3mm or 6mm).
If you aren't fully kitted out, all dive resorts will provide tanks, and most are pretty well stocked with equipment such as BCDs, regulators and fins (although they don't always have a great selection of wetsuits).
Safety first
Before travelling, check your travel insurance to see if it covers dive-related incidents.
If you're planning to dive regularly, it's worth considering dive specialist insurance from the Divers Alert Network (DAN), the only insurance policy that will cover the costs of evacuating you to the nearest decompression chamber if the worst happens.
And be sure to pack your own first aid kit, including a compression bandage, wound dressings, antibiotic cream, painkillers, sea-sickness tablets, sunscreen and aqua ear.
When considering a dive resort, use this checklist of questions to make sure you'll be safe:
Does the resort have oxygen (O2) available on all their boats?
Can their O2 equipment give high concentration oxygen to a breathing and non-breathing diver?
How many hours of O2 supply do they have? Is it enough to get the diver to appropriate medical care?
Are the staff trained in O2 first aid?
Do they have a first aid kit on board all boats?
Do they have an emergency plan?
Where is the nearest decompression chamber?
Budget diving holidays
Let's face it, diving is a reasonably expensive undertaking so if you're on a tight budget, it's best to look for a good deal.
Lots of dive resorts offer a range of accommodation styles, from dormitories to private rooms and villas.
If you want to dive the Sipadan Reef off the east coast of Sabah, Malaysia, Scuba Junkie has a range of accommodation options that start from cheap – a dorm on the mainland and long transfer each day for diving – to mid-range dormitory accommodation on nearby Mabul Island, and the relatively luxurious option of an air-conditioned room on Mabul.
In the northern Yasawa Islands, Awesome Adventures Fiji has a variety of 'Bula Passes' that provide transfers to all the Yasawa Islands with different levels of accommodation styles and inclusions, from 1 Coconut (dormitory, no frills) to 3 Coconuts (buré accommodation, air conditioning and buffet meal plan).
Luxury diving experiences
The Philippines is made up of well over 7000 islands, with some of the best diving on offer anywhere.
Situated on its own private island in the Cuyo Archipelago, north-west of Palawan Island, the ultra-luxurious Amanpulo boasts a small cluster of casitas (modelled after native Bahay Kubo dwellings) and villas, a spa, the Clubhouse Restaurant and Beach Club and one of the most beautiful white beaches you are likely to see.
Diving here caters to all levels in a self-declared marine park with a pristine coral reef just offshore in the startlingly blue Sulu Sea.
Wakatobi Dive Resort in Indonesia's Sulawesi is a family friendly, five-star dive resort, with luxury accommodation, fine dining and, being located in the epicentre of the coral triangle, seriously mind-blowing diving.
Zeavola Resort on Phi Phi Island offers barefoot luxury with beachside villas, fine dining and butler service, and personalised diving from a high-speed luxury speedboat that will get you to the best dive spots long before the hordes from Phuket can reach them.
Diving with the Family
A cruise around the Fiji islands with Captain Cook Cruises Fiji is a wonderful option for families. The onboard kids' club has a great program for all ages, and each day a new port offers a wide range of day trips and diving opportunities. The bonus for divers is that you'll visit Fiji's more remote dive sites such as Makogai and Taveuni in a family friendly environment.
More and more, dive resorts are starting to cater for families, including the three luxury options already mentioned above. But perhaps more surprisingly, family friendly dive resorts are popping up in more adventurous destinations, including the likes of Papua New Guinea and the Solomon Islands.
Uepi Island Resort in the Solomon Islands' Western Province has access to some of the world's best easy diving. Pristine coral reefs and friendly reef sharks are as close as the resort's own jetty and there are plenty of land-based activities and safe swimming in the lagoon for kids.
Tawali Leisure and Dive Resort, in Papua New Guinea's Milne Bay region, is also a great choice for families. The resort is surrounded by beautiful coral reefs that are teeming with life, with little to no current so kids can snorkel the top of the reef while you dive down below.
Details
For a comprehensive guide to diving in Australia, south-east Asia and the Pacific Islands, visit diveplanit.com, and for information on training and directories of certified dive training centres and resorts, visit padi.com and divessi.com
LEAVE YOUR COMMENT