The best travel books money can buy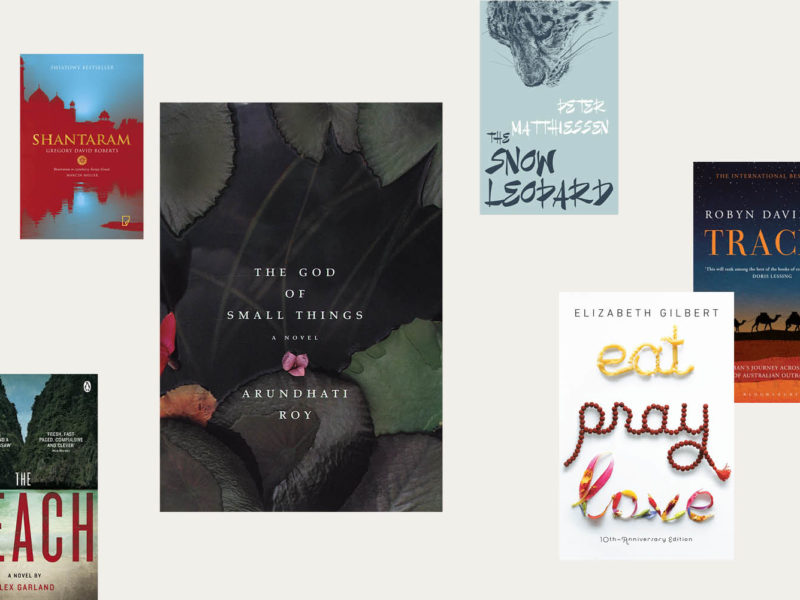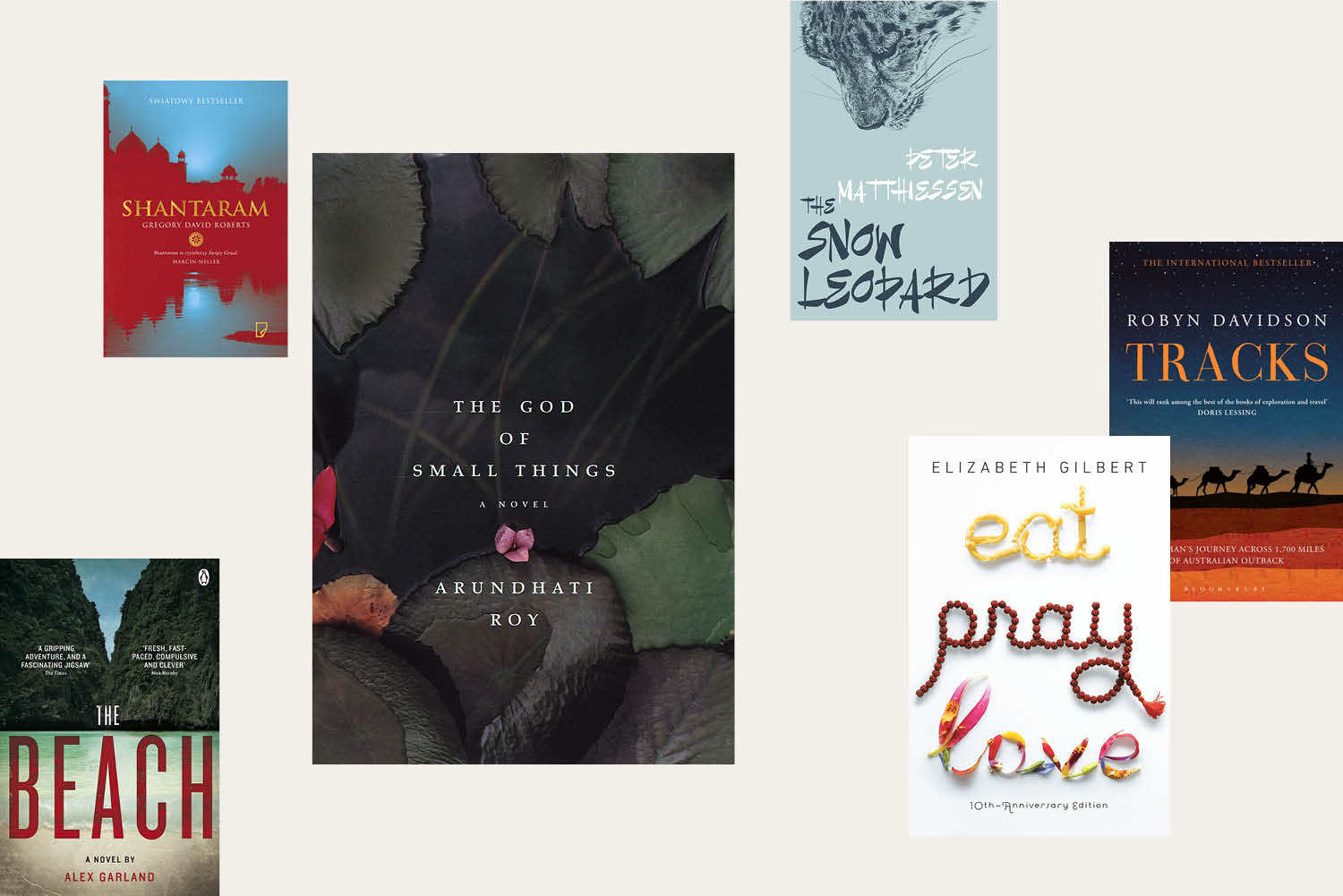 From cult hits to contemporary classics spanning Italy to India and Mexico to Madagascar, here are the best books that inspire us to travel.
It can be a book that made you think "I have to go there". It can be a book that was passed from traveller to traveller in the beach-side oasis where you misspent your backpacker years. It can be a book that paints such a vivid picture of a place that it left you fascinated, even if that picture wasn't the most flattering, in fact it could be downright scary, as in books about war.
It doesn't have to be high culture or even beautifully written, as long as it piques your curiosity or lets you travel to and a time and place by proxy.
These are the 52 best travel books that have made us, the world, travel (organised by continent, but in no particular order).
Australia and Asia…
1. The God of Small Things (India) by Arundhati Roy
A New Age novel (even though penned back in 1996) that traverses the childhood of fraternal twins governed by 'love laws', which paints a mystical if not always pleasurable picture of the culture of Kerala in India's south.
2. Shantaram (India) by Gregory David Roberts
A Boy's Own adventure for escaped criminals that spans the light but far more often darker side of Mumbai society as seen from a somewhat desperate outsider. A big, thick epic.
3. Eat, Pray, Love (Bali, India, Italy) by Elizabeth Gilbert
The post-divorce memoirs that convinced a wave of woman to pack up and go on that trip of a lifetime. Does Elizabeth find herself? One way to find out…
4. The Beach (Thailand) by Alex Garland
It was written too late to be responsible for Thailand's backpacker inundation, but this dark Lord of the Flies-style adventure is fodder for those who prefer their travel intense, exotic and adventurous. Of course, it's way better than the movie!
5. Down Under (Australia) by Bill Bryson
Few outsiders have captured the quirks, good and bad, of 'Straya's culture like American Bill Bryson. It delightfully brings Aussie clichés to life and is still as laugh-out-loud as it was in 2000.
6. Tracks: A Woman's Solo Trek Across 1700 Miles of Australian Outback, by Robyn Davidson
What drives one woman to walk across Australia through desert is beyond us, but what a feat. A great Australian story about a strong and independent woman.
7. Stark (Australia) by Ben Elton
English comedic legend Elton's first book is set mainly in Australia, in a dystopian near-future in a fictional town but for many an Englishman and woman, it's a reference point for the Western Australian outback.
8. The Snow Leopard (Tibet) by Peter Matthiessen
A beautiful account of naturalist George Schaller's two-month quest to find the beautiful snow leopard in the Tibetan Himalayas. Mee-oww!
9. Into Thin Air: A Personal Account of the Mt. Everest Disaster (Mt Everest) by Jon Krakauer
For those fascinated in the why-the-hells of climbing Mt Everest, no other single account will bring into focus the alluring beauty and incomparable perils of the biggest of them all. Spoiler alert: lots of people die.
10. Angry White Pyjamas: An Oxford Poet Trains with Tokyo Riot Police (Japan) by Robert Twigger
One man's journey into the heart of Japanese culture, its ancient traditions and the way of karate, which may see you signing up for a class or two.
11. Wild Swans: Three Daughters of China (China) by Jung Chang
A delicately woven novel that charts the triumphs but more often trials of three generations of 'Daughters of China', spanning pre- to post-Cultural Revolution. Box of Kleenex at the ready.
12. The Carpet Wars: From Kabul to Baghdad: A Ten-Year Journey Along Ancient Trade Routes by Christopher Kremmer
Follow journalist Kremmer's rug odyssey along the trading routes that carried the precious commodity through less-travelled countries, from Afghanistan and Pakistan to Iran and Iraq and the other 'stans.
13. The Girl with Seven Names: A North Korean Defector's Story (North Korea) by Hyeonseo Lee
If you don't know much about North Korea and want to know more, this a great read about a defector who escaped to China and eventually on to South Korea. It's mind-blowing how different North is to the South (and the West).
14. The Luminaries (New Zealand) by Eleanor Catton
The 2013 Man Booker Prize-winner, set on the goldfields of the South Island's west coast in the 19th century, crosses crime, fantasy and sci-fi deftly. At 832 pages, it's definitely a beach-holiday or long-bus-trip read.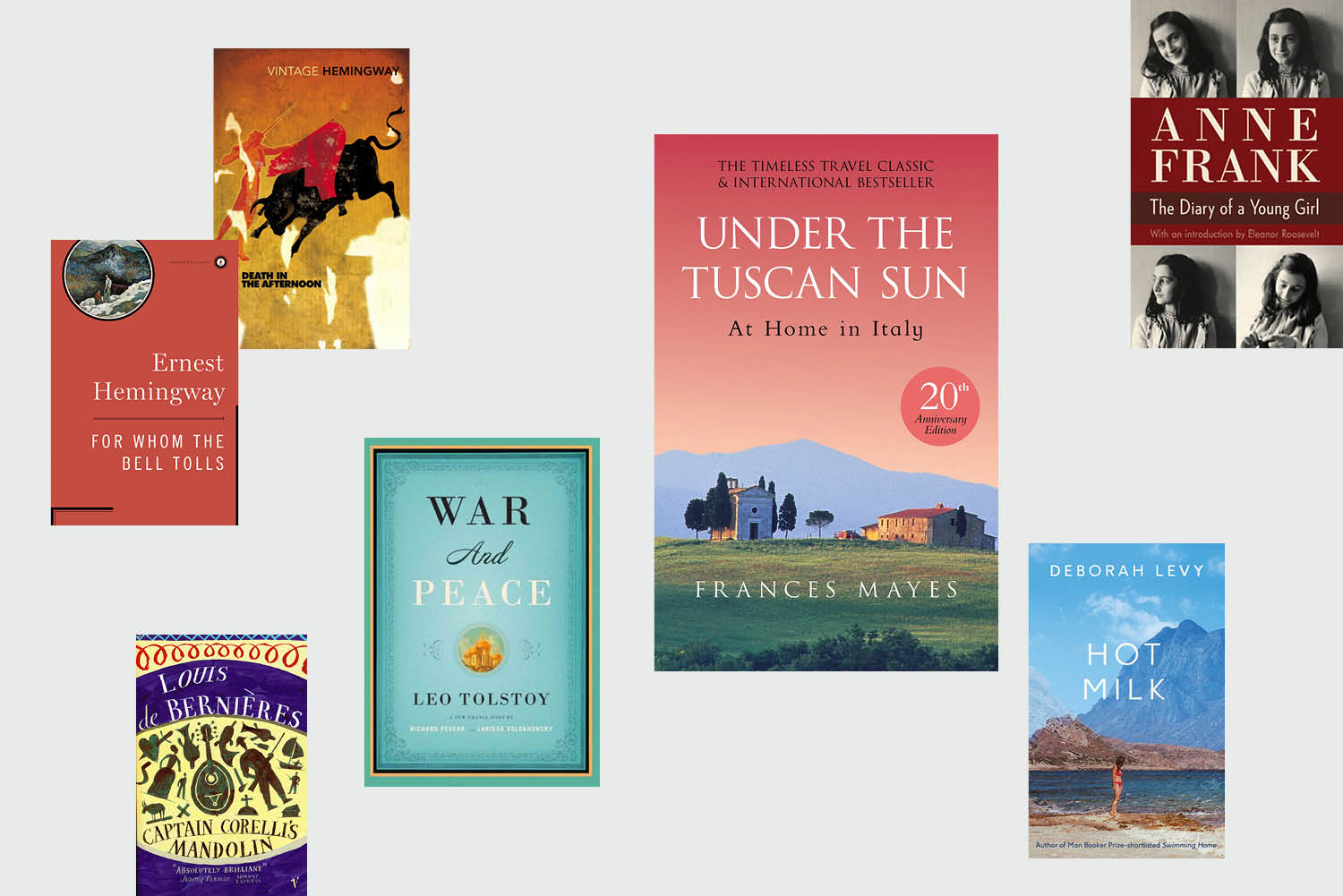 Europe…
15. Under the Tuscan Sun (Italy) by Frances Mayes
Another one of those books (memoirs) that launched a thousand holidays and stoked dreams to up roots, move to a rustic villa and indulge in all the fruits of the Italian countryside (recipes included). We fell for it.
16. Venice (Italy) by Jan Morris
Morris really pulls apart the culture of the most famous stop on the European grand tour with mid-20th century humour and irony, providing an intense and personal portrait of a sometimes tourist-swamped city.
17. Elena Ferrante's Neapolitan novels (Naples, Italy)
This four-part coming-of-age series doesn't always paint Naples (near Pompeii) in a great light but it constructs such a vivid picture of the city that you'll want to pencil it in for your next Italian tour to get off 'the trail' and soak in its authentic southern spirit.
18. Captain Corelli's Mandolin (Greece) by Louis de Bernières
The brutality of the Second World War plays out through the eyes of a variety of quixotic characters on the Greek island of Cephalonia. A wonderfully open-minded portrayal of war that really takes you to another place and another time.
19. Lord of the Rings (England) by J. R. R. Tolkien
Yes, we know Middle Earth is not real and, if it were, most people would assume it to be New Zealand's South Island. But various English landscapes around Tolkien's home, Birmingham, and Black Country are said to have informed his vision for perhaps the most known of all fantasy settings. Good enough reason for a road trip next time you're in the UK.
20. Fever Pitch (London) by Nick Hornby
The autobiographical and energetic book unpicks a culture fundamental to not just London but the entire UK: the culture of football. It traces the journey of an Arsenal super-fan from his earliest memories.
21. Remains of the Day (UK) by Kazuo Ishiguro
This Man Booker Prize-winner (1989) is replete with subtle themes of class, loyalty and social norms that play out through the reflections of a butler. Inextricably English.
22. The Bronze Horseman (Russia), by Paullina Simons
Warning: romance. Based in Russia during the Siege of Leningrad, this book is horrifying but intriguing. Even during the depths of the Second World War, love conquers all.
23. War and Peace (Russia) by Leo Tolstoy
If there's ever going to be a time and place to read all 1225 pages of Tolstoy's magnum opus, then two weeks on the balcony of your over-water bungalow should be it (or better still, a stint on the Trans-Siberian Railway). Forklift it down from the bookshelf now (and tell us all about it).
24. For Whom the Bell Tolls / Death in the Afternoon (Spain) by Ernest Hemingway
Some say these are Ernie's greatest works. The subjects are brutal – a Spanish civil war and bull fighting – but the detail-focused and personal books dig deep into Spanish culture.
25. The Diary of a Young Girl (the Netherlands) by Anne Frank
One of the most famous tales of wartime persecution seen through the untainted eyes of the young girl who was immortalised after her tragic death. Even more tragically enlightening after a visit to 'the house' in Amsterdam.
26. Hot Milk (Spain) by Deborah Levy
The plot (mother and daughter go to Spain looking for a medical cure) doesn't sound all that alluring, but Hot Milk turns out to be a hypnotic portrayal of life between desert and ocean on the Almería coast.
27. The Hundred-Year-Old Man Who Climbed Out the Window and Disappeared (Sweden) by Jonas Jonasson
The elongated title of this Swedish book only hints at the adventures of Allan Karlsson as the centenarian travels as far as his cash will get him away from the retirement home.
28. The Rebus Series (Scotland) by Ian Rankin
The Rebus Series is not your Highlands and lochs Scotland, but as modern crime fiction of a time and place it doesn't get much more addictive and alluring than this.
29. Everything is Illuminated (Ukraine) by Jonathan Safran Foer
Alex is on a quest to find the women who saved his grandpa from the Nazis, which takes him on a journey filled with magical realism that skips from the present day to snapshots of rural Ukraine from long ago.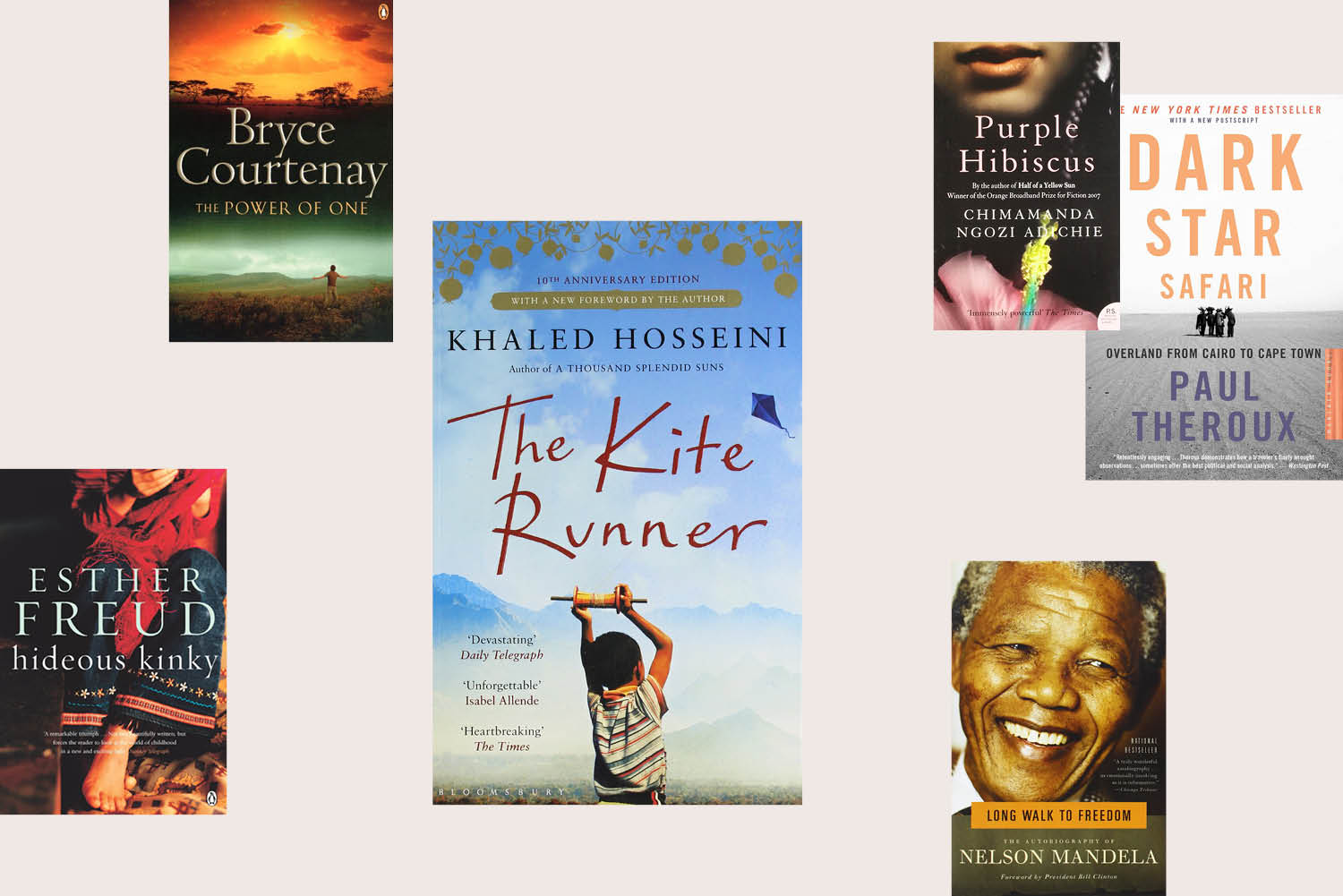 Africa and the Middle East…
30. Gorillas in the Mist (Rwanda) by Dian Fossey
A true story written by Fossey about her incredible connection with, and efforts to save the mountain gorillas of Rwanda, where she lived and worked from '60s until her murder in 1985. Part-biography, part-field study, the book (and subsequent film) opened the world's eyes to the fantastic beasts' majesty and plight.
31. The Kite Runner (Afghanistan) by Khaled Hosseini
Following an improbable friendship between a privileged boy and his father's servant's son, The Kite Runner begins during the Russian invasions of the country and winds through 30 years of twist, turns, tragedies and triumphs.
32. Dark Star Safari: Overland from Cairo to Cape Town by Paul Theroux
Few grand journeys stir the traveller's soul like the trans-Africa: Cairo to Cape Town. Here irascible and enlightening Paul Theroux conveys every bump, danger and beauty of his by-any-means-possible odyssey. A true modern(ish) adventurer's tale.
33. Long Walk to Freedom (South Africa) by Nelson Mandela
Mandela's biography documents the darkest epoch in South Africa's history but also shows – more than any book, through Mandela's strength and others' – why modern South Africa is the way it is.
34. The Power of One (South Africa) by Bryce Courtenay
Hard to put down, thanks to the relationship between Peekay and Doc, who come together from opposing sides of apartheid. Two warnings: you may fall in love with Peekay, and prepare to shed a tear.
35. Hideous Kinky (Morocco) by Esther Freud
Sigmund Freud's great-granddaughter Esther recalls her unconventional upbringing (later made into a film starring Kate Winslet). With energy and child-like wonder, she sets it apart from other depictions of Morocco.
36. Madagascar: The Eighth Continent by Peter Tyson
Even if you have no plans to venture to the country, this is a fascinating look at the unique natural and anthropological history of Madagascar, including its legendary elephant bird, the biggest ever to have lived, and the frantic attempt to safeguard its spectacular reptile population.
37. Purple Hibiscus (Nigeria) by Chimamanda Ngozi Adichie
Many start with legendary novelist Chinua Achebe for a raw and authentic taste of West Africa, but Adichie represents the new guard. Her rich novel paints a vivid picture of politics and everyday life in Nigeria.
38. O Jerusalem! (Israel/Palestine) by Dominique Lapierre and Larry Collins
A gripping account of the chaos around the creation of Israel in 1948, which may help give context to the exasperating politics that still play out in this part the Middle East.
39. The Koran
One of the most read books in the world and a gateway to the culture of so many amazing travel destinations. There are English translations available, of course, for those who don't know or want to learn Arabic.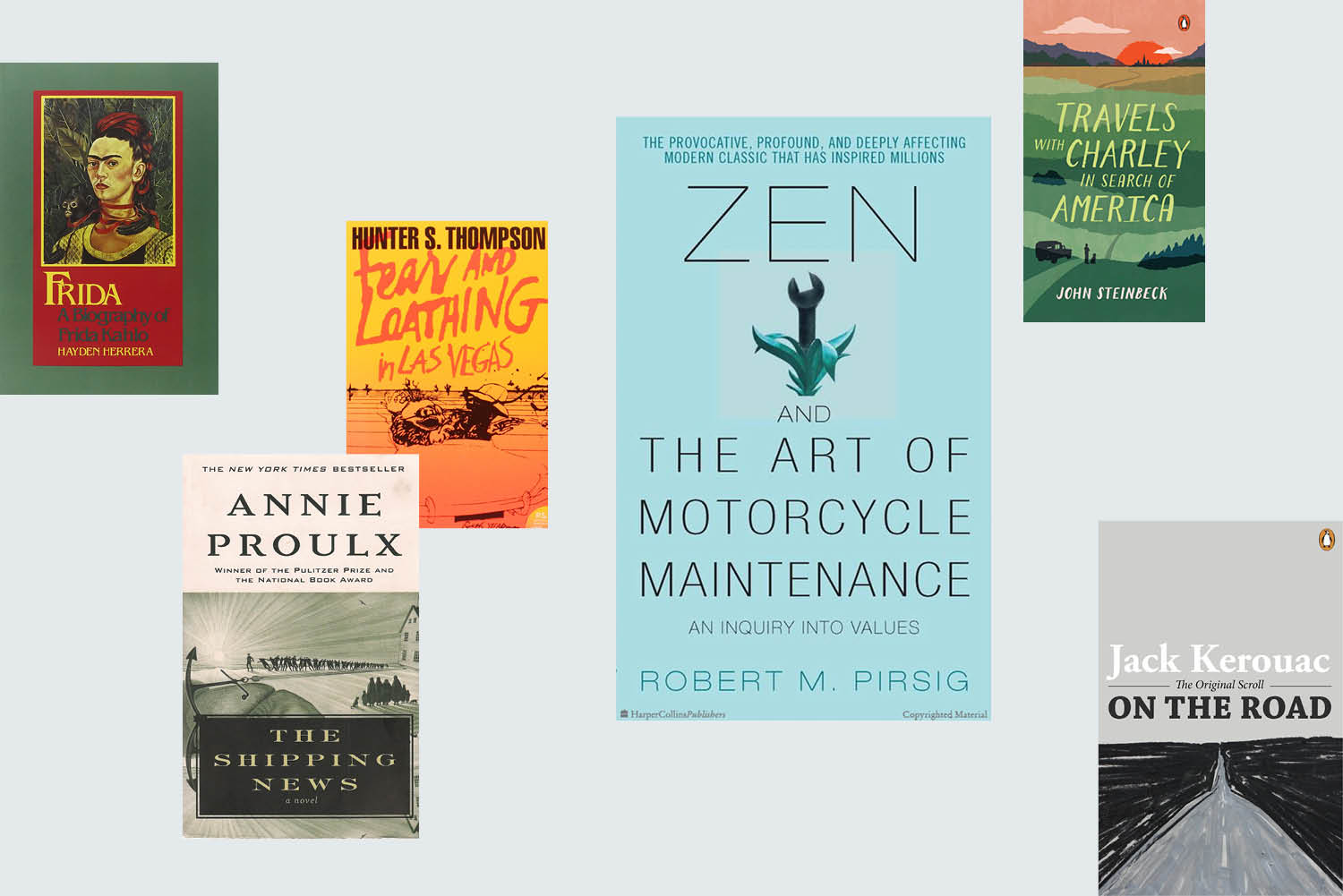 The Americas…
40. Zen and the Art of Motorcycle Maintenance (USA) by Robert M Pirsig
Not what it first seems; a father-son road trip that takes you out into the wide open spaces of the USA and then the small corners of your mind with a lesson or two in philosophy thrown in .
41. The Motorcycle Diaries (South America) by Ernesto 'Che' Guevara
The memoirs of Ernesto, which trace his journey through South America that paved the way for him to be become one of the 20th century's coolest revolutionaries: 'Che'.
42. The Shipping News (Newfoundland, Canada) by Annie Proulx
Proulx introduces you to fabulously quirky characters and paints a stark yet beautiful portrait of Canada's quirkiest province, windswept Newfoundland.
43. Travels with Charley (USA) by John Steinbeck
Steinbeck surveys America is his pickup truck 'Rocinante' accompanied by Charley (his French poodle). A bible of open-road restlessness!
44. Tales of the City (San Francisco) by Armistead Maupin
A fascinating, voyeuristic view into the world of San Franciscan socialites and their alternative worldviews and sub cultures, which marked the birth of a progressive USA in the late '70s.
45. The Secret Life of Bees (South Carolina) by Sue Monk Kidd
A young white girl is taken in by three black sisters after her mum dies in 1960s America. An interesting take on not just civil rights but also self-acceptance and faith.
46. Fear and Loathing in Las Vegas, by Hunter S. Thompson
Think your big trip to Vegas was wild? Gonzo journalism godfather, Hunter S., takes it to a whole other drug-fuelled level that has shocked and intrigued in equal measures.
47. Into the Wild (Alaska) by Jon Krakauer
(Spoiler alert) Not an ending you'll want to aspire to, but the story of Chris McCandless's minimalist wanderings around the USA has beguiled travellers for the past twenty years. A frustrating breath of fresh air.
48. On the Road (USA) by Jack Kerouac
A counterculture classic, head of the 'beat generation' Kerouac was responsible for a generation of people who chose the road over the office.
49. Frida: A Biography of Frida Kahlo (Mexico) by Hayden Herrera
All you need to know about Mexico's uncompromising first woman of surrealism, who through her art and actions became a revered figure in Central America (particularly amongst feminist and LGBTIQ communities).
50. The Old Man and the Sea (Cuba) by Ernest Hemingway
Of course, Hemingway was going to be on the list at least twice, but this novella, about a luckless old Cuban fisherman, is arguably his best, contributing to his Nobel Prize for Literature (1954).
51. My Invented Country: A Nostalgic Journey Through Chile by Isabel Allende
The successful novelist strays into the realm of non-fiction for her intensely personal portrayal of middle class Chilean life before Pinochet's coup forced her to migrate.
52. Marching Powder by Rusty Young
Not exactly Pulitzer Prize-winning writing, but a seriously gripping (true) tale of an English drug smuggler after he lands inside Bolivia's infamous San Pedro prison. You can visit the prison to this day.
What about [insert your favourite book here]? Got a great travel book that you think deserves to make the list? Have your say below…