5 of the world's most epic treks for your bucket list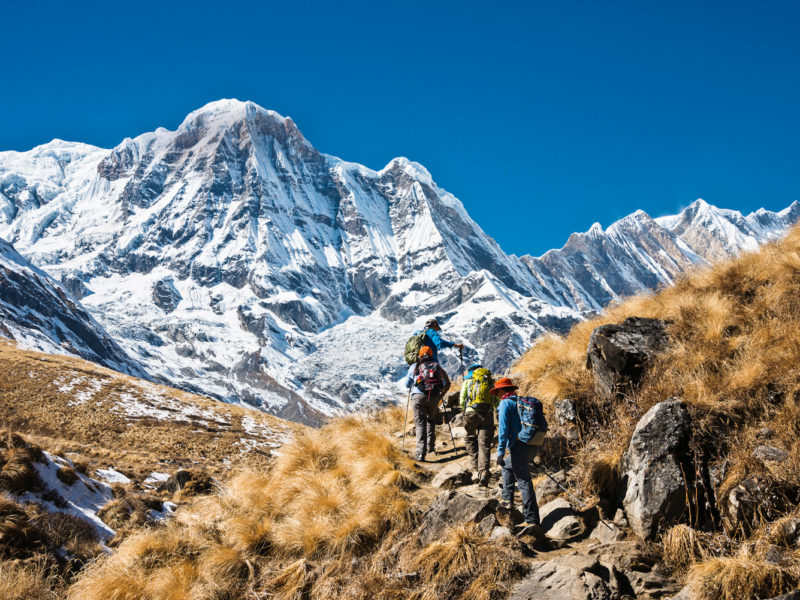 These legendary walking trails encompass eye-popping scenery and inspiring stories for those who conquer them.
1. Annapurna Circuit, Nepal
206 kilometres; three weeks to hike
Starting in Besisahar and ending in Pokhara this strenuous hike through the Annapurna Ranges, home to some of the highest peaks in the world, is the Holy Grail of treks.
It runs through ever-changing scenery from lush green foothills to stark, rugged landscapes, some of the deepest gorges on Earth to soaring snow-capped mountains.
Hikers need several days to acclimatise, so stopping at teahouses in small villages along the way is imperative.
2. Pacific Crest Trail, USA and Canada
4265 kilometres; 4–6 months to hike
Made famous by Cheryl Strayed's memoir Wild and the resulting film, the Pacific Crest Trail stretches from Mannering Park in British Colombia to Campo in California.
This epic undertaking takes in lush forests, volcanoes, lakes and deserts, with hikers camping along the way.
3. Kokoda Track, Papua New Guinea
96 kilometres; 8–10 days to hike
Hiking the Kokoda Track is a bucket-list item for many Aussies and can be a challenging and emotional journey.
Not much has changed since those Australian soldiers fought the Japanese Army here in 1942, with trenches and rusted weapons still found along the way.
The track snakes through thick green vegetation, deep dark gorges, steep valleys and rugged mountains from Kokoda to Owers' Corner.
4. Milford Track, New Zealand
53 kilometres; four days to hike
While a much shorter trek than others listed here, the Milford Track was once described as the 'finest walk in the world' in 1908 by poet Blanche Edith Baughan.
It is its scenery that renders it epic. Starting at Lake Te Anau and ending at Milford Sound, the track passes pristine lakes, mountain peaks, deep valleys, thundering waterfalls and ancient glaciers.
It can only be walked in one direction; each day's distance ranges from five to 18 kilometres with a number of lodges to stay in along the way.
5. Camino de Santiago, Spain and France
780 kilometres; 30–35 days to hike
Also known as the Way of St James, this ancient Catholic pilgrimage is 1000 years old and follows a trail from St-Jean-Pied-de-Port in south-west France to Santiago de Compostela in north-west Spain.
The trail runs across the Pyrenees, through large cities such as Pamplona and Leon, and via medieval towns and villages.