Review: Emirates A380 business class, what's all the fuss?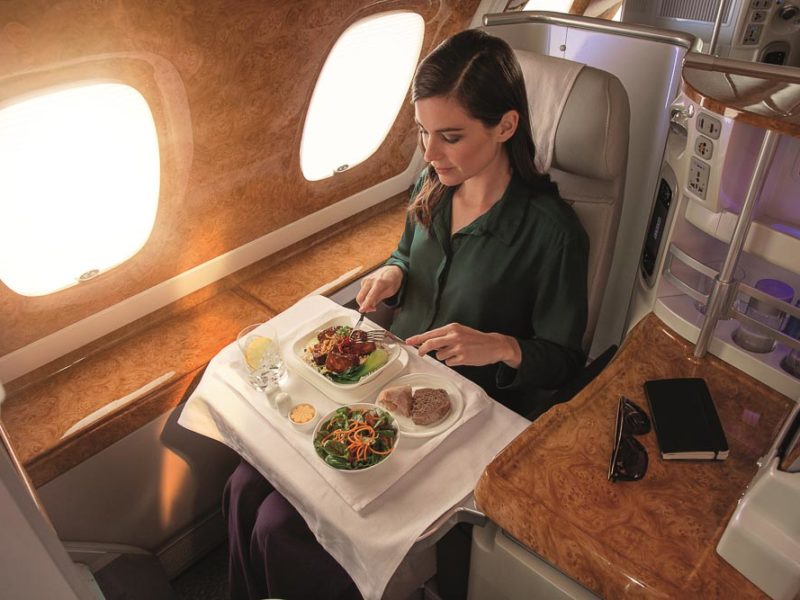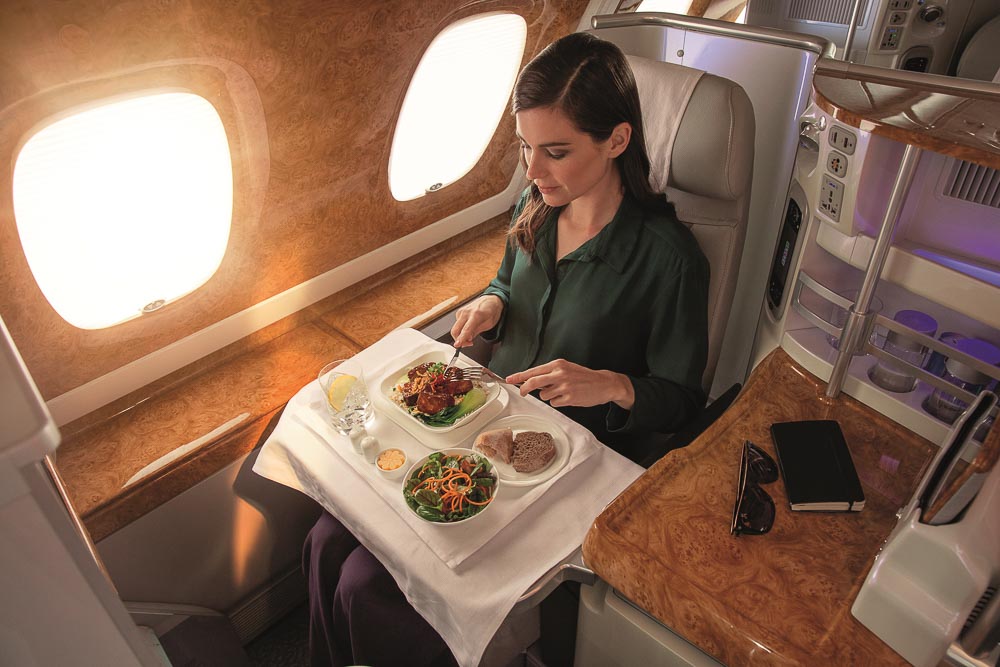 Quentin Long reviews Emirates A380 business class on a flight from Sydney to Dubai to see if it lives up to all that sky-high hype.
It quickly became legendary and a badge of honour amongst frequent travellers: Have you flown the A380 Emirates business class yet?
The tales of wonder and awe-inspiring services were stupefying for all travellers: private mini bar; almost your own suite; comfortable bed; and a bar! Yes, I know, a bar!
Here is the breakdown of all the important things you need to know.
Pre-departure
As I was merely waitlisted for a business class ticket, I couldn't take advantage of the chauffeur service. But I certainly did make the most of the lounge.
Like any lounge, it is always comforting to escape the masses and settle into a pre-departure meditation with a glass of Veuve and a few nibbles. Well, okay, I did smash down some sumptuous lamb chops.
It was the first of many 'that is awesome' moments.
The seat
Taking my 21D seat on the A380 bound for Dubai, I am absolutely loving the 1-2-1 configuration across the plane.
My seat is like a private suite; a cocoon for myself at 35,000 feet. Slumping into the chair, a thick hot towel is offered with a glass of Moët. It would be rude not to.
One of my biggest gripes with many business class offerings (and yes, it is a first-world problem) is that there is not enough space to actually do 'business'.
Where can one store the notepad, the laptop and cord, the reading material, without them digging into my ribs or feet, or having to cradle things on my lap?
My seat has enough hidey holes so I can comfortably stow all my work gear and sit in comfort. There is even a side table with my own mini bar, stocked with soft drinks and water.
The three different settings (upright, lounge and bed) give you a start to finding the most comfortable seating for you. For sleeping, I am not sure I got the arrangement quite right, as it doesn't feel quite flat.
A soft folded duvet makes the bed comfortable and a blanket is more than enough for a comfortable sleep.
Food and entertainment
The entertainment system and huge screen are going to compete with the laptop for attention.
But first, the amenity kit. It's stuffed full with good quality man-sized products; a non-skin-shredding razor blade, shaving cream, a good sized tube of toothpaste, a roll-on deodorant plus a bevy of Bulgari fragrances.
I will arrive scrubbed up till I squeak and 'perfumed like a peacock'. It's not so much an amenity kit as a fully stocked toiletry bag that out-luxes the sad bag of toothpaste-smudged goodies stowed in my luggage beneath.
A few things are missing that other airlines include; ear plugs, mouthwash and a set of jim-jams (I do love a business class with PJs).
I set about playing with the entertainment system, which has three different controls, depending on your preference: the touch screen, the standard corded controller or the cordless tablet.
The tablet becomes your world and I spend an inordinate amount of time working out all the various seat massages. Yes, I am going to arrive in a lot better shape than I boarded.
Flicking through the endless movie options, I settle on one (which I will never disclose). A few tears do leak out but I am safe from emasculation as no one can see inside the cocoon.
A dinner of a smoked salmon and crab starter, followed by chilli chicken with a glass of burgundy warrants a "bloody good, almost perfect" in my notes.
And then I find the bar. Hallelujah, there is a god at 35,000 feet. At the back of the upper deck a full, small bar, complete with bar stools and bench seating, hosts travellers looking to stretch the legs and lounge in comfort. I strike up conversations with other travellers as we sit and sip drinks and pick at nibbles.
Now this is civilised flying.
The IT Verdict: Emirates A380 Business Class
Perhaps the most civilised way to fly in the sky. Emirates' reputation is well deserved.
• Service: 8.5/10
So attentive and fast without being troublesome or overbearing. They are happy to show off their amazing product and even let people slip behind the bar for a photo. A happy crew makes for a happy flight.
• Comfort: 8.5/10
Making the most of the ample space afforded by the A380 I have never flown in such comfort; a cacoon of a seat, a private mini bar and side table, a bar and lounge area, an amazing amenity kit and great entertainment system with a huge screen plus loads of storage space.
• Food and drink: 9/10
Did I mention the Moët, the Veuve, the white burgundy and the bar person who will mix and match anything you might want?
• Value for money: 8/10
In the context of business class fares, Emirates offering is great value. It's not as cheap as the Chinese carriers, of course, but the price is on par with or cheaper than most other carriers (including partner QANTAS), dependent on when you fly.
The conclusion:
If what you seek is comfort, sleep – and a bit of pampering, then you should certainly consider a business class ticket for yourself. With a chair that reclines (almost) all the way to flat, and built-in massage capabilities, you'd be hard pressed to find a reason not to treat yourself. Especially with the food and Moët served on arrival. It's something we should all go, at least once! Just remember to BYO eye mask and jammies!
More for you…