Deserted wonderland: Torres del Paine in the off-season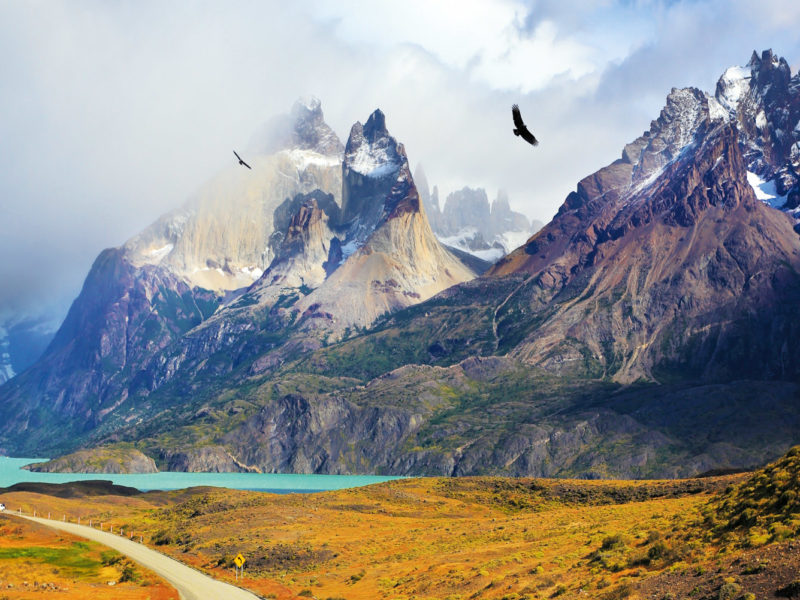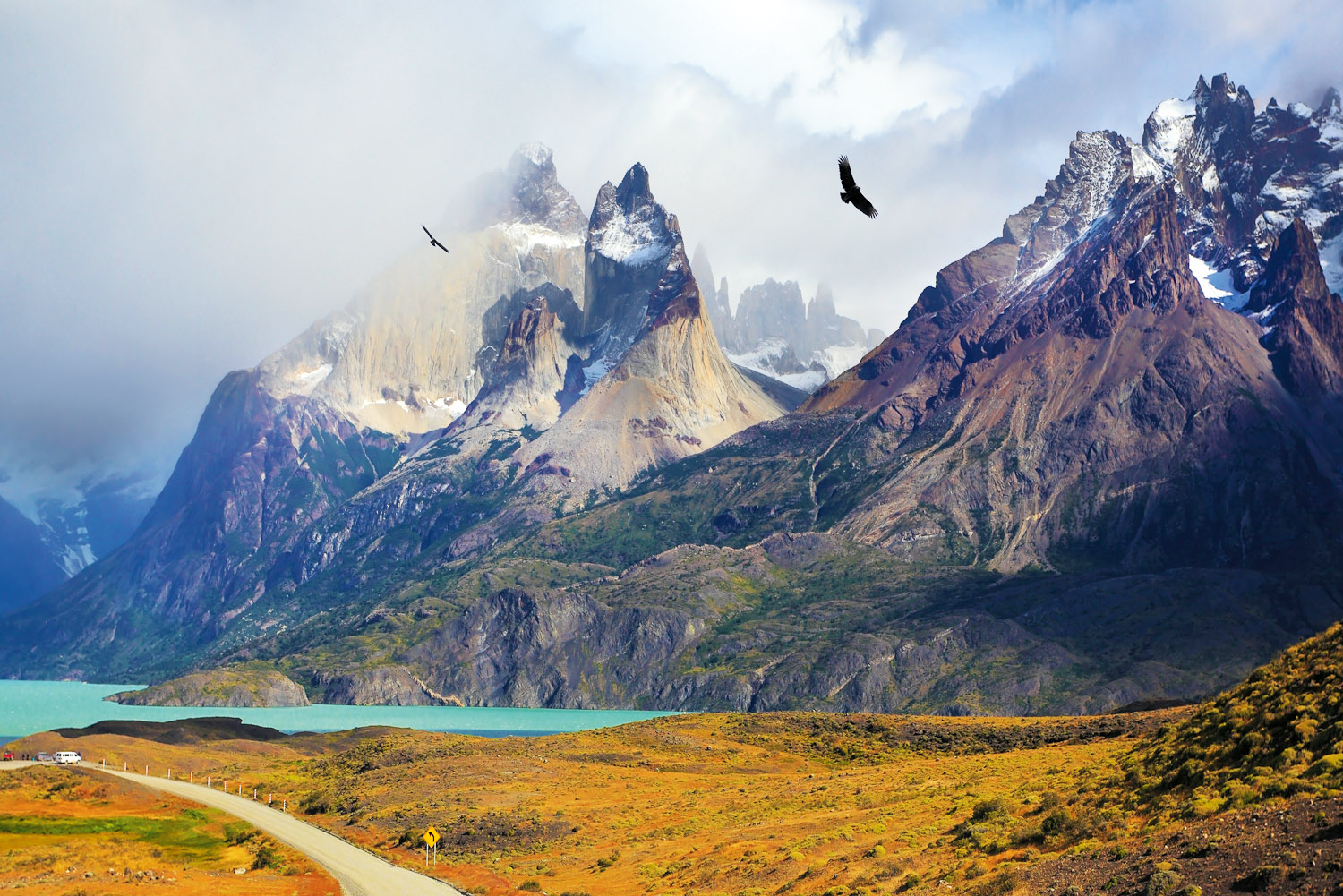 Craig Tansley visits one of the planet's most lauded national parks – Patagonia's Torres del Paine – out of season, and discovers a completely deserted wonderland.
There's one major difference between what you'll see within the alpine wilderness of New Zealand's Southern Alps region and the much lauded landscape of Patagonia's Torres del Paine National Park, and it's standing right outside my van window.
As we travel across a deserted dirt road dissecting the park, a guide screams out in the seat beside me.
The driver slams his foot down hard on the brake, throwing up a shard of loose gravel. Before we even come to a halt, he's thrown the van into reverse and edged us back along the road.
And now – not more than four metres away – stands one of the world's most elusive creatures: the puma of Patagonia.
It's not alarmed by our presence or our driver's gravel work; on the contrary, it looks as curious as we are. It moves slowly and surely – strutting like an over-sized cat across a lounge room floor – returning our stares, never losing eye contact for a moment.
Then someone beside me breaks the spell by opening a window, slowly aiming a telescopic camera lens. The creature changes from a kitty cat into something else entirely.
A puma is a killing machine. It has 16 retractable claws and will take hours to map out a kill. When it finally strikes, it goes straight for the jugular; nothing kills as cleanly as a puma.
It stares malevolently at the culprit, unlocks its jaw in a mock Hollywood sort of roar, revealing a jagged row of sharp incisors.
With a final disapproving squint, it bounds away in long, purposeful strides, sinewy muscle bulging on its smooth back.
Inside the van no one speaks. "Wow!" The silence is broken. "Wow!" The guide says again. "That never, ever happens. Maybe one in 50, maybe one in 100 people will see a puma in the park. But to see it that close. That doesn't happen."
But things do happen for those who come to Patagonia's most famous national park outside of peak season.
At its busiest over 160,000 visitors flock to the park, with the majority arriving in the summer months of December, January and February, crowding walking tracks and blocking clear passage across the narrow dirt roads.
The sense of mystery that's always been a part of Torres del Paine's appeal abates as it's clambered over, hiked across and traversed by hundreds of buses and 4WDs. And all this is as the wind – infamous in this region of Chile – blows up to 100 kilometres per hour and beyond, every single day of summer.
AVOIDING THE MASSES
Visitors ignore the park outside of late spring, summer and early autumn; indeed, when the park opens at the end of winter it's almost completely deserted.
That's why I'm headed here today, 1 September, the first day the park will open to the public after closing for winter.
Friends who've been here tell me I'm crazy to visit now, that even in the height of summer Torres del Paine is brutally cold. But what they don't know is that September is the calmest time to visit: the winds won't start till November, then they'll blow till March.
And because the park has its own micro-climate, the day-time temperatures are higher than other areas of Patagonia – with prevalent high pressure systems coming up from Antarctica the weather is more stable, and day-time temperatures over 20°C aren't unusual.
But things don't look promising when a driver collects me from the nearest airport at Punta Arenas, 50 kilometres north of Chile's southernmost point. A bitter wind blows across the Strait of Magellan, while dark storm clouds gather on the horizon above Argentina.
We pass barely a single vehicle or anything resembling a town on the five-hour journey north: it's a desolate, grey, bleak, lonely route. As we drive through the national park, the clouds thin, the wind stops and the road turns to gravel.
"Puma," says Sergio the driver, pointing out the remains of a savaged llama-like guanaco. "Open your eyes. They come to feed in winter when the people are not here, then when there are many people they go far from here. Now – this is when to see the puma."
Above us on all sides granite peaks and towers soar just beneath a blue sky, against a landscape of golden pampas and steppes that roll to the horizon.
It's a vista lifted from the National Geographic Channel: pink flamingos stand knee-deep in milky-jade-coloured lakes, while high above condors – one of the world's largest birds with wing spans of more than two metres – circle for distracted prey.
We slow down to a crawl as we pass a baqueano (cowboy) in traditional costume riding on a sheepskin saddle, steering a herd of sheep to graze. Torres del Paine was once a collection of estancias (cattle and sheep farms) before 185,000 hectares of it became national park in 1959 – earning World Heritage status in 1978.
When we finally pull up outside my hotel, Tierra Patagonia, the sun is setting and its bright pinks and mauves ignite the park's central feature – the granite spires that form the three towers: the Torres del Paine – directly in front of the hotel.
Inside, there's just four guests in a hotel with room for 80. As I gaze out across the darkening landscape, beaming planets and stars sparkle across the entire sky; there's not a single sound.
I wake to a cloudless, deathly still dawn, and walk down to the lake beside the hotel, Lago Sarmiento.
The surface is a translucent blue – unworldly and unrippled. I meander slowly along the black sand beach imagining I'm the last person left on Earth.
I'm not: Chris 'Kangaroo' Theobald is waiting for me by the hotel, sipping local mate tea.
"Check it out now 'cause you won't see the surface of that lake again from November," he says gazing out. "Nothing but white horses."
Theobald will be my guide for most of my trip. He left Australia barely out of his teens to travel the world before he found what he was looking for in Patagonia.
Because the lodge is empty I'll have guides entirely to myself, another advantage of being here in September.
"This place is like nowhere else on Earth," he says staring out at the mountains. "I used to play rugby league and now all I care about are birds and flowers. But there's something every day that surprises me, even after four years of living here. Yesterday I watched an avalanche fall 3000 metres into a valley, can you even imagine how loud that sounds?"
THE SOUND OF SILENCE
There's a long list of excursions to choose from, which take guests all over the park.
Today I'll be attempting the world-renowned eight-hour hike to the base of the Torres (Towers).
As we drive along the park's dirt roads, herds of guanacos and huemuls (an endangered deer) stare, but there's no one else about – not a single vehicle.
We set out from the car park, climbing alongside a swollen river, the Rio Ascensio, before crossing a bridge and disappearing into a fresh-smelling alpine forest. We emerge to scramble up the side of a mountain across loose rocks.
For the last five minutes of the hike Theobald tells me to shut my eyes and guides me. When I open them again I look across a frozen lake to a natural amphitheatre where three golden granite peaks, lit by soft sunlight, tower high above.
I'm mesmerised by the sight, I stand still on a boulder committing every last detail to memory.
"This is the first time I've hiked here without seeing a single person," Theobald says. "Normally you'd see at least a few hundred people – you don't get this… ever."
On the most crowded of summer days, hikers have to queue to arrive at this spot. We sit savouring the isolation, barely speaking, breathing in the silence and the crisp alpine air.
The following day we drive across the park to wander on a wide black sand beach where hundreds of massive ice blocks have dropped from a gigantic floating iceberg. Some icebergs here are over 50 metres high, refracting light and displaying every type of blue.
Around me clouds float through the air, covering mountains, exposing mountains – huge peaks that jut down at right angles straight into fjords and rivers. There are no bugs, no people, no noise: nothing spoils the peace; I think of Charles Darwin's words on first witnessing Patagonia: "Why … does this barren land possess my mind? It might be partly because it enhances the horizons of imagination."
MOUNTAIN MAN
While the landscape dazzles, I'm also intrigued by the baqueanos who have worked this barren part of Chile for centuries.
I'm driven along an empty road high above an enormous lake to a lonely estancia.
My guide, Luis 'Nacho' Miranda explains that the baqueano I'll be riding with today offers horse rides to visitors because it's the only contact he'll have with the outside world for weeks at a time. Ruben lives here with his dogs and sheep, part of a dying breed of traditional cowboys.
He smiles shyly as he shakes my hand, revealing missing teeth and laughter lines as deep as the granite folds of the mountain immediately behind him.
We ride through a stunted alpine forest full of moss where Old Man's Beard blocks our path; each time we make it out to a ridgeline, another jade-coloured lake comes into view.
When we return to the farmhouse, Ruben boils an ancient kettle and pours me a bitter mate tea, which I suck through a pipe attached to a small wooden bowl.
Through Luis I tell Ruben he's a dead ringer for one of the most famous actors of the 20th century, Marlon Brando. He looks delighted (I decide against telling him I'm thinking Godfather Brando, not A Streetcar Named Desire Brando), giggling and repeating the name over and over again.
As we leave Luis whispers to me: "He has no idea who Marlon Brando is." But then Ruben's been a baqueano since his teens, shunning town living for a life in the Patagonian wilderness, just like his father, and his father before him. Life is hard, but Ruben knows no other way.
As I drive back along the empty road to Tierra Patagonia, the dusk paints the park a soft apricot.
Nothing has more gentle charm than a Patagonian twilight, the soft light fades out till there's nothing left but the very last memories of another sunny day lingering in the wispy clouds. Even the harsh contours of the 2000-metre high peaks around me soften in these placid hours after the sun sets.
And in September, before the rush of the summer season when gales roar across the steppes and the pampas, there's just the pumas and the guanacos and the huemel and the baquanos to share it with.
DETAILS
GETTING THERE
LAN operates seven one-stop flights weekly from Sydney to Santiago, Chile, with onward connections to Punta Arenas.
LAN also offers three direct flights weekly from Sydney to Santiago in codeshare with Qantas.
STAYING THERE
Tierra Patagonia offer 40 suites and rooms completely nestled into the park's landscape overlooking lakes and mountains, including all meals, an open bar, transfers to Punta Arenas and daily excursions.
DO YOU NEED A VISA?
No visa is required for visits up to 90 days, but a reciprocity tax of $151 is payable on arrival.
CURRENCY
The currency in Chile is Chilean Pesos.
At the time of writing $1 AUD = approximately 470 CP.
THE JABS TO HAVE
There is no Malaria or Yellow Fever in Patagonia, however be sure Hepatitis A, B and Typhoid vaccinations are up-to-date.
WHAT TO PACK
The weather is notoriously temperamental – wear layers, preferably with thermal underwear and a waterproof jacket, and pack gloves and a beanie.
Bring waterproof hiking boots that have been already worn in, and take a hat and sunscreen as the sun is particularly fierce in this part of Chile.
LEAVE YOUR COMMENT