The best of Mexico on the Yucatán Peninsula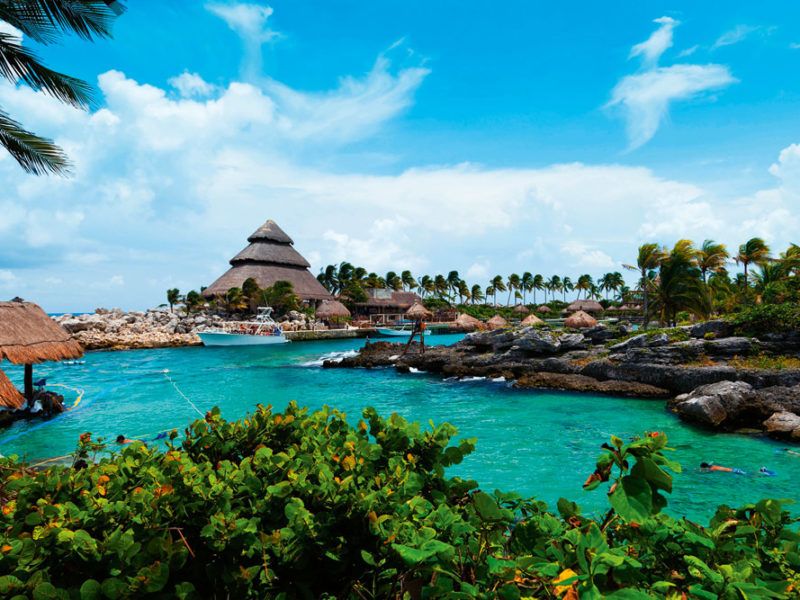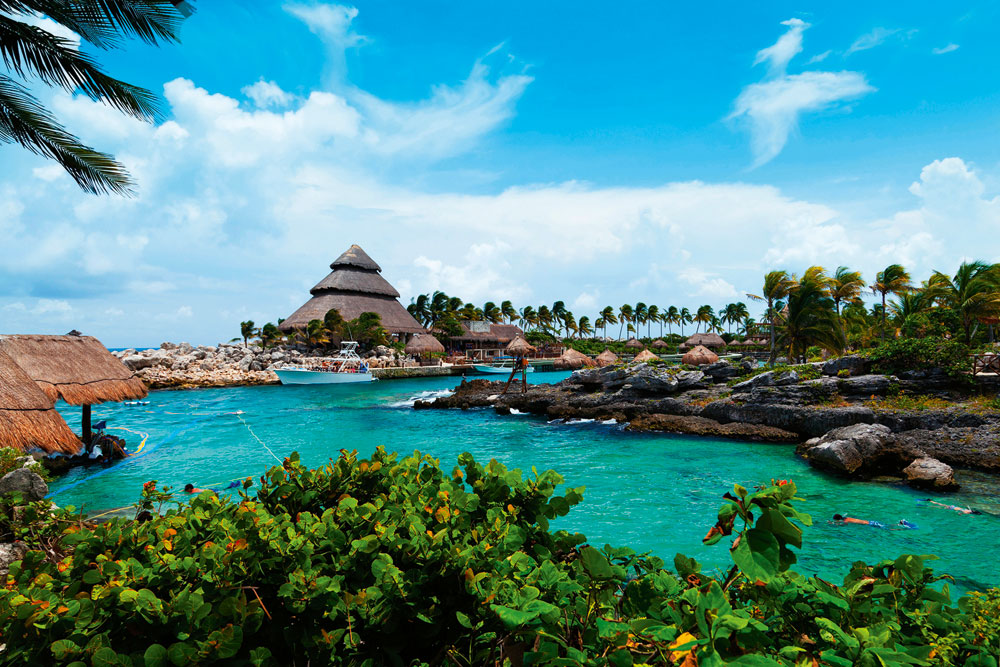 Leaving Mexico's busiest tourist resort behind, plunge into a magical world of mystical ruins, colonial towns and lush tropical islands on the Yucatán Peninsula.
For millions of tourists, there's only one place that matters in Mexico: Cancún – the gaudy, glitzy, bling-tastic mega-resort on the country's achingly beautiful Caribbean coast.
But Cancún is also the gateway to another world, one that reveals the rich history of the country.
Delve beyond its ever-expanding city limits and you experience the other, less-heralded but much more culturally rewarding treasures of the Yucatán Peninsula, the endearingly enigmatic eastern region of Mexico.
Memories in Mérida
"It's lively like this pretty much every night," beams Adriana, my Mexican friend, as we soak up the buzzing twilight entertainment on Plaza Grande, the leafy central square of Mérida, 300 kilometres east of Cancún.
It feels like a different country. It's Monday evening and an all-male brass band, accompanied by a dozen female dancers dressed in white, flower-patterned gowns and head-scarves, are producing a spirited, folksy performance before a bulging swarm of onlookers.
I spot amorous teenage couples slurping mango sorbets; Maya women with technicolour bags and blankets draped across their shoulders; a well-to-do Meridano family who've disembarked from a calesa (a horse-drawn taxi); chubby, middle-aged, mustachioed salesmen armed with bundles of Cuban cigars; and vendors rustling up marquesitas – the Yucatán answer to a crêpe.
While Cancún was purpose-built for holidaymakers in the 1970s, Mérida is said to be the oldest continuously occupied city in the Americas.
Once upon a time – OK, in the early 16th century – this was the thriving Maya settlement of Tiho. Crammed with limestone temples and pyramids, Tiho reminded the Spanish conquistadors of the old Roman city of Mérida in mainland Spain.
Quashing local resistance, the Spanish forced the enslaved indigenous people to dismantle the Maya structures and recycle the stones into stately European-style buildings, including an imposing cream-shaded, twin-towered cathedral – one of the earliest built in the New World.
Lit up, these monuments provide a photogenic backdrop to Plaza Grande's free (almost nightly) family-friendly goings-on, which are infused with the region's rich Maya-Mexican traditions.
Thursday evenings are extra-special, when live trova music – romantic, serenade-filled poetic melodies – echoes around a square blessed with chains of cloistered, salmon-shaded arcades, and studded with market stalls laden with craftwork, trinkets and jipis (Yucatán Panama-style hats).
Despite its vibrant, festive spirit, Mérida is, in many ways, a sleepy, old-fashioned city – especially in the afternoons, when the tropical heat reaches its peak, and hammock-swaying becomes irresistible.
Hammocks have been hand-woven here for centuries, often using henequen, which derives from a native plant yielding strong natural fibres. Used by the Maya, henequen was known as 'green gold' during the late 19th century, when plantation owners began producing it on a mass scale, feeding the huge worldwide demand for rope, yarn, sacks and ship sails.
The henequen trade declined by the 1950s – nylon superseded it – but the enormous wealth it generated is still evident, especially on Paseo de Montejo, Merida's Champs-Élysées-like boulevard. Strolling along its wide, tree-lined pavements, I admire ostentatious old merchants' properties with their balustraded balconies, stucco flourishes and trimmed lawns.
You'll find hammocks in the hotels and hostels sprinkled around the Ciudad Blanca (White City), as Mérida is called on account of the low-level, limestone buildings in its historic centre.
Many have been refurbished to house restaurants, cafés, launderettes, bakeries, hardware stores, down-to-earth drinking dens and stores showcasing the locals' renowned weaving skills. You can buy your own colourful high-quality hammock for around $25.
Cocktails in Campeche
A few hours' drive south of Mérida, Campeche is, if anything, even more picturesque.
Established in 1540 over a pre-existing Maya town, this enchanting port city has the look and feel of a large open-air movie set.
Indeed, it doubled up as Havana in the erotic 2001 thriller Original Sin – starring Antonio Banderas and Angelina Jolie – and also featured in Steven Soderbergh's The Argentine, which traces Che Guevara's days fighting alongside the young Fidel Castro.
"We even have our own malecón!" says Rodrigo, my tour guide, as we stroll along a sea-hugging esplanade that's not too dissimilar from the one in the Cuban capital.
Like in Havana, Campeche's malecón draws a wave of humanity, especially at sunset, when joggers, families and lovebirds sashay past swaying palm trees as the big orange ball sinks into the Gulf of Mexico and turns the sky into a blur of violet and red.
However, it's Campeche's walled checkerboard old quarter that really captivates visitors.
Given UNESCO World Heritage-listed status, it's flush with balconied colonial mansions, pastel-shaded houses, wrought-iron lamps, Baroque churches, cobbled streets and some of the highest, most vertigo-inducing pavements you'll ever tread.
It's also ringed with fortifications and canon-studded bastions. Ideal for leisurely ambles today, they were originally constructed to defend Campeche after a raft of attacks by real-life pirates of the Caribbean such as Sir Francis Drake, John Hawkins and Cornelis Jol (nicknamed Peg Leg).
These swashbuckling treasure seekers were attracted to Campeche's harbour, where vessels loaded with cargoes of gold, silver and prized timber set sail, bound for Spain.
One of the many intriguing myths surrounding Campeche is that it's the birthplace of the cocktail. Legend has it that the word originated here, when English sailors were served drinks stirred with a bird's tail feather.
"They mistook it for a cock's tail," says Rodrigo. Loaded with Caribbean rum and local tropical fruit, mixers can be savoured at numerous bars in Campeche, while shrimp cocktail is one of the city's most popular seafood treats.
Filling and flavoursome, and a diversion from the standard Mexican diet of tacos and tortas, typical Yucatán cuisine fuses Mexican, Maya, European and Caribbean influences.
A signature dish is cochinita pibil (pork marinated in a sauce made of garlic, chillies, black pepper, cumin, cinnamon, oregano and vinegar, then wrapped in plantain leaves and grilled).
Tomb raider
Hedged by muggy jungle, both Mérida and Campeche can be used as springboards to indulge your inner Indiana Jones.
While hallmarks of the Maya civilisation are found across Central America – in Honduras, El Salvador, Guatemala and Belize – it's Yucatán that shelters the most substantial collection of 'lost cities'.
Uxmal, nestled in the hilly Puuc region south of Mérida, is one of the most famous and evocative Maya sites; the face of Chaac – the Maya rain god – is etched into abandoned pyramids, palaces and temples.
Edzná, a ruined Maya settlement 50 kilometres east of Campeche, apparently caught Mel Gibson's eye when he was scouting possible locations for his 2006 Maya-themed blockbuster Apocalypto (Mel eventually settled on the rainforests and lakes of Mexico's Veracruz state).
The most revered Maya ruins in the region is Chichen Itza. One of the New Seven Wonders of the World, an ancient site of pilgrimage, it rose to prominence between AD600–1000, though it had collapsed long before the Spanish seized the peninsula in the early 16th century.
It's a treat to just wander among Chichen Itza's mystical pyramids and sacrificial temples, but if you'd like to know more about the Maya's aptitude for architecture, astronomy, science and mathematics, a knowledgeable guide is invaluable. The fun is also enhanced if you can suspend your Western rationalism.
With Chichen Itza well and truly on the tourist trail, some travellers prefer cycling around the ruins of Coba for a more sedate experience. Immersed in luxuriant rainforest, and humming with tropical bird-life and butterflies, this is perhaps the most atmospheric of all Maya sites.
But if you're after a postcard-perfect shot worthy of a photography competition then you should head straight to Tulum. Perched on clifftops 50 kilometres south-east of Coba, the ancient site overlooks one of Mexico's finest white-sand beaches and the spellbindingly turquoise Caribbean Sea.
Beachy delights
"Oh my god! I could live here forever!" It's the kind of impassioned statement you often hear from travellers chilling out on the palm tree-peppered beachfront of Tulum, where a wide array of accommodation – from hammock-riddled shacks to swanky apartments – have sprouted in recent years.
Tulum, however, is just one of the alternative beach-side bases to Cancún. Heading south, the Sian Ka'an Biosphere Reserve is even more rustic.
A blend of beach, mangrove, tropical forest and reef, this UNESCO World Heritage Site remains relatively under the tourist radar.
In the Mayan language, Sian Ka'an means 'the place where the sky is born' and its natural beauty and ecological diversity is mind-blowing. Turtles, jaguars, pumas, ocelots, monkeys and myriad birdlife are among the plethora of animals that call this place home.
North of Tulum, Playa del Carmen lures as many Mexicans as sombrero-wearing foreigners. Set on a dazzling stretch of coastline known as the Riviera Maya, Playa is impossible to pigeon-hole.
"Parts of Playa are chic and classy, others are bohemian and a bit shabby," says Fernando, a barman on the beachfront. "But it's all good." Critics, however, say it's becoming as over-developed as Cancún, even though its flavours are more Mediterranean than North American.
Either side of Playa, you'll find Maya-inspired adventure and eco parks and cenotes (water-filled limestone sinkholes, revered by the ancient Maya). Evidence of Maya civilisation is dotted across the islands sprinkled off Mexico's Caribbean coast too.
A 45-minute ferry ride from Playa, Cozumel is a mecca for divers, as well as being a busy cruise ship port of call.
Just 20 minutes from Cancún by boat, Isla Mujeres means 'Island of Women' in English. Some reckon it's because of the attractive bikini-wearing tourists lining its stunning beaches. Others say it dates back to when the conquistadors docked here, and found clay figurines depicting Ixchel, the Maya goddess of fertility, reason, medicine and the Moon.
Another theory is that famous pirates (like Jean Lafitte and Henry Morgan) left not just their booty on the island but also their women, for safe-keeping, while they were plundering the Spanish-held harbours of the New World.
Whatever the reason, Isla Mujeres is, I find, great for cycling around.
Less commercialised, and trickier to get to, beautiful Isla Holbox – a three-hour road and boat ride from Cancún – is a haven of palapa-roofed huts, idyllic beaches and sandy streets, which are navigated by dune buggies and golf carts.
Travellers come to Holbox – pronounced ol-bosh – to get away from it all, and also for the wildlife. You can ogle pelicans and flamingos, snorkel with dolphins and swim with whale sharks.
The one drawback? Mosquitoes (at least between the July–October 'rainy season'). Be sure to bring your repellent.
After all this tomb-raiding, island-hopping and beach lounging you'll likely be heading back to the bright lights of Cancún to catch a flight home.
With so much to see so close to the resort, it's time to stray beyond its pools and bars, and discover another, more real and fascinating side to Mexico.
Details
Getting there
From Australia, it's quickest to fly to Mexico via the US, with most major US hubs connected to Cancún.
Qantas flies from Sydney to Cancún via Dallas/Fort Worth.
Need to know
While package tours include many of the aforementioned destinations, travelling independently around the Yucatán Peninsula is generally safe, straightforward and inexpensive.
A comprehensive bus network links virtually every town and city (see miescape.mx) while you can fly between the region's major hubs (say Cancún to Mérida or Campeche) for under $100 thanks to budget airlines like VivaAerobus and Interjet.
In most tourist towns, you can pay for things using US dollars as well as Mexican pesos.
Where to stay
Affordable: Housed in a colonial building with a courtyard, at the heart of Campeche, Hotel Plaza Campeche has rooms priced from around $70: hotelplazacampeche.com
Comfortable: One block from the beach, tucked off Playa del Carmen's buzzing Avenida Quinta, the hacienda-style Hotel Lunata has rooms priced from $96: lunata.com
Luxury: An upmarket hotel and spa on Merida's Paseo de Montejo, Rosas and Xocolate has rooms from around $250; rosasandxocolate.com
Boutique: On a secluded stretch of beach between Tulum and Sian Ka'an Biosphere Reserve, the Encantada Beachfront Boutique Hotel & Spa has deluxe cabanas decorated with local crafts and artwork, priced from around $235: encantadatulum.com
LEAVE YOUR COMMENT