Five Samoan experiences only at Sinalei Reef Resort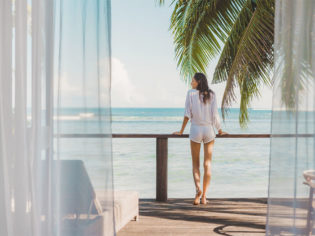 |

THIS ARTICLE WAS CREATED IN PARTNERSHIP WITH Sinalei Reef Resort

|
Blessed with stunning iridescent seas, volcanic mountain peaks, emerald forests and a proud and friendly people, Samoa has something for everyone.
To give you a taste of what makes this unique archipelago in the South Pacific so special, Sinalei Reef Resort & Spa – the gem of this rugged island paradise – has crafted five uniquely Samoan experiences for you to enjoy. Each adventure will open your eyes to Samoa's inimitable culture and landscape, and the positive effects these experiences have on rural Samoan communities.
1. Fa'a Samoa
Journey with us into one of Samoa's oldest villages, Poutasi, and discover the Fa'a Samoa (the Samoan Way of Life).
Be welcomed by village chiefs, try your hand at the ancient games of coconut-tossing and spear-throwing, and learn the art of fine mat-weaving, traditional dance and ukulele. Farewell the day with a taste of real island cooking and an exhilarating fire knife show.
2. Eco Trekking
Venture off the beaten track and discover the hidden treasures of Samoa's rainforest reserve. Look for medicinal plants along lava cliffs, go in search of thunderous blowholes and hidden caves, and plant your very own native tree at Samoa's only carbon offsetting site.
En route to the healing pools at Togitogiga Falls, look out for Samoa's colourful native bird life.
3. Cooking with Culture
In it for the food? Explore village plantations and markets to gather the fresh ingredients you'll need to prepare an authentic Samoan dish – guided by experienced local chefs.
Top the day off with a toast as you enjoy the fruits of your labour in a private overwater setting.
4. Island Art Affair
Uncover the roots of Polynesian creativity on this artistic adventure. Visit the birthplace of Samoan artistry, call into the home of a traditional tattooist and journey into the hidden Tiapapata Art Gallery where you can mix and mingle with local and international artists.
Next, escape to Poutasi Arts Centre, the home of world-renowned artist Fatu Feu'u, and let your creative juices flow in a private wood-sculpting workshop.
5. Hook and Cook
Head out on a nautical adventure aboard a 26-foot catamaran and cast a line along the south coast of Upolu.
Allow the local hosts to cook your catch over an open fire whilst you venture off on a snorkelling expedition to the secluded waters of Aganoa Bay.
LEAVE YOUR COMMENT