Land diving in Vanuatu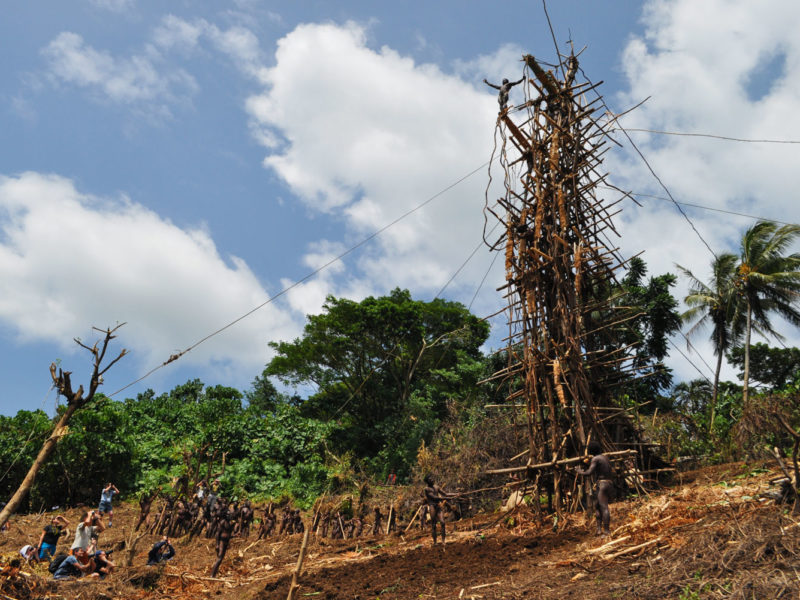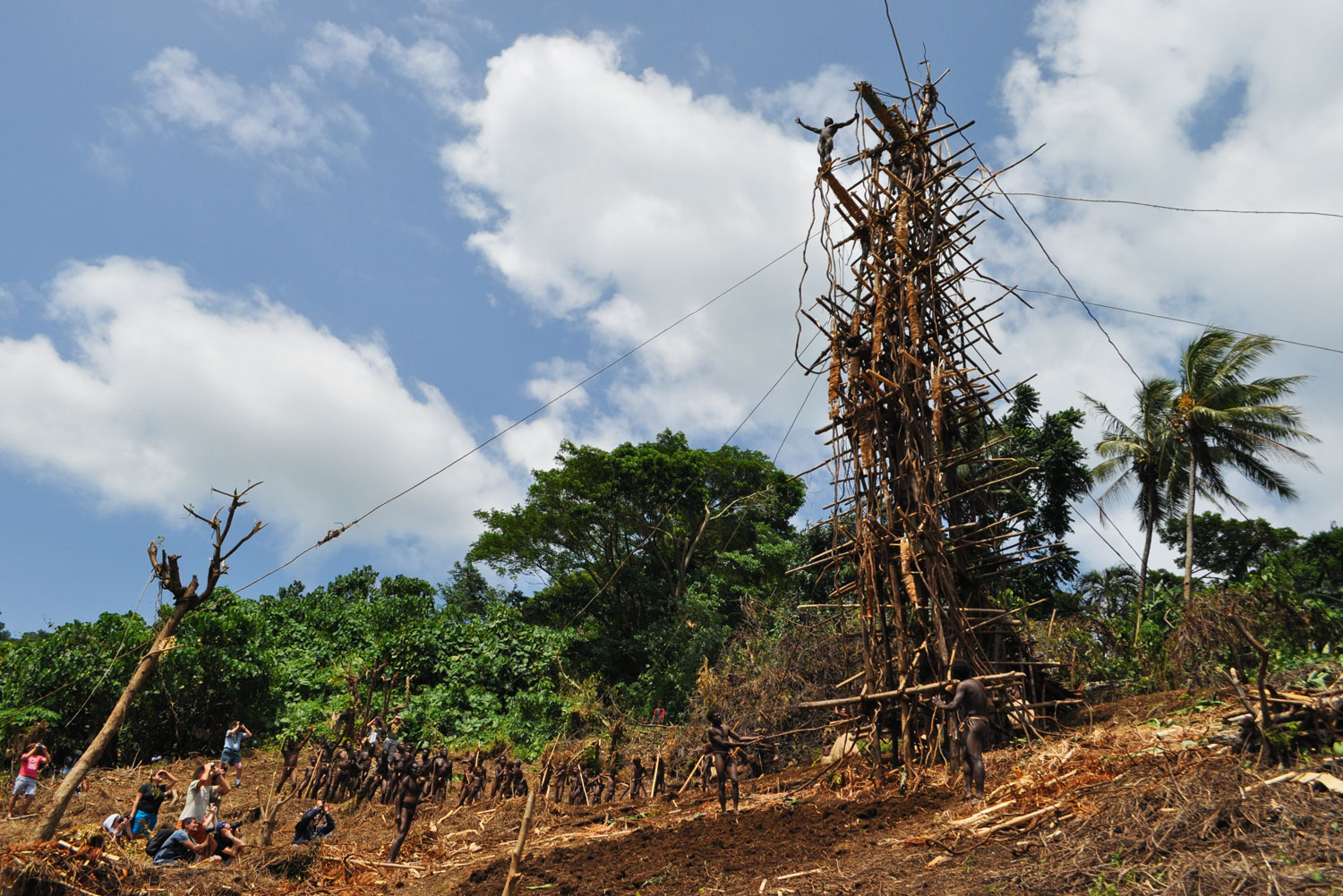 In a world swamped with relentless technology, Alissa Jenkins is an awed witness to an ancient ritual unchanged through time.

A 30-metre drop. Solid earth below. No harness, no OH&S officer. Just a liana vine tied around each ankle.
This is all the security each jumper has before he plummets to the ground as part of Vanuatu's annual land diving tradition – the ancient predecessor of modern day bungy jumping.
Where can you go land diving?
Far removed from gadgets, gossip and modern western life, land diving – also known as naghol – takes place throughout the southern reaches of Pentecost Island, one of the 83 islands that make up Vanuatu.
Just north of the capital Port Vila, Pentecost bears all the hallmarks of a South Pacific oasis – pristine forests, clear aqua waters and tiny settlements that are home to locals with smiles as broad as the islands themselves.
However, today there seems more nervous tension than Vanuatu's trademark grins.
What is land diving, exactly?
Boys and men ranging in age from 10 to 30 years are preparing to launch themselves off a soaring, rickety timber tower built atop a slope in a forest clearing just a short walk from Pentecost's blink-and-you'll-miss-it Lonorore Airport.
If that's not enough reason to break a sweat, the traditional costume is nothing more than a waistband and sheath around their manhood and there are 100-plus people watching on from below.
There's much more to this spectacle than just the dive – and the costume. As Jonas Tabi, head of Pentecost's tourism board, explains it's a ritual that triples as a coming-of-age for young men, a blessing of the earth for the coming yam harvest, and a homage to an age-old Pentecost legend.
Where did land diving originate?
As the story goes, a husband and wife were quarrelling; the wife climbed to the top of a nearby banyan tree to escape her husband and secretly tied a vine around her ankle.
"When the husband saw her up there he climbed up to make her come down. When he got close to her she jumped," Tabi says.
Assuming she would die, the husband dived after her in anguish but she was saved because of the vine, while he perished. "She tricked him!"
Tabi explains that in the early days it was, in fact, women who took the plunge. "But it looks not good for the women because they wear grass skirt when they jump, then they'd be naked, so they decide to make the men jump instead like you see today."
I doubt the women fought them too hard on that decision. (Indeed, it is now considered bad luck for women to go near the diving tower.)
Since then, the land diving ceremony has become a show of strength and fertility amongst men, a defiant confirmation that they cannot be tricked again.
So how does it work?
Back at the tower, the first boy takes to the lowest platform, almost 10 metres from the ground, to make his debut jump.
Tradition dictates that there is to be no physical training beforehand and the jumper must choose his vine according to his weight. It's a gamble: if the vine is too short he could collide with the tower; if it's too long he could hit the ground hard.
Behind the tower, bare-breasted women in grass skirts sing in their native tongue, blending harmoniously with the primal chanting of a group of older men in front.
Every now and again they punctuate their song with a throaty, animalistic bark.
Nearby a line of boys, still too young to dive themselves, try their best to mimic their elders' performance.
"It is entertainment for the divers, not the audience. It's to encourage them," says Tabi.
Here's what it's like, from someone who's been there…
For all the excitement, I glimpse a flash of fear in the big brown eyes of some of the members of this mini cheer squad as they size up the mammoth tower beside them and possibly count out the years remaining until they too will take the plunge.
Whether as a result of nerves or the commotion below, today's diving debutante seems preoccupied.
As he curls his toes over the edge of the platform, youngsters and visitors look up with as much trepidation as intrigue.
He shuts his eyes, crosses his arms over his chest and pushes off. The crowd falls silent.
It's the longest half-second known to man before he face-plants into the ploughed earth below.
Men rush over and dust him off, then send him on his way so the tower can be prepared for the next diver.
Done. He's now a man. A man with a headache, no doubt.
The rules have changed
Although divers are now discouraged from touching the ground (it was once part of the ritual – the greater the dive, the greater the yam harvest), land diving has resulted in its fair share of accidents, and even deaths.
The most infamous was in 1974 when the Queen visited the island and a ceremony was performed in her honour. It was the wrong season however – naghol is usually held between April and June when the vines are strongest – and one man lost his life when the vine snapped.
The catastrophe made international headlines, horrifying some but inspiring others; in particular, a young Kiwi by the name of AJ Hackett, the bungy jumping pioneer.
As today's ceremony progresses, so do the diving heights. The more experienced jumpers shoot off from platforms which draw closer and closer to the apex of the tower.
Having clearly mastered the art of stage presence, the muscular men clap, chant and signal to the crowd. They're like the rock stars of an ancient world.
"Some are very smart and can jump twice [during the one ceremony] if they're very good," says Tabi. "Others will drop an object, like a feather, and catch it on the way down to show their skill."
Like rock stars, jumpers are glorified in their community, admired by women and praised by their families. They are also the drawcard for an increasing number of tourists flocking to witness the spectacle.
Travellers can now attend 'commercial ceremonies' held every week between April and June. (Due to the inaccessible nature of south-east Pentecost where naghol originated, locals are hired to travel and perform at more visitor-friendly locations).
Today's ceremony culminates with the final jumper rocketing off the very peak of the tower with the poise and perfection of an Olympic diver.
A nanosecond before impact, the vine around his ankle pulls taut preventing any head-to-ground contact.
By all accounts, it's a success. Life and limb are preserved to dive another day.
DETAILS
How to get there
Depending on the season, Air Vanuatu operates flights between Sydney and Port Vila three to four times a week, from $570 return.
From Port Vila, it's a 50-minute flight by light aircraft to Pentecost with Air Taxi Vanuatu.
Pentecost Island Land Diving day tours cost from $460 per person.
Where to stay
If you're based in Port Vila and doing the day trip, Breakas Beach Resort is an idyllic adults-only oceanfront escape, 10 minutes from the CBD. From $269 a night.
Mangoes Resort is another good-value tropical oasis. From $205 a night.
You can stay overnight on Pentecost Island at one of the local bungalows, like Nak Bungalows, but options are extremely limited and quite basic. From $35 a night from Vanuatu Travel.
Need to know
Commercial jumps at Lonorore are usually held every Saturday from April to June. Air Taxi Vanuatu operates day trips from Port Vila on these days.
Some charter airlines operate from other destinations around Vanuatu, including Rangusuksu village on Thursday and Londot village on Friday.
The real naghol is performed three times a year, prior to and during the yam harvest.
For more information visit Vanuatu Travel
Words and photography by Alissa Jenkins