Just for him: 48 hours in New Orleans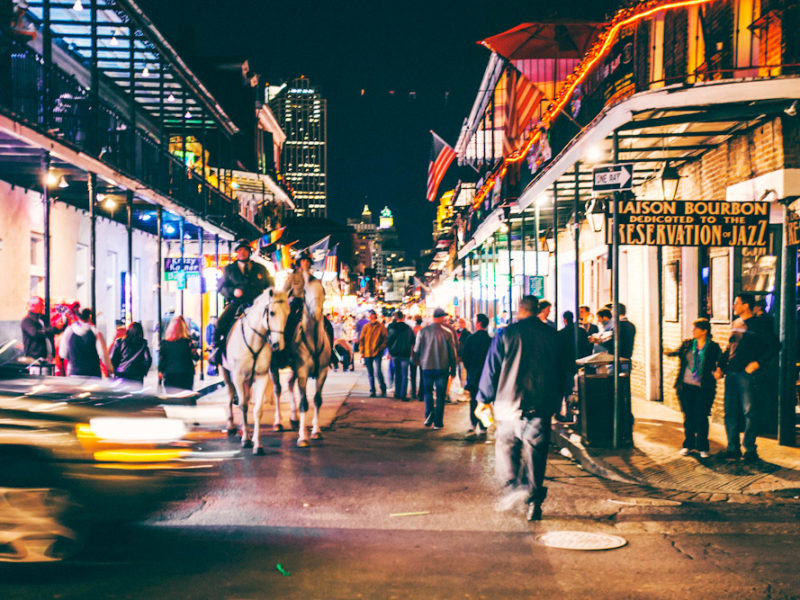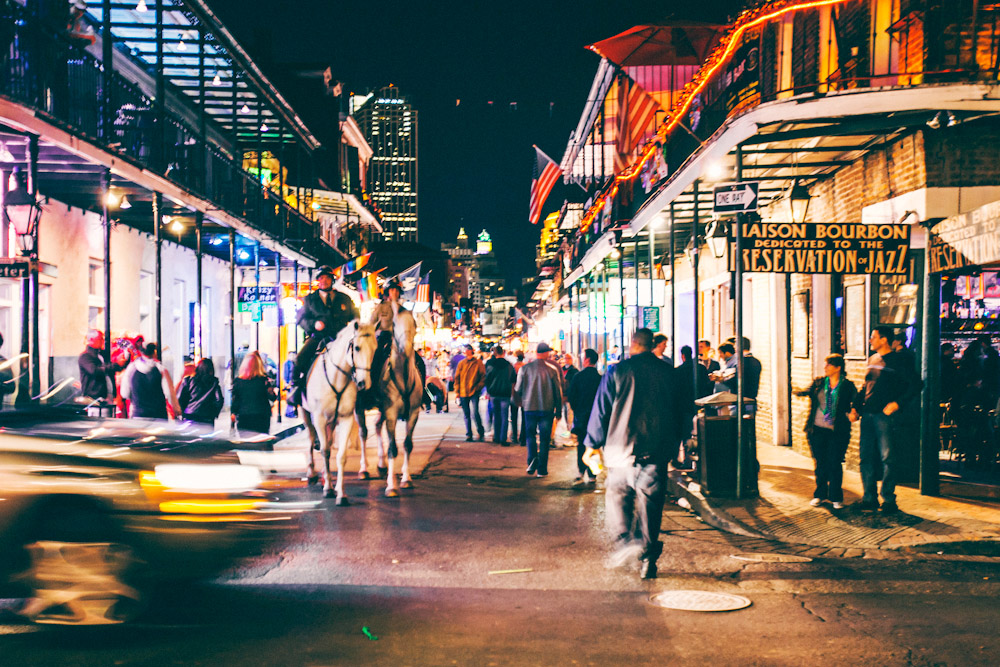 48 hours in New Orleans, what would you do? Does your gender make a difference? We sent Steve Madgwick and Megan Arkinstall (separately) into Louisiana's bohemian capital to find out. Here's what Steve chose to do.
Saturday
10:35am – A novel idea?
Am I the biggest dork in The Big Easy right now? Of all the salaciousness on tap here, I choose to wander through the French Quarter's crannies on, get this, a personal literary walking tour.
Turns out that ghosts of the 20th century's most enlightened writers, the likes of Capote and Faulkner, are 100 per cent cooler (and actually played harder) than the gaggles of bar-hopping college kids I wade through.
Every bar and hotel here from last century and beyond claims a link to one or more of these tantalisingly dangerous minds, who fled conservative Middle America to the refuge of Dixieland's bohemia. Including, of course, Mr I've-Been-Everywhere-Man Hemingway.
"Tennessee Williams lived right here while penning A Streetcar Named Desire," says my bookish guide. "And he drank over there. And probably over there and there too."
MORE… just for her: 48 hours in New Orleans
12:30pm – Fine dining Creole-style
Sounds like fists are about to fly inside the kitchen. Then, baritone laughter: it's just Antoine's Restaurant's chef and my white-jacketed, bow-tie-adorned waiter trash-talking.
Straight-faced, Sterling takes my order, just like he has for Katherine Hepburn, Brad and Angelina, multiple presidents, and a pope before me, in his 43 years at New Orleans' oldest restaurant (circa 1840).
Antoine's capacious Alsatian-styled annex room wears a mosaic of Louisiana Old Money nostalgia on its walls. Lit by muted chandelier light, it radiates a stately home ambience.
The saucy specialty, Oysters Rockefeller (so named because it is as rich as the Rockefellers), forces me to unleash my belt a notch.
The signature Baked Alaska, the size of an infant seal, notches up another notch. Antoine's butter-worshipping Creole fare is more compatible with a Lyonnais winter's evening than this Mississippi-side swelter.
3:45pm – Spiritual encounters
Tough choice: blessed chicken feet, a Guatemalan worry doll or an eclipse ritual bath kit?
A wall full of evil-eye trinkets has me under its spell, but I leave Marie Laveau's House Of Voodoo empty-handed, in search of another spiritual experience that New Orleans embraces.
I sit in Old Absinthe Bar on seats that (the bar claims) have been warmed by Wilde, Twain, Roosevelt, Sinatra and Minelli. I choose to believe; as Nobel Prize laureate William Faulkner once said, "in New Orleans, imagination takes precedence over fact."
The gypsy-blooded, pirate-costumed barmaid preps the evil green liquor for me. The first evaporates. I accidentally order a second.
8pm – Jazz's Bethlehem
Preservation Hall resembles a dilapidated haunted house at a long abandoned amusement park: exposed beams (and wires), rough bench seats, and so stuffy that a fan on full blast only just stops me fainting.
A few African-American gentlemen stroll onto the stage, the way only gentlemen do.
The brass section smokes; the saxes duel. The saints have never marched in like they march in tonight; I shake the hands of these master musicians on my way out of jazz's Bethlehem.
9:35pm – Frighteningly fast food
The line doglegs around the block, three wide. "Waitress available sometimes" teases a scarlet-red neon sign.
Everyone shouts to be heard; one of Acme Oyster House's waitresses shouts specials at me.
Almost too quickly a New Orleans Medley and (fried) Oysters Remoulade frisbees onto the checkerboard tablecloth.
The intensity of the jambalaya makes my blush blush, while the red beans and rice transcend their beige moniker; I love the poppy texture.
I try the voluptuous seafood gumbo, but it's too late to appreciate its subtleties – a Cajun inferno rages on my palette.
Fittingly, the "coldest beer in the world" is on hand.
Sunday
9:35am – Breakfast battles lost
Mother's serves "food to make you wheeze with pleasure," says a friend, and the quintessential television ode to gluttony, Man v. Food, concurs.
I've dreamt of a Po' Boy at this place for weeks, but like-minded, early-rising sheeple sabotage me: the block-long queue is cemented to the spot (and I don't have a couple of hours to spare). I scowl away.
Plan B? A sugar-logged beignet (deep-fried choux pastry) at another institution, Cafe Du Monde.
But the line here dwarves the one at Mother's, so I settle for nearby non-institution (and line-free) Famous Beignets & Coffee.
The naughty pastry, which The Heart Foundation would deem the Antichrist, gets my tick of approval.
11:45am – Meanwhile, in the swamp
Mental note: study the Swamp Tour brochure more closely next time. My fellow Cajun Encounters passengers in the oversized tinny introduce themselves by their city, state and age.
They talk about the Honey Island Swamp Monster (and, no, that's not an alligator).
On the city's outskirts, Honey Island Swamp is alive: moss-clothed cyprus trees, absorbed egrets, unbelievably electric-blue dragonflies. The humidity is Mekong Delta-esque.
The outboard's hum acts as mechanical Pavlovian dinner bell for eight-foot Carlos.
Is it OK to feed a wild alligator hotdogs and marshmallows every day? No one on board seems to have an issue with it – and neither does Carlos… Deep sigh.
4:30pm – In her shadow
On the way back to town, I gape at still abandoned houses and ghostly car dealerships within splashing distance of a massive levy.
We drive over a short, but tall bridge; the flood peaked 16-foot above it, says the driver. Katrina hasn't entirely left the building yet, even a decade on.
8:45pm – It had to happen
I plunge into the torrent of Bourbon Street's humanity: bead-draped pilgrims flood the street's 13 blocks of strip clubs and bars with Mardi Gras intensity (even though it's just another night here).
Many are armed with fluoro-green hand grenades (frozen cocktails, that is).
The strip's elegant late-Spanish architecture feels like an innocent bystander to all this, while the homeless and plastic surgeons party side by side in its shadows.
Music belts out from speakeasies and street swing bands combine to continue the ceaseless cacophony.
Bourbon Street is no longer the place for jazz bars (Frenchman Street is). It's a requiem for revelry; like New Year's Eve the day before the apocalypse. But I'll do another lap, just to make sure.
THE DETAILS: New Orleans for him
Getting there: Steve flew Air New Zealand which has daily flights via Houston.
Staying there: He stayed at The Roosevelt New Orleans, an historic 1893 hotel just a short walk from the French Quarter, with a fabulous rooftop bar and pool. From $268 a night.
Want to read more on New Orleans? We've got you covered, click here.
LEAVE YOUR COMMENT