New York's 7 iconic snacks: We tried and ranked them all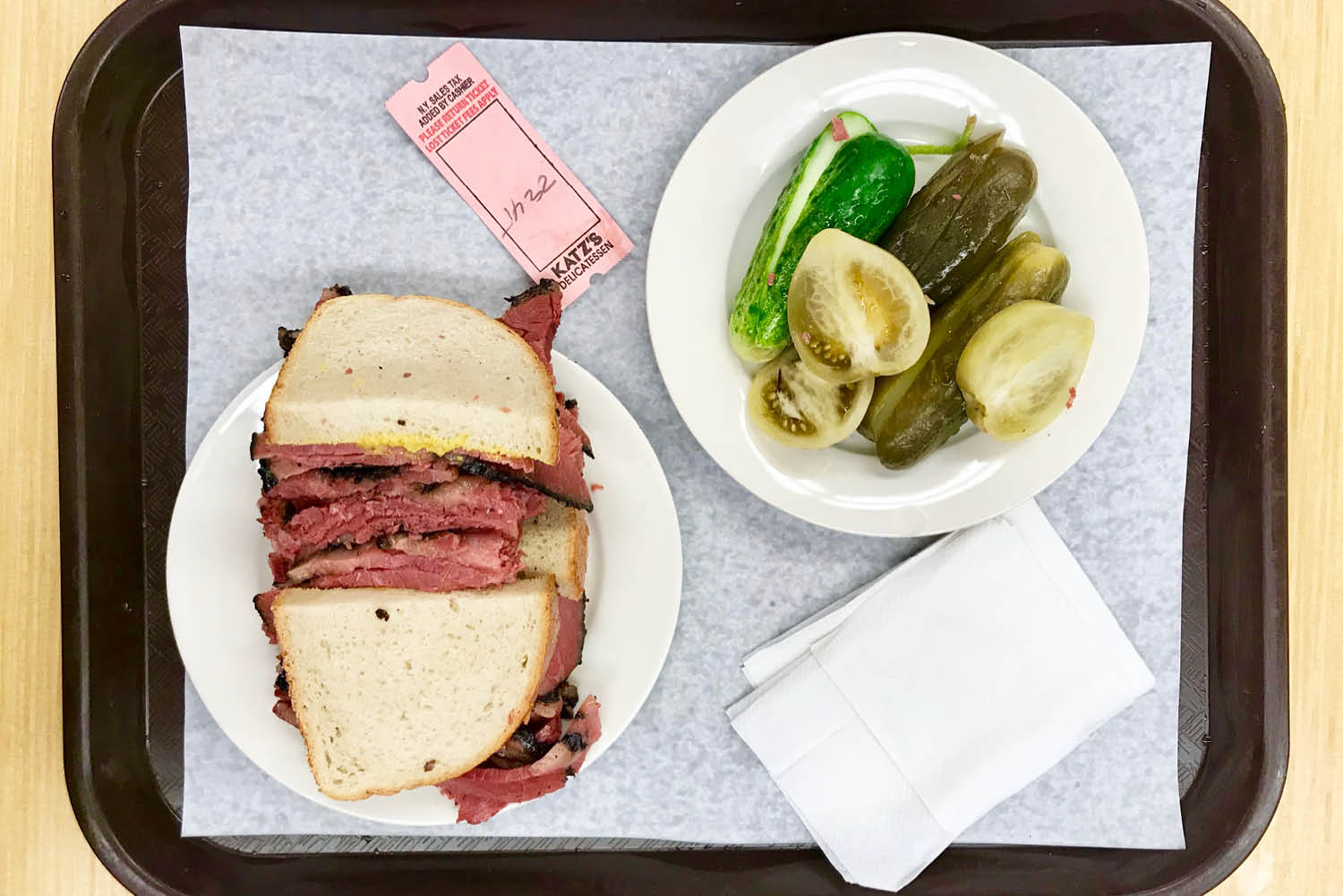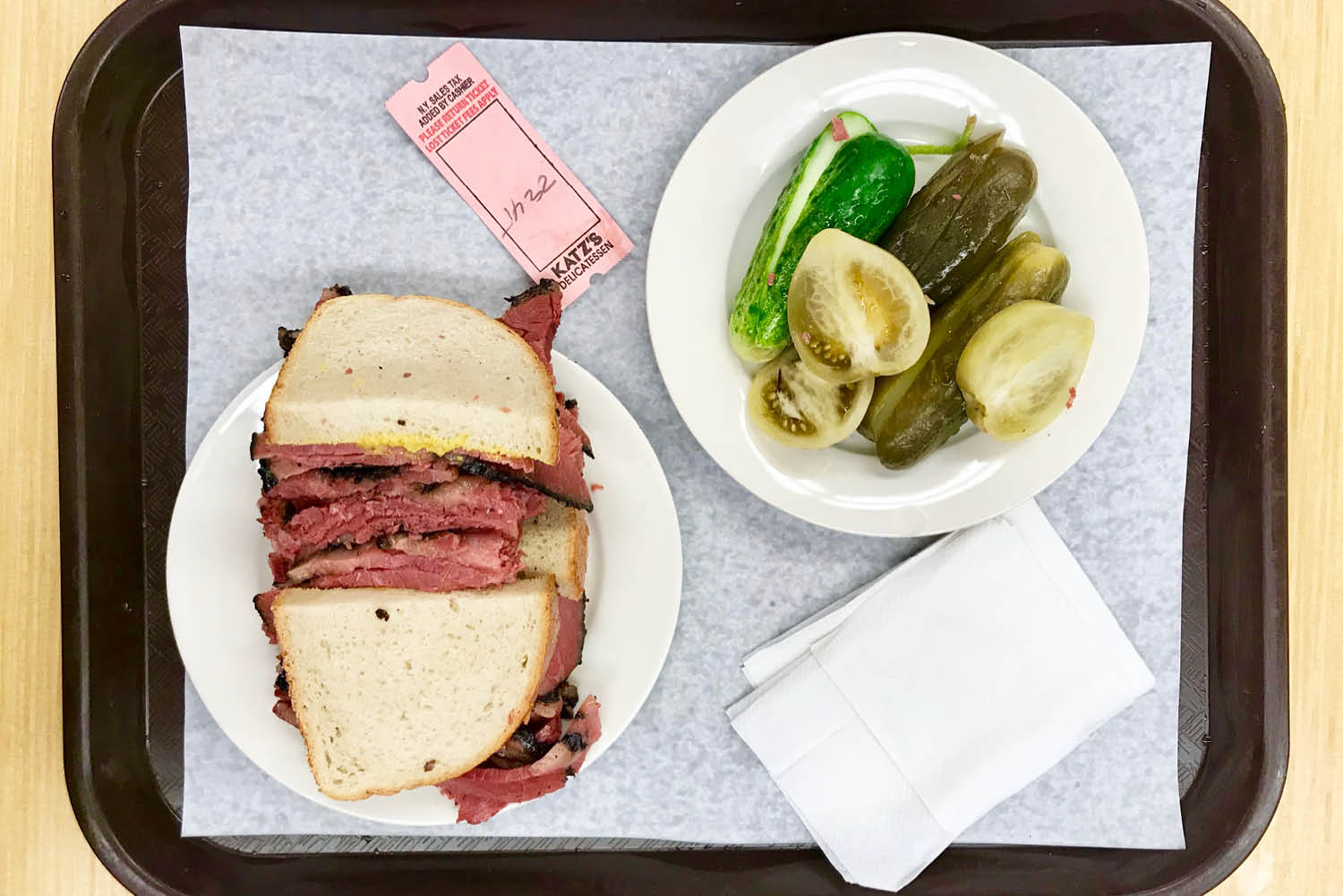 Want to try all the famous snacks in New York City but just don't have the time/tummy space? We had both, so we did the legwork for you. Here are New York's most celebrated snacks, ranked.
7. Cereal milk soft serve at Momofuku Milk Bar
When cereal milk hit shelves all those years ago, the crowds went wild. (For the uninitiated, chef Christina Tosi invented 'cereal milk', which is essentially milk infused with cornflakes and then strained, to taste like the milk leftover when you're eating cereal.) You can buy it in cartons, or try the Instagram-famous cereal milk soft serve.
It's super fun, easy to find (there are Milk Bars everywhere in NYC) and inexpensive. It comes with crispy cornflakes on top and is a true taste of nostalgia, but it isn't as strongly flavoured as we expected. But no ice-cream is bad ice-cream, amirite?
Score: 2/5
6. Cupcake at Magnolia Bakery
You've seen Carrie eat one of these cupcakes in SATC and so now, of course, it has become a NY institution. And, actually, this is a darn good cupcake. The sponge is feathery light and the buttercream generous and bracingly sweet. It's not going to change your life – it is just a cupcake after all – but it is a fun way to get that sugary hit.
Plus, unlike in Carrie's day, there are now Magnolias all over New York, so you don't even need to head downtown to get your mitts on one.
Score: 3/5
5. Cheesecake at Junior's
Is this the most famous cheesecake in the world? Probably. There are tonnes of types to choose from. The most famous is the strawberry cheesecake – regular cheesecake with a topping of fresh strawberries set amongst thick, sweet strawberry sauce and a Graham cracker crust.
But we prefer the Original NY Plain Cheesecake. It's just a simple thing done well. Thin, sponge-cake crust; creamy, not-too-sweet cream cheese filling, baked to thick silkiness. Sometimes simple is best.
Score: 3/5
4. Smoked salmon bagel at Russ & Daughters
You're going to have to wait for a bagel at famed Jewish deli, Russ & Daughters. That's just the rules. But it's a wait that has its perks. Go to the shop instead of the cafe – it's over a century old, and walking in feels like walking back in time to a New York relic.
Grab a ticket and wait until your number is called (we waited an hour at 3pm on a Sunday). It's all about soaking up the atmosphere, everyone milling about, crowded into this beautiful space. There are tonnes of sandwiches on offer, but we say go the 'Classic', which is essentially a smoked salmon and cream cheese bagel. We opt for a poppy seed bagel, with Nova salmon ("It's the best", a local tells us), scallion cream cheese, and pay extra for onions and capers.
The bagel is crisper that you might expect, but it's perfect fodder for that silky salmon and piquant cream cheese. This just might be the ultimate New York experience, so make the time and go here once; you won't regret it.
Score: 4/5
3. Cronut at Dominique Ansel Bakery
Don't go for imitations. There really is only one Cronut, and that's Dominique Ansel's. Unlike all those that followed, Ansel's is a perfect balance between soft, crisp, sweet, sour and buttery. The flavours change every month, but we tried the classic croissant dough stuffed with cranberry jam and pistachio ganache and topped with sweet, pink icing.
We know that deep-fried croissants don't sound all that delicious – and they wouldn't be, in normal cases – but at Ansel's this is a thing of beauty. Just eat one already.
Score: 5/5
2. Pork buns at Momofuku Noodle Bar
Momofuku's pork buns are everything you've heard they are, and just as wonderful. Thick slabs of salty, almost-ham-like pork belly are stuck inside fluffy white bao buns. The buns are slicked with hoisin and there is cured cucumber for crunch and spring onion for that extra punch of umami.
The pork is so tender and deliciously fatty it starts melting as soon as it hits your tongue. Go here late at night (we go at 10pm on a Sunday, and wait under five minutes for a table, even though the place is rammed) or get in the queue at 5pm for its 5.30pm opening if you can't do late dinners.
Score: 5/5
1. Pastrami on rye at Katz's Delicatessen
Even New Yorkers love the pastrami at Katz's, and will wait in the queue that has now gained infamy worldwide. No matter what time you go, there always seems to be a line, but avoiding weekends and peak eating hours is a good idea.
Regardless of how you do it, you'll ultimately find yourself in the buzzy, neon-signed surrounds of Katz's interior, nabbing a ticket from the man at the door and making your way slowly up to one of the counters to order your sandwich (you can do table service if you prefer, but you'll probably wait longer). Once you get to the counter, make your order. Most people order the pastrami on rye (it's what they're eating when Meg Ryan fakes an orgasm, right here in Katz's, in When Harry Met Sally).
The chef will pop a few slices of still-hot pastrami on a plate so you can taste, then, as long as you approve, he'll make up your sandwich, alongside a plate of pickles. Once you've got your tray, hand him your ticket and he'll mark on it what you had (keep your ticket, you'll need it later). Grab a table, eat this big, beautiful beast of a sandwich then go back to the door, hand over your ticket to the cashier and pay. It's hectic and fun and feels like the New York you see in the movies, and the pastrami is the best we've ever had – and we'd go back, even with those queues.
Score: 5/5
LEAVE YOUR COMMENT