Aspen in summer - is it even better than in winter?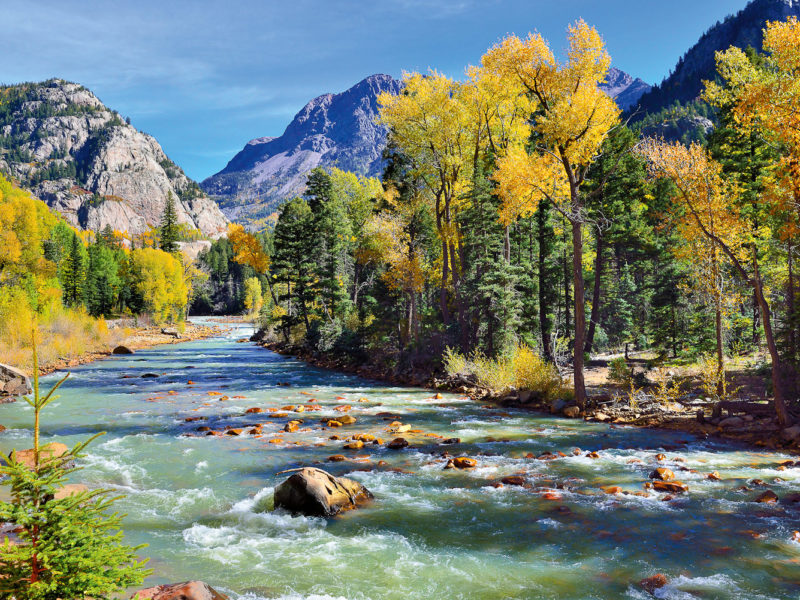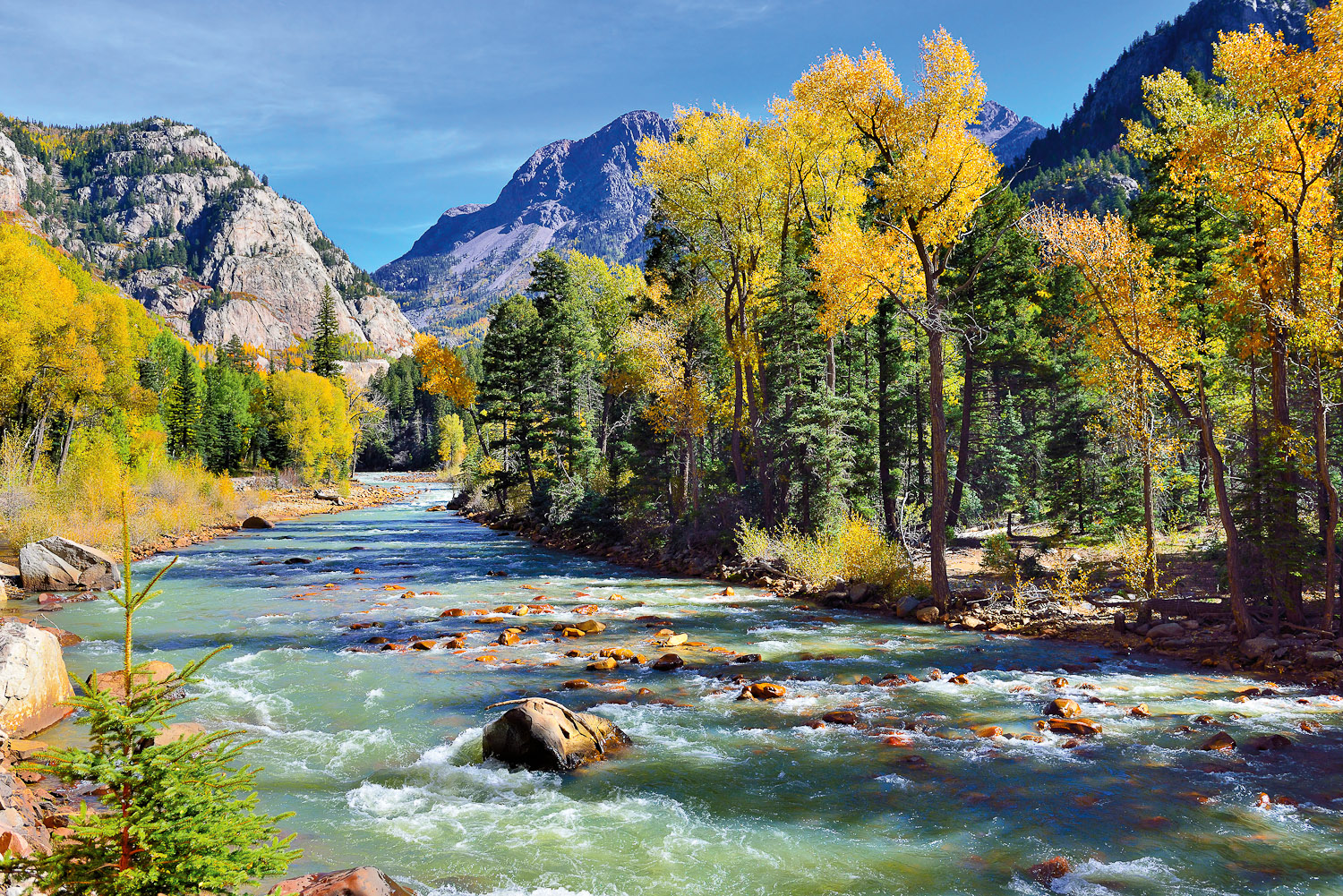 While it's a playground for the rich and famous in winter, Aspen is just as good, if not better, in summer (and early autumn too).
Maybe I should have thought this through a little more thoroughly.
It had just occurred to me, as the hot air balloon I was standing in rose to almost 600 metres in less than two minutes, that I was absolutely terrified.
I looked out over the mountainous splendour that is Snowmass, Colorado, and wondered if it would be impolite to curl up in the foetal position, right here in the not-much-bigger-than-a-laundry-basket basket.
I had flown into Aspen from Sydney late the previous afternoon, and answered the question, "Would you like to go hot air ballooning tomorrow morning?" With a foolhardy, jet-lag influenced "Hell yeah!" I would be up in one of the 30 or so balloons released bright and early at the 39th Annual Snowmass Balloon Festival.
Fortunately our cheerful tour guide Betsy had felt obliged to accompany me, so I was not going to die alone.
"Now, let me just tell you a few things about the balloon and safety," said the third person in the balloon, the owner/operator who was doing a stellar job of pretending he was in complete control of the wind. "Oh look, that balloon has accidently been caught in a gust and is now heading way down the valley," he remarked as I gingerly attempted to crane my neck in order to look at the poor presumably doomed souls. My mouth was dry, my hands quivering.
Betsy was gamely pointing out the spectacular view, and how lucky we were to be experiencing it, which was true enough. It was a perfect, cracking blue late summer morning.
"Whatever you do, don't touch the red ropes," said the driver, as the flame roared ominously above us and the balloon shot up what seemed like a few million feet higher. I suddenly developed a panicky, overwhelming desire to grab at one of the exact red ropes I had just been warned off.
But gradually, Betsy's calm chatter eased my fear, and I actually began to enjoy the ride. When we landed, very gently, 40 long, long minutes later I felt brave, exhilarated. And in desperate need of a margarita.
TERRA FIRMA
Back at Snowmass Mall, at the foot of the Westin Hotel, the group I'm travelling with gathers at Venga Venga, a restaurant serving Mexican cuisine from celebrated chef Richard Sandoval, with a fabulous view of the valley from the outside deck.
I quizzed a patient waiter about the difference between tacos, tortillas, burritos and empanadas, none of which I remember, but I do recall that everything was delicious, even more so because I was happy to be alive.
The high altitude here can make you feel a little breathless, and just one glass of alcohol hits hard, so we decided to save ourselves for the Snowmass Wine Festival later that afternoon. Although it was chilly, the Sun was high and the mountains, furred with trees, tinged with autumn gold.
Not being a skier, it had never occurred to me to plan a trip to Aspen. At the mention of it I thought snow, I thought Chanel ski suits, chair lifts that I would fall off. In my mind it was all diamonds and furs and celebrities and private jets.
I was not ready for the astonishing beauty of this region in late summer, early autumn. Or how low key, action packed and friendly it is. Despite its winter wonderland reputation, this may, in fact, be the most preferable season to visit.
The Snowmass Wine Festival, held on the lush local soccer fields, is a lovely experience, with generous samplings of over 300 local and international wines and loads of tasty regional cuisine and live music. Again, we restrained ourselves, lolling happily on the grass, with our small tasting glasses of wine; we had dinner planned that evening at Ricard, a French-style bistro at Base Village.
After a late afternoon nap in my cosy pine-scented room at the Westin, I descended the mountain in the Sky Cab gondola and sat en plein air (next to a heater!) at Ricard, ordered the garlicky moules frites and marvelled at how much we had achieved (and how much there was to achieve) in one glorious day.
The next morning after a healthy breakfast in the Snowmass Kitchen, we hike the Rim Trail up to the Ying Yang summit. It's not a difficult walk, but I felt out of shape, and out of breath, as I let the group go ahead of me.
After making regular short stops, inspecting wildflowers and taking in great gulps of air among the Aspen pines, I finally reached the top and drank in the view.
This panoramic landscape was once home to the Ute Indians and we could see the Ziegler Reservoir where bones and fossils of mammoths and mastodons dating from the Ice Age were discovered as recently as 2010. It's a surround that makes you feel very small, and very happy.
Later, at the funky Stew Pot, a soup/salad/sandwich place, fellow traveller Sheriden and I spied a wooden carving of a bear and became fixated on seeing one for real. In fact, it became a semi obsession.
For the rest of the trip, every local had to listen to our earnest desire to get up close to a black bear, which by all accounts seemed likely but not particularly sensible.
TIME TO UNWIND
In the meantime, our physical exertions of the morning were rewarded with a trip to the truly gorgeous Viceroy Snowmass Spa, where my Path To Tranquillity massage led me to just that.
Designed by Jean Michel-Gathy, the spa has a raft of wellness and beauty therapies, and an impressive relaxation lounge, where you are lulled with the sound of falling water cascading from the walls. Where the Westin is sleek, tactile, airy and family friendly, the Viceroy is dark, sexy and sumptuous.
We celebrated our re-energised bodies over a wonderful dinner at the Viceory's very grown-up Eight K Restaurant, drinking cucumber gimlets and feasting on elk pie and other creole-inspired dishes.
The following day we made a stop at the picturesque Anderson Ranch Art Centre. The historic property has been turned over to the artistic community and provides workshops across a range of mediums.
There is a palpable artistic pulse at the base of the Snowmass/Aspen region that attracts thinkers and creatives globally. There are projects staged year-round, particularly in summer, such as the Aspen Music Festival, the Aspen Ideas Festival, and Writer's Festival.
After a stroll through the artists' studios, we continued on into the town of Aspen and checked into The Little Nell. It's a glamorous ski-in, ski-out hotel at the foot of Aspen mountain favoured by the rich, famous and fit, who might buy a chinchilla coat in the morning, ace a double black run at lunchtime before polishing off a fine French red that evening in Element 47 from one of the 18,500 bottles nestled in the cellar.
The town of Aspen is beautifully compact and there is much enjoyment to be had by simply strolling and stopping. A visit to the quaint and adorable Explore Booksellers is a must followed by lunch at the sunny outdoor Pyramid Bistro upstairs, which serves 'nutriatarian' cuisine, meaning kale is definitely on the menu.
There seems to be a glow, and a sense of confidence and wellbeing about the Aspenites, with their obvious penchant for sports, exercise, organic fare and Cartier watches.
At dinner at Nobu Matsuhisa's eponymous Matsuhisa one evening we were seated at a table beside controversial Tour de France 'champion' Lance Armstrong, who has a house in Aspen and who still turns heads with his indomitable presence.
SHOP TILL YOU DROP
For those who love to shop, Aspen has all the luxury boutiques one could desire: Prada, Valentino, Dolce & Gabbana, Louis Vuitton and Van Cleef & Arpels (which is handily located next to the cannabis store).
But on this trip, I was far less interested in looking at fashion than I was exploring the town and the natural beauty of the surrounding mountains, which were just beginning to turn into molten gold.
I joined a very scenic, informational and, fortunately, mostly level bike tour with the Aspen Historical Society and, after a wobbly start, began to find my teenage cycling mojo (I was tempted to chuck a small wheelie outside Lance's house).
Another highlight was a jeep tour with The Little Nell, a drive up into the heavens along Aspen Mountain's Summer Road. We summited at 3,300 metres and paused to take in the grandeur of the Colorado Rocky Mountains as we snacked on beer and potato chips.
While the group were admiring the view, Sheriden and I snuck off into a nearby copse hoping for a bear sighting, but all we discovered were some empty bullet shell cases and a touch of nerves, in case we really did come across a furry friend.
Our journey back down the mountain was peppered with an eagle sighting and an adorable marmot, who popped his head up, briefly posed for a photo and darted away.
The next morning we made our way along the trail to the famed Maroon Bells peaks, next to a bubbling river studded with small beaver dams. I watched the sun rise into a pristine blue sky, creating a mirror reflection of the mountains on the lake, and stood humbly beside a phalanx of photographers that were there to capture it. Aspen, in September is one of the most beautiful places on the planet.
But Colorado saved the absolute best for last, when, on the final day of our tour, we hiked to Ashcroft, an historic silver mining town that has been deserted since the turn of the 20th century.
The hike is a relatively mild one, meandering through fields of wildflowers, flanked by a fast, clear river. The weather was exceptional, sunny and crisp.
The ghost town was as perfect as if it were purpose built for a movie. As a ray of sunshine pierced the trees, bathing us in a shimmering light, even our guide, a young student who lived in the area from ACES, the Aspen Centre for Environmental Studies, was gasping with awe. "I cannot get over how beautiful it is today," she said to me as we finally arrived at the rustic Pine Creek Cookhouse to enjoy lunch on the terrace.
All was right in the world, even without a bear sighting.
The physical activity, the clean mountain air, the art, the kale, the camaraderie, the cocktails and the landscape had won me over.
A photo of John Denver on the wall prompted me to sing Rocky Mountain High in my head. And I'm not sure I've stopped since.
DETAILS
Where to stay
The Westin Snowmass Resort
A chic, mountaintop hotel with an elegant bar, The Vue Lounge, that boasts the largest fireplace in the region and spectacular views from the outdoor terrace (complete with firepit) across Roaring Fork Valley.
The rooms smell pleasantly of pinewood, with crunchy, tactile fabric touches.
From $130 a night; westinsnowmass.com
The Little Nell
Considered the top hotel in Aspen, it boasts a five-star restaurant (Element 47), a ski-in, ski-out capacity, outdoor swimming pool and spa, and activities from fishing to a tour of the impressive wine cellar.
A glass of champagne and a bowl of truffle fries at the Ajax Tavern is a must.
From $655 a night; thelittlenell.com
Where to eat/drink
Meander down to Justice Snow's in the heart of Aspen town and have one of its renowned handcrafted cocktails served by cocktail 'mechanic' Joshua-Peter Smith.
If you like steak and a martini, old-school style, Steakhouse 316 is the place.
Fantastic décor, dirty martini's spiked with green olives stuffed with blue cheese, huge steaks, creamed spinach, and the world's largest battered onion rings. What's not to love?
Prospect is a gorgeous outdoor bistro, serving modern American cuisine, attached to the evocative and historic Hotel Jerome.
Take a quick look at the Jerome's incredible lobby – you'll want to book a room on the spot.
Words Kirstie Clements
LEAVE YOUR COMMENT