The peaks of Aspen: skiing by day, spending by night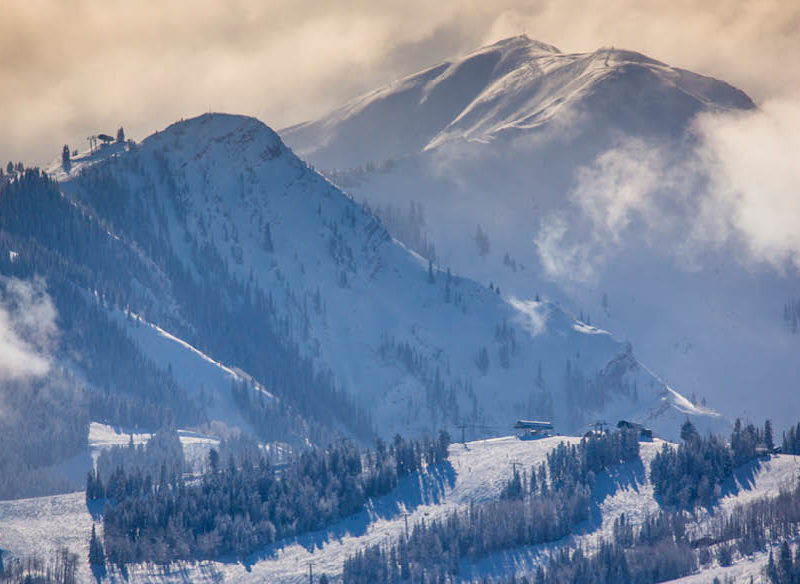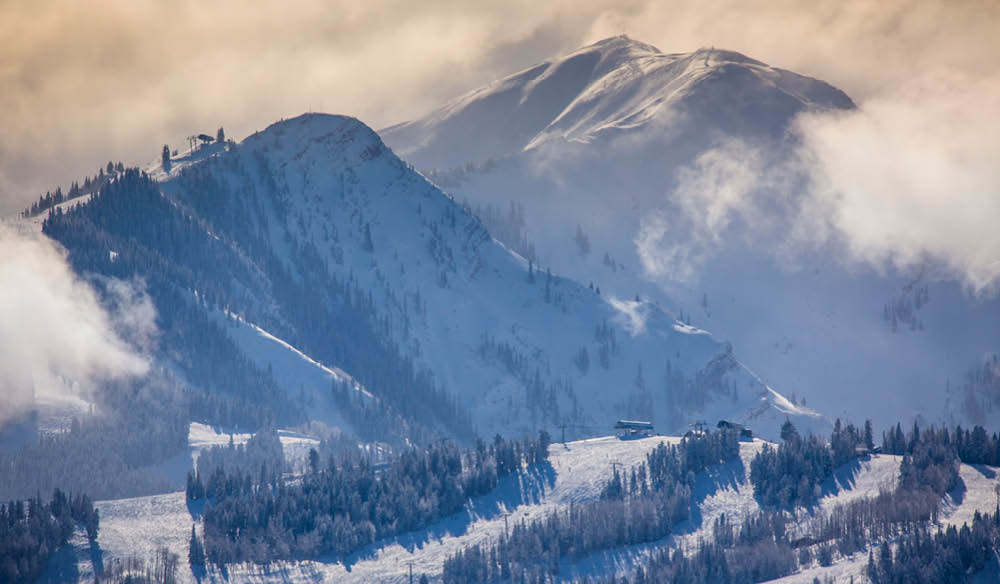 Here's the best of the skiing by day and the spending by night in Colorado's diamond-encrusted mountain town.
Aspen's allures are myriad, no matter what the time of day, says Steve Madgwick.
Someone really should have whispered into Jennifer Aniston's ear that there are two ways into the private-members-only Caribou Club. It would have saved her the indignity of being refused entry.
There's the hard way in: a reference from an agreeable member, Michael Douglas or Don Johnson perhaps; no problems for Friends with friends in high places. Then there's the easy way: any bankrolled Tom, Dick or Jennifer can buy a week's guest membership for a paltry five-hundred smackeroos. What did Jen miss?
The Caribou's low-lit kitschy catacomb-like rooms exude a retro-country-club stateliness beyond their 28 years, an Aspen-style re-imagination of Mayfair institution Annabel's of London. Think overstuffed armchairs, glowing fireplaces, stacked-antler chandeliers, and staff with theatrical chutzpah. Admire David Levinthal's photo-on-canvas masterpieces over an Old Fashioned in the British-racing-green Great Room, before migrating into the material-lined walls of the private Pow Wow Room, garlanded with the intriguingly dramatic Last Second of Custer's Life fresco by late native American artist Earl Biss.
Chef Miles Angelo executes mod-international fusions with the confidence of the former New York restaurateur that he is. The ambitious menu has its triumphs, such as the south-west zing of signature dish Oysters Poblano, but also some dishes that feel like forced fusion for fusion's sake. All in all, Jen, an intensely pleasing evening in good company (P.M. me for me details XOXO).
Hotel Jerome: Hunter S Thompson's old fave reborn
No one hoovers cocaine off Hotel Jerome's bar tonight, but "he used to do it all the time," says historian Nina Gabianelli, robed in full Victorian garb, including bonnet. He? Aspen's most famous and infamous resident, former mayoral candidate and Gonzo journalist extraordinaire Hunter S Thompson, who sporadically haunted this place like Casper the Manic Ghost.
Hotel Jerome is "Aspen's hotel", a mirror to its soul and fortunes after its days as Ute Indian stronghold ended, from hard-working mining and ranch town through to pink-diamond-encrusted Glitzville. During the 'quiet years' (pre-80s), Jerome was a "flophouse", so derelict that no one knew nor cared who owned it. Horses would walk through the lobby; snow fluttered in through the holey roof.
Over an under-the-counter Aspen Crud (a Prohibition-era bourbon and espresso 'milkshake'), Nina explains the town population's binary split: Aspenites have three homes or three jobs (Nina). Strangely, the (Living Room) bar's affectatious clientele slot exactly in between.
As the peaks throw a wintry-evening pall over downtown, from the warmth of her Electric History Coach (stretched golf-cart) Nina continues to unpick Aspen's narrative, motioning towards the Lady Justice statue outside the peach-blow sandstone Pitkin County Courthouse. The Lady holds the scales of justice aloft, but she's not blindfolded, as others are. "Money certainly talks in Aspen," Nina prophesises.
Snowmass: more ski than to-be-seen
Of Aspen's four ski resorts, (eight kilometres) out-of-town Snowmass is the place you're more likely to go to just ski rather than to be 'seen'. Among this mountain of great substance's 90 trails is a mix of forgivingly wide blue and black groomers (FYI: Coffee Pot's my fave) and tantalising and testing terrain-park options.
A private lesson sets you back $750 USD, per day. For that, you'll get someone like self-effacing Ted Mahon. Over a lobster and shrimp fondue and Napa Valley sauv blanc at Gwyn's High Alpine (where Michelle Obama, the kids, and her squadron of bodyguards have dined), Mother-Teresa-patient Ted glacially reveals his credentials.
He's climbed Mount Everest (on a reality TV show) and all of Colorado's 53 14,000-feet-plus peaks too, as well as skiing down them. He's trained alongside people like Lance Armstrong, which he concedes doesn't have the same ring as it once did. Ted's so naturally fit, his technique so sublime, that he genuinely doesn't consider downhill skiing an aerobic sport anymore.
ACES: Aspen's green heart
Hidden among North America's most insanely in-demand real estate, where if you have to ask you can't afford, is the 25-acre nature strip of ACES (Aspen Center for Environmental Studies).
Snowshoe around the hoary forested paths around spring-fed Hallam Lake on a squirrel, Mallard duck and beaver mission. Hot chocolate in gloved hand, marvel at the not-for-profit's magnificent rescue animals, like a Hobbit-sized bald eagle with no name (because "it is forever a wild animal"). ACES happens to also be a strategic place to cop a glimpse of the Super-McMansions of exclusive Red Mountain, where billionaires long ago shooed away those pesky millionaires.
Wander back to Main Street through the West End's snow-banked avenues and cute Mansard-roofed bungalows (Jack Nicholson sold his for $15 million USD) in time for supper at Matsuhisa (by Nobu).
Start with a Matsutini (vodka, Japanese Yuzu, Champagne) then tuck into the lettuce-wrapped limestone broiled black cod, momentous for its tectonic-plate-like textural complexity. If the bacchanalian banquet atmosphere downstairs is too intense, stay upstairs for the same fare in the relatively unpretentious low-lit bar without a reservation (like you can do at many trendy Aspen bars/eateries).
Aspen Mountain (Ajax): beginners beware
If you're a greenhorn, Aspen Mountain (a.k.a. Ajax, the 'local's mountain) is your kryptonite; no beginners' runs in sight, and it's not overly snowboard-friendly terrain either.
Set your alarm an hour early for (pre-booked) first tracks: one exhilarating top-to-bottom run on unruffled corduroy before the 'general-public' get to lacerate the snowpack. Get your warmed-up butt back on the Silver Queen Gondola quick smart to seek alpine enlightenment at a (Tuesday, Thursday) morning asana yoga class on the Sundeck, with its spiritual vistas across Highland Bowl. As with skiing at Ajax, this fast-moving class assumes you've downward-dogged before.
Light lunch at Bonnie's if only to visualise where The Donald's two ex-wives once got into a very public (reportedly physical) cat fight. Then ski down between the pines to seek out one of Ajax's 38 makeshift shrines. Pay respects to the likes of Elvis and Jerry Garcia; and even to the game of golf (I always thought it was a lifeless game). You won't, however, find a shrine for Michael LeMoyne Kennedy (JFK's nephew), who died while skiing and 'playing 'football' down Copper Bowl in 1997.
To ski full circle, help/watch skiing royalty Aspen Ski Patrol 'sweep' (close) the mountain as the sun withdraws. "Very occasionally we find someone in the trees at the end of the day," says wizened patrol-hound Chopper.
As-près style: Little Nell's private wine cave
Aspen après can be as sublime or as ridiculous as you require, from predictably fine still-in-boots witching-hour cocktails to experiences that most humans will never encounter. In the depths below one of the town's chicest stays, The Little Nell, hides an experience that unquestionably falls into the latter.
Descend an austere stairwell, past an 'employee use only' sign, through the cold cement carpark, and head for two unremarkable blue doors that look like they lead into a storage cupboard. Inside, The Little Nell's cloistered wine cellar is lit up like a red-light-district nightclub, pumps out hip-hop music at fingers-in-ears levels while the conversational assistant sommelier Erik hands out permanent markers so you can graffiti its plywood walls.
Meanwhile, he seeks out your poison from the rarefied selection: perhaps a 1945 Lafite Rothschild ($12,000 USD) or why not splash out on a bottle of Domaine de la Romanee Conti ($42,800 USD)? It's a bizarre X-ray of the conservative lavishness a few floors above and not for everyone – literally. Not only because the wine cellar is invite-only but also and, FYI, minimum spend is a lazy grand.
A bowl of Cloud Nine
'Hiking the [Highlands] Bowl' is Aspen's get the t-shirt' moment which, as long as you're a strong intermediate skier, is utterly achievable, despite its fool's folly countenance (hint: go with an instructor, you'll be fine!).
Ride Aspen Highlands lifts to their natural conclusion; hop aboard a snowcat for 15 minutes; strap skis to your back; hike up the ridge for another 45 minutes. At terminal altitude (3777 metres), catch your breath, maybe quaff a small glass of bubbly (thanks Ted), and inhale the vista across Pyramid and Maroon Bells. Take several deep breaths, clip into your bindings, pick your line carefully, focus on the fundamentals, and link turn after double-black-diamond turn down the magnificent face.
Rejoice your conquest of the Bowl at former ski patrol hut turned high-altitude party shack Cloud Nine (which Mariah Carey booked all to herself over Christmas). Channel the Tyrol chalet vibe with a cheesy raclette; you have so earned it.
Even if you don't order some Veuve (Cloud Nine's sponsor), inevitably you'll come into contact with some because of the custom of hosing everyone in the small venue with it (the record, apparently, is 137 bottles in one sitting). The blur begins and the retro beats get underway: ski boots stomp on seats, layers are discarded, bad and good shapes are thrown. On the down side, there's no lift here so you have to ski down. Regretting that fifth glass much?
Details: Skiing Aspen, accommodation
Staying there: The Little Nell's apartment-style Residences come at a premium, but you can't really ask for much more from a ski-in ski-out experience. The backdoor faces straight downtown, the front straight at the bottom of Silver Queen Gondola. The mountain-lodge décor throughout is textured and layered, service is faultless, and the privately owned apartments are embarrassingly roomy. There are plenty of reasons why you have very little reason to leave Nell except to ski, from the heated rooftop pool, ski concierge, private decks and 24-hour room service. The apartments' kitchens make you want to fight your urge to socialise and cook for yourself for an evening. Almost.
We also stayed: The Limelight Hotel, a little more fun, budget-friendly hotel (on the Aspen scale) . The suites have well-equipped kitchens, fireplaces and terraces, plus there's an outdoor pool, hot tubs, ski valet/lockers and complimentary airport shuttles. You've gotta try s'mores by the firepit too.
MORE… 13 secrets the brochures won't tell you about Aspen
LEAVE YOUR COMMENT