How to spend 48 hours in Beverly Hills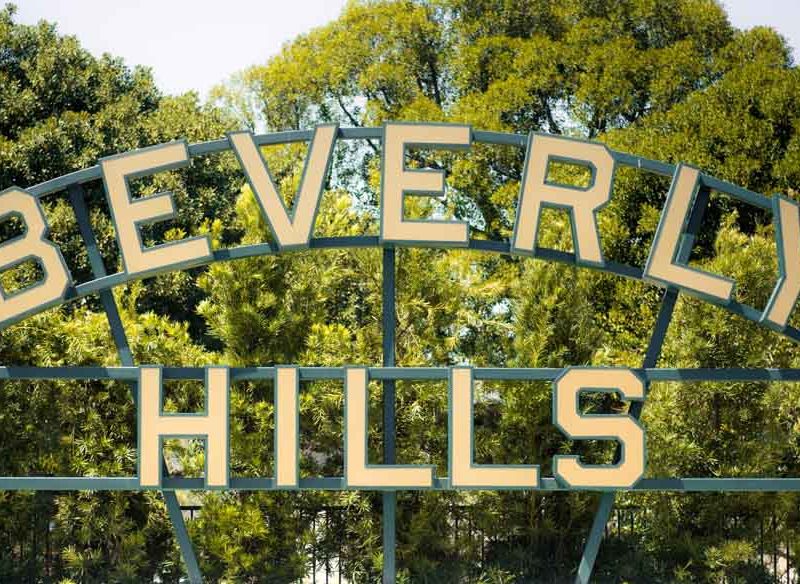 Celebrity spotting, designer shopping and following in the footsteps of Hollywood legends; Alissa Jenkins explores LA's most polished pocket.
DAY ONE
9am:
It wouldn't be a visit to Beverly Hills without frequenting a socialite hangout, and few breakfast venues are as celebrated as the Cabana Cafe at The Beverly Hills Hotel, overlooking its see-and-be-seen swimming pool.
A local institution, the 'Pink Palace' as it's known, first opened in 1912 before the city of Beverly Hills was even established.
Since then it has hosted its fair share of film crews and celebrities, lured by its exclusive swimming pool, palm-fringed gardens and those trademark powder pink walls.
On Saturday mornings, take a yoga class overlooking the pool with eminent LA instructor Amy Rose (free for hotel guests, $25 for public).
10.30am:
Louis Vuitton, Burberry, Jimmy Choo, Saint Laurent, Dior – they all claim a gleaming flagship store along the famed and flawless epicentre of luxury shopping, Rodeo Drive.
Almost as impressive as the shopfronts and the glittering wares within are the impossibly polished cars parked along the street (House of Bijan's signature yellow Rolls-Royce is unmissable).
Even the local police force wear Armani sunglasses as part of their uniform. If your credit card limit allows for more than a leisurely window shop, book a VIP shopping tour with Joe Katz – stylist to the stars and Montage Beverly Hills' in-house fashion expert.
With close ties to designers and boutiques, Joe takes you to private rooms inside Rodeo Drive's prestigious fashion houses, where you can try on expertly selected couture, rev up your wardrobe or find the perfect (read: mighty generous) gift.
1pm:
Once you've shopped your way to the foot of Rodeo Drive, refuel at the Beverly Wilshire, A Four Seasons Hotel.
It was here that Pretty Woman was filmed and that Vivian first got a taste of the high life.
There may not be escargot on the menu for your own Pretty Woman experience, but delicious dishes such as tuna tartare and Peruvian ceviche stand out, as does the extensive wine list of over 1000 bottles.
With lofty ceilings and large windows overlooking the intersection of Wilshire Boulevard and Rodeo Drive, THE Blvd restaurant is as much about people watching as it is the food.
2.30pm:
Spend the afternoon in true A-lister style with a visit to the spa at the Beverly Wilshire, for its 90-minute Diamond Rose Body Treatment.
All you need to know is that Damask rose oil and exfoliating diamond dust are involved, and that you'll emerge softer, smoother and sparklier than any starlet.
4.30pm:
When the afternoon sugar low hits, Beverly Hills isn't short of a treat or two.
On South Santa Monica Boulevard, lines wrap around the block to experience Sprinkles' famed cupcake ATM – the original baked-goods-on-demand machine that you can now find in 12 other spots around the country.
Alternatively, a three-minute walk down the road is Sugarfina, with artisan sweet treats from around the globe.
Try its champagne gummy bears. But if you sit on the chocolate side of the confectionery fence, Edelweiss Chocolates promises a delicious afternoon stop-off.
The company started producing chocolate at its Beverly Hills factory during the Golden Age of Hollywood; Frank Sinatra was especially fond of its Maple Creams.
7pm:
Speaking of Ol' Blue Eyes, dine at one of his favourite local restaurants, the blink-and-you'll-miss-it, La Dolce Vita. Hardly changed since it was opened in 1966 (though it had a 'facelift' in 2003), it's still an intimate space complete with red leather booths and the best northern Italian cuisine in town.
It's said Mr Sinatra always requested the first table at the entrance when he dined with his family, or – when with the Rat Pack – the booth in the corner so he could see who was entering, with his back protected.
9pm until late:
For a late-night tipple, Nic's Beverly Hills is within walking distance, where you can sip your way through a vodka tasting in sub-zero temperatures inside the VODBOX – an exhibitionist freezer designed solely for the enjoyment of vodka in its purest form.
Kept at a chilly –2°C, you're rugged up with a faux fur coat before entry.
Midnight Retreat back to the recently renovated Viceroy L'Ermitage Beverly Hills and enjoy one of the 116 sumptuously outfitted guestrooms.
A neutral colour palette, shimmering accents, sprawling rooms, 24-hour service and complimentary car service make this glamorous hideaway feel like the home away from home-you-wish-you-had.
The hotel's Avec Nous restaurant, something of a contemporary French bistro, is also worth scoping out (three words: The Nous Burger).
DAY TWO
9am:
The Montage Beverly Hills has some of the best breakfasts in town at The Rooftop Grill, with views over the city to match.
We ate smoked salmon tartine, avocado gruyere scramble and rhubarb buttermilk pancakes; enough to make most LA yoga gurus shudder in their activewear but worth every buttery bite.
10.30am:
Work off (some of your) breakfast with a walk to the oft-photographed Beverly Hills sign and lily pond in Beverly Gardens Park.
This 12-metre long sign has been one of the most prominent and widely recognised local landmarks for over 100 years, though its current incarnation is a recreation of the original.
Beyond the sign, the expansive park features sculptures and fountains to keep the stroll interesting.
12.30pm:
Hungry again? The Belvedere at The Peninsula Beverly Hills has al fresco dining and a Mediterranean menu focused on local ingredients and wild-caught seafood.
2pm:
Being at the beating heart of pop culture, Beverly Hills is a fitting place to pay homage to the world's most iconic television programs and radio broadcasts at The Paley Center for Media.
A public archive, here you'll find a permanent collection containing over 160,000 television and radio programs and advertisements, spanning almost a century.
The Beatles' US debut on the Ed Sullivan Show, the first moon landing, Nickelodeon favourites from the 1990s and interviews with the cast of How I Met Your Mother are just the beginning of this mind-boggling collection. Admission is free, with a suggested donation of $10.
3pm:
Cheese fiends feeling snacky will think they've hit the jackpot at The Cheese Store of Beverly Hills.
Refreshingly modest in size and warm in atmosphere, there's over 500 cheeses to be sampled here, as well as wines, rare caviars, luscious condiments and charcuterie.
The unassuming shop is actually a big deal in these parts, supplying many of LA's high-profile restaurants such as Wolfgang Puck's Spago, as well as countless stars; Australia's own Curtis Stone was casually picking up some ingredients during our visit. Don't leave without sampling one of its current truffle cheeses.
4.30pm:
Stone's popular restaurant Maude is located nearby on South Beverly Drive, a strip definitely worth exploring for its roster of open-air cafes, eateries and stores that have a slightly funkier, more local vibe than those on Rodeo Drive.
7pm:
Wrap up your trip with the 'who's who' of Beverly Hills at Crustacean, which serves Vietnamese cuisine with a European slant.
Leonardo DiCaprio, Harrison Ford and Cindy Crawford (plus a long list of other equally recognisable names) have all dined at this ever-popular eatery, which features a glass-covered stream filled with koi fish that runs below dining patrons, as well as a floor-to-ceiling aquarium.
But the restaurant's star attractions are the Drunken Crab (a whole Dungeness crab in a broth of three wines) and An's Famous Garlic Noodles (seriously, they're amazing).
LEAVE YOUR COMMENT