The 7 must-do experiences of Canada's Atlantic Provinces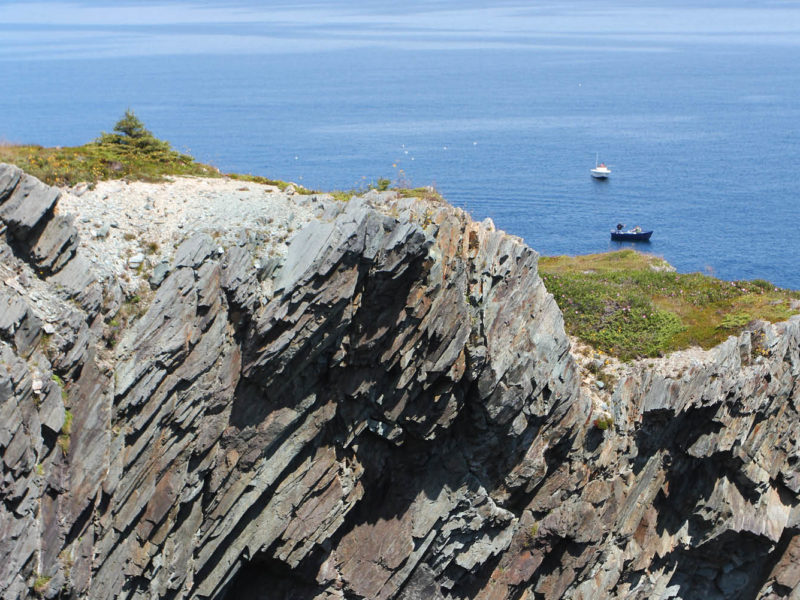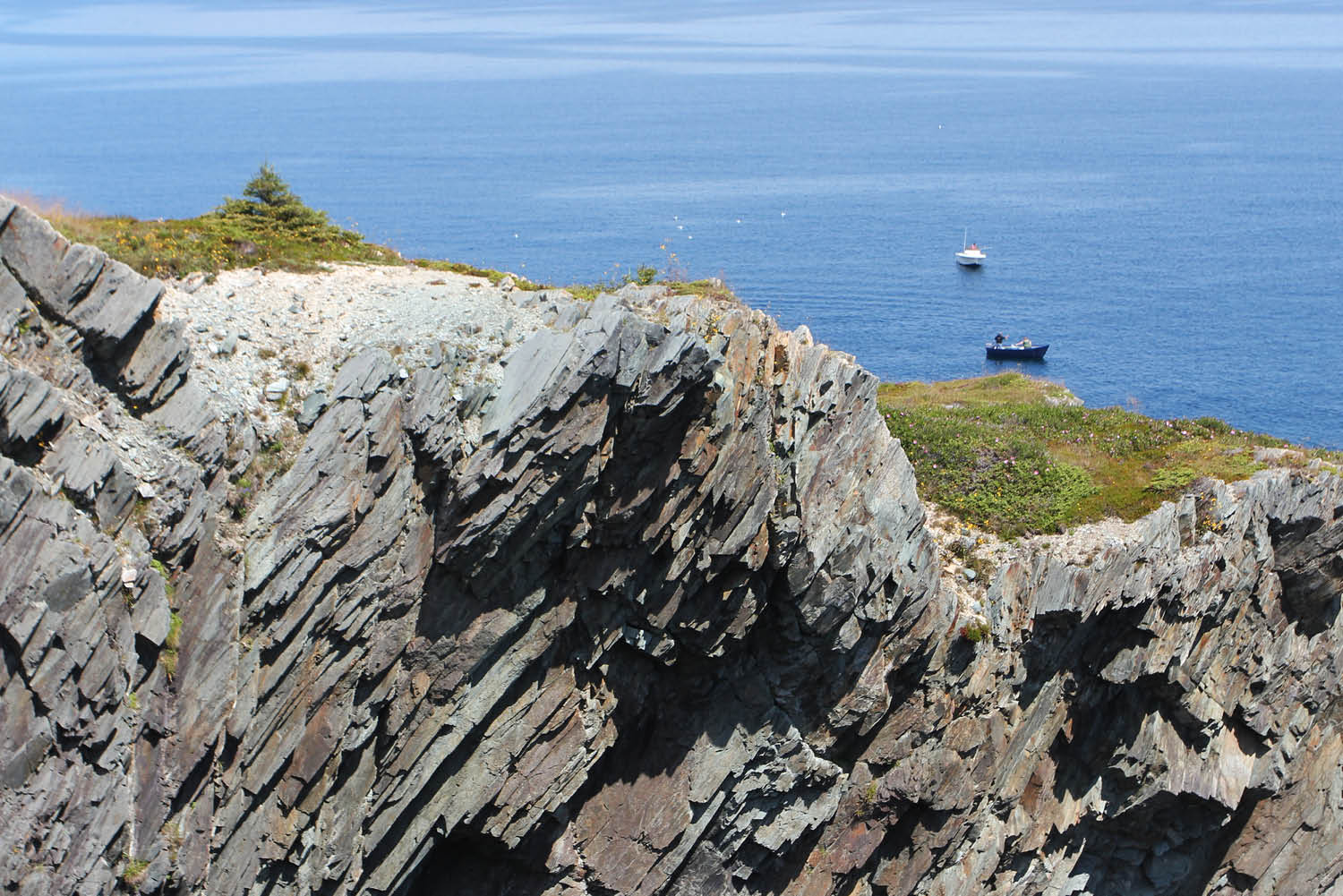 You can't say you've truly experienced the Maritimes until you've kissed a cod, sunk a local brew, eaten your body weight in lobster, or watched the tide go out.
Here are seven experiences you will only find road-tripping through the Atlantic Provinces. Writes Lara Picone.
1. Get screeched in
The icy touch of the cod's lips lingers on mine, but only for an instant before a shot of screech (rum) pushes past the memory and settles in my belly, firing up my throat on its way down. I'm not sure how I got roped into this, but I'm in it now, so here goes in my best Newfoundland accent: 'Long may your big jib draw'.
I have no idea what it means or why I am wearing a yellow rain hat, but I am thankful that my 'screeching in' experience didn't involve my foot in a bucket of water or kissing a puffin's arse, as I'd witnessed another poor soul endure earlier that day. Mind you, the puffin was a stuffed plush toy but my cod was a legit once-live-but-now-frozen-solid fish.
To become an honorary Newfoundlander one must be screeched in. The ceremonial rite (which comes with a very (un)official certificate from the Newfoundland Labrador Liquor Corporation) varies slightly but, from what I can discern, must be performed to an audience and involve a shot of local rum and the reciting of the aforementioned phrase.
Slightly concerned I'd encouraged someone's 'big jib' to draw and not knowing what that entailed I made enquiries. Happily a big jib is a sail, of which I'm sure a big one is preferable. And for it to draw it would be full of wind, also preferable to a seafaring culture. Relaxed, I could now enjoy the screeching in of others. When next you're in Newfoundland, I highly recommend taking part. I was screeched in at the Edge of the Avalon Inn in Trepassey. But simply whisper the words 'screeched in' and a local will materialise from thin air with a cod and a bottle of rum to initiate the rite.
2. Eat cod tongues
Like most things that make modern palates recoil with revulsion, the eating of cod tongues was born of necessity during a time of scarce food. Although typically a Newfoundland dish, where they're often served garnished with scrunchions (fried, salty cubes of pork fat), you can find cod tongues throughout the provinces. 'Tongues' is a bit of a misnomer, as the triangular pieces of meat are actually a rather fleshy, gelatinous part of the cod's throat. De-licious, I hear you say, practically salivating into your lap. As your intrepid journalist, I selflessly ordered a plate of tongues in order to give you a bite-by-bite description. Firstly, although cod tongues began as a poverty plate, they're now considered a delicacy and due to the decline in cod populations thanks to over-fishing, are quite expensive. Needless to say, I felt compelled to finish the serve. They arrived looking delicious: a golden plate of fried triangles, like little fishy nuggets. Mine didn't come with a dipping sauce, but would have greatly benefitted from something acidic to cut through all that jelly-like flesh. If you're not put off by the texture, cod tongues are pretty tasty, but I'd recommend sharing a plate between two, or five. You may only be here once, so add cod tongues to your must-try list; you never know, they may be right up your alley.
3. Discover Acadian history at Grand-Pré
The history of the Acadians is complicated. Capitals and allegiances moved back and forth, boundaries were negotiated and re-negotiated, and different nations with similar intents created constant upheaval. For the purpose of this article, though, a relatively base description of who the Acadians were is to describe them as French settlers who supported their colonies through agriculture and made alliances with the indigenous Mi'kmaq people.
The Acadians initially settled in Nova Scotia, which was historically called Acadia. In time, they moved into the provinces we now know as New Brunswick and Prince Edward Island, until a mass deportation by the British between 1755 and 1762 saw what is estimated to be three-quarters of the Acadians banished. Some managed to hide in the woods, others made it to French colonies, but many were sent to British colonies along the Eastern seaboard. A contingent made it to Louisiana and became the ethnic group we know today as Cajuns.
Throughout the Atlantic Provinces, pride in the Acadian heritage is evident. To understand the region, one cannot ignore this significant chapter that shaped its people. Make sure you head to the Grand-Pré National Historic Site in Nova Scotia to learn about who the Acadians were, their struggles, and the political climate that led to their eventual deportation. It's a meaningful stop that will add depth to any Maritime itinerary.
4. Embrace the lobster
Lobster roll, lobster chowder, lobster mornay, lobster salad, lobster risotto, classic lobster dinner… to list all the ways one can experience lobster in the Atlantic Provinces of Canada is to channel Bubba and his endless list of shrimp recipes from Forrest Gump.
It doesn't matter where you are in the Maritimes, you will find a lobster. They don't even need to be edible: stuffed toys, fridge magnets, shot glasses, slippers (yes, slippers). Lobsters are an experience you cannot miss, unless, of course, you have a serious allergic reaction to crustaceans like my husband and travelling companion. I'm not sure his allergy extends to stuffed toys, but better to be safe than sorry, eh?
But not all lobster dishes are created equal, so to avoid lobster fatigue, pace yourself and choose lobster when you know it's going to be exceptional. For example, do not eat a lobster burger at an Irish pub in St John's, Newfoundland, but do ride a bike for six kilometres from Dalvay by the Sea to line up and eat a lobster roll from Richard's Fresh Seafood in Covehead, Prince Edward Island (PEI). There are also lots of tours where you can hop on a boat and learn about catching lobsters first-hand; they'll even throw in… wait for it… a lobster dinner! Try Top Notch Charters on PEI.
5. Take a hike
Canada is the land of the Gore-Tex-wearing weekend warrior, and for good reason. Her beauty is nothing short of astonishing. If you're planning a road trip, make sure you build in plenty of time to tackle some of the provinces' hikes. In New Brunswick, the Fundy National Park is home to plenty of diverse trails, so you can choose one based on your abilities or your time constraints. The same goes for the Prince Edward Island National Park, where you can also refresh in the North Atlantic Ocean during the summer months, if you're feeling brave. But it does seem, no matter what small, idyllic little town you stop in, there will be a must-do walk nearby, so do your research before you arrive and remember to pack your walking poles.
6. Sample the local brew
In every Canadian town there's a Tim Hortons (a prolific and less-than-mediocre doughnut and coffee franchise), a post office, a fire station, and a craft brewery. Each brewery has their own distinct style and well-designed labels, so eschew the Coors Light and sample a few pints the likes of which you'll never be able to get back home. Of course, everyone has their own palate for hoppy creations, but among the top of the list to try is Quidi Vidi Brewing Company's Iceberg Beer made from 25,000-year-old iceberg water (it is bizarrely and almost inexplicably refreshing).
7. Watch the tide go out
The incredible Bay of Fundy, which drives a watery wedge between the two provinces of Nova Scotia and New Brunswick, is home to the largest tides in the world. That doesn't mean a great deal, until you throw the numbers behind it. So to you give you some perspective, 160 billion tonnes of seawater flow in and out of the bay twice a day. In some parts, the tide can reach as high as 16 metres.
There are plenty of places around the bay in either province to observe the relentless rhythm of the tide, but perhaps none better than at Hopewell Rocks in New Brunswick, where you can walk on the ocean floor. Here the tide's retreat reveals strange-looking rock formations, affectionately known as 'flower pots'. When the tide returns, these tree-topped flower pots are simply small islands, but their odd underwater shapes are visible for all to see on low tide. Walking at their base and gazing up, it's difficult to imagine them submerged. Return at high tide, preferably in a kayak, and the whole puzzle fits together.
You can't escape talk of the tides while on a journey through the Atlantic Provinces, so read up on some tidal experiences before you go.
LEAVE YOUR COMMENT