Go from beach to brewery in BC hipster haven, Nelson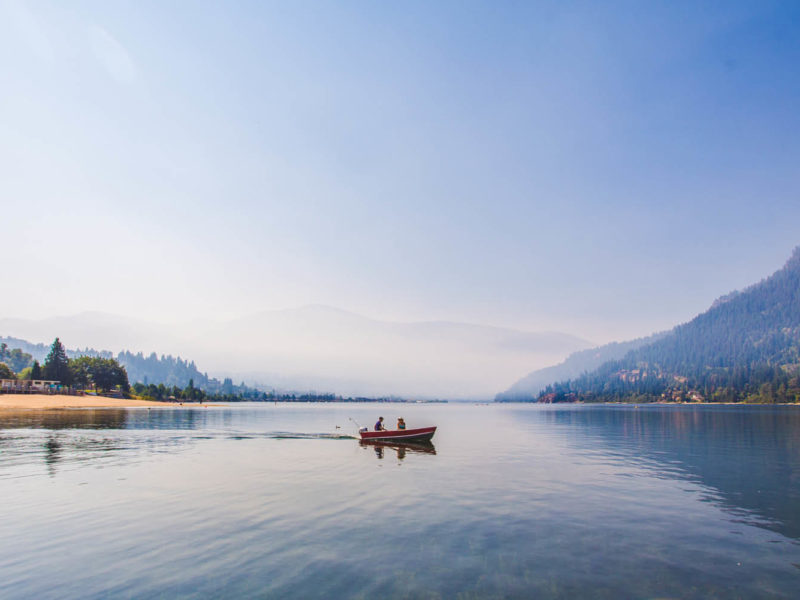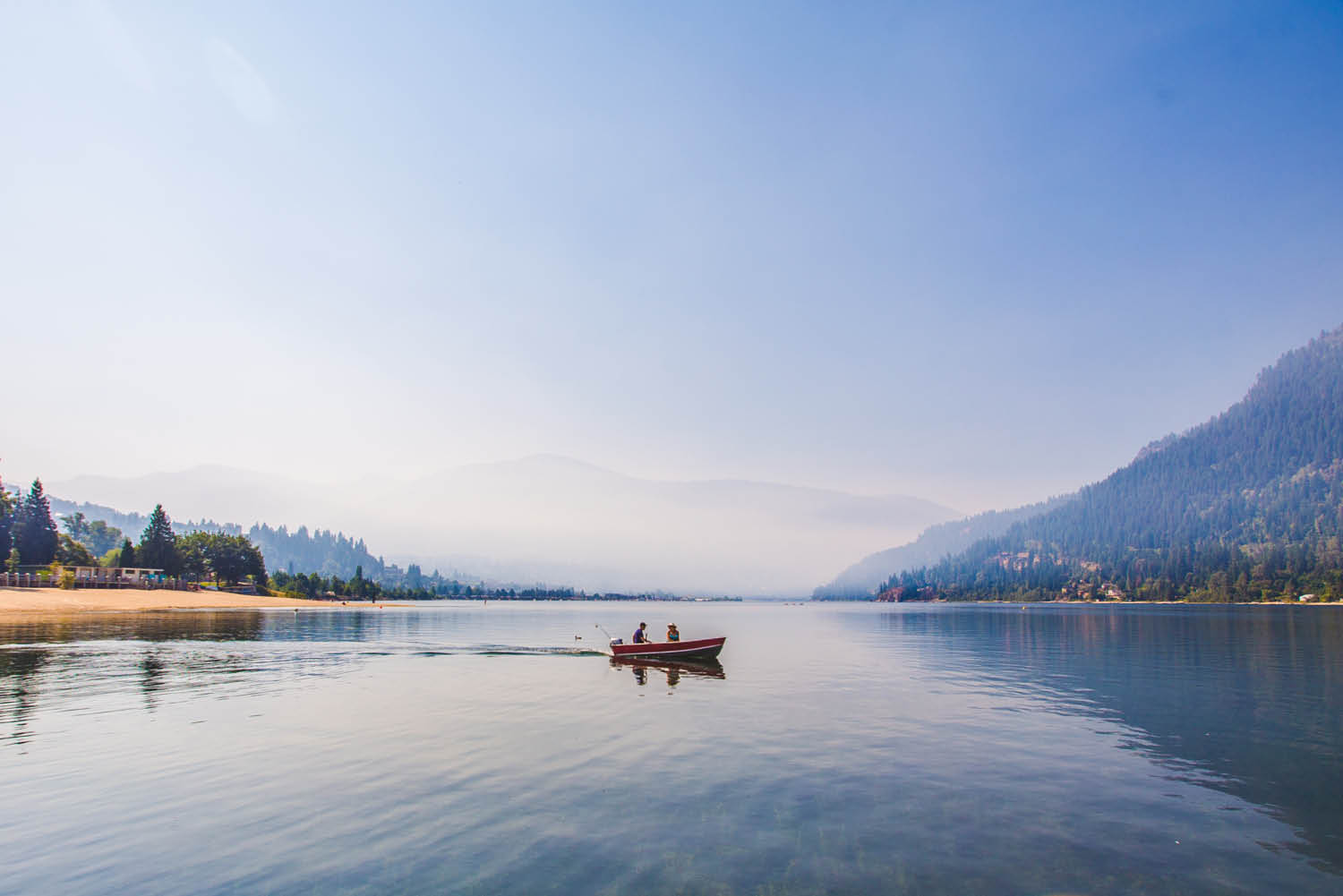 What do you get when a Canadian alpine sports hub develops a penchant for inner-city indulgences and bohemian flair? Nelson — the mini hipsterville in British Columbia's breathtaking Kootenay Country. Writes Alissa Jenkins.
Nestled into a hillside on the far-west arm of Kootenay Lake in British Columbia's mountainous interior, is a little city with big personality: Nelson.
A former mining town, Nelson boasts an eclectic mix of energetic outdoorsy types, patchouli-scented hippies and unshaven creative. And these characters are as vibrant as the sapphire lake and emerald peaks that envelop the area.
Sharing many parallels with the Byron Bay of the early 2000s, Nelson is a lively hub for outdoor activities with myriad watersports on Kootenay Lake and snowsports at nearby Whitewater Resort.
Just as enticing as Nelson's outdoor pursuits are the growing array of indoor comforts with an impressive lineup of cafes, restaurants and bars housed within the city's many ivy-fringed Victorian buildings.
Town planning is both pedestrian and bike friendly so swanning from beach to cafe to shop to brewery is no major hurdle. Like Byron at the turn of the century, Nelson is a city on the brink of transformation, managing a delicate balance between quiet country charm and inner-city indulgences.
Coffee, craft beer and chemical-free food
If there is one telltale sign of a bourgeoning hipster culture, it's a thriving local coffee roastery. Such is the case with Nelson's best-known roaster, Oso Negro Coffee. Oso Negro (Spanish for black bear) is focused on organic, fair-trade coffee, small-batch roasting and unique blends.
Do breakfast at the bustling Oso Negro cafe and sit in the multi-level perennial garden while you devour the breakfast sandwich (order it with sprouts) or a superfood sweet treat with your morning brew.
If you can't nab a seat, a five-minute stroll down the road is Farm Fresh Cafe, which true to its name, serves a menu thick with sustainably or locally sourced ingredients, largely supplied by a family-run farm just south of Nelson. Don't leave without one of their serious smoothies.
Later in the day, desserts don't come any sweeter than those from Sanderella's Boutique and Starbird Teahouse, with the most intricately iced cupcakes and moreish crepes this side of the Rockies.
You'll have no trouble continuing your foodie forage into the evening as Nelson has no shortage of upscale eateries, with Sage Tapas and Wine Bar one of the most underrated gems.
Tucked away on a private patio overlooking Kootenay Lake, the views are as memorable as the European menu, which is infused with local ingredients.
But what's a hipster haven without craft beer? Nelson's local beer scene began back in the late 1800s with Nelson Brewing Company (NBC), which briefly closed in the 1950s before being resurrected in the early '90s when Canada's craft beer movement was young.
Today NBC boasts an all organic lineup of natural, hand-crafted beers, and excellent brewery tours through its 100-year-old building. What local newcomers like Backroads Brewing Co. or Torchlight Brewing Co. lack in history, they certainly make up for in quality craft brews that are getting tongues talking (and taste buds wanting more).
Water, snow and everything in between
With Kootenay Lake the centerpiece of the Nelson community, it comes as little surprise that its silky surface is consistently carved by kayakers and stand-up paddle boarders throughout summer.
Come wintertime, locals turn their attention to the snow-blanketed mountains just beyond, specifically Whitewater Ski Resort, a 15-minute drive from downtown. Situated within the Ymir Bowl in the Selkirk Mountains, Whitewater averages 12 metres of snowfall every year and is said to have the best powder in Canada.
Impressively steep and deep, Whitewater caters to more experienced skiers and snowboarders, with world-renowned heli- and cat-skiing experiences, as well as an abundance of cross country trails and certified guides.
But if your sporting predilections favour land over water, Nelson is also a haven for bike riders.
Hire a set of wheels from Gerick Cycle and Ski in downtown Nelson (with many steep hills around town, choose an e-bike for some electronic pedal assistance), and cycle your way around Nelson's photogenic waterfront and the many bike loops, including the Great Northern Rail Trail.
Exploring Nelson on bike is also the best way to peruse the 350 carefully preserved period buildings scattered across the city.
Retail therapy
With downtown Nelson conveniently compact, you can find most of the city's best shopping haunts along the main drag, Baker Street. As diverse as the people drawn to this alpine hub, retail offerings vary from upscale clothing boutiques to extensive outdoor sports and camping stores.
Check out Cartolina for vintage-inspired art, stationery, and homewares, which you'll find inside a gorgeous 1890s brick building. Meanwhile, Loot specialises in cute designs and cheeky humour with an array of giftware, and Lilikoi is all about sustainable, ethical, Canada-made women's fashion.
A quick stroll through the town centre and you'll notice Nelson also has a rich arts community, which has continued to grow since the city was named 'Number One Small Arts Town in Canada' in the 1990s.
Among the best places to scope out the handiwork of local artists is at the Touchstones Nelson Museum of Art and History, housed in a 1902 stone heritage structure. Craft Connection also displays a solid array of works created by Kootenay artists, as does the shiny Future Craft Airstream, a fun micro pop-up that operates throughout summer.
For more grassroots finds, the Nelson Downtown Local Market (held Wednesdays throughout summer) promises the best of locally made or produced fruit, vegetables and baked goodies, or if your stomach is still full, handmade artisan crafts and body products abound.
If you're visiting over the weekend, the Cottonwood Community Market is your best bet (held every Saturday throughout the warmer months), with tasty morsels as well as clothing and crafts available.




LEAVE YOUR COMMENT