14 reasons why winter in Canada is worth an Aussie summer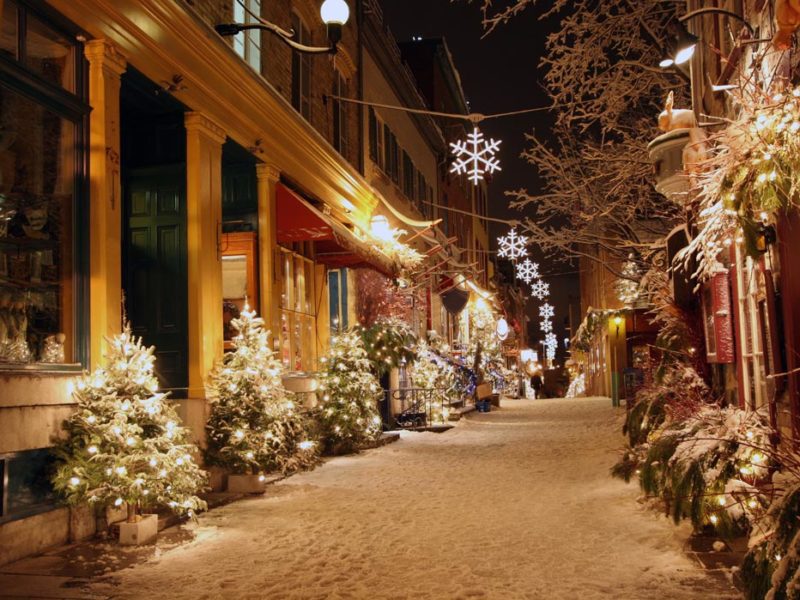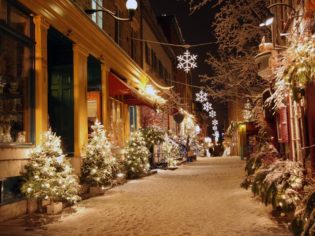 Considering embracing winter in Canada? Here are 14 genuinely convincing reasons why you should escape the festive family scrum and lose yourself in a white winter wonderland instead.
1. Basting a roast turkey in 40-degree heat is never a good idea
Aussie traditionalists may be willing to slave over a hot oven on a scorching summer's day, but the rest of us know how downright crazy that really is. In chilly Canada, however, the ol' piping hot Christmas turkey feast is as fitting as it is delicious.
2. Mulled wine is the ultimate Christmas tipple
Enough said, right? Sipping a mug of spiced gluhwein beside your chalet fireplace is far more romantic than knocking back a Tooheys at a crowded Aussie pub. Couple that with being serenaded by a crooning Canadian (or fellow Australian?) and it's a much dreamier setting for a holiday to remember.
3. You'll get fit while having fun
Spending hours lying on a beach won't do your body any favours, but twisting and turning as you schuss down ski slopes will leave you in tip-top shape at the end of summer. Plus, protecting your skin from the harsh Aussie summer sun is an added health benefit.
4. Uncrowded ski slopes beat crowded surf breaks
Aussie skiers guard a well-kept secret, but we're passing it onto you: Canada's slopes are deserted on Christmas Day. Better still, for the few that do hit the slopes, they're often dressed in Santa costumes so you can expect a parade of schussing Santas. Now that has to be more tempting than waiting for a wave among hundreds of boiling Bondi beachgoers.
5. Perk up that Christmas tree
Forget decorating a thirsty, wilting pine – Canada is thick with pine forests and real Christmas trees. From city squares to hotel foyers, towering, perfumed pines are dripping (not drooping!) with baubles. It also means no more waiting until mid-December to put up your own tree for fear it won't last the distance.
6. Beavertails and maple taffy beat fruitcake every time
Choose crispy beaver tails and sticky maple toffee over fruit and brandy, and you'll keep your energy high for hours of skiing and après mischief. When the holidays are over, you can stockpile tasty taffy in your pantry instead of packing bricks of dense Christmas cake in your freezer.
7. Your Christmas sweater will finally fit in
That horrifically amazing knitted jumper with pom-poms and Rudolph's nose will finally look right at home, amongst a sea of equally daggy designs. After all, Christmas jumpers tend to lose their appeal when worn months after Santa's appearance during the Australian winter.
8. Canada is much more Santa friendly
Being in a northern climate means there's always a fireplace to hang your Christmas stocking. There's always a chimney for Santa to travel down and, when a glass of milk is left out for the big guy in red, he doesn't have to worry about it curdling in the heat.
9. Snakes don't hibernate in December, but bears do
A summer bushwalk in Australia goes hand in hand with poisonous creatures galore. There's no such problem during a Canadian winter though, when the country's biggest predator is tucked up in hibernation, leaving hiking trails all to yourself (and the odd squirrel).
10. You won't find pool ponies in a natural hot spring
Forget fighting for space among inflatable ponies and pineapples in a chlorinated Aussie pool. Instead, relax in one of Canada's many natural hot springs. It's a safe bet there won't be any kids bombing into the water either, relentlessly shouting "Marco! Polo!".
11. Christmas carols finally have relevance
Let's face it: singing Frosty the Snowman when you're sweating through a hot night is ridiculous. In Canada, however, you can croon to your heart's content because Christmas carols actually make sense in a snowy setting. You can build your own Frosty, dash through the snow on an open sleigh, and in all other ways have yourself a merry little Christmas.
12. It's the perfect excuse to escape family politics
There'll be no wet kisses from Grandma, let alone awkward hugs from uncle Jim, or uncomfortable silences among cousins you barely know. In fact, Christmas abroad gives you a 'get out of jail free' card from your entire family – unless, of course, you invite them along. 'Tis the season to be jolly, right?
13. Swap Boxing Day blues for powder whites
Whether you're crawling across the Harbour Bridge or inching along the Hume Highway, it's hard to stave off a bout of Boxing Day blues in Australia. In Canada's ski resorts, however, the closest thing you'll find to a traffic jam will be at the gondola, and who are we kidding? The reward is well worth the wait.
14. Sunburn versus snow glare
OK, so we know you can get sunburnt on the slopes but, given that winter temps in Canada are regularly 20-below, you can rest assured not much skin will be showing. It's pretty hard to turn lobster-red when ski goggles, face mask and a helmet render you unrecognisable. No matter how many times you slap on the 50-plus sunscreen, you're not going to get that kind of coverage during an Aussie summer.