Everything you need to know: first-timer guide to Vancouver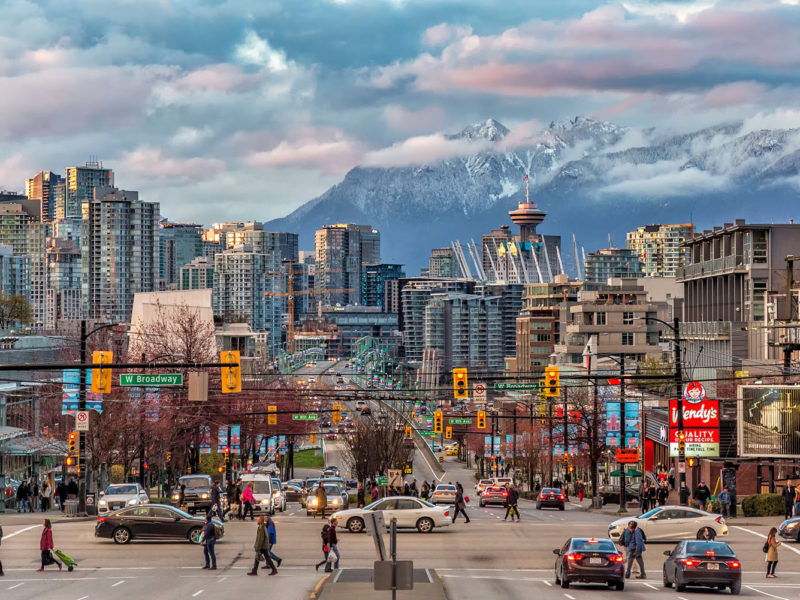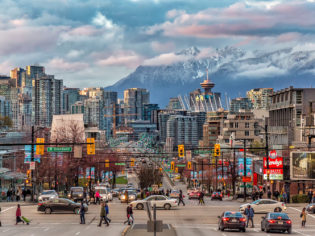 Once voted one of the best cities in the world to live, Vancouver is more than a mountainous metropolis for outdoor enthusiasts.
The airport
Getting from Vancouver International Airport to Downtown Vancouver takes around 25 minutes and costs $30–35 in a taxi.
The Metro
The Canada Line is the city's rapid rail link connecting the airport to Downtown (there are 11 stops on the way) and takes the same time, but is just $2.75 for a single ticket.
If you're arriving by train, Vancouver's Pacific Central Station is where both VIA Rail and the Rocky Mountaineer arrive into and depart from; it's a five- to 10-minute drive to Downtown from here, around $12 in a taxi.
Out and about
By foot
Bring your active wear! Vancouver locals love the outdoors so getting around on two feet, or wheels, is second nature.
It's no surprise: Vancouver has been named Canada's most walkable city by a number of publications, for its urban park trails, tree-lined streets and coastal pathways.
Some highlights include a 28-kilometre waterfront path in Stanley Park, the city's 400-hectare green space, and the Grouse Grind, a 2.9-kilometre trail up the face of Grouse Mountain with fabulous views from the top; you take the gondola back down.
By public transport
If you're going further afoot, the city has a fantastic transport system, Translink, which is made up of an extensive network of buses, a SeaBus connecting Downtown with the North Shore, the AquaBus that runs to/from Granville Island and the aforementioned SkyTrain.
Sightseeing
You may have heard of Grouse Mountain but what about…
Yaletown
Located right next to well-known Gastown, Yaletown is a hip hood fast transforming into a thriving scene for creative businesses including artist lofts, designers and tech companies: it's also a hotbed for cool new restaurants.
Lynn Canyon Suspension Bridge
The more famous Capilano Suspension Bridge is a great day out, but it can get crowded and costs $38 for an adult. Enter Lynn Canyon, a suspension bridge that hangs 50 metres above Lynn Creek.
The park has several rainforest trails that are surrounded by western red cedar, Douglas-fir and western hemlock, and there's also waterfalls near the bridge.
Entry into the park is by donation.
Granville Island
This once industrial island (in fact, that was its official name at one time!) is now a thriving foodie haven centred around its public market.
Head here to indulge in some of the best restaurants, cafes and produce in the city. Make sure you pop into Lee's Donuts, or jump on a tour with Vancouver Foodie Tours and taste the best of the best that this unsuspecting little island has to offer.
Aside from food, there is also a number of theatre companies here.
Shopping
Robson Street
The city's best-known shopping district has international designers and famous brands aplenty.
Kitsilano
Once known as a hippy area, the Kits is one of the city's trendiest 'hoods, and a symbol of Vancouver's healthy lifestyle; you'll find a heap of active wear shops here on West 4th Ave, including the first and original Lululemon store.
But also check out Zulu Records for some classic vinyl, Pacific Boarder for ski gear, and if you fancy a bit of a stretch between shops, head to Semperviva for some yoga.
SoMa
South of Main Street, or SoMa, has a host of eclectic local boutiques including Assembly of Text (for stationery sets, handmade journals and vintage typewriters), Much & Little (handcrafted goods and clothing) and local fashion retailers Twigg & Hottie, Still Life and Eugene Choo.
Plus get your fill of vintage at Woo Vintage, F as in Frank Vintage and Front and Company.
Punjabi Market
Little India is home to the largest Indo-Canadian community in the city – here you'll find beaded bags, Indian fashion, gorgeous fabrics and authentic Indian food.
Eat & drink
Coffee
Just as its name suggests, Revolver in Gastown has a constantly revolving menu of coffee beans to sample.
Try a coffee flight, a brew flight or simply order your trusted capp.
Beer
There are several breweries in Mount Pleasant (also known as Brewery Creek) including 33 Acres, a minimalist Scandi-style brewery with a fabulous menu (famous for its waffles), coffee and, of course, house-brewed ales.
Salt Tasting Room
Located in über cool Gastown, Salt Tasting Room's menu is all about tasting plates comprising cured meat, artisanal cheese and condiments paired with a wine flight.
Diners can choose the items for their tasting plate or leave it up to the staff to select.
The Eatery
The Eatery in Kitsilano is a funky restaurant with an extensive menu best know for its innovative sushi with fun names – Godzilla, Electric Banana, Cucu's Nest, Italian Stallion…
Edible Canada
Edible Canada, located on Granville Island, serves up simple and rustic native cuisine with local, seasonal produce sourced from coast to coast along with Canadian wines and local beers.
Where to stay
If you'd rather spend your money on sightseeing, this retro stay located in Downtown is the perfect option.
The 1956 motel has had a big refurb, and sports comfy rooms with modern amenities (Nespresso machine, free wi-fi…), a 1950s-style courtyard, and a coffee shop.
From $150 a night
Located just a few minutes' walk from Robson Street, this luxury boutique hotel, part of Relais & Chateaux, has cosy European-style rooms with balconies overlooking the city, an excellent restaurant, a beautiful spa and professional staff ready to help you plan your days spent in this wonderful city.
From $330 a night
Right in the heart of Downtown, this historic hotel has had some famous guests from Katharine Hepburn to the Rolling Stones.
It has been refurbished but is still as luxurious as ever with sleek and modern rooms, five dining venues, a spa and gorgeous indoor pool.
From $400 a night;
This hotel is nestled on the banks of False Creek within walking distance to all the delicious foodie delights of Granville Island.
It has contemporary, spacious rooms and a restaurant with a fabulous outdoor patio.
From $230 a night
LEAVE YOUR COMMENT