The top 7 restaurants you have to try in London now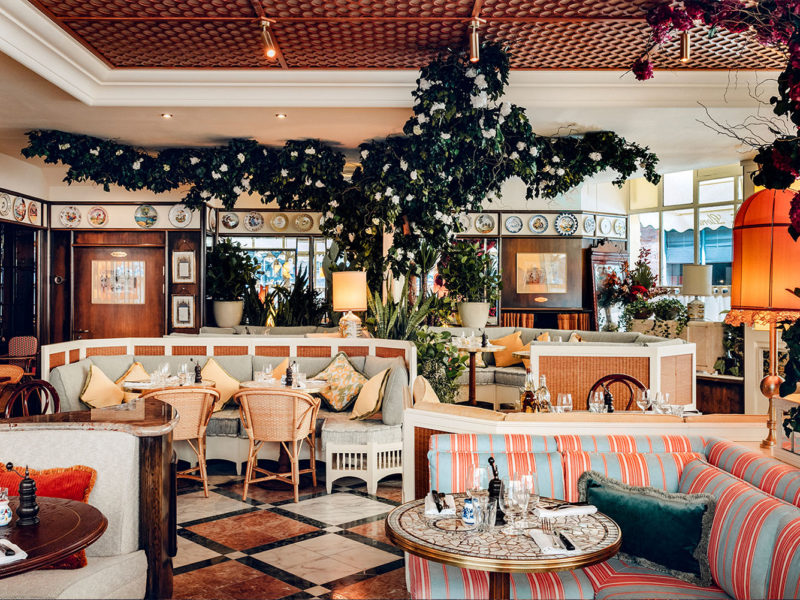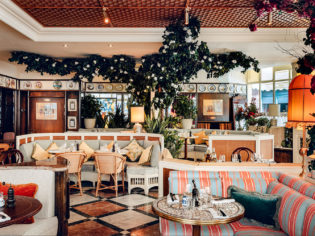 There's never been a better time to explore London's food scene: from the boundary-defying fine diner to the cool Thai and the resolutely modern eatery in a 19th-century chophouse, here are the restaurants to head to right now.
Jam roly poly. Bangers and mash. Spotted dick (no laughing at the back). British food has long held an association with being beige and stodgy and until recently this was well deserved. Although London's restaurant scene has always had an international bent, right up until the '90s pub menus rarely extended beyond fish and chips, exotic food meant chicken tikka masala at a spit-and-sawdust Indian on Brick Lane and fine dining almost always involved white tablecloths and chefs in thrall to foie gras.
However, a new wave of young talent and a growing interest in provenance among established names are challenging the city's palates like never before. From gastropubs with kitchen gardens on the roof to African fusion plates, London's food scene has never been more appetising.
Roll up your sleeves and tuck into the seven hottest restaurants in London town right now.
1. Ikoyi, St. James's
Boundary-defying fine dining utilising indigenous ingredients from West Africa
When Ikoyi erupted onto London's restaurant scene in 2017 in a haze of calabash nutmeg and smoky-scented udapods, it was misunderstood by critics as 'London's only fine dining West African restaurant'. But the truth is that Hong Kong-born chef Jeremey Chan and his business partner Iré Hassan-Odukale have invented an entirely new cuisine that refuses to fit neatly into any category.
A 'blind' tasting menu (i.e a selection chosen by the chef and served to the whole table) generally features seven dishes which could include anything from plantain dusted with dehydrated raspberry powder to aged beef fat and sorghum berry tarts. All look like modern art thanks to vivid colours and minimal shapes that wow with their precision. Currently holds one Michelin star. £75pp ($137pp) for the set tasting menu.
2. Brat, Shoreditch
Quality British ingredients cooked with boldly simply Spanish techniques
Located on the site of a former strip club, this wood-panelled, first floor dining room is as pared back as the food. Chef Tomos Parry sources seafood from Cornwall and meat from his native Wales, before borrowing the slow-cooking techniques of the Basque Country (Spain's foodiest region) by grilling them over an open fire. The results may appear effortless but one mouthful will convince you otherwise. The signature dish is whole turbot ('brat' is slang for turbot'), slow-cooked until silken and served with nothing but a sprinkle of salt, while a starter of chopped egg salad on bread spread with bottarga has a cult following – and it's a snip at only £5 ($9). Currently holds one Michelin star. £50pp for three courses.
3. Gloria, Hackney
Quirky modern Italian with fabulously decadent interiors
This madcap spot sticks two fingers up at North London's casual dining scene, which is characterised by minimal brick spaces sparsely filled with upcycled furniture. By contrast, Gloria is wantonly decadent with pink velour seating that wouldn't look out of place in 1970s Capri, absurdly over-the-top floral towers and chiselled waiters wafting about in candy-striped smocks. The sheer audacity seems to be working… you'll find a queue around the block most nights as the majority of the restaurant is kept for walk-ins.
Although it is owned by Parisian hotshots Big Mama Group, menus offer quirky versions of classic Italian dishes. Think 10-level lasagne, girella (ravioli filled with soft rabbit ragout and Italian polenta) and oversized platters of beef carpaccio scattered with hazelnuts. £30pp ($55pp) for three courses.
4. Norma, Fitzrovia
Sicilian-Moorish small plates in a sophisticated townhouse setting
A suave homage to the tiny Italian island of Sicily housed in a historic townhouse in Fitzrovia and overseen by celebrated chef Ben Tish. Given that it is owned by ultra-luxe Mayfair hotel The Stafford, it's unsurprising that this very modern Italian oozes sophistication. Tiled archways and velvet banquettes in warm cinnamon hues nod to the hundreds of years that Sicily spent under Arabic rule and menus continue this narrative through North African ingredients such as pomegranate and saffron. Smoked cod's roe with sticky sweet molasses grapes sits alongside clams with sharp saffron and shallot pickle, while tomatoes on toast are a satisfyingly simple taste of the season. £40pp for three courses.
5. The Quality Chop House, Farringdon
A 19th-century chophouse reimagined as a Modern British eatery and wine bar
Shadowy-lit, chequered-floored and with no decoration except for freshly-scrawled chalkboards and empty wine bottles, the interiors of this carnivore's dream appear to have changed little since the first restaurant opened on the site in 1869. However, the kitchen's approach to British ingredients is fiercely modern.
Meat is sourced from Smithfield's Market down the road and butchered on site, with every part of the animal being reimagined into no-frills, masculine plates that thrill with their daring simplicity. Yorkshire grouse arrives so rare it's practically pulsing, with nothing alongside but bread sauce and redcurrant jelly. A recent shake up in the kitchen has seen a few seafood dishes introduced (eg Devon crab with preserved lemon and seaweed), but really this is a place where you can live out your meatiest fantasies in an atmospheric Victorian setting. £45pp ($73pp) for three courses.
6. Som Saa, Spitalfields
Happening Thai in the railway arches near one of London's most famous markets
This very 'now' spot might have begun life as a pop up in deepest East London but a crowd-funding campaign by its many fans enabled it to move to a former fabrics warehouse just south of Spitalfields Market in 2016. Since then it has proved it is more than a passing fad by managing to create the atmosphere of a house party at practically every service – three years on and you'd still be hard pushed to get a seat.
Menus stroll fearlessly from north to south Thailand, unearthing regional recipes that leave green curry lagging miles behind. Yum naem khao thort (red curry rice cakes, fermented pork and thai peanut salad) is a punchy forerunner for the likes of gaeng gung sap (prawn curry with eggplant and kajorn flowers) and mushroom broth with young watermelon. £25pp ($45pp) sharing several plates.
7. Kyseri, Bloomsbury
Refined Turkish small plates designed for sharing
The second restaurant from brilliant Selin Kiazim, this intimate, polished corner of Bloomsbury delights with authentic Turkish plates inspired by the chef's childhood memories. You can taste the emotion in every bite. Located on the ground floor of a corner house, the dining room always has a convivial atmosphere encouraged by a sharing plate format and warm service. Tuck into roast mushroom and cheese manti (traditional stuffed pasta), roast chicken with wild oregano and feta and pillowy sesame bread slathered in beef-dripping butter. £22pp ($40pp) sharing several plates.