The most spectacular swimming spots in Malta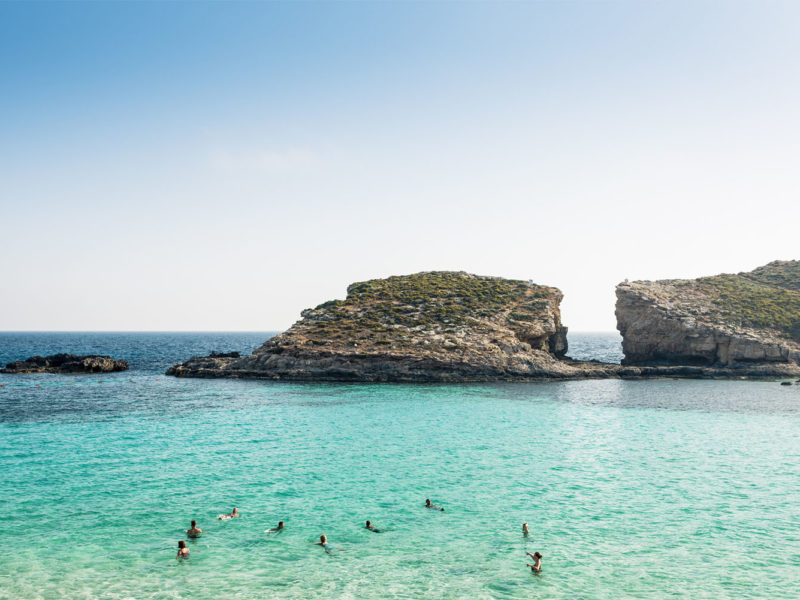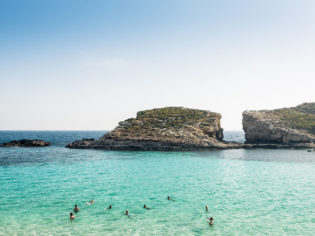 Hide Map
Malta has been described as the 'underrated gem of the Mediterranean' and looking at these pictures of spectacular swimming spots, it's easy to see why.
With some of the cleanest waters in the Mediterranean, spending your days lazily ticking off these beaches on your Malta bucket list is a holiday dream.
Be warned though – many of the beaches are the rocky kind often found in this part of the world, so try to put the Australian version of sandy beaches out of your mind. The upside? No pesky fine-grained sand in your bathers and beach bag!
Here are the best swimming spots to cool off in Malta.
1. Ramla Bay
Known locally as 'the red sandy beach', this is the island of Gozo's most popular swimming spot. With Roman ruins in the background, this is a truly epic spot for a dip.
It's a 'blue flag' beach – an international award given to beaches, harbours, marinas and boats which have proven to be clean and safe, and respectful to the environment.
2. The Blue Lagoon
Just a boat ride from the seaside resort of Sliema on Malta (the archipelago's main island) is the small island of Comino. Here, you'll find the Blue Lagoon – well worth a trip for its crystal-clear, turquoise waters.
You could just position yourself on the rocks beside the water and sunbake the day away, but with an abundance of sea life under the water, it's worth grabbing some goggles and going for a snorkel.
An ice-cream boat is sure to be patrolling somewhere along the shore, so keep your eyes out for a sweet treat when you're finished exploring the underwater realm.
3. Paradise Bay
At the most northern point of Malta is where you will find this lovely small beach, set in natural rocky surrounds. A number of decks have been created for sunbeds and umbrellas, so you can soak up the sun in style. It's a bit of a steep descent down, but it's well worth it – from the top of the cliffs you get an unobstructed view of both Gozo and Comino Island.
4. Ta' Fra Ben (Qawra Point)
Sure, the beach is a little rocky, but this is a beautiful, sheltered beach with spectacular views and crystalline waters. It also doesn't get quite as busy as some of the others, so it's a smart choice in the summer months.
The calm waters and easy entry into the water make this a great beach for families. It's also a popular location for barbecues, with Malta's beautiful north-eastern seascape as a backdrop.
5. Fomm-ir-Rih
This one is tricky to get to, but if you want to escape the crowds it can be well worth the trek. It's accessed by a fairly rough pathway that takes about 20 minutes to traverse.
Malta's most remote and inaccessible beach is near the small town of Baħrija on the northwestern Maltese coast. It's a favourite with divers, snorkellers and people wanting a more rugged beach experience. Take a picnic lunch, as there are no food or drink stands at this secluded spot.
6. GoldenBay
This is one of the few 'sandy' beaches, so if you have a vision of lying on a towel and soaking up the sun, this might be the spot for you. Set on Malta's northwest coast, there are also some great restaurants and kiosks surrounding the beach, making it a great place to spend a whole day. A variety of watersports and boat trips are also offered at this beach. This is another 'blue flag' beach, so you can be assured of its cleanliness.
7. St Peter's Pool
Set near the charming fishing village of Marsaxlokk, St Peter's pool is considered one of the most beautiful natural pools in the world.
It's a great day trip if you're staying on another part of the island as you can combine a walk through Marsaxlokk (and a spectacular seafood meal) with a dip in the pool – though do note that it's about a 35-minute walk from the village to St Peter's Pool. It's worth it, though. Jumping off the sand-bleached rocks into the light-green water is an absolute treat on a hot day.
8. San Blas Bay
Another of Gozo's great swimming spots, San Blas Bay is set in the secluded green countryside at the end of a pristine valley. The sand is the same reddish sand of Ramla Bay, which contrasts so beautifully with the azure sea.
It's a bit quieter than Ramla, partly because the road has been closed off, so it's a bit of a trek down to the water via a slightly steep path. This is a superb place for snorkelling around the submerged boulders on the edge of the beach.
LEAVE YOUR COMMENT