9 things to do in Lisbon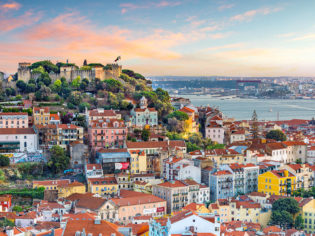 Portugal's captivating capital is also the European Green Capital 2020.
A day out on the tiles
Put Lisbon's eco credentials to the test by covering some ground and green spaces on foot.
Lisbon's largest park was unfurled like a giant green carpet between 1926 and 1930 by architect Raul Carapinha. The park pays homage to Edward VII of the UK who visited Portugal in 1902 and is punctuated by winding paths that connect to three greenhouses.
Live like a Lisbon local and visit the organic farmers' market, held here in this pretty park every Saturday morning under the canopy of a 130-year-old cypress tree. The city's charmingly overgrown botanical garden is a stone's throw away, too.
Wander the higgledy-cobbledy streets in this hip LGBTQIA friendly 'hood where poets, artists and intellectuals have gathered for more than 200 years. Here you will find walls painted with street art, rooftop bars, tattoo parlours and the grooviest of gay bars.
Set in a pretty landscaped terrace, this miradouro (lookout) in Bairro Alto commands views over São Jorge Castle, Sé Cathedral and the spires of São Vicente de Fora. Take it all in, then catch the Ascensor da Glória funicular down to the Baixa district.
This is downtown district is where visitors to Lisbon spend most of their time. The area comprises stately avenues, magnificent plazas, must-see monuments and distinctive Pombaline architecture. Perch at a cafe and order pastéis de nata (custard tarts) and bica (coffee).
Praça do Comércio is located here in Lisbon's historical heart and is the grandest of all the city's plazas. Get a sense of Old World Europe in the square, which was constructed in 1755 after the great earthquake of Lisbon destroyed the entire Baixa district, located on the river Tagus.
Sustainable Shopping
Lisbon has evolved as an ecofriendly city for travellers, who can forage everywhere from vintage stores to flea markets to emporiums spruiking Portuguese-made handicrafts.
Consumers who are conscious about the origins of their clothing should join Portugal's hip parade at the Sunday flea market at LxFactory, in Alcântara. It's the vintage haute couture that brings the best value here: if you're not tempted by the crocodile-leather boots, try on that faux fur jacket or rhinestone ring.
This clean, green beauty store specialises in organic, sustainable and ethical beauty brands sourced from around Europe. Book in for a treatment at the brand's Bio Day Spa where you can try before you buy. The cosmetics store has an outlet in Baixa.
organii.com
Feel good about the souvenirs you purchase by buying local and shopping at A Vida Portuguesa, where the inventory of brands – everything from retro soaps with Art Deco labels (pictured above) to artisan olive oils and stationery – have all been produced in Portugal.
LEAVE YOUR COMMENT