15 adventures through Portugal's cobbled-street brilliance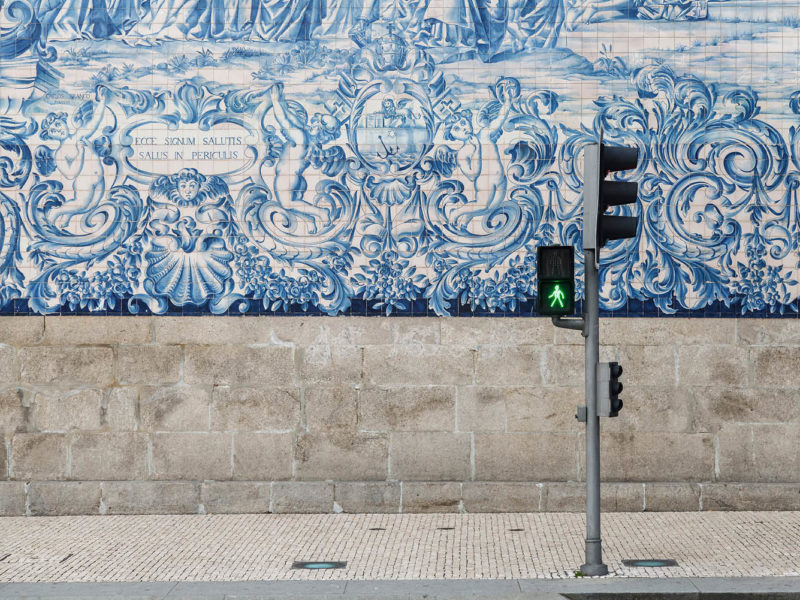 Many first-timers to Portugal's 'other' city only recognise Porto as the capital of port wine (not strictly true, see below).
Regardless, there is so much more to it. Here are 15 things to do to kick off your adventure, writes Steve Madgwick.
Portugal's northern star is one of Europe's most underrated cities to visit, a pulsating UNESCO-scape of baroque cathedrals and medieval cobbled streets. Here are 15 things to do, see and eat in Porto that will open up the pages of this storybook of old-world amazingness.
1. A day on the azulejos
The radiant blue azulejos (traditional painted tileworks) are tucked away in plenty of Porto's nooks, but there are a couple of places that outshine the rest. The most extensive examples reside at São Bento railway station, where 20,000 tiles (circa 1905) capture famous and infamous religious and cultural scenes from Portuguese antiquity, and celebrate conquests by revered figures such as Prince Henry the Navigator. Also, don't miss the exterior of downtown Capela das Almas (Chapel of Souls) on Rua de Santa Catarina.
2. A glass of port from the source
Porto is not actually the capital of port wine – technically, it's directly across the Douro River in Vila Nova de Gaia. Until 1986, Gaia's charming port lodges were the only place on earth where port could be aged/exported from. And although the rules have been relaxed now to include the rest of the Douro Valley (on the Portugal side), this historic fortified-wine village directly across Ponte de D. Luís from Porto's old city is where the pick of port still ends up. Sample the best of big producers, such as Graham's or Sandeman, in their prime riverfront 'caves' or explore further up Gaia's cobbled streets for the lesser-known, but not necessarily lesser quality, tipples.
3. Livraria Lello: JK Rowling's bookshop of choice
Livraria Lello has at least a couple of claims to fame. Thanks to its gorgeous façade (which marries elements of Neo-Gothic and Art Nouveau), decadent interior and stained-glass roof, Lonely Planet listed it as one the world's most beautiful bookshops. Its uber-popularity is more likely due to JK Rowling, however, who once said that Lello was one of her favourite places to write. Some say its aesthetics, particularly its inner stair case, helped JK (who once taught English in Porto) conjure up the buildings of Hogwarts too. Thanks to its celebrity status, there is now a €4 entrance fee (refunded if you buy a book).
4. Watch out for all those bats
While you're in the area, keep your eyes peeled for the bats of Porto: some of the city's university students who wear a ceremonial black cloak as part of an academic tradition. The bats even have a new nickname, Harry Potters, again because of JK, who is said to have modelled Harry's Hogwarts uniforms on them. You're likely to see more Porto bats in the colder months (September to May) because the cloak is functional winter-wear too.
5. Eat traditional grilled sardines with the locals
You don't have to eat at Porto's high-end restaurants to get your sardinha grelhada (grilled sardines) fix. Four kilometres west of the city centre, the riverfront area of São Pedro da Afurada exudes an authentic fishing-village vibe with plenty of restaurants and taverns ready to feed you. Mix your fresh seafood with some old moody fado music at Armazém do Peixe. Another sardine-related day-trip option is to ride the metro from the city to Atlantic-facing Matosinhos, where there's plenty of tasty octopus and swordfish on the tables too. Tip: Remember that local taxi drivers are always a great resource for grilled goodness hotspots.
6. Stay at the five-star 'wine hotel'
The Yeatman Hotel claims that the indoor and outdoor infinity pools on its three-hectare hilltop property high above Gaia offer Porto's best views, which can't be too far from the truth. There are a few other reasons to book into this five-star beauty, such as vinous spa treatments that incorporate grape seeds and its two-Michelin-star restaurant headed by chef Ricardo Costa.
7. A majestic café experience
Traditionally, intellectuals flocked to Cafe Majestic to recite poetry and debate seditious thoughts. These days, you're just as likely to be sitting next to a fellow traveller because the cafe's handsome façade, its marble tables, and its grand Flemish mirrors draw in people from far and wide. The locals say they treat you like kings and queens here, but they also say they'll charge you like kings and queens too. The Majestic has a reputation for serving one of the best brioches in the country. (Rua Santa Catarina 112)
8. Mercado Do Bolhao: Porto-style markets
Mercado Do Bolhao is a dynamic diorama of Porto life where you'll rub shoulders with locals shopping for their weekly meat and fish, and scanning for bright red chillies and the most voluptuous passionfruit. The partially undercover market leans towards the rustic end, charmingly in need of restoration in parts, where you'll breathe in all those market scents and hear locals 'taking the piss' out of each other. Rest your lunchtime vino on the port barrel tables at Bolhao Wine House, fill up on some grilled sardines at the Bolhao's bustling central restaurant, marvel at the bakery's penis-shaped bread, and pick up some trinkets (tiles and cork handbags) on your way out.
9. Cedofeita: Stroll away from the crowds
The centre of Porto in summer can be a frantic place where it seems difficult to find a little space of your own, no more evident than on shopping strip Rua Santa Catarina. For a more laid-back neighbourhood experience, head slightly north-west of the city centre to cool Cedofeita. The pedestrian street is flanked by boutique art galleries, pop-up shops and hosts open fairs every second Saturday. Amble through Crystal Palace Gardens (Jardins do Palácio de Cristal) for a breath of fresh.
10. See Porto's 'three blues'
Porto is a city of hundreds-of-metres-high bridges that grip onto the ridge tops of the steep Douro Valley (there's six of them). The centrepiece is the dramatic double-decked metal arch Ponte de D. Luís, which casts its serious eye equally over the Old City and Gaia, obviously conceived by a contemporary of Eiffel Tower designer, Gustave Eiffel. Downstream, the Arrábida Bridge's aesthetics aren't quite as eye-pleasing, but the view from the top of it is. From up at 70 metres you can take in Porto's 'three blues': the Atlantic, the Douro River mouth and the southern European sky.
Porto's 5 foodie challenges
11. Casa Portuguesa do Pastel de Bacalhau adds oozing Serra da Estrela cheese to the traditional salt codfish cake, enough to sate any traveller's savoury craving (R. Campo dos Mártires da Pátria 108).
12. Next door, the equally beautiful Casa Oriental shop purveys Portugal's famed tinned sardines with a difference: the tin is artfully emblazoned with your birth year (no, they weren't made in your birth year, unless you were born this year)
13. Sample a vinho verde (green wine) at any local bar. Warning, not to everyone's taste.
14. Try a café de saco ('bad coffee'), an old-school cuppa filtered through a bag. You won't find it everywhere, so try Guarany Café (Av. dos Aliados 85/89) if you're struggling to locate one.
15. For the sandwich with it all, ask for Porto's traditional francesinha; stuffed full of sausage, steak, ham, beef and a special beer and tomato sauce that varies with each restaurant. It's also coated in melted cheese. Cafe Santiago (R. de Passos Manuel 226) does a good one.
LEAVE YOUR COMMENT