4 reasons to visit Porto: the European city on the rise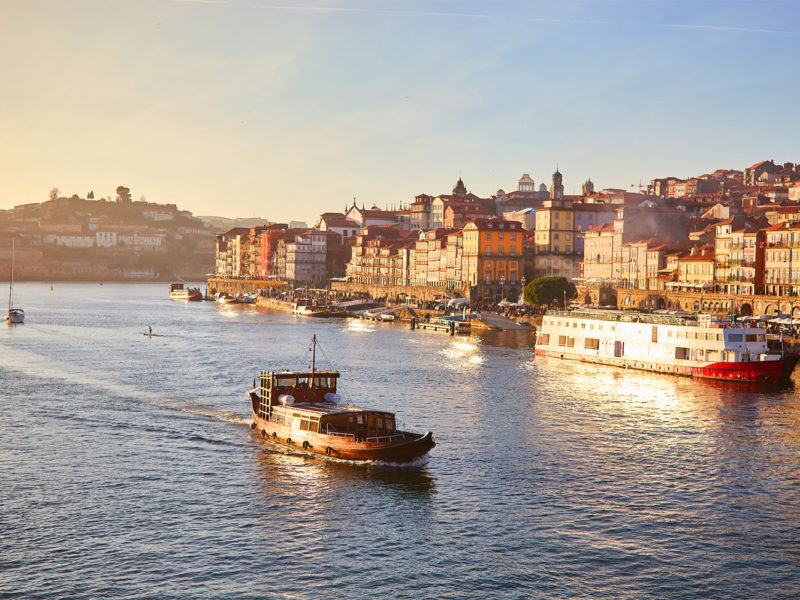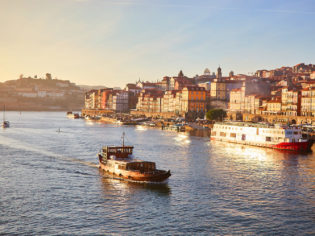 Edgy in some senses, luxurious in others. Glancing to the past before looking to the future. The city of Porto will leave you intrigued, inspired and charmed.
Porto, the coastal city in northwest Portugal, gleefully hangs off the western edge of Europe, a place that during the Middle Ages was considered the end of the known world. While this thinking has progressed, the architecture in Porto for the most part has – quite beautifully – remained the same.
As some of Europe's major cities rush to modernise, Porto's vivacious, historic soul has been impressively and respectfully retained, strongly evident in the city centre. Some pockets are convincing enough to transcend people back to medieval times, thanks to the UNESCO heritage listing of the Ribeira – Porto's lively riverbank. Ribeira is the beating heart of the city, its boardwalk peppered with cafes, restaurants, live musicians and quirky performances. Though, there is much more to Porto beyond its handsome waterfront. It's a city in the middle of an awakening, sparking an awareness from the rest of the globe.
We explore how Portugal's second city is having its day in the sun and why it's worth paying a visit.
1. It's the birthplace of port
Like France's Champagne, it's incorrect to call anything 'port' that has not derived from Porto and its abundant Douro Valley surroundings. Porto's pride of its fortified wine radiates throughout the city, highly evident through the presence of port cellars and stores that line the Vila Nova de Gaia, the northern bank of the Douro River. Many cellars host port tours and tastings – a quick, easy and convenient way to learn about the alcohol, as well as Porto's role in establishing one of the world's most loved drops. Ramos Pintos, Sandeman and Taylor's are notable cellars running tours, their respective names painted on the rooftops of their occupancies in grand white lettering, visible from the other side of the river.
Naturally, port makes its way into a great deal of the city's food. It's common to come across meat that's briefly braised or slow-cooked in port, particularly veal and pork. Sometimes, it's a port jus drizzled atop proteins. The wine sometimes makes an appearance in the making of the francesinha – Porto's most famous sandwich. Tackling one alone can be a mighty battle, so we suggest you share. The francesinha is – like port – native to the city, widely available at casual eateries, while finer diners will also put their modern spin on the icon.
Simply put, the francesinha is an extraordinarily indulgent sandwich, a somewhat architectural formation of layered meat featuring pork, sausage, bacon, and a beef patty or steak, held between two slices of thick white bread – sometimes a third in the middle (outrageously). It's one that's sure to alarm the health conscious.
A slice of cheese is placed on top of the sandwich, and just when you thought that marked the finish, the recipe continues. The sandwich is often (not always) topped with a fried egg, causing the cheese to surrender and helplessly melt underneath. It is religiously doused in a slightly acidic red sauce fusing beer and tomato, and often port to pay homage to its roots. When in Porto, this is a must-try.
2. An impressive dining scene follows
A visit to Porto isn't complete without a serving of piri piri chicken, found at churrasquerias – an establishment dedicated to charcoaling meats. Pull up a stool or stand at the bar and eat like the locals; none of this fancy table business. The chicken is simply basted in chilli, paprika and bay leaf, going particularly well with a side of potatoes, greens, and a bowl of feijao – Portuguese-style bean stew, mixed through with linguica sausage and bacon. Though the stew sounds and appears both humble, its flavour speaks a whole different language.
Of course, Porto is also home to higher-end diners for those wanting to luxe things up. Two Michelin-starred restaurants, to be more specific. Antiqvvm serves up impeccably plated dishes championing traditional Portuguese food, set in a park next to the Museo Romantico, graced with views of the river. Pedro Lemos on the other hand celebrates sumptuous, contemporary Portuguese fare in contrasting surroundings – an old stone house. Here it's about tasting menus featuring different numbers of courses.
One of the most difficult things about travelling to Porto is constantly avoiding the temptation of being lured into a cake shop – there are many. Window fronts gloriously filled with trays of tarts, custard-based cakes, meringue treats and chocolate delicacies taunt travellers and locals alike. Know if you visit, whether you like it or not, at some point you'll have to give in.
Sweets here are not as sinful as others. Many of Portugal's sweets recipes were created by nuns and monks. Monks historically used egg whites to clean white clothing and sought to find a use for the remaining egg yolks – so they wouldn't go to waste. This lead to Portugal's reliance on custard-based desserts like pastel de nata – Portugal's renowned custard tarts. They confidently dominate the dessert scene, but there are options far beyond the popular tarts worth giving a go.
Get your hands on a bola de Berlim – a fluffy, egg custard-filled, sugar-coated doughnut. Cheese lovers, look for a queijada – a Portuguese-style cheesecake that combines marzipan into its cheese filling, livened with cinnamon and crowned with a perfectly caramelised top. Ovos moles (soft eggs) are a unique dessert, originating from the coastal city Aviero. Within rice paper communion wafers is a mixture of egg yolk and sugar cream that is strenuously stirred until thick. Aside from the traditional egg shape, these come in shell, clam and barrel forms, tipping a cap to the dessert's nautical birthplace.
Legend has it, ovos moles were creatively invented by a nun at Aveiro's Convento de Jesus, who was ordered to fast by the mother superior – but still wanted to indulge in something sweet, discreetly.
3. From city, to river, to sea – it's all about the water
Overlooking the enchanting, somewhat mysterious and seamlessly endless Atlantic Ocean, water is at the heart of Porto. Whether it's in, on, or above it, there are endless ways to enjoy the water here. City beaches are popular in the summer, though there are more serene beaches found short train rides out of the city. Miramar is one we'd recommend you visit, about 30 minutes out of the centre. The rugged beach, combining sand and pebbles, is overseen by a quaint chapel, named the Capela Senhor da Pedra. Charmingly set upon a grand rock, it happily sits right where the water meets land, defined by a peach-coloured rooftop.
A dip in Miramar's waters proves challenging; though those with tired bodies who brave the initially icy waters are in for a treat. If that seems too hardcore, plan B is to lay out a towel, take in the fresh air and (hopefully) some sun without a dip. Beachside cafes are nearby to rejuvenate at.
Back to the city, the Douro River splits Porto in two, its grand width allowing for boats, sail and speed, to cruise up and down. For those wanting to travel from one side of the river to the other, there are a few modes of transport. By boat of course, cable cart, otherwise via car, tram bike or foot over the Dom Luís I Bridge – a true feat of construction, considered Porto's most famous landmark. Named to honour the king of Portugal in the period of its construction (Dom Luís), the epic structure has united the city centre and Gaia. It's an exquisite spot to admire Porto from above, the top tier of the bridge elevating 44.6 metres above the river.
4. A fascinating (but challenging) city to explore by foot
If you take a look at the calves of locals in Porto (try to do so inconspicuously), you'll notice they're quite well formed. Within the first 15 minutes or so spent walking around the city, you'll understand why. The streets prove a challenge for all ages, not only the manner they dramatically twist and turn, but the sharp declines; the relentless inclines.
Find comfort in that regardless of eating to your soul's absolute content in Porto, it's easy to burn off the calories in comparison to other cities with friendlier, flatter streets. If the legs absolutely give up, know that Porto is wonderfully connected with a world-class metro system and a historical tram that tackles the hills in the old part of the city.
Scenes of heritage and art are waiting to be discovered in Porto. Strolls through the city, although physically unforgiving, are rewarding, especially when they lead to places like São Bento Station, which attracts a great deal of visitors despite not having a train to catch.
The hub goes far beyond transporting people to and from the city. The walls here have tales to tell, the station doubles up as a gallery and history lesson aside from its primary responsibility. The foyer of the 20th-century French Beaux-Arts-inspired station houses 20,000 azulejo (blue and white) ceramic tiles, collectively showcasing the story of Portugal's history, through its wars and different rulers. It took 11 years to place all of the tin-glazed tiles, finalised in 1916.
Walking down the city towards Ribeira reveals charismatic, colourful buildings of Roman and medieval faces. The city is a kaleidoscope, buildings painted in many hues all with their own personality. Visitors will stumble across pockets of green and praças (squares) often with a monument or statue honouring a significant figure in Portugal's history.
The Praça da Liberdade is one of Porto's most symbolic squares, previously a field owned by the Cabido da Sé do Porto (a religious council). Back in the 18th century, it was gifted to Porto's city council in pursuit of transforming it into a public space to rival those developed in other European cities. The square is home to a 10-metre-tall bronze equestrian statue of King Peter IV, dating back to 1862. The king holds Portugal's constitution in his hands, displaying it to the public after his tremendous efforts to protect it throughout the Liberal Wars (also known as the Portuguese Civil War).
Other squares are more humble, like Praça de Gomes Teixeira. Here was a meeting place for people selling flour, cereal and bread. The military also used to do drills in the square. Now, it's defined by a beautiful fountain, which was originally commissioned to provide water to the entire city. The square also sits around the corner from the Clerigos Tower, once the tallest building in Porto – it remains the tallest bell tower in the city today. Climbing the tower's 200 steps costs $5, giving way to stunning views of the city's rooftops and the river.
Pure and unpretentiously picturesque, there will be times in Porto you won't know where to look. A mecca of history and culture, hosting an impressive plethora of things to see, do, experience and taste. We couldn't ask for much more.