Cycling Amsterdam: a bespoke biker's guide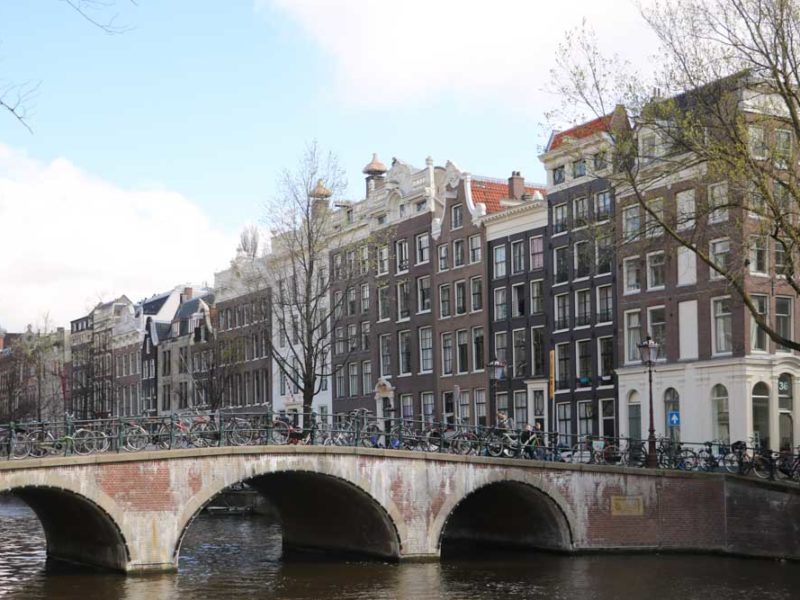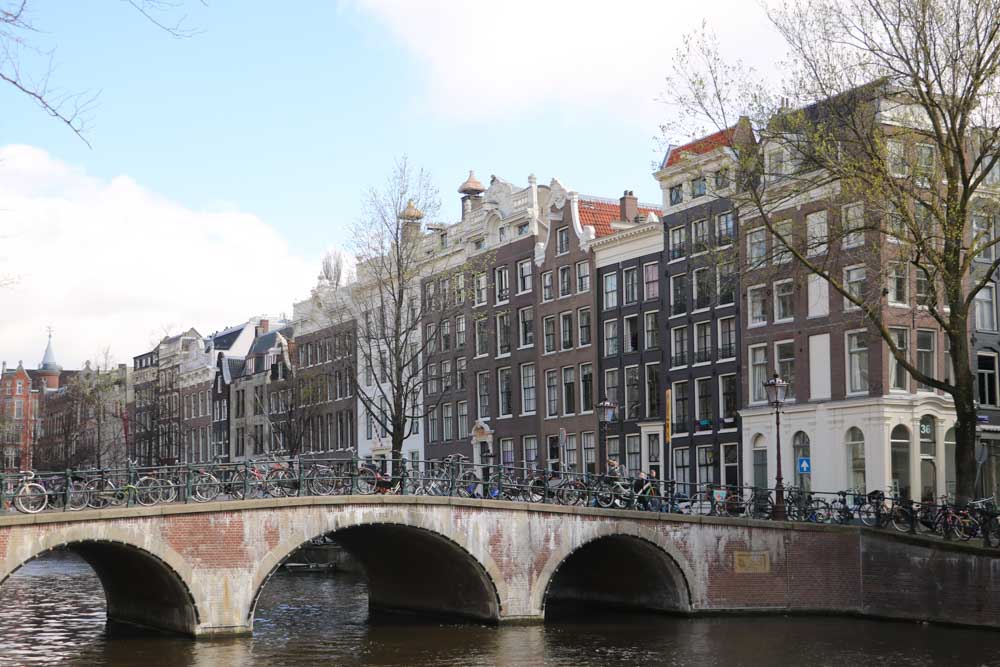 Exploring the world's most cycle-friendly city on two wheels is not as cruisy as it seems. Megan Arkinstall takes Amsterdam one pedal-push at a time.
Whoever coined the phrase 'like riding a bike' obviously never learnt to ride in Amsterdam.
My seat is as low as it can go but my feet are barely touching the ground; I wonder, am I the shortest person in The Netherlands? I'm balancing on my tip toes in a narrow bike lane as locals whirl past and vigorously ring their bells signalling me to get out of their way.
Finally I get my pedals moving but my husband up ahead of me has crossed over the tram tracks and is waiting on the other side.
While he questions if I need training wheels, I turn to my right – the oncoming tram is a safe distance away – and push as fast as I can. My bicycle wobbles as it rides over the divots of the tracks and cobblestones, but I make it safely to the other side.
Amsterdam is made for bicycles, I was told. It's so easy, they said. But my sweaty palms say otherwise.
With mostly flat streets, 500 kilometres of bike paths, some 250,000 bike racks, and almost 880,000 bicycles – 70 per cent of trips in the city centre are made by bike – I feel like a lone wobbly wheeled tourist among a peloton of locals notorious for breaking the road rules.
We finally make it to our first destination: the flower market. We chain up our bikes and wander through a cheerful display of bright blooms and kitsch souvenirs.
We're here during tulip season (March until May) and though we don't have enough time to get out and see the fields on this visit, I get a quick fix of the iconic Dutch flowers here.
Nearby, I spot a sign that boasts 'Best Pancakes in Amsterdam'. It'd be remiss of us not give them a try, so we make our way into the small cafe.
While I wonder if the food will be better than the décor, two plate-sized flat pancakes drizzled with Nutella are swiftly served. The best? I can't say – up until now I was a Dutch pancake virgin – but they certainly fuel us up for the next stage of our ride.
In a sea of spokes, we relocate our matching blue bikes with attached wooden baskets; all I need is a bunch of flowers or a small dog and I'd almost look like a local (if not for my nervous cycling skills).
Slowly we make our way to the Rijksmuseum and spend the next few hours admiring works such as Rembrandt's Night Watch and Van Gogh's 1887 self-portrait.
There are as many as 8000 paintings, statues and historical objects housed here showcasing the Netherlands' history, so it would be easy to lose weeks in its labyrinth of displays; but with only a few days in Amsterdam, we do an express self-guided tour.
After I get the obligatory tourist shot under the giant M outside the museum, four minutes of pedal power brings us to the safe confines of Vondelpark, where it's all smooth pathways, and no trams in sight (hallelujah!).
We wind our way through the English-style garden full of leafy green horse chestnuts, willows and tranquil ponds. Locals and visitors alike are spending their morning walking their dogs and riding their bikes, picnicking and socialising.
We pull up at Vondelpark/3 Kitchen and Bar, a restaurant housed in a beautiful heritage-listed building, and sit out in the outdoor beer terrace with pond views for a glass of Wieckse Witte, a decent Dutch brew.
Back in the saddle, my shoulders finally relax and I am starting to enjoy myself immensely until I spot a woman sitting on a bench with her dog yelling and waving her arms at us disapprovingly.
"No bikes! No bikes!"
It seems we've accidentally veered onto a pedestrian-only path. Swiftly exiting the park, we decide it's time to head back to our hotel in Prinsengracht, the outermost of the three main canals of the city.
Once we're out of the city centre, the streets quieten and we admire the architecture as we glide along in the UNESCO World Heritage-listed canal district.
Formerly home to only the wealthiest of Amsterdammers, many of these canal houses have been converted into boutique shops and museums (such as Anne Frank Huis, also in the Prinsengracht area).
Enjoying the slower pace, we pop in to De Kaaskamer cheese shop to taste some local Gouda and Edam, stop for a coffee at cosy café Ree7, browse the art at Cloud Gallery, and check out the cute fashion and homewares stores stocked with local designs.
We pull up at almost every bridge we cross to photograph the idyllic scenes of boats putting up and down the historic canals.
The charming, sometimes crooked, gable-roofed houses that line the canals are so perfectly conserved and immaculately painted, it's astounding to even consider that many date back to the 17th century.
At our hotel we ditch our bikes and set out on foot to a tiny corner restaurant, Pastini, for a cosy dinner by candlelight.
As I twist delicious lamb tagliatelle onto my fork, the ominous sky outside opens up with a heavy downpour. It's short-lived and when it passes, pastel shades of purple, pink and yellow envelop the sky, topped off by a perfect rainbow.
This is my second visit to Amsterdam; the first was as part of a three-month backpacking odyssey around Europe.
Perhaps because a good amount of my time was spent around the Red Light District and commuting back and forth to my dodgy far-flung hostel, I hadn't had the time to appreciate just how pretty the city is. But today I did, pedal-induced panic attacks and all.
Quirky stay: Andaz Amsterdam
We stayed at Andaz Amsterdam in Prinsengracht, a quirky design-led hotel in a fabulous location. It has a bar, restaurant, spa, gym and complimentary bike hire. If you prefer to pound the pavement, the hotel's GM hosts a five-kilometre run at 7am on Wednesdays to Vondelpark and back. Rooms from $510 a night.
MORE… Amsterdam's Hottest Hotels
LEAVE YOUR COMMENT