The 3-day road trip around one of France's newest regions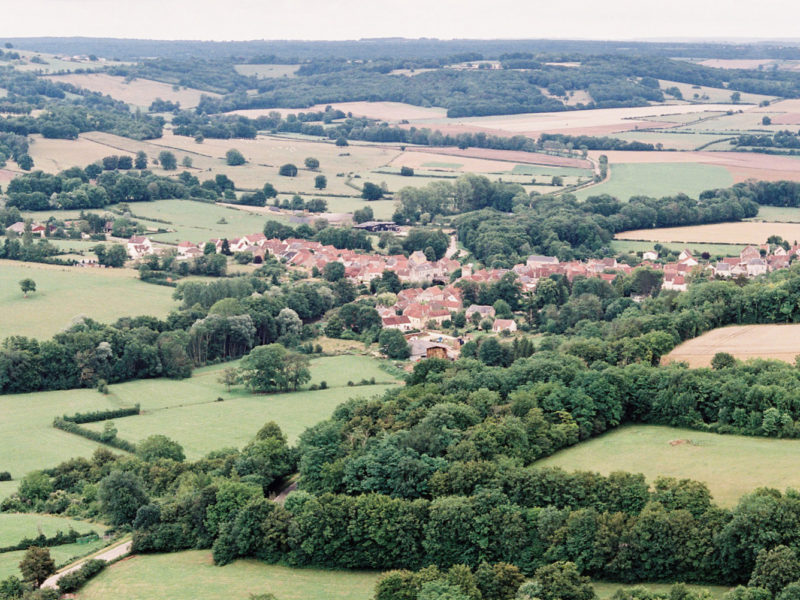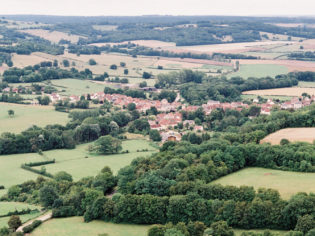 A three-day road trip around one of France's newest regions, Bourgogne-Franche-Comté, delivers some of the country's most unexpected historic sights and wilderness attractions, with a lion's share of wine along the way.
Wandering through the fairy-tale cove, all ferns and waterfalls springing from mossy caves, I begin to understand why some of France's most creative minds have sought respite and inspiration in the Jura Mountains; Louis Vuitton and Victor Hugo among them. The landscape here is criss-crossed with hiking trails, all backdropped by dramatic limestone cliffs that are a haven for rare and endemic flora and fauna. It's cool and quiet and the air smells sweet – like fresh rain and jasmine.
I came to this part of the country, around 360 kilometres south-east of Paris, expecting Michelin-starred restaurants and award-winning wines – after all, monks have been crushing grapes in Burgundy since the reign of Charlemagne. And while there are vines aplenty on my three-day road trip, I also stumble upon mist-shrouded mountains, fields of mustard, healing thermal springs and lions. Lots of lions.
Day one
Belfort sits on a plateau between the Jura and Vosges ranges and is as petite as it is pretty. An enormous 22-metre-long pink sandstone lion guards over the town from the hilltop citadel, the beast chiselled by Frédéric Auguste Bartholdi (the sculptor responsible for the Statue of Liberty) in 1875 as a reminder of the French resistance against Prussian forces. It's mirrored at every turn in the village: there are lions on flags, in street art – the local sweet store even has a life-size chocolate sculpture of one in its window. The animal also appears on buildings ringing the main square, where locals lounge in sidewalk cafes, sipping vin jaune (a sweet yellow wine) in the sun.
This is the north-eastern corner of France's Bourgogne-Franche-Comté region, formed in 2016 as a merger between Burgundy (Bourgogne in French) and Franche-Comté. The union means the district is now not only home to some of the country's oldest vines, but can also boast Comté cheese and Morteau sausage among its major culinary attractions.
It's in Belfort that I pick up my Peugeot and motor north-west, arriving, 30 minutes later, at one of France's most spiritual sites: Chapelle Notre Dame du Haut. Getting here is a bit like falling down the rabbit hole Lewis Carroll wrote about in Alice's Adventures in Wonderland – one minute I'm driving along a hectic freeway, the next I'm in front of a gasp-worthy Roman Catholic church so complex and unexpected it has been given a UNESCO listing. It was imagined by legendary Swiss-French architect Le Corbusier, who wanted to create a serene sanctuary with surprises at every turn. Like the roof that appears to be floating above curved walls, the Mondrian-inspired mural, and the irregularly shaped glazed windows that are so perfectly positioned that the building runs on sunlight rather than electricity.
Breaking architectural rules, the chapel wasn't well received when it opened in 1954 – some went so far as to call it the 'white toilet block'. Today, its staggering details and serene maple-laced setting attract pilgrims and design fanatics in equal measure. It would be easy to linger, but another unexpected attraction awaits in the Jura Mountains.
Navigating switchbacks at a leisurely pace, I arrive at Les Échelles de la Mort (Ladders of Death), part of a via ferrata course on the plateau of Maîche. Despite its dramatic name, the most the vertiginous climb will do is take your breath away, both from the steep ascent and the gorgeous panoramas at the top. From here, I can glimpse the Swiss border, lying on the other side of the leafy Doubs Gorge. I can almost see that fairy-tale cove, hidden in the Source du Lison (River Lison) valley. The heavenly patch of green is known locally as 'The Source'. Apparently, its waterfalls never run dry thanks to their plentiful supply from the Sarrazine Grotto.
Jasmine is not the only aroma in the air here; this part of the country is known for its sausages and hams, traditionally smoked in pyramid-shaped wooden chimneys. The one at restaurant Papy Gaby is the tallest of them all, topping out at 18 metres and sending drool-worthy aromas over the countryside. The meats here are slow-smoked using spruce and fir wood, giving them a lingering, earthy taste that is the perfect complement to the burn of absinthe. Yes, the Swiss invented this potent spirit. But the French perfected and popularised it, and today it's made in distilleries that surround where I stand.
Another ill-named attraction in the Jura is the Furious (Furieuse), the languid-flowing stream the village of Salins les Bains was built around. It's a short drive here from my dinner stop, and I arrive with plenty of summer daylight to explore the atmospheric alleys that were built with riches accumulated from trading the city's 'white gold': salt.
Day two
About 210 million years ago, the Jura Mountains were covered by sea. Which explains the build-up of salt that was discovered 250 metres below the ground where Salins les Bains now lies. For more than 1200 years, the mineral was extracted from springs at the city's (now World Heritage-listed) Great Saltworks. Production ceased in 1962, and the former factory is now an eye-opening museum showing the immensity of the evaporation process.
A more relaxing way to appreciate the town's biggest asset is in a tub at the slick Thermes de Salins les Bains, a spa where 'taking the waters' is done Roman-style, in pools heated to different temperatures. The water here is denser in mineral salts than the Dead Sea, and I float effortlessly around the main mosaicked pool, occasionally drifting under waterfalls and across massage-giving jets.
Until 1895, the water of Salins was also transported in wooden pipes to another saltworks in Arc-et-Senans. The road between the two cities meanders through charming towns and ruins with not-so-charming names – Pagnoz, Mouchard – before depositing me, 21 kilometres later, at Saline Royale, Claude-Nicolas Ledoux's masterpiece of neoclassicism. The architect's grand semi-circle of stone buildings has been re-modelled into a hotel and small museum detailing salt extraction practices, all laced by immaculate landscaped gardens – 11 of them. Every year, horticultural students are invited to transform the flowerbeds and add artworks and installations.
The 15-kilometre drive north-west cuts through the Chaux Forest, a vast expanse of more than 20,000 hectares of oak and pine. Arriving in Dole, a canal-ringed city that hangs its hat on being the birthplace of chemist and microbiologist Louis Pasteur, I ditch my wheels and take to the water: there are plenty of touristy motorised cruises to choose from, but the willow-lined banks and hilltop cathedral somehow seem so much more serene when seen from the comfort of a soundless e-boat.
It also gives me the vantage to spot Au Moulin des Ecorces, an intimate hotel and restaurant set in a preserved mill on the River Dole. House signatures here include a fricassee of snails marinated in absinthe (surprisingly tasty) and organic Bresse chicken stuffed with vin jaune-soaked morels (surprisingly boozy). It's a good thing I don't have to go far to reach my room.
Day three
Moving west, today's scenery is the France you see on postcards, all vineyards and châteaux and tiny fortified towns. I pass hilltop hamlets and market squares adorned with some of the most magnificent Romanesque structures in Europe. And then there are the neat rows of pinot noir and chardonnay grapes, encircling some of Burgundy's most famous villages, Nuits-St-Georges and Domaine de la Romanée-Conti among them. This is the source of the world's most pricey grand cru wines, with bottles from estates like Romanée-Conti and Montrachet fetching unfathomable sums at auction.
I could choose a seven- or 11-wine sampling at the cellars of Marché aux Vins, sip mellow reds in the elegant Château de Meursault, or admire the brilliant tiled castle and sprawling vineyards at Château de Santenay, wine in hand. Instead I head to Château du Clos de Vougeot, where tastings are replaced by tours highlighting the grape-stomping monks that built the castle in the 12th century, followed by peeps into the Cistercian cellar to see medieval presses.
To the north, the historic capital of the Burgundy region is Dijon, its dashingly handsome UNESCO centre revolving around the Ducal Palace, Guillaume Gate and excellent Musée des Beaux Arts, housed in what was once a palace for the dukes of the region. This is where my journey ends, but not before one last meal.
Bijou boutiques and produce stores selling mustard and crème de cassis (blackcurrant liqueur) line the pedestrianised Rue de la Liberté, and cheery cafes with chalkboard menus advertise daily specialties – beef bourguignon makes a regular appearance. I order a platter of local Époisses, one of France's most celebrated cheeses, and a glass of vieilles vignes (old vine) Chablis. It's the perfect pairing, at once surprising and moreish, yet strangely familiar. A bit like Burgundy in a mouthful, really.
Hint
You could spend weeks exploring the Bourgogne-Franche-Comté region, but short distances between towns and excellent roads mean that a lot can be seen in just a few days. If you plan to linger, consider adding Parc Naturel Régional du Morvan to your itinerary.
This mountainous massif covers more than 285,000 hectares, with lakes and waterfalls and well-marked hiking trails through old-growth forest. You'll find twee guesthouses and restaurants throughout, where dishes shine a spotlight on regional delicacies including delicious honey and wild bilberries. West of the park, explore more postcard-perfect towns that lend their names to wine appellations, like Vézelay and Chablis, and for a stay rich in history and luxury, check into five-star La Borde, set in verdant grounds on a centuries-old estate.
Getting there
Etihad flies from Sydney, Melbourne and Brisbane to Paris via Abu Dhabi. From Paris's Charles de Gaulle airport, Rail Europe operates trains to Belfort via the capital's Gare de Lyon, and trains from Dijon go to the airport via Lyon.
Driving there
There are a number of places to hire cars in Belfort. Try autoeurope.eu
Staying there
Check into the centrally placed Novotel Atria in Belfort. From here, it's a short stroll into the historic heart of the city, and you can walk up to Auguste Bartholdi's enormous lion.
Grand Hôtel des Bains in Salins les Bains' historic old town is adjacent to the World Heritage-listed Saltworks and within easy reach of the city's luxe spa.
There are only 18 rooms at Moulin des Ecorces in Dole, and they all overlook the city's river. The onsite restaurant is one of the best in town.
Glamorous Grand Hôtel La Cloche – an MGallery by Sofitel property – occupies a landmark 15th-century building in Dijon. Stellar location aside, this place comes with one of the most popular alfresco bars in the city.
Shopping there
Food and wine definitely star as souvenirs in this pocket of France. Dijon mustard is always a hit – in the city's boutique Maille, you can pick up mustards infused with everything from honey to Chablis. Burgundy's other booze is cassis, which is added to Aligoté (a dry wine) to create a Kir cocktail. You can also get good deals on bottles you'd never find back home in Australia.
LEAVE YOUR COMMENT