Where to eat, stay and play in Brittany, France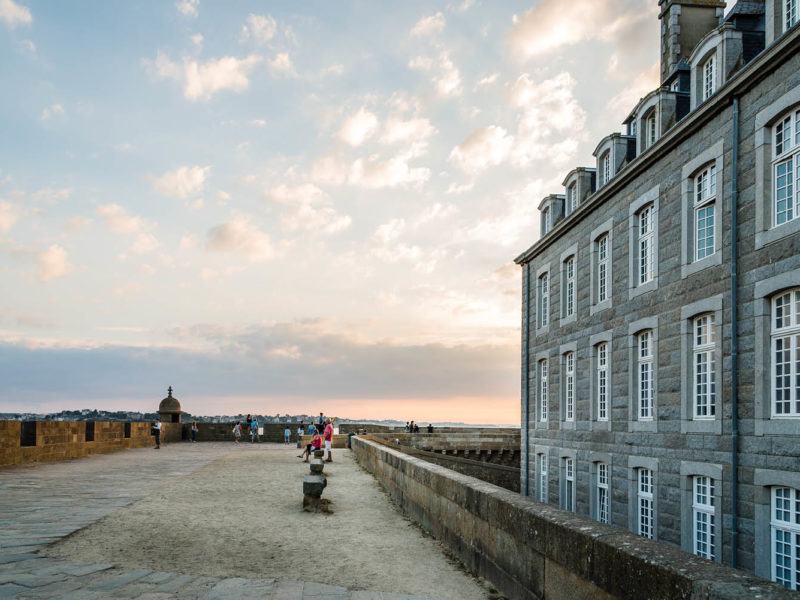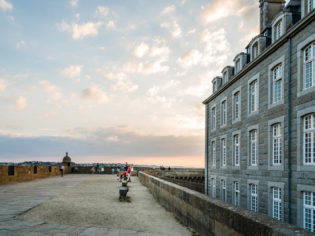 Hide Map
Boasting Megalithic monuments, extensive, pink granite coastline and fortified cities, France's north-west region of Brittany (or Bretagne to the French) is so diverse in landscape and rich in history that it is well worth a diversion from Paris.
Saint-Malo
Famous for its medieval ramparts that circle the city, and the narrow, cobbled streets within, Saint-Malo is the perfect place to explore during your French getaway. Dating back to the first century BC, this port city boasts a storied history of pirates, a 'Mad War' between the French and the Bretons before Brittany became part of France in 1532, and German occupation in the Second World War. If only these walls could talk.
Where to eat
Being a coastal town that borders the Atlantic Ocean, Saint-Malo has no shortage of fresh seafood. Head to family-run Le Cambusier to try the best of coastal French cuisine, with a menu boasting dishes like fresh sea bream fillet in seaweed butter with creamy artichokes and pan-fried scallops, with fettuccine and maple syrup.
Address: 6 rue des Cordiers, Saint-Malo
Head here for a sweet treat. It serves an amazing range of crepes, ice-cream and doughnuts, but of all the incredible desserts at this tiny establishment, the Nutella doughnut takes the cake. Do not leave Saint-Malo without trying one, but please do grab a napkin on your way out.
Address: 11 rue Porcon de la Barbinais, Saint-Malo
Where to stay
La Maison des Armateurs is one of few hotels located within Saint-Malo's fortifications. Situated in a traditional building, but will full modern amenities (think granite exterior with lush velvet interiors), you can immerse yourself in the history of the city while staying in luxury.
Rates start at $140 per night.
Address: 6 Grand rue, 35400 Saint-Malo
Where to play
Mont Saint-Michel
Although there are plenty of things to see and do within the walled city, an hour's drive from the centre will land you at the foot of one of France's most historic, and awe-inspiring, monuments.
Located on an island just off the north coast – and technically in Normandy, Brittany's neighbouring region – the abbey on Mont Saint-Michel was built as a tribute to the Archangel Michael in the eighth century, and has served as a perfectly preserved religious monument ever since.
From a distance, the spires of the abbey – which has housed knights, monks and paupers for centuries – can be seen looming over the city.
You can choose from several tours while in this small medieval town, but the best investment is in a ticket to the top of the abbey. Setting you back €10 per adult, the ticket allows you to make your way to its summit, exploring its history and taking advantage of the views across the marshlands below.
If you make it early enough in the morning you can witness the monks in song, as they participate in the morning vespers service.
Rennes
The capital city of Brittany, Rennes is a cobbled-street city with impressive open squares, period buildings and great boutique shopping. History buffs will also want to explore the nearby mythical forest of King Arthur while in Rennes.
Where to eat
Breton crepes are arguably the tastiest in all of France and are best eaten at La Saint-Georges creperie. Make your selection from the novelty menu theme of famous Georges throughout history. You can order a George Clooney, served with spinach, tomato, basil, goat's cheese and scoop of cucumber sorbet, or the George Michael, with ham, cheese and button mushroom, among many others.
This creperie is also one of the finest furnished restaurants in Rennes, with green velvet chairs, a fireplace and black walls reminiscent of a 1920s speakeasy.
Address: 11 rue du Chapitre
Where to stay
A culmination of modern and vintage design, this five-star hotel is the perfect place to base yourself when in Rennes. Located in the city centre, the Balthazar has spa facilities, crisp decor and a rooftop patio overlooking the city. The underground pool, a luminous blue, is an oasis of quiet.
When you've finished up your swim, why not go and relax in the sauna?
Rates start at $281 per night.
Address: 9 rue Maréchal Joffre
Where to play
Head 30 kilometres west of Renne to explore King Arthur's Forest: the mythical woodlands of Brocéliande, today known as Paimpont Forest, where many scenes from Arthurian legend played out.
In the forest you'll find the historic Château de Comper, which houses the Centre de l'Imaginaire Arthurien.
Between March and October, the centre hosts exhibits exploring the legends of King Arthur, Lancelot, the wizard Merlin and Vivien, Lady of the Lake. A ticket will set you back $11 per adult.
After a tour through the castle, consider a meander through the forest. Head to the Valley Without Return, where King Arthur's half-sister and sorceress Morgan Le Fay, is said to have banished unfaithful lovers, or to the Tomb of Merlin, where the wizard is said to be buried.
Signs and information posts are scattered all throughout the forest, making the experience an educational as well as mystical one.
Dinan
Another small historic town, Dinan boasts the title of the most well-preserved small town in Brittany, with a warren of streets hosting local craft shops, bakeries and boutiques. The buildings – some dating to the 13th-century – are divided by a river, lined with waterside restaurants.
Where to eat
Chez Odette Bongrain
Situated directly on the river La Rance, in a medieval, exposed beam and clay establishment, Chez Odette Bongrain is a testament to French cuisine. With cream and herbed mussels, doused in white wine and Champagne tossed salad with goat's cheese and baguette, both tradition and imagination are used in the creation of dishes.
Head to 9 rue du Quai for the best meal in Dinan, but make sure you book in advance.
Where to stay
This hotel, formerly a convent, has a history of its own. With polished stone walls, period interior and attention to detail (please take note of the gorgeous key cabinet in the concierge), this hotel is perfect for any visitor wanting to fully immerse themselves in the history and culture of this medieval town. Great service and even better location.
Rates start at €134 euros per night in peak season, and €84 in low season.
Address: 5 rue Auguste Pavie
Where to play
Dinan Castle and the streets of the old town
Head to Dinan Castle, and walk the 13th-century ramparts or explore the streets of the old town, soaking in the medieval, half-timber, half-clay homes with thatched rooves.
If you are lucky enough to be travelling through Dinan in July, the town is host to a medieval festival. Residents and visitors dress in costume and stalls line the ramparts. Beware though, Dinan in summer gets very hot (especially under layers of period costume).
Carnac
Renowned for its megalithic stones of the same name, Carnac is another glorious beach town that is a must-see on your trip to Brittany.
Where to eat
Restaurant La Calypso
La Calypso is one of the best places in Brittany to enjoy the pearl of the ocean, having been in the oyster business since 1880. Renowned as one of the best restaurants in the region, La Calypso boasts equally delicious stuffed scallops and grilled lobster, for those who aren't fans of oysters.
Address: 158 rue du Po
Where to stay
Unlike the other towns in the Brittany region that offer period-centric accommodation, this hotel in Carnac screams modern. With all the modern amenities you'd expect and only a stone's throw from the major attractions, Les Salines is a great place to centre yourself while in this glorious town.
Address: 2 Avenue de l'Atlantique
Where to play
The megalithic Carnac stones and Carnac-Villes Museum of Prehistory
The 6000-year-old monuments known as the megalithic Carnac stones are not to be missed on a trip to Carnac. The story has it that the 3000 stones, almost all standing to attention in lines, were once a legion of Romans marching before they were frozen in time. Other stories suggest that the Neolithic people used the stones to map the stars and to decide when to plant and when to harvest their crops.
Regardless of the purpose of the stones (which is still disputed) the Carnac stones are a magical monument worthy of a half-day of exploration.
To complement your trip to the megalithic stones, and to learn more about them, head over to the Museum of Prehistory – an authentic experience that's well worth the $11 entry fee.
Saint-Cast-le-Guildo
Saint Cast, another coastal town in the north of Brittany, is the perfect place to settle in for a romantic getaway. With a quiet, local ambience, it's arguably the region's most relaxing holiday destination.
Where to eat
Bar Restaurant Le KNell's
Being a quiet local town to the west of Saint-Malo, food in Saint-Cast-le-Guildo is authentically French.
Le KNell's, a restaurant and bar directly on the beach, offers the world's best mussels in a pot of white wine and cream sauce. Enjoy your dish as you sit on the sand, looking out to beach Pen Guen.
Address: 40 Avenue de Pen Guen
Where to stay
Airbnb it
Make the most of Saint-Cast-le-Guildo's enviable coastal location by finding an Airbnb property to call your own right on the beach.
'Maison Familiale avec Vue Splendide sur la Mer' is a beautiful old house perched on a hill above Pen Guen beach. It is spread over three floors and, with the capacity to sleep 10 people, offers great value for money with rates starting at $280 per night. Complete with its own rose garden and just a half-minute walk to the sea, you might find you'll never want to leave.
Where to play
Surrounding beaches and Fort La Latte
Beaches are the main attraction at Saint-Cast-le-Guildo: head to Pen Guen beach or Pointe de la Garde and plonk yourself on the shore with a book and a picnic.
If you're up for a bit of physical activity you can trek to Fort La Latte, also known as Château de la Roche Goyon, for another fortified building experience and history lesson.
LEAVE YOUR COMMENT