Review: The Fullerton Hotel, Singapore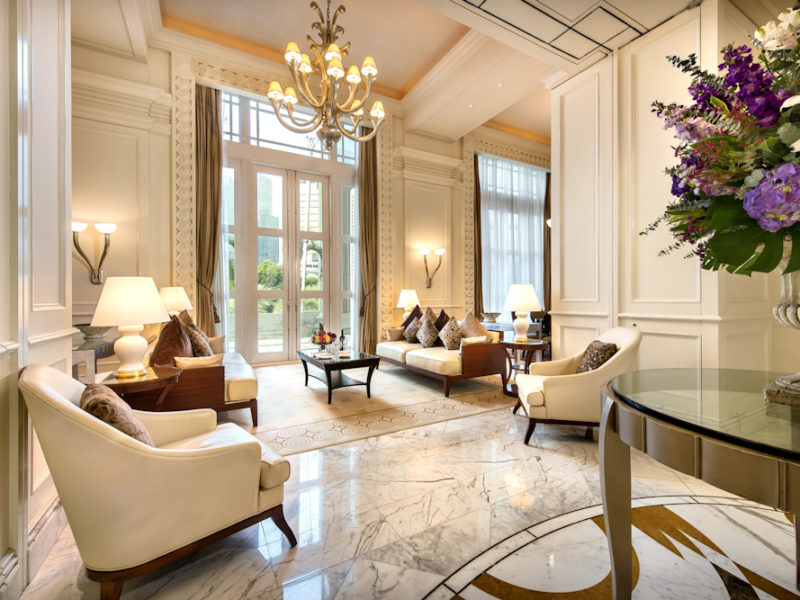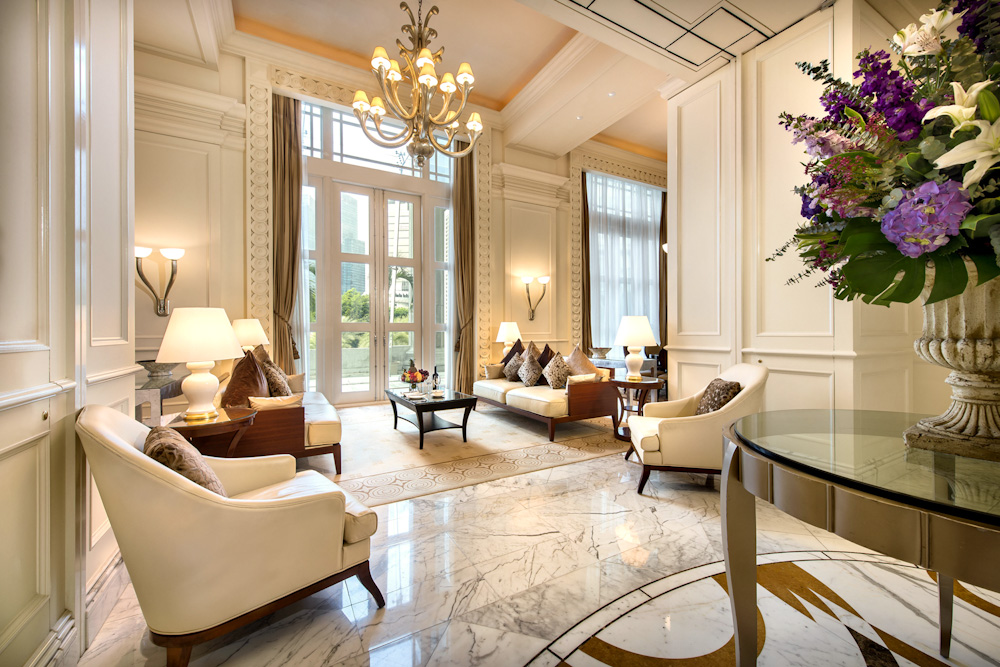 Behind the Fullerton Hotel's stately edifice, there is more to this Singapore icon than just stylish rooms, exceptional food and a convenient location, says Elizabeth Fritz.
As part of Singapore's Golden Jubilee celebration, The Fullerton Hotel was listed as the city's 71st National Monument. Though a remarkable honour, it's not surprising.
History
The imposing neoclassical building is one of Singapore's most iconic buildings with a unique history; it was constructed between 1924 and 1928 to house the General Post Office and has witnessed Singapore's rise from colonial outpost to global metropolis.
It's not every day that you can stay in a living museum and so, when the opportunity arises, we are prompt to check in.
Atmosphere and services
Upon arrival, we enter a grand lobby with soaring ceilings.
Open to the public, this space is not merely for checking in: it houses restaurants, a bar, an art gallery, boutiques, a salon, and The Fullerton Cake Boutique, which is dedicated to some very special sweets that are baked on the premises (you must try!).
The space is bustling with activity: Champagne glasses are clinking, tea is being poured and fine food is being served.
The room
After a speedy and efficient check-in our luggage is whisked away, and my husband and I arrive at our Palladian Suite at the end of a long corridor.
Oh my! The first thing we notice is the incredible view over the city and riverside.
The bedroom has an extra sitting area and is spacious, elegant and squeaky-clean, while the décor is traditional with warm timbers and neutral soft furnishings.
A luxurious marble-clad bathroom with large bath and a separate shower is well stocked with Bottega Veneta toiletries. Extra touches include seasonal fruit, gourmet teas, and Nespresso.
Food
Our room allows us access to The Straits Club: a quiet oasis where we can escape the crowds and indulge in Champagne breakfasts, sumptuous afternoon teas and a daily canapé and cocktail hour.
The hotel passionately embraces Singapore's love affair with food; the choice is almost overwhelming.
Be sure to make space for classic Hainanese chicken rice at Town Restaurant: perfectly poached chicken in a fragrant broth served with rice and condiments.
Breakfast in The Straits Club is also a celebration of multiple cuisines; we fall in love with the congee and nourishing pork broth with crunchy toppings.
Complementary tour
But beyond the food and cushy interiors, we want to learn more about this exquisite building. We join a complimentary heritage tour run by entertaining historical guide, Florence.
The Fullerton Building, named after Sir Robert Fullerton, first governor of the Straits Settlement, was a major communications hub of its time and the birthplace of modern-day Singapore; it saw mountains of telegrams, money orders and parcels pass through its doors.
During WWII, the building served as a hospital, and was later home to several government departments.
There was even a lighthouse on top of the building, which operated till 1978; it was converted to a hip rooftop bar for the hotel's opening in 2001 and is a great spot to enjoy fine wine and take in some of the best views across Singapore.
The infinity pool doesn't fare too badly when it comes to views, either.
Later that afternoon, as I'm enjoying a refreshing dip, it dawns on me how special it is to reside in a landmark property that's not only steeped in history, but is also a powerful symbol of modern-day Singapore and, now, a National Monument.
The details
The Fullerton Hotel
1 Fullerton Square, Singapore
The IT Verdict
It's very special indeed to be able to stay in an historical treasure where you can immerse yourself in history while at the same time enjoying everything a first-class hotel has to offer.
Location: 9 / 10
An excellent location in the centre of the business and arts districts. Stroll along the river taking in the public art, walk to galleries, museums, restaurants and to the MRT line.
Style / character: 9 / 10
The understated elegance is a fine example of sensitively combining the old with the new.
Service: 9.5 / 10
I really couldn't fault the friendly and attentive staff. I was impressed by the attention to detail and the high level of efficiency.
Rooms: 8 / 10
The rooms are in keeping with the heritage of the hotel and are styled in classic neutral tones. The décor is on the safe side, but the fit-out is top quality and will guarantee a good night's sleep.
Food and drink: 9 / 10
Singapore's multicultural society translates deliciously into its vibrant food scene. And the hotel's dining offering matches this with endless choice; you can have anything from Chinese to Indian to Japanese and Italian.
Value for money: 8 / 10
Our Palladian Suite with access to The Straits Club came to $680 per night. For the experience, it was worth it.
LEAVE YOUR COMMENT