Five-minute guide to Singapore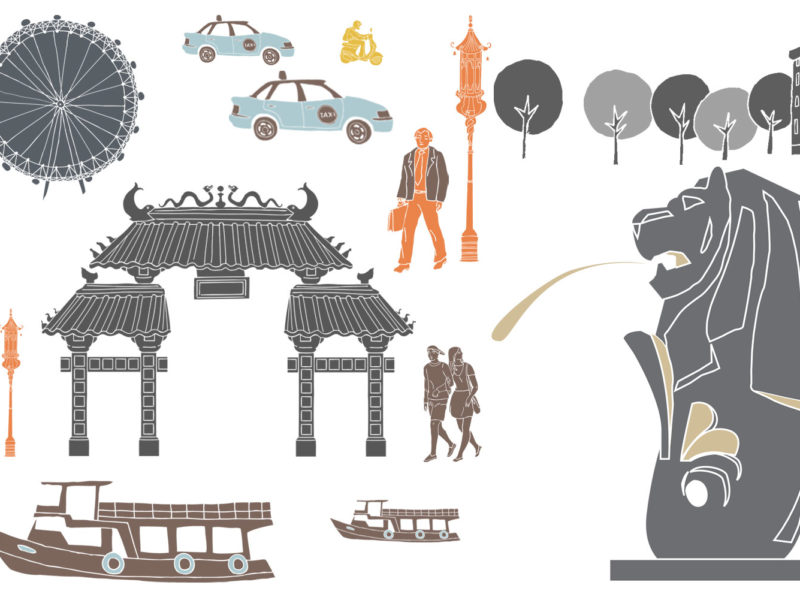 Whether you're stopping over or staying a while, there's plenty to see in the Lion City. By Megan Arkinstall
Welcome to Singas
The most convenient way to get into the city is by taxi but, of course, it's the most expensive.
It costs between $18–38 (plus a $3–5 airport surcharge depending on the time of day) and takes approximately 30 minutes.
A much cheaper alternative is to take bus service 36, which runs between 6am and 11pm.
It costs less than $2 for a single fare but takes about an hour.
You need to have the exact fare as no change is given.
The Mass Rapid Transit (MRT) train takes only 30 minutes and costs around $2.30 but you need to change at Tanah Merah station for the westbound train.
Getting out and about
Public transport
The MRT system is a fast way to get around Singapore.
Purchase an EZ-Link Singapore Tourist Pass from $10 for a one-day pass, $16 for a two-day pass and $20 for a three-day pass for unlimited rides on buses, and MRT and LRT trains.
All Singapore's tourist attractions are within walking distance of an MRT station and the bus network is extensive.
ezlink.com.sg
By taxi
Taxis are only allowed to pick up passengers at designated taxi stands, hotels and shopping centres.
If you're travelling in a group or have lots of shopping bags (hmm, probably), a taxi is the best option.
A fare from Orchard Road to Clarke Quay, for example, will cost around $10.
By boat
This is a great way to get your bearings.
Take a bumboat ride along the Singapore River to see Merlion Park, Marina Bay Sands, The Esplanade, Clarke Quay and Boat Quay.
$22 per adult and $12 per adult; rivercruise.com.sg
Sightseeing
We all know the Merlion, but have you heard of…
Tiong Bahru
Built in the 1930s as a massive housing estate of over 900 Art Deco units, Tiong Bahru is now Singapore's hippest and most eclectic neighbourhood located just a few kilometres from the CBD.
Head here to explore the cafés, bars, restaurants, boutique stores – indie books, quirky homewares and funky fashion – and the local market, which has more than 100 different food stalls and is said to sell the freshest produce on the island.
Great for people watching.
Pulau Ubin
Forget Sentosa Island; we've found an authentic island escape from the bustling CBD.
Just a 10-minute bumboat ride from Changi Point Ferry Terminal will take you to Pulau Ubin, an island where the locals still use a diesel generator for electricity and fetch water from wells.
Hire a bike (from $2–10 per day) and pick up a map from the information kiosk, then pedal off to explore this unkempt traditional village, also known as a 'kampong'.
Cycle to the Chek Jawa wetlands on the island's east and along the one-kilometre coastal boardwalk, which loops through mangrove swamps and out to the sea.
End your day with chilli crab and Tiger Beer before returning to the CBD by ferry (there are no set departure times; it just leaves whenever 12 people are ready!).
Southern Ridges Walk
They don't call it the Garden City for nothing. Head to Southern Ridges: 10 kilometres of green, open spaces connecting several parks and nature reserves.
Stretch your legs and take in panoramic views of the city, harbour and the southern islands.
Part of Southern Ridges is Labrador Nature Reserve: a tranquil oasis containing the only rocky sea-cliff on the main island of Singapore.
See more than 70 species of birds, 11 species of butterfly, and some interesting Second World War relics that are now surrounded by natural forest.
Shop 'til you drop
Orchard Road
A trip to Singapore isn't complete without burning some serious calories pacing up and down this famous 2.2-kilometre shopping strip.
With over 25 shopping malls hosting every shop you can think of – from GAP to Cartier – your suitcase will be bursting at the seams before you know it.
Marina Bay Sands
Get out the plastic for a trip to 'The Shoppes' – home to Balenciaga, Burberry, Gucci, Saint Laurent and friends.
Little India
Spices, Ayurvedic massage oils, gold, incense, fabrics, flower garlands – even fortune tellers and their parrots – can be found in this colourful and culturally vibrant district.
You can also try some authentic Indian fare, like roti prata (dough flat bread), thosai (pancake) or fish head curry (er, just as it sounds).
Mustafa Centre
Also in the Little India district, the Mustafa Centre is a somewhat brash but bargain-filled shopping mall open into the wee hours of the night.
Kampong Glam
This eclectic district is great for shopping, eating and simply soaking up the vibrant culture.
Head to Arab Street where they sell Persian carpets, lace, batik; Haji Lane has independent boutiques and second-hand clothing stores; and all the alleyways in between are stocked with spices, perfumes, rattan furniture, plus street stalls and eateries.
Eat and drink
CHZE CHAR (HAWKER FOOD)
Arguably the best way to experience authentic Singaporean cuisine is to try hawker food (street food).
Singapore's unofficial national dish, the chilli crab, can be found just about anywhere and the question of which is best is a hot debate, no pun intended.
Most tourists head to East Coast Seafood Centre for big-name establishments Jumbo Seafood and Long Beach Seafood but just adjacent to that is East Coast Lagoon Food Village where the crab is just as good and much cheaper.
Try the black pepper crab too!
Maxwell Road Hawker Centre is home to Tian Tian, which serves up the best chicken rice in Singapore, according to celeb chef Anthony Bourdain.
You'll also find great examples of the popular fried noodle dish char kway teow here.
Try Makansutra at Gluttons Bay for sambal stingray (spicy banana leaf stingray) and Lau Pa Sat for some mean chicken satay served up in a lively setting within a 19th-century market building.
Still unsure? Ask a local.
YAM SENG (CHEERS!)
After you've taken to the streets for your dinner, there's no shortage of great bars for a tipple or two.
There are rooftop bars that boast spectacular views like Ku De Ta at the top of Marina Bay Sands, craft brewery LeVel 33 in the penthouse of the Marina Bay Financial Centre, or Lantern on top of The Fullerton Bay Hotel.
For a classic, head to Long Bar at Raffles, where purchasing a legendary Singapore Sling will set you back $26 but, hey, you get to throw your peanut shells on the floor.
And there's some great watering holes hiding in districts like An Siang Hill, where you'll find Screening Room, a rooftop bar showing films, and underground supper club Lolla; or Bar Stories on Haji Lane in Kampong Glam.
Where to rest your head
Singapore's transport system is pretty extensive, so staying anywhere in Singapore's Downtown area – around the Colonial District, Chinatown and Marina Bay – is a good option.
Here are some of our favourites:
LEAVE YOUR COMMENT