Out & About: Surry Hills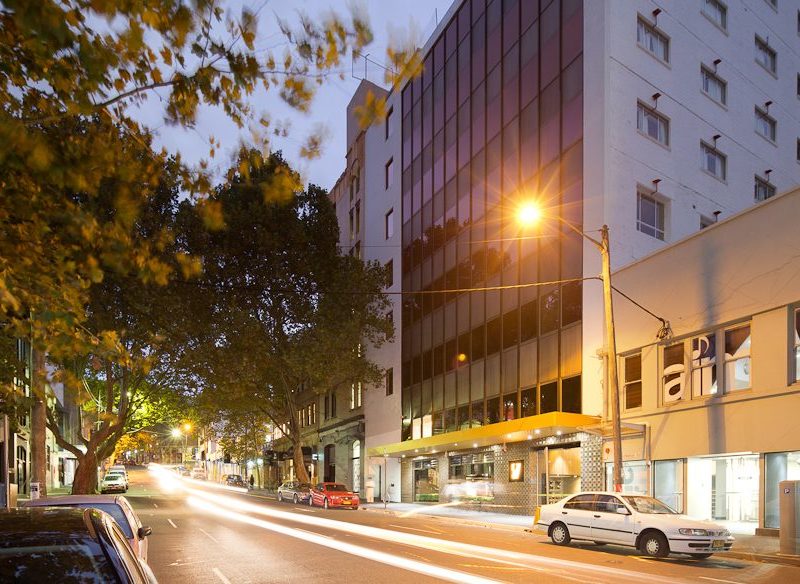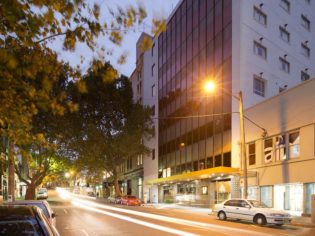 Chic boutiques nestle near grungy tattoo parlours. Hatted hotspots bed down with illicit graffiti galleries. Lisa Perkovic discovers that Sydney's Surry Hills is the inner city suburb where anything goes.
For more than 100 years the streets of Surry Hills have had their character virtually pounded into them. From colonial farmers to reclusive artists and, more recently, trendy urbanites, people have always been out and about in Surry Hills. Oxford, Cleveland, Elizabeth and South Dowling are the streets that bind this inner-city haven into a loose grid, and while weeks of trawling the main drags, side allies and twisting laneways won't get you any closer to discovering all of its secrets, we've done our level best to give you a taste.
Cafes
Bill Granger's famous Bills is an old hand on the Surry Hills breakfast scene; his ricotta hotcakes are legendary and the scrambled eggs divine, but at some point a menu that never changes galls. Few would be game to compete with the tour de force that is our very own celebrity chef, but there are some contenders. Sweet and unimposing, Café Mint is using similar ingredients to dish up more creative results; Kuneffa (orange and sultana ricotta wrapped in baked pastry) is a decadent way to start the day, the crispy pastry cocooning a sugar-infused mound of sweet cheese. Intriguing breakfast couscous is also worth a try. The French boudoir-style décor at Fifi Fouveaux's adds a little of the exotic to a reasonable Aussie menu. The CBD-fringe workforce in the area also appreciates the clever veg-o-meter at Rufus, a neat toast-to-vegemite ratio chart that ensures 9am toast and coffee runs smoothly.
Bills // 359 Crown St, (02) 9360 4762.
Café Mint // 579 Crown St, (02) 9319 0848.
Fifi Foveaux's // 428 Crown St, (02) 9380 6881.
Rufus // 47 Cooper St, (02) 9699 3193.
Restaurants
Former home of the homeless, with a liberal sprinkling of hookers and underworld elements, Surry Hills is now prime real estate for swanky Sydney eateries. The ostentatious turf in the mid-section of Crown Street is lined with industry heavyweights. Brent Savage and sommelier Nick Hildebrandt have created a well-oiled machine at the super sleek Bentley Restaurant and Bar. Moist anchovies make salty suckers when stuck on sticks, while the pistachio praline adds a sugary coat to these new-age lollipops. Their hot ricotta dumplings could give Bill a run for his money.
Traditionalists might prefer The Smokehouse. Just down from the famous great-for-your-money Shakespeare Pub, just follow the smoky scent to this intimate venue off the main drag where fish, beef and chicken are smoked on site. You'd think Australians were hard pressed for smoked produce the way this place is filled every night. We don't blame the locals for sniffing out a fabulous meal.
Jazushi, down the road, is quirky. The name says it all: jazz and sushi make for an eclectic mix. The tempo is sometimes a little off but the sizzling tempura always hits the mark.
Aissiette and Marque are the finest French fare in the area. Haute couture cooking is perfected by Warren Turbull at Aissette; the three-course $30 Friday lunch special is the ideal excuse for a long business meeting.
The new hotspot has to be The Beresford. The latest Sydney pub to mix glam menus with old school décor, its sky-high prices match the rich fare. Chef Danny Russo brings his tried and tested squid tortellini to the table. Black pockets filled with moist crabmeat make a surprisingly filling choice. The verdict is still out on caramelised chickpeas and olive oil gelato accompanying a decadent chocolate tart but by that point in the meal, attentive staff will have ensured your wine glass is never emptied.
For a night that starts lighter on the wallet, head to Bar La Sala for free antipasti plates on Wednesdays 5.30-7.30 pm. Head on to Vini, the petite but packed out wine bar.
If you're looking for a night that yields more than a good feed, book in advance at Table for 20. The concept restaurant is all about neighbourhood dining, so when Michael Fantuz's weekly dinner parties got too big to handle, he opened a restaurant instead. Three courses of home cooking passed around communal tables, live music and the mystery of booking via text message; you're guaranteed to leave well fed and with a few new friends.
Bentley Restaurant and Bar // 320 Crown St, (02) 9332 2344.
The Smokehouse // 204 Devonshire St, (02) 9699 1155.
Jazushi // 143-145 Devonshire St, (02) 9699 8977.
Assiette // 48 Albion St, (02) 9212 7979.
Marque // 355 Crown St, (02) 9332 2225.
The Beresford // 354 Bourke St, (02) 9357 1111.
Bar La Sala // 23 Foster St, (02) 9281 3352.
Vini // 3/118 Devonshire St, (02) 9698 5131.
Table for 20 // 182 Campbell St, 0416 096 916.
Specialty
Like the people who walk the streets, the shops of Surry Hills come in all shapes and sizes. Sparkle Cupcakery adds some glitz to the suburb, catering to cupcake connoisseurs. You won't find this kind of cupcake couture in your local bakery: think Oriental Flower (lychee and rosebud cake) and Green Tea (green tea cake with tapioca bubbles). The chilled Moet available by bottle or glass is a bonus.
For those whose tastes aren't quite so decadent, baked goods provedores at Bourke Street Bakery provide fresh bread, quiches and sweet tarts to the entire suburb. Expect to wait in line for a coffee and baguette during lunch hours any day of the week.
Sparkle Cupcakery // 132 Fouveaux St, (02) 9361 0690.
Bourke St Bakery // (02) 633 Bourke St, 9699 1011.
Shopping
The Sydney Antique Centre on South Dowling Street was originally a trash and treasure market. Today it has evolved into a majestic home for objects d'art peddled by more than 50 independent dealers. In one peruse, expect to find anything from a chest full of marine barometers to a real fake vintage Rolex.
Let others do the hard work for you at Orson and Blake. The furniture concept store has two levels of chic warehouse dedicated to marble tables, driftwood sculptures and other shabby chic pieces. The upstairs cafe, with marble tables and tasty salads, is a great place for a quiet lunch, casual or business.
The southern end of Crown Street is home to a cluster of shops where someone else's trash becomes serious treasure. Grandma Takes A Trip is a popular stop for one-of-a-kind wardrobe pieces sourced individually from the UK. If you're after Gearhead, Dickies or Wheels and Doll Baby, look no further than Route 66. The monthly markets are also a great way to pick up some second-hand goods. Locals, artisans and Spanish pancake makers come out rain, hail or shine to offload designer clothing, retro gear and even handmade robot-dolls.
Sydney Antique Centre // 531 South Dowling St, (02) 9361 3244.
Orson and Blake // 483 Riley St, (02) 8399 2525.
Grandma Takes a Trip // 263 Crown St, (02) 9356 3322.
Route 66 // 255 Crown St, (02) 9331 6686.
Surry Hills Markets // Shannon Reserve, first Sat of month, (02) 9310 2888.
Exploring the streets of Surry Hills is hard work and if you are looking for somewhere to rest your head here are a few options.
Crown Hotel
The Crown Hotel sits on the edge of the suburb, at the corner of Crown and Cleveland streets. The recently revamped venue has boutique accommodation on the top floor, above the chic rococo-themed Dome bar and the more casual pub venue downstairs. The venue doesn't get too busy so noise won't be an issue during a stay in one of the standard double-sized rooms. The semi-private lobby is a nice place for guests to mingle over continental breakfast and can double as a lounge area for those seeking some space.
589 Crown Street
(02) 9699 3460,
Medina on Crown
The Medina on Crown is the only large hotel in the area. Executive one and two bedroom apartments make this the obvious choice for families and long term visitors. Facilities include a swimming pool, spa and gymnasium and access to a BBQ area. The hotel has just emerged from extensive, long-awaited refurbishments.
359 Crown Street
www.medina.com.au
(02) 8302 1000
Don't Miss
Brett Whiteley Studio
Australia's master painter found personal and professional acceptance in the creative hub of Surry Hills. See a collection of belongings, paintings and unfinished drawings in his studio and exhibition space. The converted warehouse has the eerie, reverential atmosphere of a place where great work was born and is open to the public weekends 10-4pm. 2 Raper St, (02) 9225 1740.
Belvoir St Theatre
If the colourful street life isn't dramatic enough, the intimate Belvoir St Theatre has been providing the inner city with cutting edge art programs since 1984. Cate Blanchett, Geoffrey Rush and Richard Roxburgh have graced the stage in this historic space where gritty performances are still held year round. 25 Belvoir St, (02) 9699 3444.
Surry Hills Festival
There are always interesting characters out and about in Surry Hills but to see the suburb's creative set at their best, put April 18, 2009, in the diary. In its 10th year, the Surry Hills Festival runs from 10-6pm with 250 stalls and musicians of all types descending on Prince Alfred Park. www.shnc.org/festival, (02) 9318 0087
LEAVE YOUR COMMENT