This all-inclusive Maldivian resort is perfect for Aussies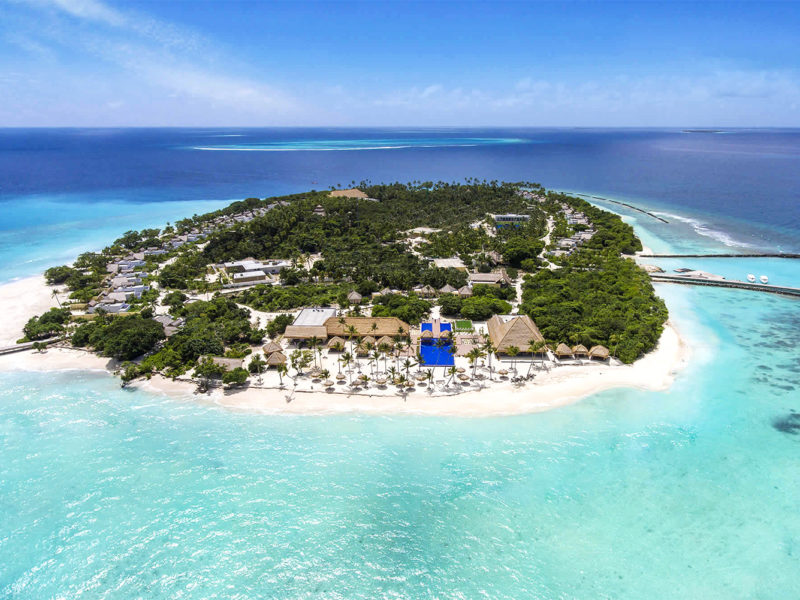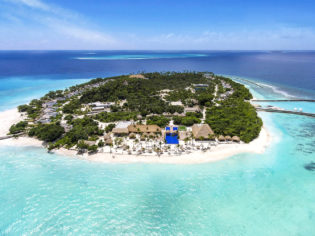 The Emerald Maldives Resort & Spa is a sparkling new gemstone amid the glittering jewel that is the Maldives – with its 1192 coral islands grouped in a double chain of 26 coral atolls.
Details
Perched on Fasmendhoo Island on Raa Atoll, Emerald Maldives Resort & Spa is one of the most northerly, and newest, resorts to open in the Maldives. Surrounded by 1.5 km of powder-white soft sand and surrounded by a 100ha lagoon, this resort cost $72 million to build. It is also one of the few deluxe all-inclusive properties in this island nation, and yes, by this we mean all you can eat and drink.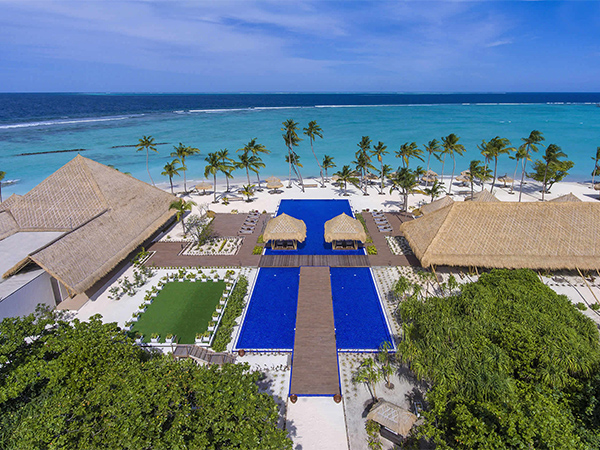 Arrival
It's a celebrity arrival to Emerald Maldives Resort & Spa: depending on the tides, and time of day, you'll arrive by seaplane straight to the resort jetty, or close by at a neighbouring property, from which it's a 10-minute speedboat road – James Bond-style – to Emerald.
Either way, you'll love the commute. Smartly dressed staff are lined up to greet you with a glass of French Champagne while your luggage is discreetly ferried to your room. Sated, you will then be deposited in a golf buggy and either taken to reception for check-in or straight to your villa, depending on your room category. All up, it's a fabulous, no-fuss check-in.
The Rooms
Boasting 120 villas and 11 different categories, there's plenty of awe-inspiring accommodation from which to choose. Best of all, even the lead-in beach villas are divine; with your own private slice of sand and outdoor shower, you won't feel like you are missing out if you don't splurge on the top end.
Should you feel like the ultimate experience, however, the two-storey Royal Beach Villa may take your fancy: at around $10,000 a night the villa features a green-tiled pool, massage table, jacuzzi, media room and several bedrooms, plus butler service to boot.
Most guests opt for somewhere in the middle, and the quintessential Maldivian experience: an overwater bungalow that comes with either a private pool, private spa or timber ladder that leads directly into the aqua ocean below. All villas are tastefully decorated with splashes of colour and wall prints that depict the marine creatures you are likely to encounter while snorkelling or diving here.
The bathrooms are huge, all white and bright with an Art Deco edge and colourful tiles that betray the Italian owners' tastes.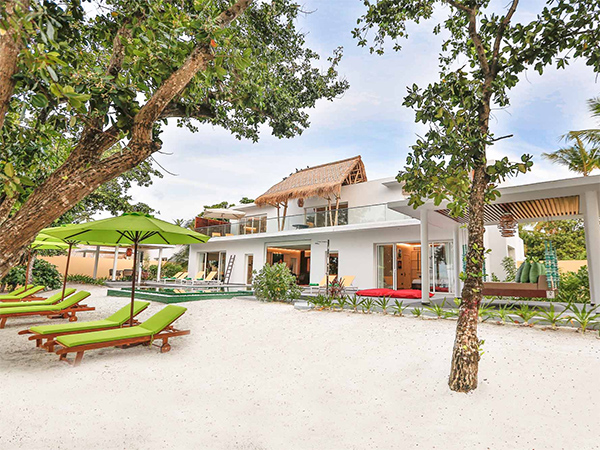 Eat and Drink
There are five food and beverage options where you can exercise your all-you-can eat-and-drink muscle during your stay. Some top-shelf beverages and items such as lobster do come at an additional cost, however, unless you are hankering for something over-the-top, you will be more than satisfied with what is included here.
Aqua Restaurant – all light and bright with towering ceilings – is open for breakfast, lunch and dinner with a multitude of options (try the Maldivian curries for breakfast before heading to the fruit station for some freshly cut mango). There are live cooking stations where you can sample the tuna for which the Maldives is renowned and the likes of pizza, pasta and sushi.
Le Asiatique specialises in Asian cuisine and features a teppanyaki grill and contemporary bamboo screens; while Amazònico Restaurant, hidden in a slice of rainforest, serves a Brazilian 'Churrasco style' barbecue on the sand. There is more barefoot luxury to be enjoyed while dining at the casual Beach Club Grill, which serves up the likes of hamburgers and grilled seafood. The Sunset Bar has a DJ and a bit of a beach club vibe with snacks available throughout the day and night.
The Spa
Plonked in the middle of this tiny island – it will take you about 30 minutes to walk the entire circumference – sits the spa. While there are no Maldives'-specific treatments on the menu, your Balinese spa therapists will whisk you away to a private, thatched-roof, airconditioned hut. Here, they will work wonders on your muscles, and apply soothing coconut oil to your body to treat the inevitable sunburn you will receive from being out in the middle of the Indian Ocean.
The Activities
If you can tear yourself away from simply gazing at the bluest water you'll ever encounter in your existence, not to mention the white sandy beaches, head to the Diving Centre where there's a range of great tours.
A one-hour trip by speedboat will have you swimming with the whale sharks, or you may wish to take a dolphin-spotting tour; fishing trip; or sunset cruise. There are also two tennis courts, which can be converted into a football ground, and a gym that is open 24 hours. For those travelling with children, there's also a cool kids' club with plenty to keep them entertained from morning to night, including their own dining menu with options such as prawn cocktails.
The Quirky Stuff
The in-room safe comes with a twist. Sure, you can pin in your own private numeric combination, or you can utilise the fingerprint recognition technology on the safe. And while it might appear bemusing at first to find life jackets and a flare in your villa, Maldivian waters are deceiving and are prone to strong currents.
Even a solid Australian swimmer may be surprised by the pull of the Indian Ocean here, so take care. Bring your own sunscreen to this island or you will be shocked to learn a can of Australian-made sunscreen costs $100 at the resort boutique. And do enjoy that all-inclusive mini-bar, too, replete with another bottle of French Champagne, white wine, red wine, beer and loads of chocolate bars.
The Cost
Villas start from about $1000 a night including the all-you-can-eat-and-drink option.
Getting There
Singapore Airlines flies from most Australian cities with a stopover in Singapore to change planes and either continue with the same airline, or its sister company SilkAir to Male. Upon arrival in Male, you can transfer to the domestic airport for a Seaplane with Trans Maldivian Airways.
On a clear day, this is one of the most beautiful journeys anywhere on the planet, flying low over aqua islands and atolls.
The Verdict
Australians will adore this all-inclusive resort not only for its food and drink options but its outstanding accommodation offerings, selection of water-based activities and superior service from the polite and professional staff. And let's not forget the brag factor.
The writer was a guest of Maldives Tourism