The bright light of the Maldives luxury times two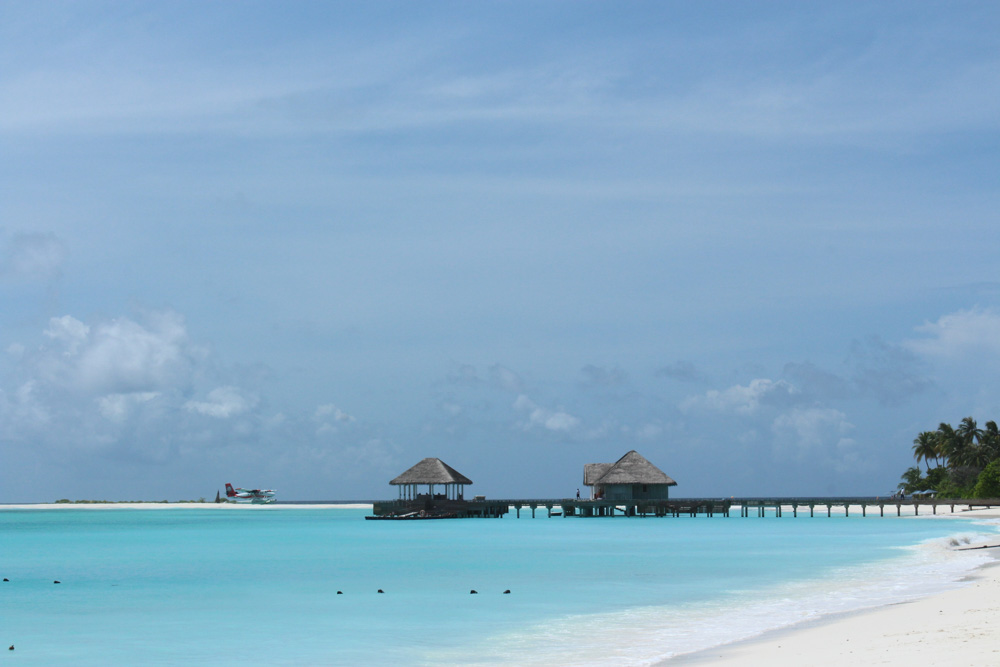 If you've been thinking about it, the time has now come…
At the island resort of Finolhu and Amilla Fushi, one all fun and sun, the other a sybaritic haven, the Maldives luxury reveals its myriad wonder with a fanfare befitting its 'look at me' beauty, writes Leigh-Ann Pow.
All around me is pitch black. It's so complete that I almost feel it wrapping around me, enveloping my limbs in its inky grip. With not one star piercing the impenetrable night sky, I am visually oblivious to my surroundings, blind while still seeing.
But the sea spray being carried by the wind onto my face and the rhythmic (and unrelenting) lurching of the speedboat as it forges deeper into the Indian Ocean keeps the slightly edgy feeling that we might be about to drop off the edge of the earth at bay as the minutes stretch on.
In a world that increasingly feels like it is shrinking, with everything folding in on itself so that nothing is remote any more, this level of isolation is momentarily confronting. I start calculating how long I think it would take for someone to get to us if something untoward should happen.
To put my current feeling of removal into context, it has taken a eight-hour international flight, followed by a four hour-plus commercial flight, then a 15-minute up-then-down prop plane dash, followed by the speedboat, which will cross an invisible timeline in the sea before our journey ends adding two hours to the already late (or early, in fact) hour, to get us this far.
And then a light appears on the horizon, a beacon of civilisation in the dark. As we approach I can make out a dock and gently lit buildings. And is that a vintage VW Kombi? As the fog of fatigue starts to descend, we are ushered through more pitch dark to our room and to sleep.
When I wake later the same morning the all-consuming black has been replaced, and all around me is bright light. The journey that began the previous day is forgotten, and the contrast is literally like night and day. Unveiling the Maldives, the archipelago of 1200 islands and dollops of sand (200 of which are inhabited) sprinkled like confetti across the Indian Ocean, deserves nothing less dramatic.
There are easier places to get to that offer up equal sun and sand, especially from Australia, with the south Pacific at our back door, but even the most perfunctory glance at the paradisiacal scene before me has me believing there is nowhere quite as breathtaking or removed.
I am on the island resort of Finolhu, deep in the UNESCO World Biosphere Reserve at Baa Atoll, the first stop on a two-island odyssey of lounging and luxury.
My room, a waterfront Beach Villa, is wish-I-lived-here lovely, with a cushion-strewn daybed and exuberantly tiled open-air bathroom, leading through a private courtyard garden of tropical plantings to an outdoor shower, where lizards bask in the sun. There are funky retro touches everywhere that hint at a sense of fun: milk chews left on the pillows, a Marshall speaker so you can listen to your music full blast, and his and hers thongs to pad around in.
The resort also features a stretch of over-water villas – a prerequisite for most Maldivian resorts. They snake out into the water along a long jetty that I can see from the beach that opens up at the end of the sheltered path leading from the deep covered deck of my room, which comes with another wide, cushion-scattered daybed.
Heading out into the bright blue, I get a feel for what Finolhu is all about. Walking the sandy paths overhung by palm trees throwing lazy shadows, pastel-hued signposts point to the Baa Baa Beach Club, the beating heart of the resort, with the aforementioned Kombi displaying the day's activities, and where breakfast, lunch and dinner are served with a view; the wide resort pool is overlooked by the vibey 1 Oak Beach Club, complete with resident DJ (the resort has its own radio station emanating from the decks here), trapeze artists and a mermaid lounging at the water's edge.
It is these latter inclusions that have earned Finolhu a reputation for being quite the party island (not to mention its marathon dance parties attracting models, musicians and starlets alike), but I feel like its relaxed vibe and constant pursuit of a good time lends it an affable approachability many luxury island resorts lack.
Very quickly our days become a metred roster of eating, exploring and relaxing. I spend an afternoon at The Cove Club, the whimsical spa where treatment rooms are named for divas of the '70s – Bette, Cher, Stevie et al – and lunch at the Fish & Crab Shack, an on-sand lunch spot sheltered by thatched huts at the end of a long finger of a sand bar, one of just a few in these parts. The menu here is heavy on seafood including an unctuous crab curry; I feel guilty when a vivid orange hermit crab crosses my path, given I've just consumed its distant relative.
One afternoon I watch as hulking columns of corpulent, deep grey cloud roll towards the island; the storms are the result of the wet monsoon (as opposed to the dry monsoon, the other weather pattern experienced here), and further reinforce the total island isolation.
After a few days it is time for a change of scenery: Amilla Fushi is Finolhu's more serious big sister, a 20-minute speed boat ride away. Arriving into its dock to be met by a phalanx of smiling staff (Maldivians are an absolute delight, always so happy and welcoming), the differences between the two resorts are instantly evident. If Finolhu is the party island, Amilla is the sybaritic haven so many people imagine of the Maldives.
Modern white over-water villas dominate the horizon, stretching in an arc from the epicentre of the resort (a collection of multi-roomed villas and houses, as well as a clutch of dreamy tree houses, that are constantly booked out, are also available). Each guest 'house' is assigned a personal butler or khatib, an island angel who is literally at your beck and call – tiny mobile phones are provided on which to contact them from anywhere on the island for anything.
It doesn't take too long to figure out that Amilla is about total relaxation. Life on this island revolves around your house, which you are encouraged to treat as if it were your own – a message spelt out in palm fronds on arrival welcomes you home – and your stomach.
There is an impressive amount of food to sample as you amble through your day, from pizza made by a constantly smiling chef in the al fresco wood-fired oven at Joe's Pizza (and eaten at the beachside Baazaar as you squish sand between your toes) to clever mod-Jap/Latin at Feeling Koi, which sits at the end of the dock, looking out to forever; 1 Oak Lounge upstairs is the perfect place for sundowners.
One evening we head to The Emperor Beach Club, a lofty barn-like space that houses a general store and cafe (the milkshakes and cookies are a big hit with the many kids in residence, including my own), as well as Amilla's impressively stocked cellar of some 8000 bottles, for a cheese tasting that would make a Frenchman weep with joy as a cavalcade of pungent, salty, rich and smooth wedges are dissected and consumed.
The waters around Amilla are the playground of manta ray, and it is possible to book an excursion every second day (both resorts have their own marine biologists in residence) to the nearby Hanifaru Bay in search of these gentle goliaths; my excursion on very choppy seas is fruitless but consolation comes from returning 'home' to watch the weather roll in and out just past my private plunge pool.
Leaving is a wrench, but my 35-minute seaplane flight back to Malé soothes the sting. The inky black of my arrival is bookended by the glorious blue of my departure, soaring over a waterworld of breaking waves and sandy islands that once again confirms the true expanse of the planet; I'm left with the sheer joy that comes from basking in the bright light of somewhere so beautiful.
Details: The Maldives
Getting there: Scoot has flights to Malé from Sydney, Melbourne, Perth and the Gold Coast via Singapore. Visit Scoot for details on departure days and fares.
Staying there: Both Finolhu and Amilla Fushi are managed by the aptly named The Small Maldives Island Co.
Packing for three: Being a tropical paradise, your wardrobe is an easy pick-and-mix of swimmers, shorts and sandals, with something nice for dining at Feeling Koi (on Amilla) or Finolhu's wonderful Baahaa Grill, with its North African-inspired menu. Don't forget a hat, sunscreen and sunglasses (although the resort boutiques on both islands have some very nice styles should you forget).
What to bring home: A few extra kilos around the waist!
LEAVE YOUR COMMENT