Could this be the most chill place on Earth?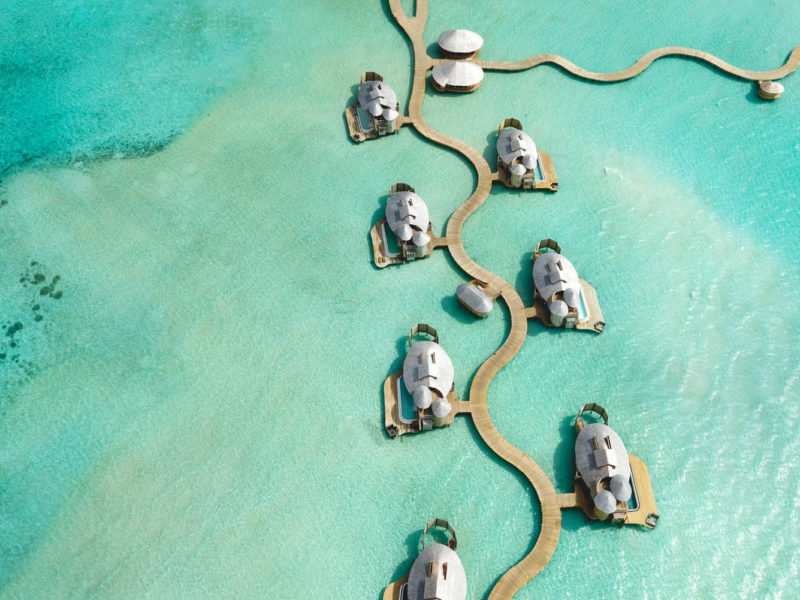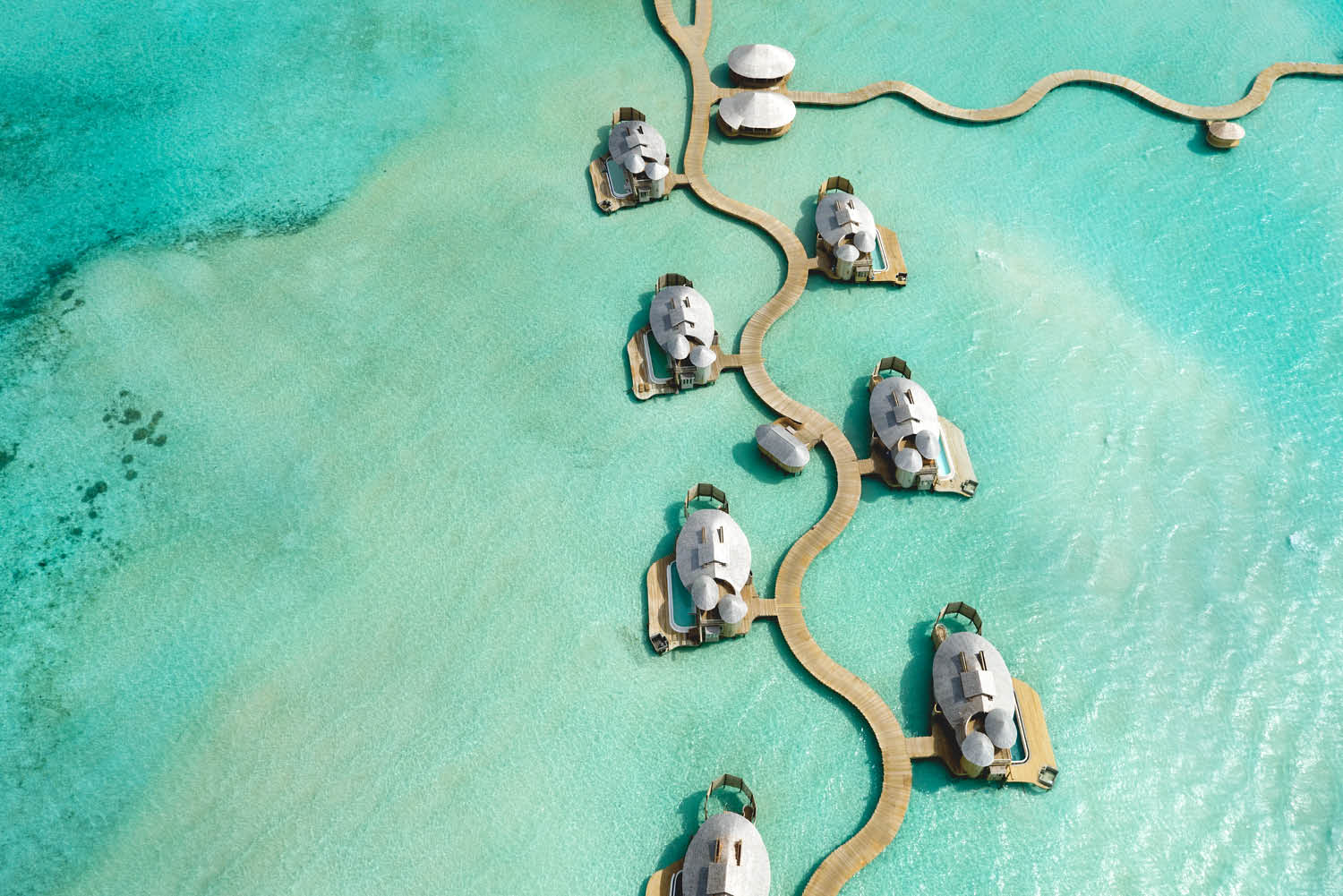 What is the definition of luxury? Freya Herring heads to the world's top paradise destination, the Maldives, to find out.
"Luxury is a state of mind," they say. Nope. Luxury is sitting with your toes dangling in the turquoise waters of the Indian Ocean on your own private deck, a giant villa behind you, and a personal butler at your beck and call, 24 hours a day. Welcome, dear reader, to the Maldives.
Soneva Jani is from the same group that runs Soneva Fushi, a few atolls across the crystalline sea, but this time the luxe factor has been supersized. It's more of a solitary – rather than a social – experience here, and like everywhere in the Maldives, it's about the villa above all else, because that's where you spend most of your time.
There are some 24 overwater villas in total, each dripping from a winding 1.8-kilometres boardwalk positioned over the shallow lagoon that surrounds Medhufaru island in Noonu Atoll. They look like something out of the future – giant wooden houses with turrets like castles and curves like Marilyn Monroe, each with a floorplan of at least 411 square metres. Think Waterworld, but with cocktails.
Inside, a sunken dining area boasts a glass base so you can see tropical fish swimming in the lagoon below, and the whole of the downstairs – comprising of bedroom, living area, kitchen (equipped, yep, with wine cellar), dressing room and two bathrooms – opens up onto a giant deck, where upon you will find your private 13-metre pool. The pitched roof above the bed can be retracted at the touch of a button. Upstairs is a dining area and viewing platform primed for that golden Maldivian sunset – which is just as cheesy/amazing as it sounds.
That's another thing about luxury – the experience should be gentle, not overbearing. The team at Soneva Jani is all about stepping softly, and so the island itself – over at the end of the boardwalk – is relatively untouched. One way to experience its natural beauty is to take one of the resort's kayaks out for a whirl. This is Robinson Crusoe stuff – the green, unforgiving roughage of the land creeping into, and under, the flushing tide; reef sharks swimming about the branches and giant stingrays sauntering by.
Want to explore in something more stable than a canoe? Fair enough. The resort's private yacht, Soneva in Aqua is just the ticket. You can hop on for as long as you like, sailing out to far-off atolls, many home to the crabs alone. We are taken out to an uninhabited island, off the coast of which we snorkel with more turtles than we can count. Soneva has even built a toilet on the island (pee in the sea? Come on!).
So what is the cost of such luxury we hear you call, credit card in hand? Well, it's a lot. The Maldives doesn't exactly have the reputation of being a budget destination. A room like ours (the smallest) costs upwards of $2900 per night in low season. Add a grand or so for high season, which is Australian summertime.
Is it worth the spend? Well, you're paying for paradise – and luxury rarely comes at a cost that leaves you change for a Maccas. But we can promise you this: as soon as you set down your bags and step outside into the blue, cold hard cash will be the last thing on your mind.
LEAVE YOUR COMMENT