World's most romantic destinations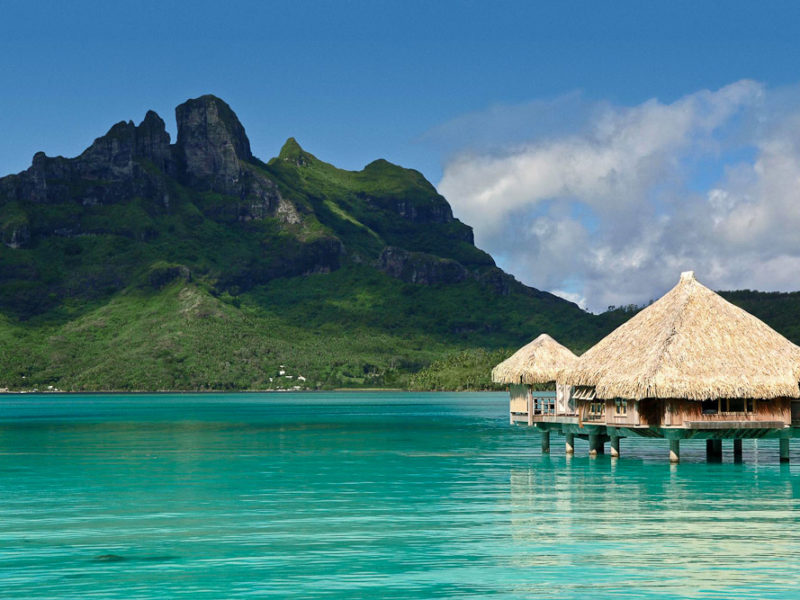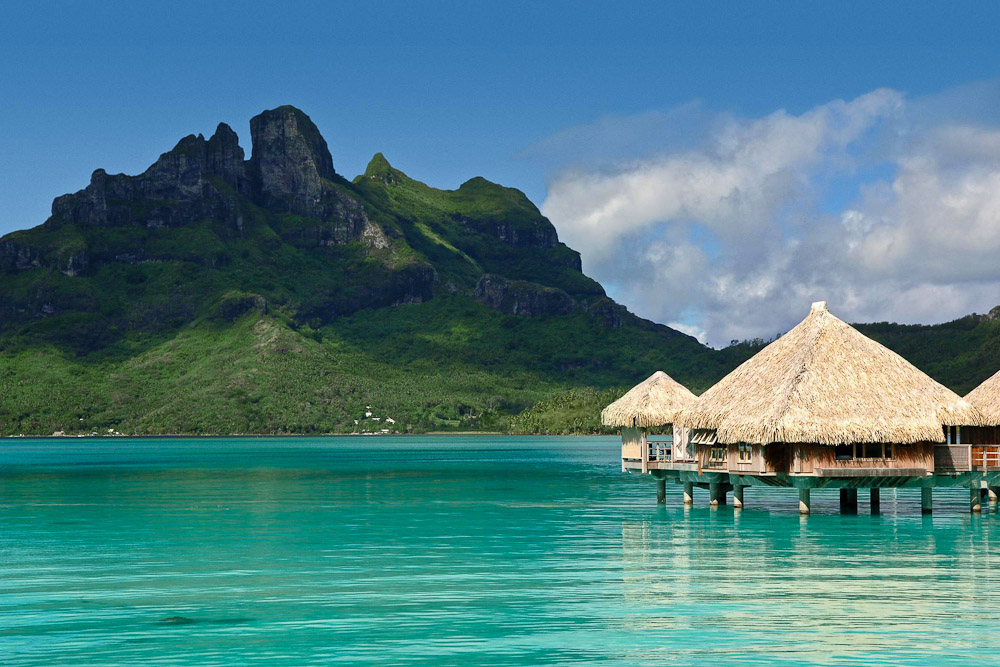 Honeymooners, loved-up couples and romantics at heart – we've found the dreamiest destinations on the planet that promise to make any traveller swoon. By Greta Stonehouse
Bora Bora, French Polynesia
Why we love it:
Images of Bora Bora have long been used to sell picturesque holidays to 9-5ers pining to get away, so there is no secret to the allure of this postcard-perfect island oasis. Think free-standing bungalows over aqua water, poolside tropical cocktails, with a backdrop of lush mountains and iridescent rainforest. Yep, look up 'paradise' in the dictionary and you'll likely see this place.
What you didn't know:
An experience only for lovers, hop on The Loveboat with a professional photographer who will capture the experience for you – it beats taking 1000 couple selfies.
Or for the more adventurous, you can try parasailing, kite surfing and shark snorkelling around the islands.
Far from reality, Bora Bora is like Disneyland for grown ups.
Where to stay:
Honestly, Bora Bora is bursting at the seams with luxury resorts.
However our favourites include these three, featuring quintessential thatched-rooved huts and top-notch facilities, overlooking the Bombay Sapphire ocean, with a world-wide reputation to match.
Four Seasons Resort Bora Bora; Sofitel Bora Bora Marara Beach Resort
Venice, Italy
Why we love it:
Described as one of the most loved-up cities in the world with it's rich history and culture, enchanting canals and myriad food and wine offerings. So it's not surprising that Casanova, one of the world's most notorious ladies men, was born here back in 1725.
What you didn't know:
You may be well-acquainted with Venice's famed gondola rides, or its striking gothic architecture which makes for an idyllic backdrop for hand-held strolls, but have you paid a visit to Musica a Palazzo?
A 15th century Venetian Palace, for 70 euros you can soak up a unique opera performance here, where each act is performed in a different room.
Meanwhile, although famed small bar Al Bottegon is highlighted in many tour guides, unknown to many tourists is that you can order a rare fragolini here – a dessert wine made from strawberry-shaped grapes.
Kept hidden under the counter, you and your better half can share this secret wine.
Want a romantic dinner without the hordes? Request a table at little known Antiche Carampane Restaurant, which began in 1982 when two brothers took over a small restaurant away from the tourist precinct.
Keep in mind it's closed on Sunday and Monday due to their strict fresh fish policy ( andfisherman don't work on Sundays).
Where to stay:
If you're drawn to the old-word grandeur of Venice, situated directly on a canal is The Gritti Palace, full of dazzling chandeliers and red velvet lounges.
Alternatively, the Hotel Danieli is situated in one of the most prestigious positions in Venice, only a few steps from Saint Mark's Square.
Inside feels more like a palace with its large bronze pillars, grand staircases and colourful tapestries.
Banff Lake Louise, Canada
Why we love it:
The glistening turquoise Lake Louise surrounded by soaring mountains and pine forests is one for nature lovers all year round.
In winter you can carve your way down some world-class ski fields, while summertime provides perfect picnic conditions, followed by a hike through the pristine national parks.
What you didn't know:
Lake Louise is one of the most photographed spots in Canada and is a UNESCO world heritage site.
No Instagram filters needed here, it's impossible to take a bad shot in a setting like this.
Where to stay:
Built over 100 years ago for explorers and mountain enthusiasts, The Fairmont Chateau Lake Louise is now a luxury resort situated at the bottom of glacial mountains with views overlooking the emerald expanse of the Lake itself.
Mauritius
Why we love it:
Type Mauritius into Google and the first item to pop up is "Mauritius honeymoon", and for good reason.
Best summed up by Mark Twain, "you gather the idea that Mauritius was made first and then heaven."
What you didn't know:
You can see this heaven on earth from the sky. Given the year-round idyllic weather, skydiving is a holiday highlight for many visiting couples so make sure you book in advance.
For those who'd prefer to keep their feet firmly on the ground, there's plenty of lesser-known earthly delights too like getting lost in local sugar can fields and tea plantations.
And need we remind you of the sun, sand and sea on the doorstep?
Where to stay:
For self-professed style aficionados, the Maradiva all-villa resort was designed to seamlessly combine Mauritius and colonial architecture, topped off with plunge pool and ocean views.
Or if size does matter to you, the Lux Belle Mare has one of the largest pools on the island.
Paris, France
Why we love it:
Oh Paris. Synonymous with love, the Eiffel Tower, cheese and wine…enough said.
What you didn't know:
Coupling succulent oysters (nature's aphrodisiac) with Champagne's finest, head to Oysters and Wine at Le Baron Rouge as a starting point to any date night.
Then stroll along the Seine in the fifth arrondissement where tango enthusiasts (from pros to beginners) gather at the mini amphitheatres and dance until twilight.
For those who are too shy to show off their tango skills, we suggest watching on with a bottle of wine.
But our favourite little gem is the aptly named Garden of Hopeless Romantics – a historic townhouse come museum, focused on the romantic arts movement.
A private garden oasis in the middle of the city, it's an idyllic setting coloured with lilacs and wisteria, with a gorgeous tea room for an afternoon well spent.
Where to stay:
One by the Five is one sensory stay with a difference. A private five-room apartment suite, each room features a distinctly different colour palette and design, with a bed suspended from the wall. Better still, guests are invited to create their own erotic elixir.
For a more traditional Parisian stay, the chic Hotel De La Tremoille is located in the heart of Paris and echoes a quintessential modern Paris apartment.
Seychelles Islands, Africa
Why we love it:
You'll find the Seychelles islands quietly sitting off the coast of Africa, where it ticks all the right boxes for a honeymoon-worthy island escape; swaying palms, pearlescent blue water, white sand, luxury resorts.
What sets it apart from many of its busier island counterparts is its total seclusion. To get away from civilisation, ala Tom Hanks Castaway style, this is your chance to feel truly alone, together.
What you didn't know:
Seychelles is where royals and A-listers go to honeymoon due to its luxury offerings and utter privacy. In fact, this was the top-secret honeymoon destination for Will and Kate, and has been graced by the likes of Jennifer Aniston, Liz Hurley, David and Victoria Beckham and Salma Hayek.
It's also a world-class destination for enjoying nature's delights– snorkelling amongst tropical fish, hiking through lush surrounds, sailing the calm waters and coves of La Digue…
Being such an idyllic oasis, it's unsurprising some claim this to be the original site of the Garden of Eden.
Where to stay:
For a cool $4000 dollars you can stay at the North Island resort – the same luxury resort that Kate and Wills visited, complete with open-air bathroom with a sunken bath and shower, a private garden, and decks with rock pools. Each villa also comes with a personal butler, and for a little extra cash you get a personal chef too.
Or for another exotic stay (with a less eye-watering price tag) the Maia Luxury Resort offers spas, breathtaking coastline views and an absolute discretion policy, aka paparazzi free zone.
St Lucia, Caribbean
Why we love it:
Renowned for its five-star stays, postcard-perfect beaches and buzzing towns, this Caribbean island has long best a favourite amongst honeymooners.
What you didn't know:
Having already graced many a 'best honeymoon' or 'most romantic' destination countdown across the globe, it'd be remiss of us not to acknowledge the incredible oasis that is, St Lucia.
While there's all manner of water fun to be had – paddle boats, kayaks, windsurfing, snorkelling and diving – what many beach dwellers are often oblivious to is that beyond the shoreline is a mountainous interior, thick with rainforest walking trails.
Among the trails is a detour through the Soufriere volcano, surrounded by boiling pools of murky water which every full moon turn into geysers.
However we suggest seeing the mountains on horseback, followed by a cooking class that showcases St Lucia's tastiest local produce – bananas and cocoa.
Where to stay:
The most notable local stay is of course the revered Jade Mountain resort, with absolute waterfront views taking in St Lucia's Pitons World Heritage Site, and of course, the Caribbean Sea.
From $1660 a night, here you can expect infinity pools, Jacuzzi suits, banquet breakfasts served by butlers and best of all – a techno-free zone so you and your better half can escape the hassles of everyday life and focus on what's really important…you.
Slightly easier on the ol' hip pocket is Sandals Grand St. Lucian, where for $846 a night you can expect lavish cottages including your own butler and plunge pools, just stones-throw from the beach.
LEAVE YOUR COMMENT