5 reasons you need to visit Rio's most beautiful favela, Vidigal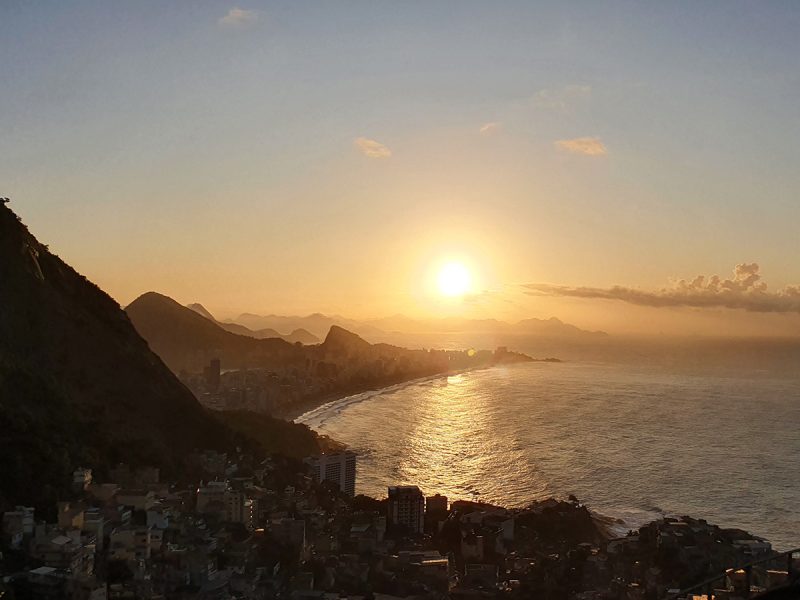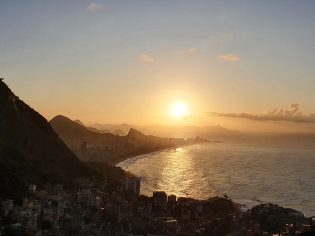 Brazilian favelas have earned a blanket reputation for being unsafe, but not all of them are so. In fact, Vidigal is the best place you'll go in Rio de Janeiro.
Anyone who's travelled to Brazil, particularly if you're female, will know it's one of those countries that raise the eyebrows of all non-travellers. "How will you stay safe? " they wonder aloud, very pointedly. That goes double when you start talking about a Rio de Janeiro favela.
The thing is, if you listened to these people, you would be missing out on one of the warmest, most welcoming experiences of your life.
I ventured with my boyfriend back to his home city of Rio de Janeiro to meet his family. He had a long list of sights he wanted to show me, but at the top of his list was the locally famous favela on top of a mountain: Vidigal.
Why famous? Because sitting high up on a mountain about 10 minutes from Ipanema beach, it boasts some of the best views of the entire city. In a place that's as beautiful from every angle as Rio, that is quite a boast, and I can confirm that not a word of it is a lie.
That's not its only pull, however: the people are welcoming, the nightlife is pumping, the hikes are challenging but incredible and riding on the back of a motorbike as you wind your way up the incredibly steep and narrow streets is a memory you'll keep forever.
Now yes, I was there with a local who blended in which can make a travel experience very different, but never once did I feel unsafe, even to wander a while on my own (except for the very real risk of getting myself lost).
Besides the breathtaking vistas, here are the five things that made Vidigal my favourite place to be.
1. Brazilian street food
Before you begin your journey into Vidigal, you'll find several stalls at the base, ready to serve up cheap and cheerful street food. On a hot summer day, not much is better than a pastel de queijo (essentially a deep-fried cheese and pastry pocket) washed down with freshly squeezed bamboo juice. And let's not forget the acai stand for dessert.
There are certainly actual restaurants further inside Vidigal, but what could be better than a bit of street food before or after a night out?
2. Getting to the top of Vidigal
At any given time, a large group of men on motorbikes – or moto taxis – will be hanging around the bottom of Vidigal, ready to take the more daring up the mountain to wherever they need to go (for a fee, of course).
Here, I shut my mouth and let my boyfriend do the talking, as the fee automatically goes up as soon as it's clear you're not local – but the price is still more than reasonable at about R$10 reais (about $3) per trip.
Once you're on the road, hold on tight – but I was told in no uncertain terms that it's weird and very gringa to hold the shoulders of the person ferrying you on their bike, so just hold the seat and grip your knees tighter – you will be twisting and turning along these labyrinth-like roads and tightly-packed buildings, around other bikes, people and the occasional car.
If the motorbike feels a bit too daring, a mini-van regularly ferries visitors up and down Vidigal. It's a bit more expensive and will take you longer to find a path (did I mention the very narrow roads?) but the community vibe on board makes the trip a delight – especially if you're on your way back down after a night of dancing.
3. Hiking to Trilha Morro Dois Irmãos
This hike might only be around 45 minutes to the top, but as it can often feel almost vertical, it isn't for beginners. However, it does reward those who face the steep and mostly undeveloped path to the peak of Trilha Morro Dois Irmãos (Two Brothers hike) with sweeping vistas of Rio de Janeiro.
Spot Cristo Redentor (Christ the Redeemer) on his perch, the brilliant blues of Guanabara Bay and Ipanema Beach and sprawling cityscapes. Above all of it soar several of Rio's iconic Urubu birds.
You'll find the trailhead at the top of Vidigal, quite subtly placed behind some public soccer fields. You will possibly have to pay a few reias to gain entry, as the locals have clued on to the hike's popularity. I'm not sure it was terribly official, but it's also a very small amount to give back to the community.
4. Bar 180° Alto
I came here on my first night in Rio, and it perfectly set the tone for my whole trip. Two levels of the cliffside Alto Do Vidigal Bar 180° open for lunch, and then turn into a pumping dancefloor as the sun sets.
Dust off your samba moves, sip on a giant Caipirinha cocktail and join in the party as a live band plays. If you can't dance, and you particularly can't dance (like me), then just do your best and join in.
Several hours will pass in what only feels like seconds, so if your belly starts to rumble there are plenty of classic Brazilian dishes and bar eats – like gurjão (fried chicken or fish pieces), bolhinos (crispy cod fritters), nachos and hot chips.
The crowd is fun and inclusive and they don't care how hopeless you are, as long as you get into the spirit. Chances are high that you'll have a few more friends by the end of the night.
5. Mirante do Arvrão hotel
There is really no way to overhype the view from the top of Vidigal, so it's really a shame not to see what it looks like at sunset and sunrise. That's where Vidigal's locally-run hotel Mirante do Arvrão comes into play.
While the rooms are about triple the size of a standard hotel room, and the decor of each is minimalist and beautiful, this is not the hotel to stay at if you want a five-star experience – for that you should head down the mountain and out of Vidigal to the Sheraton.
This is the hotel to book into if you don't mind roughing it just a tiny bit to wake up to the best views in Rio. Essentially, it's favela luxury – an amazing hotel with a few authentic quirks.
When we arrived, the hot water wasn't working; an issue that isn't uncommon for the entire favela. There's also a restaurant and club attached which you can hear from the room, so you need to be able to get into the local Brazilian party spirit – a feat that was very easy to accomplish.
No matter how hard you danced the night away, set your alarm for sunrise and enjoy the view in the provided fluffy robes from the comfort of your private balcony. You won't be sorry.
LEAVE YOUR COMMENT