New Zealand's premier foodie escape, Annandale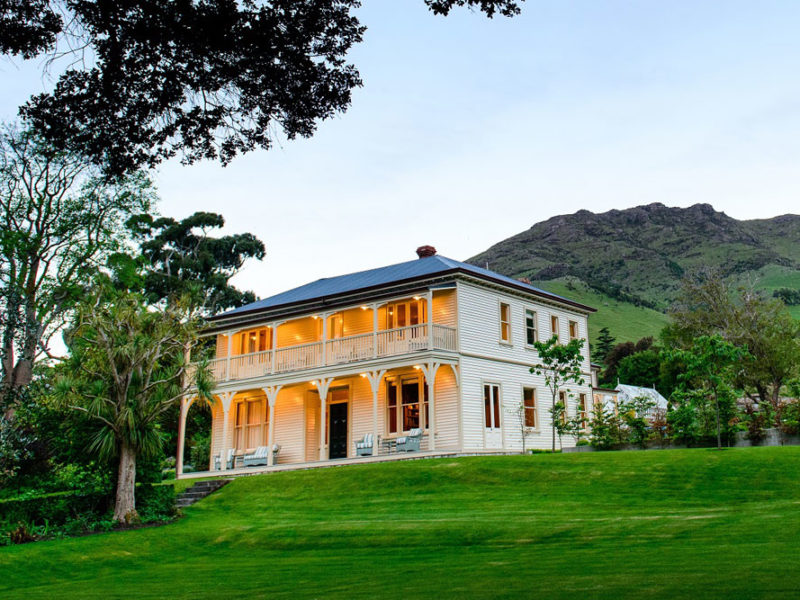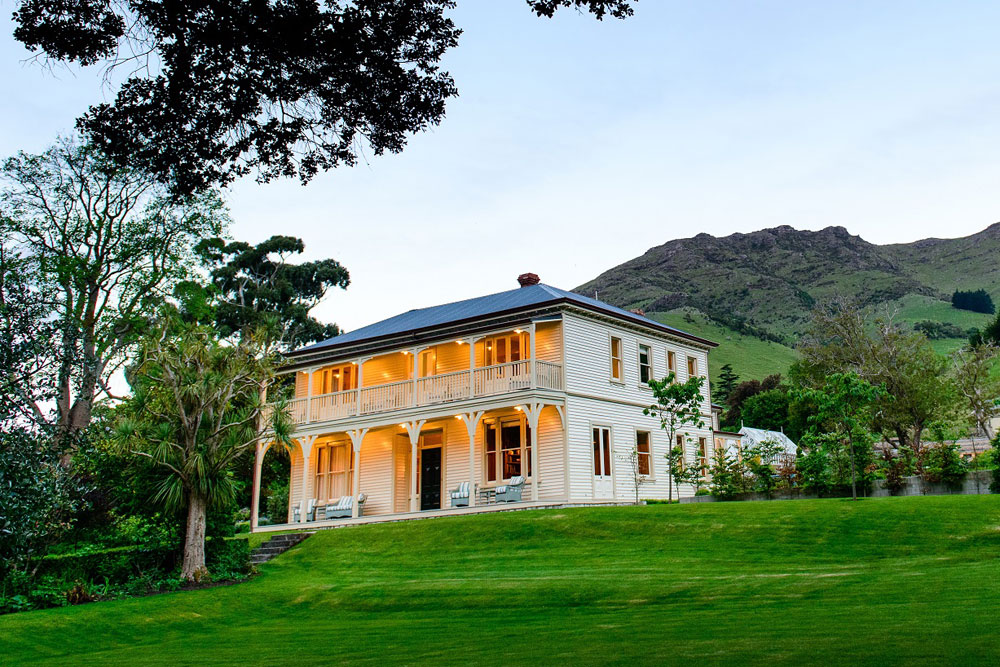 Combining history, luxury and farm-grown goodness, Annandale on New Zealand's South Island is a foodie escape the whole family can appreciate.
Freshly-brewed coffee catches the sea breeze; lashings of peppered butter melt into a crunchy wedge of homemade toast, while warm tangerine oozes from the centre of my poached free-range egg, swirling in with a delicate horseradish mayonnaise.
This magnificent breakfast, complete with potato pancakes, smoked salmon and a tableful of farm-grown-and-made jams and muffins, takes my three companions and I less than 10 minutes to prepare (and not much longer to devour).
The term 'prepare', however, could be more accurately described as 'heat' than 'cook from scratch'.
This ready-made (but no less gourmet) breakfast is the product of Annandale's 'we create, you serve' food option. That is, pre-prepared meals designed to give guests in any of Annandale's five luxury villas the opportunity to experience the rural setting of Banks Peninsula in absolute privacy, while sampling an impressive farm-to-table menu crafted by on-site chefs.
Short of that, Annandale's skilled chefs will come and cook in your shiny villa kitchen. It's one of the many personalised features of the Annandale experience.
Today, though, we opt for the more interactive option. It's our final morning at the homestead – the historic heart and soul of Annandale's 1600-hectare property – and while the remains of breakfast sprawl across our outdoor dining table, we sink into cane chairs, bellies full and cups of tea in hand, taking it all in.
Manicured English gardens envelop this 131-year-old manor house, overlooking the eastern shore of Pigeon Bay.
It was here that Ebenezer Hay and his wife Agnes – Scottish migrants from the Annandale Valley – settled and began a dairy and cattle farm back in the 19th century.
The Hays originally built the homestead as a 24-room hotel in 1884. However, when a devastating storm two years later saw the family home washed away, they took up residence in the hotel, which from then on became the Annandale Homestead. In the gardens there are still elaborate timber seats with the monogram of Ebenezer and Agnes.
The Hays continued to run Annandale as a working farm for over 150 years until it was eventually put on the market, catching the eye of kiwi born-and-raised Mark Palmer and his Texan wife Jacqui. Since buying the property in 2005, they've invested millions renovating this historic farm stay.
Maintaining its old-worldly charm with shaded verandahs, original weatherboard exterior and timber flooring, new additions like king-sized beds and en suite bathrooms seamlessly blend in, as does the extensive kitchen garden that plays a pivotal role in the creation of every gourmet meal here.
There are now four master suites designed for couples splashed with buttery yellows and clotted-cream hues, as well as the 'playful bunk room' for families, which sleeps up to six. And when you rent the house, it's yours exclusively.
Of course, there are some decidedly contemporary features here too; a private tennis court for instance, and a view-hogging gymnasium that overlooks your infinity-edge swimming pool.
Beyond the homestead and its sprawling gardens are rolling hills blanketed in tussock grass and native shrub. It's here you'll spot some of Annandale's 7000 grazing sheep or 700 black Angus cattle, which will likely make an appearance on your plate too.
Also tucked away in various nooks and crannies along Annandale's 10 kilometres of coastline are four other high-end stays, each with a distinct character and appeal.
At the most affordable end of the spectrum is the cute-as-a-button Shepherd's Cottage, set on a hill overlooking the Pacific. Its timber interior has been renovated to create a snug hideaway for two, complete with open fireplace, cosy sheepskin rugs and an outdoor bathtub (rest assured only livestock can see you).
If the homestead is unavailable, Annandale's newest family friendly lodging goes by the name of Scrubby Bay. Accommodating up to 14 people, this cedar-clad beach house is set within its own private bay and comes with an expansive deck, outdoor pool and spa, as well as a chef's kitchen should you opt for a fully catered stay.
But the pièce-de-résistance is the designer Seascape retreat, largely crafted out of stone and glass to take advantage of the beachfront setting – a stone's throw from breaking waves. Within the über-modern design you'll find both an indoor and outdoor fireplace and outdoor spa.
Regardless of which lodging you choose, guests can elect for a chef to personally cook in the villa, three meals a day, or soak up the privacy with a pantry pre-stocked with 'we create, you serve' meals. Both options promise farm-reared and local seasonal produce.
Complementing such boutique accommodation is a smorgasbord of boutique activities. From farm tours to art classes, motorbike tours, fishing charters and nature cruises, for a closer look at the Hector's dolphins and seals often spotted in the surrounding waters.
And what would a foodie escape be without a cooking class? Annandale's own award-winning chef, Paul Jobin, also hosts private classes for guests with a locavore twist.
It's going to be tough returning to the urban world. Better pour another cuppa and savour this a little longer.
Details
Where?
A one hour drive to Christchurch.

How much?
Homestead villa from $2239 a night; annandale.com
How to get there
Air New Zealand operates daily flights to New Zealand from Sydney, Melbourne, Brisbane and Perth.
airnewzealand.com.au
LEAVE YOUR COMMENT