Everything you need to know about skiing in New Zealand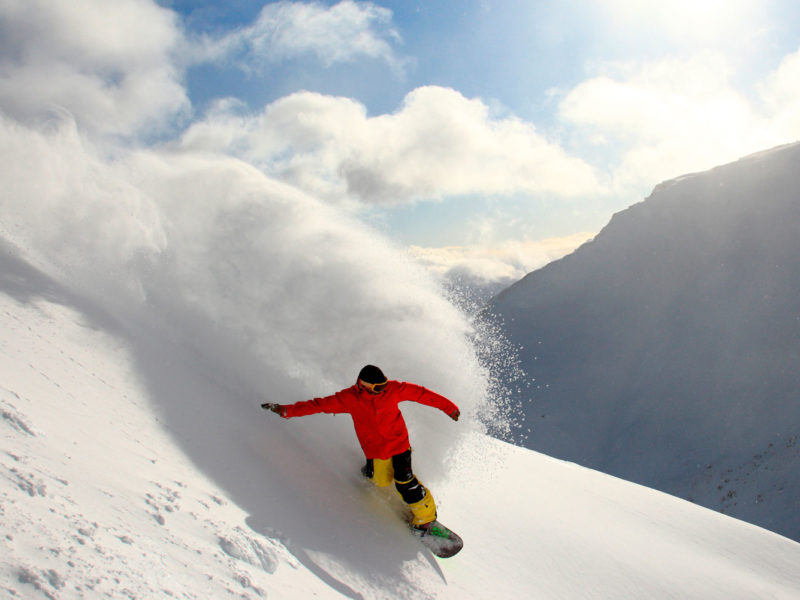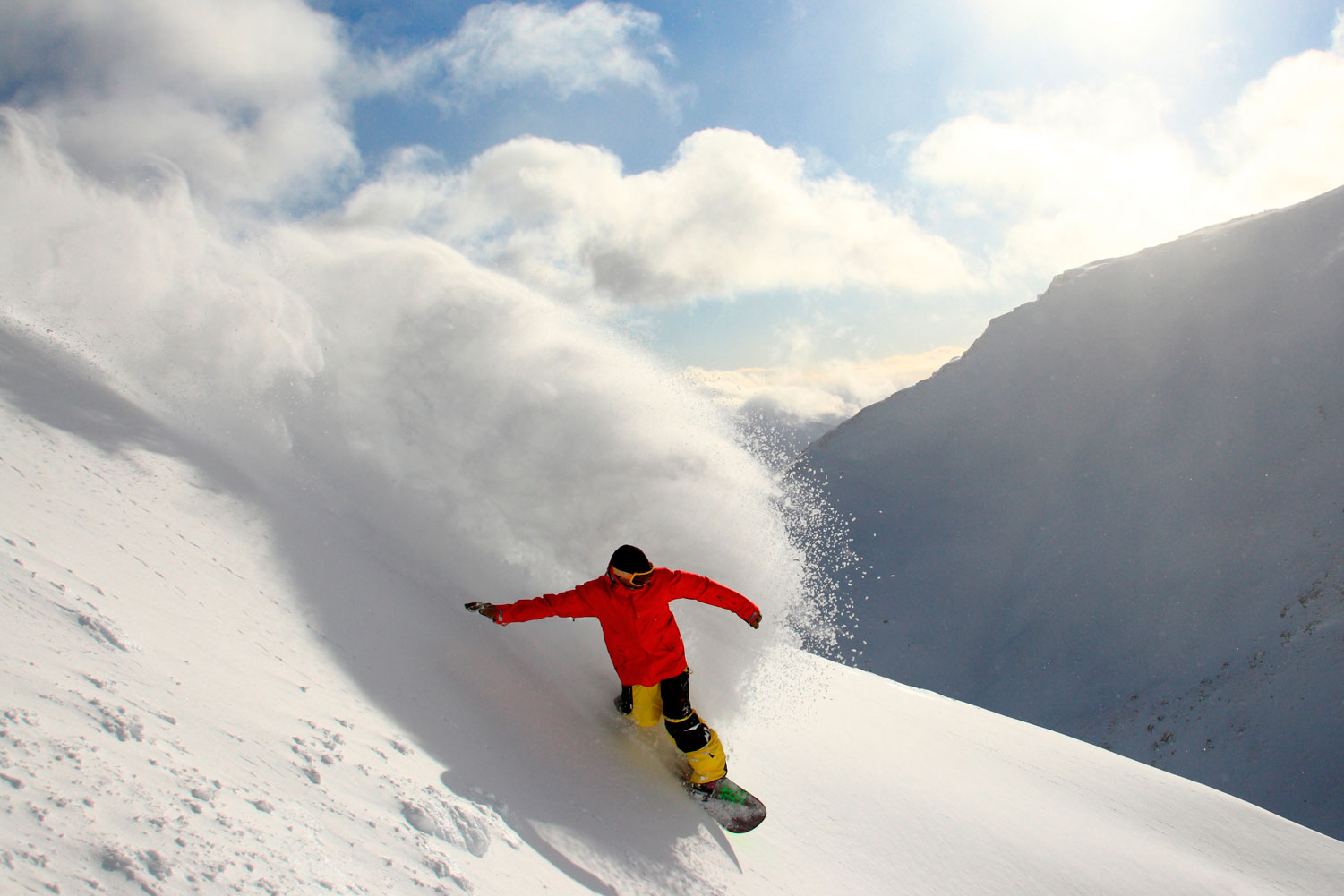 If you're looking for steeper, deeper and relatively cheaper, look no further. Flip Byrnes says to point your skis towards all that luscious mountainous terrain just across the ditch…
Ah, the Land of the Long White Slope. There are as many reasons to choose a New Zealand ski holiday as there are peaks in their Southern Alps.
It's an overseas trip, with the added punch of powder. Strong conversion rates, aggressive packages and cheaper lift tickets equal serious savings. And the diversity, with ski resort gems studding the south island like a matrix of diamonds, is pole bending.
Straight-line for the bright lights of Queenstown, the pro-rider hamlet of Wanaka, take the kids for absolutely free to Mt Hutt, or absorb the club fields' cosy and quirky atmosphere. And on a down day, hit the wineries, the gourmet nooks, the legendary lodges, the fishing, the . . . you get the picture.
For a small country with four million people, they think and dream as big as their mountains.
Whether you're a beginner, a moderate skier returning to the slopes looking for a bargain, a teenager who prefers sliding rails or a black diamond bandit seeking steeps and deeps, there's a piste calling your name.
Queenstown – the Social Set
The beating heart of the New Zealand ski scene, Queenstown is synonymous with glitz and glamour.
With more than 150 bars and restaurants, when the slopes cool down, the town picks up with a nightlife that's sizzling. Oh, there's skiing as well. And the two resorts less than 30 minutes from town – the more advanced Remarkables and gentler Coronet Peak – aren't shabby.
So if you're after a one-size-fits-all resort, with options from novices to experts (with convenient international flights), Queenstown is bang on.
The Remarkables is compact (220ha), but boasts enough fun in the surrounding craggy spires to keep riders entertained for a week (explore the Elevator, Escalator and Alta chutes.)
For a thigh-burner, schuss the 1.5km Homeward Run, taking in the wide-open basin before catching the convenient shuttle bus back up to the base. When the snow is falling, that bus is bustling.
There's also a killer ski school for ankle-biters, with kids under ten skiing free (now that's cheap). It's tempting to stay, but Coronet Peak beckons.
With its own pulling power in a paved road (almost a novelty within NZ ski resorts), Coronet Peak's undulating terrain is fun regardless of level.
Watching the sunrise urrounded by empty slopes, followed by a homemade soup at Heidi's Hut, is a Queenstown highlight. Perfect for intermediates. Off-slope, there are thrills aplenty too.
People have been known to drive over 100km from Wanaka for a delicious, juicy Ferburger (ahem, guilty), the fireworks on Opening Night of the American Express Queenstown Winter Festival can't be beat (late June; queenstownnz.co.nz), and for a cheap and cheerful place to lay your weary head, try Pinewood. Or stay at Kawarau Village, the self-contained units attached to the Hilton in up-market Kelvin Heights.
Use all the Hilton facilities, without the Hilton prices, in what is becoming the coolest part of Qtown.
Wanaka – Freeride and Family Paradise
Break out the baggy pants and the Corkscrew 360s and pack the kids in the car – we are heading into serious pro-rider and family territory.
Spread through the Wanaka area around an hour from Queenstown are three resorts: Cardrona, Snow Park NZ and Treble Cone, with Cardrona and Snow Park boasting the only two 22ft halfpipes in the southern hemisphere.
Every halfpipe boarder who climbed a podium at the 2010 Winter Olympics in Vancouver trained at Cardrona the year before.
Benny Bright, older brother and coach of halfpipe golden girl Torah Bright, owns a house opposite the Cardrona Hotel. And Cardrona has the world's only operating halfpipe into October.
Get the picture? Yes, it's park-arama! Next door to Cardrona is Snow Park, a teenagers' (and park-lovers') rail-studded, jibbing, jumping and grinding paradise, drawing international superstars like Travis Rice and Shaun White. Build it, the owners reckoned, and they will come. They have, in droves.
If you don't feel up to the jumping feature frenzy, take a lesson or put your own future pro-riders in Snow Girls or Grom camps. And Snow Park has another rarity: on-snow accommodation.
Their luxury one-bedders are a steal from $185 a night, and dorms (more flashpacker than backpacker) from $45. If you're looking for a bargain, or somewhere to take a school group, this is as cheap as fush'n'chups.
But if you're keen to ride and park play, Cardrona's the bet, offering an eclectic mix of families and pro-ride gangsters, with a whopping 75 percent easiest and intermediate terrain and pro parks to impress.
There are advantages to having a freestyle nirvana smack bang in the middle of a family-friendly resort. The beginner lift has a superpipe to the left and slopestyle park to the right. There aren't many spots in the world where you can learn to snowplough while watching the stars of tomorrow.
If you're anti-park and just want a mix of slopes, drive a little further from Queenstown, through Wanaka, to Treble Cone.
It's the South Island's largest ski area (550ha if you're counting out-of-bounds areas), with sheltered beginner and intermediate slopes, stunning Lake Wanaka views and amazing off-piste runs.
Base yourself in funky, tranquil Wanaka for convenience, lower prices and a slower pace to Queenstown. But if you really want to get off the beaten track, then head for the club fields.
Hot Wanaka Tips: Stay (and drink at the historic Cardrona Hotel, head to Post Office Lane to Cow Pizzeria, and meet locals at The Lone Star pub in Wanaka.
Join the Club
Feeling intrepid and up for an "experience"? Keep driving through Wanaka and you hit the club fields.
Neatly strung for 400km between Wanaka and Christchurch (with Christchurch and Wanaka or Queeenstown airports at either end), visiting the club fields makes for the ultimate ski road trip.
Club fields are unique to New Zealand (and raved about by foreign pro-riders who visit off-season), privately owned and modest with bare essentials (no groomers here, and lodges are often of the "wash your own dishes" variety). The drawcards are the undiluted Kiwi flavour – and the often wild, raw terrain.
Not only will you find steeps and deeps, local characters and fellow die-hard skiers, but club field tickets can be as low as $65 a day (Broken River; brokenriver.co.nz). You get what you pay for, and each field has an individual personality.
Some, like Mt Dobson and Oahu, have chairlifts. Others, like Broken River, are renowned for nut-cracker rope-tow lifts of torture.
Craigieburn will offer serious challenges; Round Hill is as gentle as a lamb. Visit one club, visit them all.
Join Black Diamond Safaris for a specialised club field tour, and if you're heading from Wanaka to Mt Hutt near Christchurch (New Zealand's highest and largest resort), make the club field of Ohau a priority: apart from great skiing, the lodge is famed for serious down-home hospitality.
Mt Hutt – Kids For Free
If you have kids under ten, look no further – you've found your affordable skiing solution in two words: Mt Hutt.
Drive north from the club fields and you'll hit Mt Hutt, just two hours south of Christchurch. With kids under ten years getting free everything – ski bus, airport transfers, accommodation, meals, rentals and, of course, skiing – it's unquestionably the deal of the century.
Most of the businesses in Methven (at Mt Hutt) are onboard. There are no restrictions; stay at one property, eat at another – an incredible sign of mutual support that underlies this tightknit community.
Queenstown can sometimes feel commercial or corporate, so if you want to feel more like a friend than tourism fodder, park your ski boots in Methven.
And Mt Hutt, just 30 minutes further up a winding road, has serious room to move. Owned by NZSki, it shares the same full-service glory of the others in the group (The Remarkables and Coronet Peak): high-speed lifts, gourmet restaurant, bar and a sushi-laden café servicing Japanese expert snowboarders who slide here in droves. What makes it one of the best? It's the biggest.
Mt Hutt's lift ticket is slightly cheaper than the other NZSki resorts (on a par with The Remarkables, $91 per first day, $87 subsequent days, cheaper than Coronet Peak's $95 first day, $90 subsequent days).
If unable to decide between NZSki's three superstar resorts, buy a Coronet Peak pass at any resort, with Coronet's prices, and you can ski them all on the one ticket.
After a full day of riding (7540ft when I checked my RFID electronic pass online), retire to Forest Lodge. Owned by former German Ski Team coach Ian McLean, it's the place to rub shoulders with international downhill stars who train in August, while eating Bavarian schnitzel.
Otherwise check out Beluga Luxury Lodge. You'll be feeling like a local in no time.
LEAVE YOUR COMMENT