What type of New Caledonia traveller are you?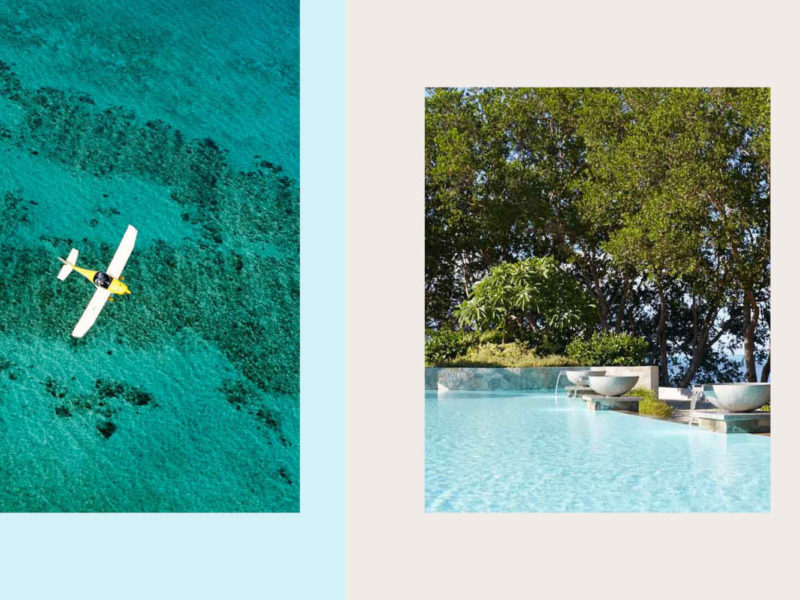 Whatever your ideal accommodation style, New Caledonia can deliver. So what kind of island traveller are you? Writes Marnie Clarke.
Q – Are you someone who feels most at home in the lap of luxury with all the bells and whistles included? Do you live for quality food and wine experiences?
A – You might want to consider the Sheraton New Caledonia Deva Resort & Spa in Bourail, with its fabulous pool, sophisticated dining options and 13 kilometres of private sandy shoreline. The funky Creek Bar serves up excellent cocktails and a bushman's platter of local charcuterie featuring delicious deer saucisson and house-made deer terrine. And the Reef restaurant buffet is everything you could hope for; the cheese platter alone comprises a comprehensive regional tour of the mother country. If you can tear yourself away from the spread, the rest of the resort epitomises island style. It's worth splashing out on a Superior Beachfront Bungalow for the four-poster bed, roomy bathtub and private ocean-facing deck. If you're feeling adventurous there's horse riding, mountain biking and golf to enjoy, or try kayaking, snorkeling or stand-up paddle-boarding on the lagoon.
Q – Do you love nothing more than family fun time and active escapes? Is experience rather than expense your main motivation?
A – Those planning the ultimate New Caledonia family holiday, Koulnoué Village in Hienghène has everything you need. The relaxed former Club Med property features 50 thatched-roof bungalows in a coconut palm grove by the sea; most of these are modern but 10 eight-person huts have been built in the traditional tribal style. There's plenty to keep kids and adults amused, from the swimming pool to kayaks and tennis, basketball and volleyball facilities, mini-golf course and golf driving range. Koulnoué Village is also the perfect base for exploring the lush east coast: staff can organise horse riding, canoeing, scuba diving trips and catamaran excursions to local islands. Children will love the on-site farm with animals, and the generous dinner buffet of French and South Pacific cuisine will satisfy hungry tummies.
Q – Are you more interested in rustic experiences than luxury appointments? Do you prefer your island idyll with a hint of off-the-beaten-track adventure?
A – You should get away from the crowds and discover the heart of island life at Relais de Poingam in Poum, on Grand Terre's remote and picturesque north coast. The seven private bungalows – all with ocean views – were made by hand featuring natural materials, and you can even camp if you want to fully immerse yourself in nature. Conversation flows at the communal tables in the beachside restaurant, where you can share tasty set meals of deer, pig on a spit or fresh local seafood such as lobster, cockles, fish or clams. Enjoy the natural saltwater pool, fishing and guided walks in the peaceful surrounds where wild horses roam, or simply stroll along the shore; if you're lucky you'll spot stingrays or sharks feeding in the shallows.
Q – Do you find it impossible to choose between a beach holiday and a city escape?
A – You can have it all: beside the stunning Anse Vata bay with views to the islets beyond, the Hilton Noumea La Promenade Residences offers the best of both worlds. Guests here are well placed to enjoy the many attractions of the cosmopolitan capital, with the city centre close by, but also have the beach right on their doorstep where you can snorkel, swim, people-watch or just soak up the sunshine. Book an apartment with a kitchen to take advantage of Noumea's market-fresh fish and produce. And on nights when you don't feel like cooking, the buzzing dining strips of Anse Vata and the Baie des Citrons are a stone's throw away.
Q – Do you crave staying in intimate surrounds with a side of natural wonder thrown in for good measure?
A – Check out Hôtel Hibiscus at Koné, the gateway to the gorgeous north-west and all its delights. Its comfortable rooms and suites are arranged around a landscaped Zen garden, and there's a pool, sauna and interesting collection of Polynesian art and sculpture to check out. The restaurant features a creative, regularly updated menu focusing on fresh fish, game and vegetables from the local area: think tuna tartare, or tender Caledonian beef carpaccio or entrecôte, Plus, all patisserie is made in-house. The hotel's biggest drawcard, though, is the scenic flights it offers from the nearby airstrip. Don't miss an exhilarating journey in an ultralight plane over the magnificent lagoon, reef and Coeur de Voh, a sweetly heart-shaped mangrove island that has become a national icon.
More information: Looking for more to do in New Caledonia? Check out New Caledonia Tourism.