Shopping secrets from New York vintage fashion bloggers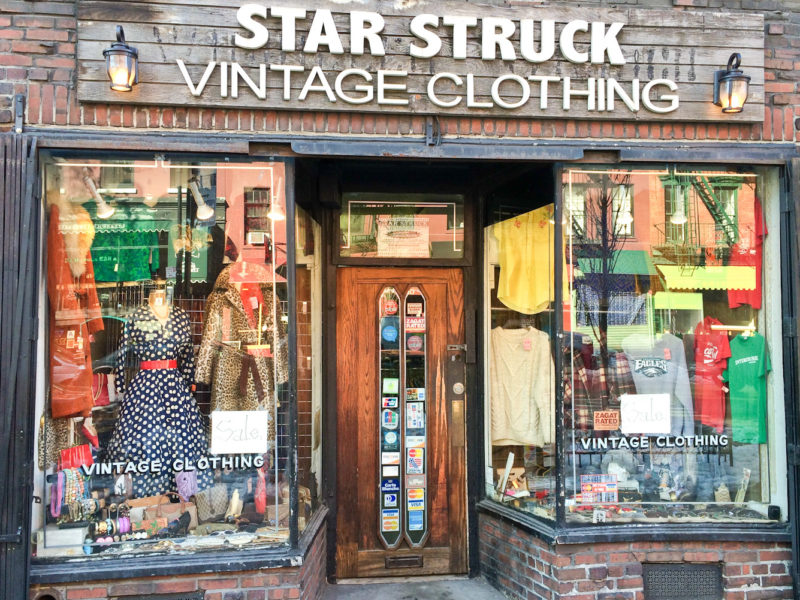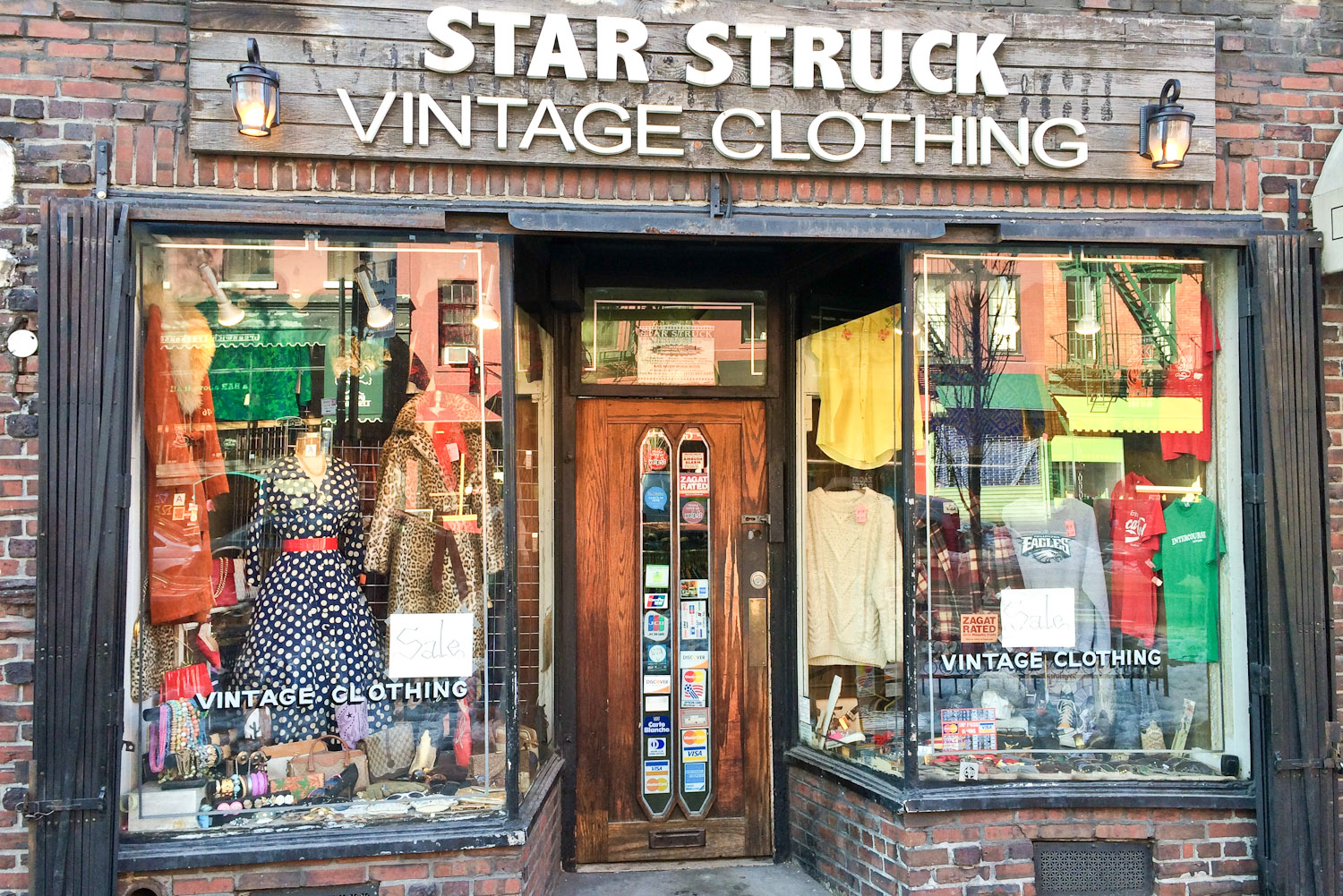 New York may be one of the fashion capitals of the world, but when it comes to shopping some of the most creative pieces can be found at the vintage stores dotted across the city.
Michelle Tchea taps into the secret address books of two New York stylists to find their favourite places to shop, people-watch and unwind.
Everyone cares about what they wear in New York and the only way to blend in is to dress up.
Whether you're heading out for coffee uptown, meeting up with friends in SoHo or even just doing your laundry, fashion matters and New Yorkers always dress to impress.
When it comes to shopping, Fifth Avenue is definitely a good place to get your retail groove on. But if you want to shop like the locals do, you need to step outside the parameters of the concrete jungle built by chain brands and go exploring to discover why New York is well and truly a fashion hub of thinkers, creators and designers.
After all, the city took out top honours as the World's Fashion Capital in 2014, but that doesn't mean you have to splash lots of cash to look good. New York has one of the hottest vintage shopping scenes in the world, with everything from Art Deco jewellery to '50s cinched-waist dresses to '70s designer disco wear to '80s shoulder pads prime for the picking.
New-York based stylist and fashion correspondent Natalie Decleve loves being part of the fashion industry here.
"You can find the best of every high-end designer, fast fashion and vintage all in one city," says the fashion blogger responsible for Natty Style, "and soak up inspiration from stylish passers-by."
She believes that part of the reason why New York is such a fashion hub is due to its street-style and the disciplined approach locals have to fashion.
Sophie Tillquist, a personal shopper and stylist, spent many years as a fashion buyer in Stockholm before relocating to New York. Catering specifically to new mums and those returning to the workforce, she helps her clients stay current and stylish by hunting down the best of the best, from designer labels to vintage finds. "The diversity of New York allows women to find their inner style that best fits their personality – from simple elegance to drop-dead cool. It's all about owning it!"
Of course, vintage shopping has always been a part of the city's retail landscape, but both women believe that the lure of finding something unique at a more affordable price point has increased in the last few years.
"Consignment stores have grown rapidly since the recession as people want to earn extra income from their wardrobe and have become much more cost-conscious," says Natalie.
Sophie agrees: "(Over) the last [few] years I think the hipster movement has really affected the popularity of vintage shopping. Designer vintage stores are very attractive; they are destinations for unique, hard-to-find pieces and competitive in price too. It's a way to create your own style."
So, how do you actually curate a closet full of fashion pieces at next to nothing prices? We head to the streets of Manhattan and Brooklyn and spend a day in each stylist's vintage Prada shoes to learn how to shop vintage, New York-style.
Natalie's Address Book
New York-based stylist and fashion correspondent
How would you describe your style?
Feminine, gamine and a bit bohemian.
I love anything that feels youthful, soft and fresh. Maybe it's my Californian roots but I am one of the few New Yorkers who rarely wears black!
I don't believe in wearing trends unless I truly love them and find them flattering.
The perfect place to start your shopping day?
The perfect start to a big shopping day begins with breakfast. I live in the West Village, so I almost always stay downtown.
My fave local coffee shop is Whynot Coffee (175 Orchard St) because of the open-air ambiance – and the croissants are to die for.
Grab a spot on a bench outside if there's room and eavesdrop on neighbouring conversations.
Your favourite place to people-watch?
The sidewalk seating at Extra Virgin (259 West 4th Street; extravirginrestaurant.com) in the West Village.
In NoLita, Saturday's Surf (17 Perry St; saturdaysnyc.com) has a back garden, great for sipping a cappuccino and flirting with surfers.
And the shopping begins…
If you're starting with breakfast in the West Village, head over to Star Struck (47 Greenwich Ave; starstruckvintage.com) for a well curated collection of affordable goodies.
The Army Navy supply store (37 West 8th St; armynavydeals.com) is worth a look if you're into vintage fatigue jackets or that kind of thing.
I also always pop into the Housing Works (245 West 10th St) if I have a minute to sift; it's either junk or treasure, depending when you hit it.
My previous finds include a brand new pair of Prada boots and a gorgeous fox fur bomber jacket. In the east village, Village Style (111 East 7th St; villagestyleny.com) is one of my favourite spots to find vintage denim, rock 'n' roll Ts, and perfect flannels; they're very well organised and cheap. David Owens (154 Orchard St) has a nice fur selection, and Rue St Denis (170 Avenue B; ruestdenis.com) is great for men.
In SoHo there are often vintage vendors on the streets, usually along Spring and Prince streets, which can be a great place for bargains, especially on furs.
What Goes Around Comes Around (351 West Broadway; whatgoesaroundnyc.com) is a mecca for luxury vintage and sells men's clothing too.
They carry everything from vintage Levi's and cowboy boots to Chanel bags and Missoni kaftans.
In Chelsea, Pippin (112 West 17th St; pippinvintage.com) is good for vintage and antique accessories, and Anita Stern has a wealth of statement jewellery.
Time for a pit stop for lunch?
In the NoLita/SoHo area Café Gitane (242 Mott St; cafegitanenyc.com) is an old favourite, especially for brunch or lunch.
The Moroccan couscous and avocado toast are musts! I also adore The Butcher's Daughter (19 Kenmare St; thebutchersdaughter.com) for healthy vegan eats in a sunny, rustic chic ambiance.
The Smile (26 Bond St; thesmilenyc.com) is super cosy in the colder months and you can expect to see well-dressed hipsters and possibly a famous clothing designer or artist here.
On the lower east side, I'm positively in love with Dimes (143 Division St; dimesnyc.com), a teensy, charming place that serves açai bowls and fresh salads, as well as a pulled-pork sandwich that's worth every calorie.
In the West Village, Ellary's Greens (33 Carmine St; ellarysgreens.com) is a sunny spot for a casual, organic and healthy lunch – then spoil yourself with the best gelato in the city down the block at Grom (233 Bleecker St; grom.it). Café
Cluny (284 West 12th St; cafecluny.com) is also a neighbourhood staple with beautiful botanical décor.
And the shopping continues…
Consignment stores are great if you're looking for more current season pieces at discount prices. SoHo and NoLita are my favourite spots – you can find recent season items from brands like Proenza Schouler, Alaïa and Derek Lam in excellent condition.
Roundabout Couture (31 East 72nd St; roundaboutcouture.com) stock an incredible selection of new/overstocked designer duds.
They have a great variety of brand-new-in-the-box shoes (Lanvin, MM6, Jimmy Choo etc.), as well as impressive gowns, outerwear, ready-to-wear and a wide selection of Chanel accessories.
And the occasional vintage piece; I once found an incredible pleated, beaded gown from a 1960s Parisian designer that I wore to a wedding in Monaco.
Roundabout Resale around the corner is great for handbags and they specialise in Chanel and Hermès.
If I'm looking for something a little quirky but stylish, I go to
Maison Jadis in SoHo (107 Crosby St; facebook.com/maisonjadis) has brilliant '60s and '70s pieces, lots of prints and bright colours in a small, organised space. I've also found a number of fun pieces at Beacon's Closet (beaconscloset.com) – especially the Union Square and Williamsburg locations. It's dirt cheap, but it's very hit and miss and you've gotta dig.
The best places for a retail therapy debrief?
I love sitting at the bar at Buvette (42 Grove St; ilovebuvette.com) or Gottino (52 Greenwich Ave; gottinony.com) in the West Village for a glass of wine and nibbles.
The Library at the Marlton Hotel (5 West 8th St; marltonhotel.com) is perfect in the wintertime because of its fireplace, and it also draws a hip crowd.
If you're hungry, move to the covered garden, which serves a full menu rife with delicious and healthy options.
If you're in the mood for a splurge, Mas Farmhouse (39 Downing St; masfarmhouse.com) is one of the best meals you can find in the city.
If you're in the East Village, Third Man (116 Avenue C; www.thethirdmannyc.com) is awesome for cocktails and The Mermaid Inn (96 2nd Ave; themermaidnyc.com) has delicious seafood, a lovely garden and a great oyster happy hour on weekdays.
The Little Prince in SoHo (199 Prince St; littleprincesoho.com) is a sweet spot for grabbing a bite and a glass of wine, especially if you can snag one of the three outdoor tables.
The Nomad (1170 Broadway & 28th St; thenomadhotel.com) is a bit out of the way, but offers a darkly luxurious dining room as well as a cosy library bar, perfect for a glass of red or a Manhattan.
Sophie's Address Book
A personal shopper and stylist with years of fashion industry experience.
How would you describe your style?
I've become more classic with age, but I always want to have something quirky in my outfit – whether it's the shoes, bag or a top with a print. I love colours and prints. I would say that my style is feminine with a dash of retro and a dash of trend.
I have quite a few vintage gems in my wardrobe; both things that I found and things I've stolen from my mum's wardrobe; she's been saving almost all her clothes since the '70s.
The perfect place to start your shopping day?
The wonderful Five Leaves in Greenpoint (18 Bedford Ave; fiveleavesny.com) serves a fantastic breakfast.
The dinner is great too; they are open 8am–1am.
And the shopping begins…
I head over to Brooklyn Flea when it opens at 10am (Fort Green and Williamsburg; brooklynflea.com).
Founded in 2008, Brooklyn Flea has grown into one of New York City's top attractions, operating markets every weekend of the year.
It features hundreds of vendors of antique and repurposed furniture, vintage clothing, collectibles, as well as a tightly curated selection of jewellery, art and crafts by local artisans and designers, plus delicious fresh food.
Most shops in Williamsburg open at 12pm, so I take a walk to Beacon's Closet (10 West 13th St; beaconscloset.com) in Greenpoint, a huge vintage store with several locations in New York.
Beacon's Closet is an experience: you can find great bargains here and also resell your own cool vintage items; it's the heart of the Brooklyn vintage scene. Brands such as J.Crew, Rebecca Minkoff and Henri Bendel are mixed with vintage from the '80s and earlier.
If I can't find what I'm looking for, Eva Gentry Consignment is a must stop for me. (371 Atlantic Ave; evagentryconsignment.com), with pieces from Prada, Dior, DVF, Alexander Wang and Marni.
In general, the labels tend to skew arty (think Maison Martin Margiela), and everything is organised by colour, which is great for novice vintage shoppers.
Fox & Fawn (570 Manhattan Ave; shopfoxandfawn.com) is a small buy-sell-trade and designer vintage store that features a highly edited selection of vintage and gently used modern designs with a focus on designer and streetwear.
Next it's time for some vintage shopping in Williamsburg! One of my favourite places is the Antoinette store (119 Grand St; antoinettebrooklyn.com).
Small but well curated, this vintage shop is named after the proprietress' mother who worked in the fashion industry for the well-known NYC-based French milliner, Lilly Daché.
In 2011, it was outfitted with all her cherished finds, and now also stocks men's clothing, local designers and gifts.
Time for a pit stop for lunch?
Vintage shopping requires a lot of energy, so I stop for lunch at St Balmain in Williamsburg (178 North 8th St; stbalmain.com), which has a great patio in the back.
They have the most amazing avocado sandwich! You can also make your own doughnut in true hipster style. And when in Greenpoint, I sneak into Café Grumpy (193 Meserole Ave; cafegrumpy.com) for a quick coffee. With its own roastery, Grumpy is a legendary coffee shop with several locations in New York.
And the shopping continues…
After lunch, I head to one of the best high-end designer vintage stores in New York: Amarcord (223 Bedford Ave; amarcordvintagefashion.com).
They have a fantastic selection of pieces ranging in era from Victorian to the 1990s, with a focus on mid-century, and feature famous labels as well as great undiscovered manufacturers.
The owners specialise in 'upscale European vintage' so there are incredible labels and unusual finds with prices to match.
Just around the corner is another great store, Malin Landaeus (157 North 6th St; malinlandaeus.com), with a great selection of shoes and boots.
Malin's store is where stylists go to hire dresses and outfits for shoots, and you can hire outfits for events too. I also usually pop my head into Glamour (107A North 3rd St; aboutglamour.net), a Japanese-owned and operated vintage clothing store.
Here you'll find dead stock Vivienne Westwood and other high-end brands, along with quirky accessories (socks and jewellery) and Japanese stationery and stickers. There's a nice selection of men's clothes as well.
The last stop is Narnia Vintage (161 Rivington St; narniavintage.com) which sells both designer vintage like Miu Miu and Marni together with gems from the '50s and forward. They try to focus on pieces in natural fibres.
The best places for a retail therapy debrief?
To finish my day in Brooklyn in style I meet up with some friends at my favourite place, Wythe Hotel (80 Wythe Ave; wythehotel.com).
The rooftop bar offers a fantastic view of Manhattan and its restaurant Reynard has great atmosphere and food.