Review: The Ludlow Hotel, New York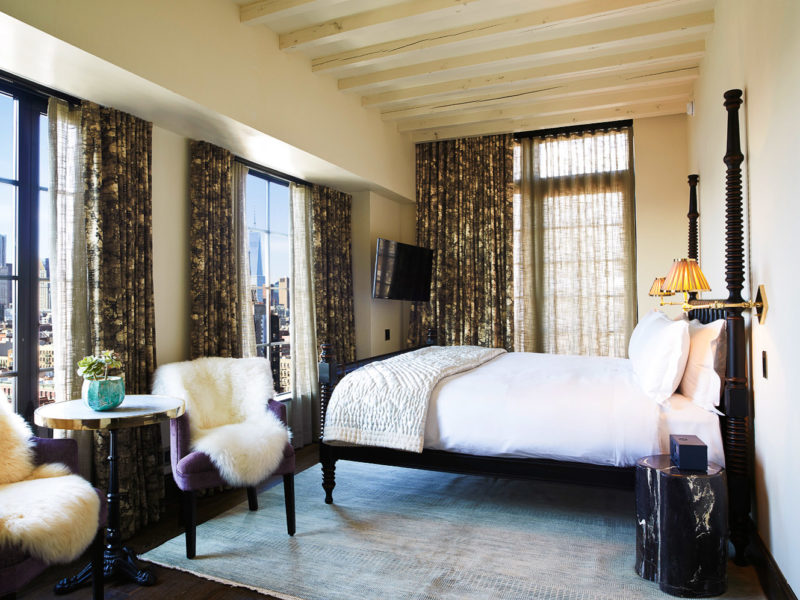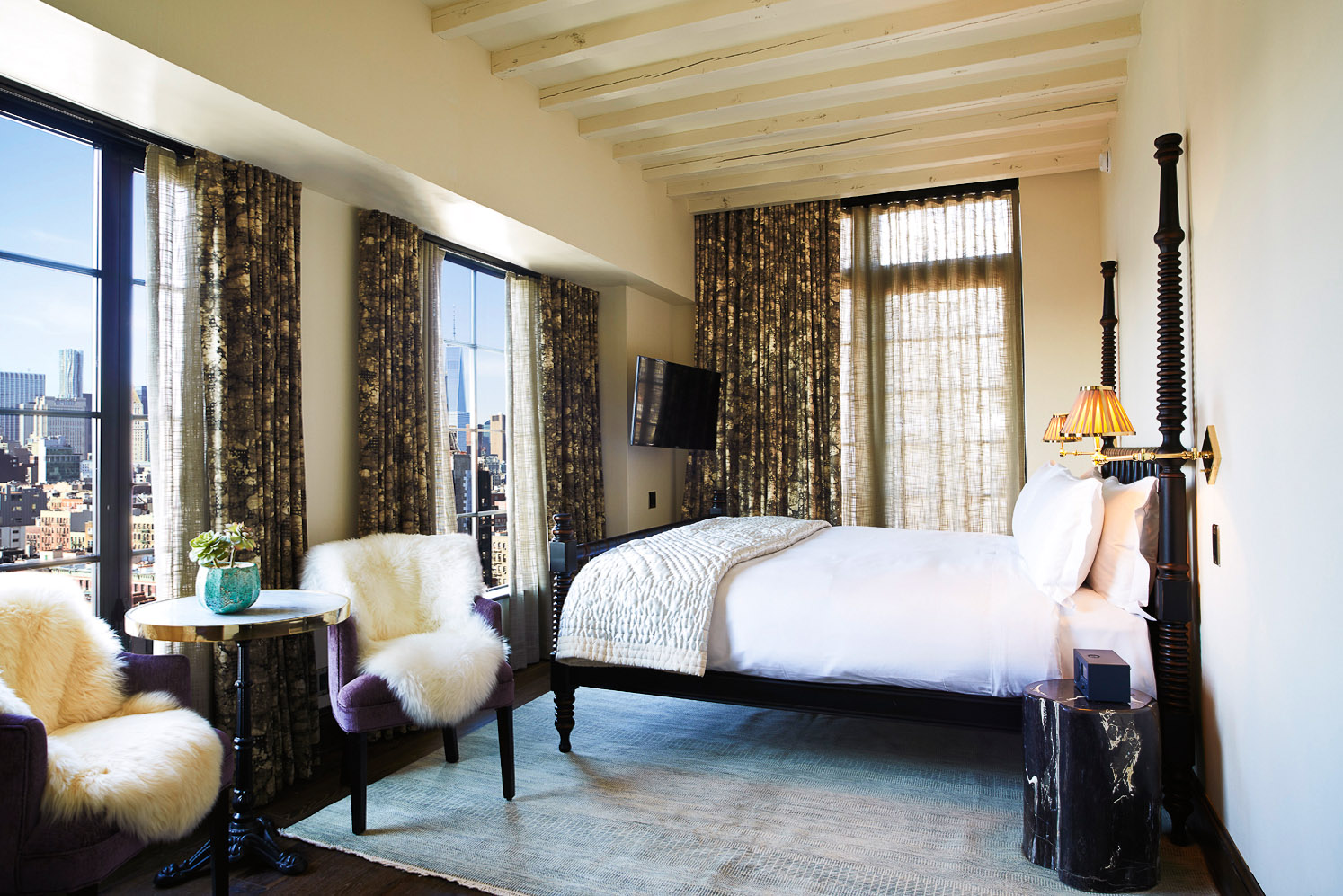 Great hoteliers make a guest's experience easy and The Ludlow in New York's Lower East Side is a standout example of seemingly effortless chic. Quentin Long was the lucky writer we paid to check in.
Hell yeah, this is what a New York City hotel should be: sexy, contemporary and effortless.
Set in the epicentre of the buzzy, grimy, gritty Lower East Side, The Ludlow Hotel is one of the greatest additions to New York this decade.
From the purposefully curated design aesthetic to incredible dining, an excellent bar, and an even better night's sleep, this is the perfect package.
If you are up for a real 'New York experience' – shopping, seeing a museum, hitting a few bars, having a great meal, hitting a few more bars, falling into bed at 2:00am, getting up at 10-ish, having brunch, then heading out to do it all again – then this is your new favourite hotel.
Set on the eponymous Ludlow Street, it's in the very heart of the very 'now' Lower East Side. Once the Jewish ghetto of Manhattan, it has become the epicentre of a dining and bar revolution that attracts young professionals living their busy New York lives.
Checking in to The Ludlow is simple, which, in fact, means that it's been very carefully planned.
I was given assistance by a fashionably dressed receptionist-cum-doorman as soon as I stepped out of my cab, who then proceeded to give me an excellent itinerary for the weekend. Enthusiastic, professional and smooth, his passion for making my stay the absolute best was palpable and very much appreciated.
The pedigree of The Ludlow experience is not an accident. New York hoteliers Sean MacPherson and BD Hotels, responsible for such chic abodes as The Bowery and The Maritime among others, are behind the hotel.
I wander up to my studio room with 'New York shoebox' expectations to find a beautifully designed space: a small hallway leads to a gorgeous four-poster bed filling a small but far from tiny room.
The furnishings are all carefully chosen to make the most of the hotel, the building and the 'hood. The huge industrial black-iron windows that allow plenty of natural light into the room are a key to the success here.
A Bellini Italian throw on the bed gives the space a burst of colour, while a purple velveteen chair in the corner with a lambskin rug adds texture and warmth to the whole environment.
The lighting is a dramatic show-stopper. A huge bell-shaped fitting hangs from the ceiling casting a golden glow over the room, while all the other lighting options (bedside, desktop…) are easily subdued and managed.
The in-room amenities are also fantastic: there's a cute little mini bar with everything you'd want (the power adaptor was appreciated), two USB plugs charge devices where you would expect them right next to the bed-head, and a sideboard in the hallway caters for keys, cameras, tickets, maps and other pocket detritus.
There's also ample space under the bed to put your luggage, and a decent wardrobe. The room easily avoids being cluttered within minutes of unpacking.
It's functional, cute and thoughtful; it works well and is beautifully realised.
If there's one failing it is that the shower room is a shocker, but it's my own bad fortune that it is so.
I happen to be in a disabled room and while the shower is unfortunately a bit of a dribble, the lack of a shower screen is challenging; it looks like my three- and four-year-olds have been let loose in the bathroom by the time I am finished.
Avoid this room if you can, but don't let this 'challenge' stop you from checking in to this lovely establishment altogether.
Public spaces are crucial to having a convenient but incredible stay. Dirty French, the classic-but-modern bistro is the hottest restaurant in New York when I check in and a table doesn't become available until 11:30 that night. That's hot.
Burgundy banquettes line the walls for a romantic meal, while painted brick, wood panelling and red drapes give the space either a bordello or vintage chic vibe depending on your perspective.
All the Gallic classics – tartare, duck à l'orange, salmon maison – are present on the menu, but served with a Moroccan (although they describe it as modern) twist.
The tuna tartare comes with a beautifully thin but spicy crêpe that absolutely kicks off the zesty fish.
There's a hint of Moroccan spice, cumin and a preserved orange with the duck à l'orange. It's worth noting that Dirty French also supplies the room service.
After dinner, the lounge bar has some signature cocktails and is absolutely heaving well into the night with beautiful people.
Overall, The Ludlow is the perfect package for anybody who wants to have a big New York experience without the typical New York shortcomings.
DETAILS
The Ludlow Hotel
180 Ludlow St, New York, NY 10002
+1 212 432 1818
ludlowhotel.com
The IT Verdict
This hotel is perfect for dropping in on a few icons, shopping and then enjoying the best of the Lower East Side.
Location = 9/10
It's right in the heart of the Lower East Side, a hip and happening place.
Style/character = 9/10
Considered and crafted, the public areas and rooms are incredibly cosy.
There is a great buzz and sense of exclusivity.
Service = 8/10
Generally attentive, but sometimes the doorman missed you.
Rooms = 8.5/10
A glorious and smart design to maximise space.
Food and drink = 9/10
Dirty French made the New York Times' top 10 new restaurants in 2014.
Enough said.
Value for money = 8/10
We paid $480; a lot of money, but it was a fantastic New York stay.
It's well worth it for a special occasion.
LEAVE YOUR COMMENT