Bold and the Beautiful: Behind Brooklyn's Art Scene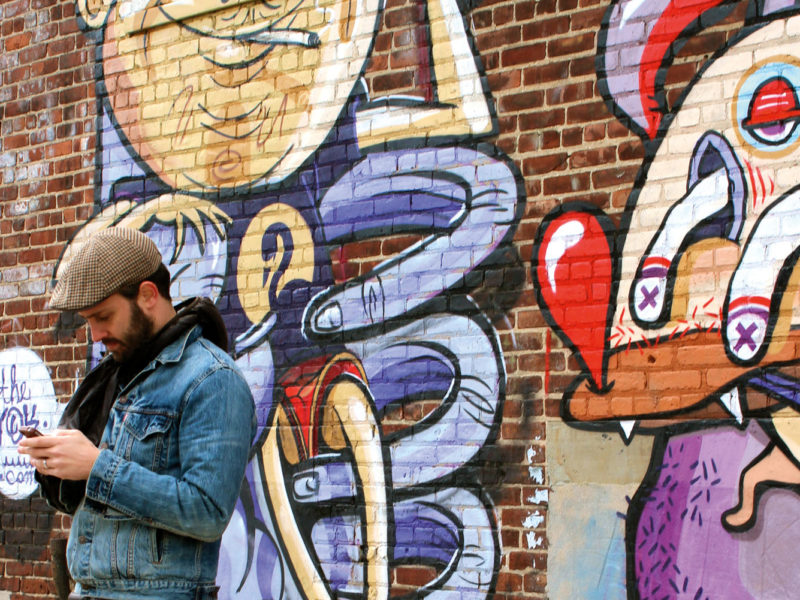 From suicidal owls to larger-than-life Space Invaders characters, Brooklyn's street art scene is colourful, creative and cutting-edge. Natasha Dragun takes in the borough's boldest designs through her lens.
It's 2am and Never is putting the finishing touches on a long wall of purple and charcoal. The street artist doesn't have to sneak around – his murals are all above board. But he's working with his friend Eras and they want to finish their piece before daybreak. "It's a legal wall, but during the day we'll be hassled by cops every hour," says Never, an Atlanta native who relocated to Brooklyn. And you can bet that he's not the only artist up in the early hours of the morning, colouring the streets of New York's hippest borough.
So powerful was the graffiti movement that took root in the city in the 1970s and '80s that it spawned a new American art form. But for decades it was unauthorised and illegal, leading to an underground scene of highly ephemeral tags. It has only been in recent years that official 'shrines' to street art have emerged across the city, many of them in Brooklyn, and many of them commissioned and city-supported.
Passionate Flatbush local Matt Levy has seen the borough's streets transform from grungy, avoid-at-all-costs throughways, to the works of art that they are today. "Cheap rent attracted artists to industrial Williamsburg and Bushwick," he says, "which reinvented the neighbourhoods as creative hotbeds."
Wildly moustachioed and with a quirky style that he describes as "self-consciouslessness," the knowledgeable 30-something leads off-beat tours through his family's company, Levys' Unique New York. Some tours are dedicated to hip-hop history in the Bronx; others see you sampling sandwiches in Hell's Kitchen.
"I've been guiding street art tours through Brooklyn for a decade," he tells me when we meet up in Williamsburg. "And every time I take a group through the area, I spot something new. That's the great thing about this type of art – it's always changing." Strolling along Bedford Avenue we glimpse an eight-bit video game-themed mosaic by French artist Space Invader that Levy has never seen before. "That must have gone up overnight," he mutters. Although I'm not sure how it 'went up' exactly; it's at the top of an eight-storey apartment building, in a position that no ladder could reach. "These are the mysteries of street art," Levy shrugs.
But as fast as they are created, they're destroyed, as evidenced recently in Queens, a few blocks north. The 5 Pointz building here made newspaper headlines when the owners whitewashed its walls in preparation for demolition. That meant losing some 1500 pieces of street art by more than 300 artists from around the world – 30 years of New York street art history erased overnight.
But back in Brooklyn, the opposite seems to be occurring, and savvy entrepreneurs are actually commissioning artists to brighten the walls of their factories and warehouses, the ideal canvases for street art. Off Bedford, Levy leads us to a wall designed by Iranian stencil artists Icy and Sot. The brothers from Tabriz are on a "creative crusade to dismantle pre-conceived perceptions of fleeting Iranian tradition" through works that re-imagine war, peace, hope and despair. Their Dream piece, depicting a young boy tentatively taking steps toward his future, decorates the side of the Rappaport Sons Bottle Company – the family commissioning the brothers to brighten their warehouse.
Levy also points out works by Belgian artist ROA, whose calling card is sleeping or dead animals. We spot a trio of black-and-white raccoons that take up an entire wall; nearby, ROA has also added a long-necked ibis to a weathered former rope factory. Both murals were created from the perch of a cherry picker, using only ROA's practised eye, his spray can and a confident hand. Like his contemporaries, ROA got his start spraying lettering and tags illegally, before realising that his talent was "sketching with a can". He has since taken his works all over the world, from Mexico to Australia – having been commissioned to sketch a giant numbat on a wall in Fremantle in 2011.
And then there are Never's works, which are instantly recognisable. Drugged up, depressed and recovering from knee surgery in hospital, the artist drew a sad little handicapped owl – that owl has since become his signature motif and appears across Brooklyn; sometimes on crutches, other times trapped in a jar, always crying. More often than not, the owl comes with a price tag designed into the art work: $1.28, allegedly the date that Never's ex-girlfriend broke off their relationship.
A short metro ride takes us to Bushwick. "This could be Brooklyn's street art Mecca," says Levy. Not so long ago, the outlook here was grim: the streets were dirty, graffiti was endless. Today, the neighbourhood sees light industry nudging up against row houses and apartment buildings; new bars and cafés are opening, and there are brew houses and yoga studios. We pass Bodega, popular for its pressed sandwiches and 14 rotating beer and wine taps, before stopping for lunch at Roberta's, the city's hottest pizza joint, which occupies an old ball-bearing factory. The alcohol is free-poured, the pies come topped with horseradish and broccoli rabe, there's a rooftop hydroponic garden, and DJs spin from the on-site internet radio station, operating from a shipping container.
Around the corner, entrepreneur Joe Ficalora has established the Bushwick Collective, an eye-popping array of street art on and around the property of his family's steel fabrication business. More than 50 multicoloured murals have transformed a swath of buildings into a vast outdoor gallery anchored at the intersection of Troutman Street and Saint Nicholas Avenue. It's only two years old, but the Collective already has a waiting list of artists wanting to contribute. "If you show up unannounced," Ficalora says, "you won't get a wall."
Once rusted, tagged-up spaces are now a vivid collage of tribal masks and African patterns; a Kill Bill-esque scene reaches three storeys high; there are unicorns and cartoons; there's also a portrait of Ficalora's mother who passed away in 2011. The works come courtesy of well-known street artists including Ven, Reka, Wise 2 and Solus, with a range of styles rarely seen in one place. There's no Banksy, although the pseudonymous British artist does have a piece a couple of blocks away – it's now under plexiglass to be preserved after Banksy haters tagged over it. (During his recent residency in New York, Banksy also threw his weight behind the preservation of the 5 Pointz building, to no avail.)
Levy leads us on to Fine & Raw, where chocolate is manufactured from beans to the bar. The company's cacao is sourced from Madagascar to Bolivia, infused with flavours such as chipotle, agave, jalapeño and sea salt. "This neighbourhood is so inspirational," says server Ryan, whose name tag reads 'Chocolate Fairy'. "It's the natural place for arty people and companies."
Indeed, even creative hoteliers are settling in the area. Occupying a converted 1901 factory on the waterfront a block from the East River, the Wythe Hotel opened here in 2012, its rooms designed with leather sofas, unfinished brick and pedestal tubs. We join a queue of hipsters to get to the rooftop bar; the wait is worth it. Sipping Monster Ale as the sun sets, we're rewarded with shimmering views of the Manhattan skyline. I peer over the edge of the building, hoping to spot street artists at work. It's too early for Never and Eras to be roaming the alleys below, but in another hour or two the cherry pickers will be out in full force.
DETAILS
The tour
Private tours are personalised, so prices and details change accordingly. A two-hour walking tour like Graffiti to Galleries: Brooklyn Represent! starts from $222 for one person and $610 for eight people.
Where to stay
The Wythe Hotel has 70 rooms with poured concrete floors, exposed bricks, custom toile wallpaper and subway-tiled bathrooms. Stellar skyline views can be enjoyed from the rooftop bar The Ides, and in-house restaurant Reynard comes courtesy of the team behind hip NYC hangout Marlow & Sons. Rooms start from $198, including taxes.
LEAVE YOUR COMMENT