Cronuts to crack pie: how to eat all the desserts in NYC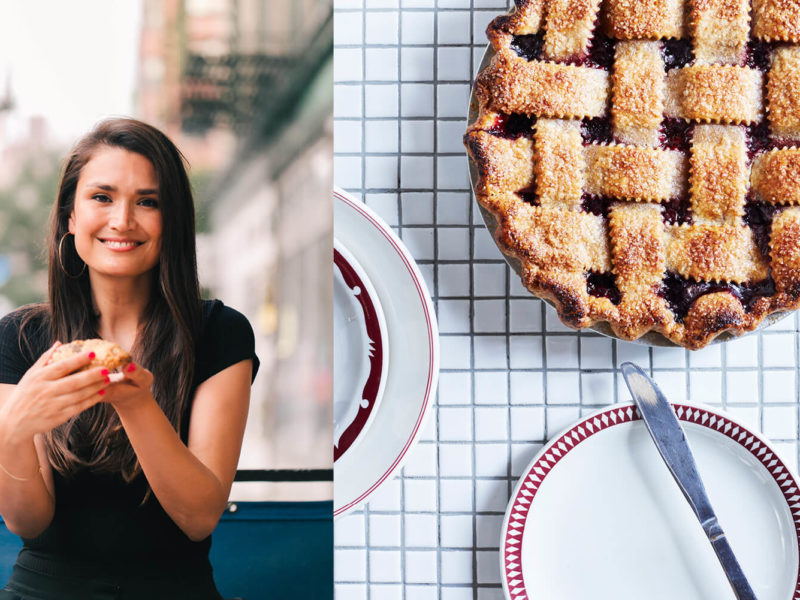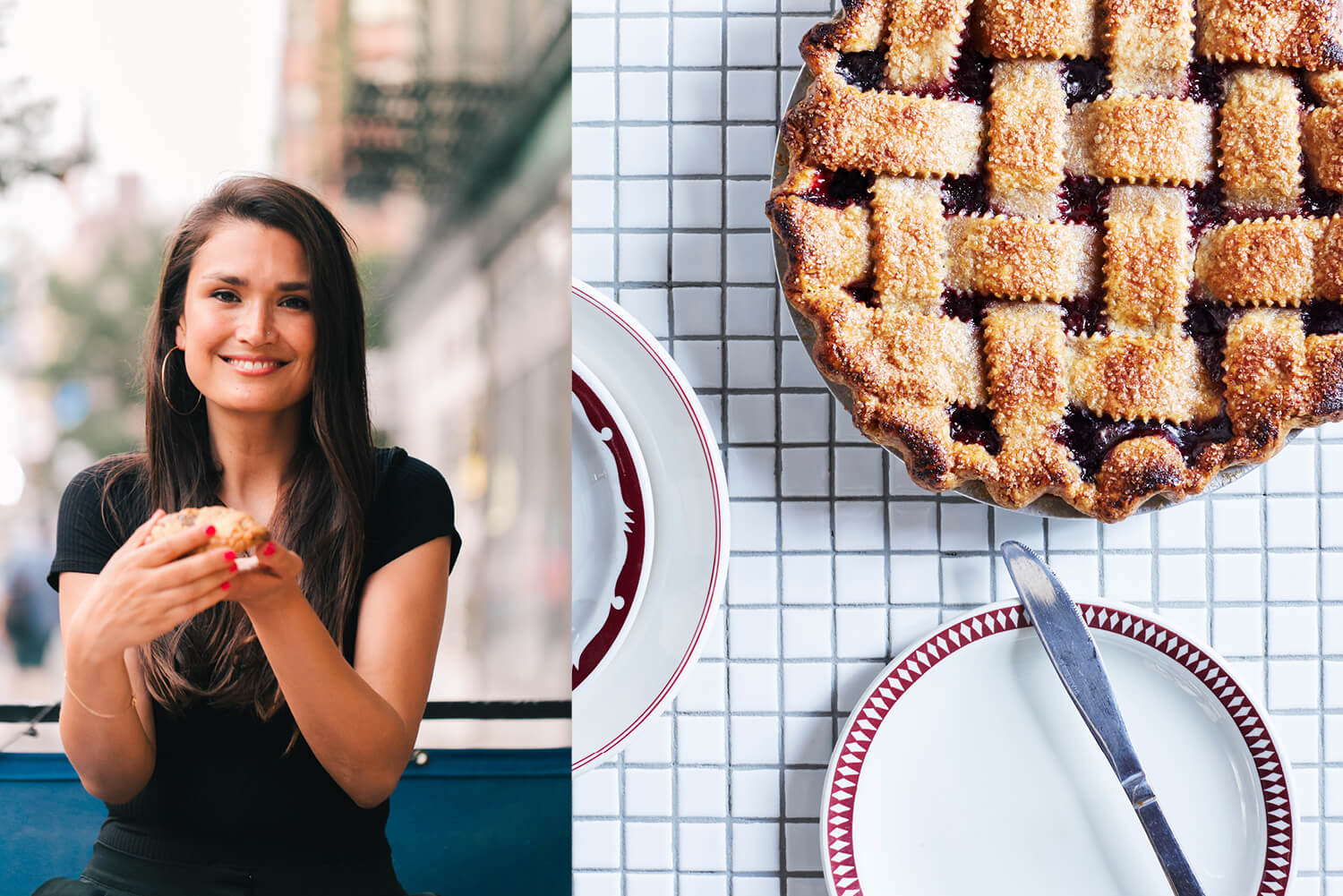 One city. Three months. 373 desserts. Sound sweet?
Yasmin Newman's sugary sabbatical is captured in her new book, The Desserts of New York. Here, she reveals how you too can eat them all and clues us on to her favourite finds (salty honey pie, anyone?).
What drove you to tackle the momentous task of attempting to eat all the desserts in New York?
Would you believe this wasn't my first overseas dessert spree? Every few years, I try to take a 'food sabbatical', i.e. several months immersing myself in a new city or country through its food. The first was the Philippines and inspired my previous book, 7000 Islands: A Food Portrait of the Philippines. The second was France, where I staged (work experience) at sweet venues across the country, learning the trade, and spent three weeks in Paris eating my way through the city's incredible patisseries. It was a dream.
When my husband and I spoke about another sabbatical, this time in New York to visit my brother, the idea of doing the same – only bigger, more structured and writing a book about it – was too hard to resist. For years, I'd watched on as New York raised its sweet game with creations like cronuts, crack pie, compost cookies and more, and chefs like Dominique Ansel and Christina Tosi dreaming up all these wild new desserts. Each time we visited my brother, I only managed to scratch the surface of all the desserts I wanted to try and I longed for a real seat at the table. So before our second child arrived, we decided to do it – move to New York for three months and eat every single dessert (or at least try – I managed 373). Indulgent? Yes. The best time of our lives? One hundred percent. I also saw parts of NYC I never would have had I not followed a random trail of sweet crumbs all across the city.
We know it's hard to choose, but if you had to, what would be your top dessert picks?
It is! These are among my top 10:
1. Levain Bakery – The best cookies you will ever try. Full stop. They're mega, weighing in at over 150 grams, more mound than disc – like half a baseball – and so wonderfully gooey. Make sure to try all four flavours. 167 W 74th Street, New York (UWS), plus other locations.
2. Ample Hills Creamery – New Yorkers love ice cream and the selection is second to none, from Van Leeuwen and Ice & Vice to Big Gay soft serve. But my favourite is Ample Hills with its big playful flavours, like Snap Mallow Pop (marshmallow ice cream studded with Rice Krispie clusters), made with all artisan ingredients. 305 Nevins Street, Brooklyn (Gowanus), plus other locations.
3. Four & Twenty Blackbirds – Over in Brooklyn you'll find a few dedicated pie shops turning out some mean US Southern-style pie. Butter & Scotch and The Blue Stove are also favourites, but I had a special moment when I tried Four & Twenty Blackbirds' salty honey pie – it was the perfect marriage of sweet and salty housed in the most incredibly flaky pastry. 439 3rd Avenue, Brooklyn (Gowanus), plus other locations.
4. Breads Bakery – It's famed for its Nutella babka – flaky brioche decadently swirled with Nutella – and it's good, really good. But the real secret is the chocolate rugelach, aka mini croissant-like pastries laminated with chocolate ganache. They're like little mouthfuls of heaven. 18 E 16th Street, NewYork (Union Square), plus other locations.
Did you get dessert fatigue at all during your quest?
I'd be lying if I said never, but I surprised even myself how much I loved – and could hack – eating dessert 24/7. Once I allowed myself, it was almost easy (please note I knew it wasn't healthy and there was an end point in mind!) It wasn't fatigue I suffered from so much as an overstimulated palate: eating in such succession offered little time to truly appreciate how delicious each dish was, and sometimes made amazing desserts appear average by comparison. Luckily, I had a crew of taste testers with me (my husband, brother, daughter, best friend, mother and more) at various points in the trip, who pointed out when something was worthy of more praise!
Which is your favourite NYC neighbourhood and why?
Oooh, that's a tough one too. My love for New York neighbourhoods just about matches my love of its sweets – each neighbourhood has such enchanting characteristics and a distinct feel, and there are so many to choose from. In Manhattan alone, there are 80 – give or take (the boundaries are always changing, and new ones cropping up).
It could be that I lived nearby, but I have to say East Village. It's a fantastic mix of eclectic, gritty and urban (the street art is incredible, as are the vintage clothing shops) as well as a hotbed of cool restaurants. It's also home to micro neighbourhoods, like Little Tokyo (East 9th Street) and Little India (East 6th Street), and every narrow shop space is filled with something completely different to the adjoining one. There was always so much to see and something new each time. Oh, and it was home to some of my favourite sweet venues, including Big Gay Ice Cream and the original Momofuku Milk Bar.
What's your favourite recipe from the book?
Again, I can't call one, but I do madly truly deeply love my 'chocolate crack pie'. It's inspired by NYC's love of sweet crack: something so addictive you just can't stop eating it. Christina Tosi first coined the term for her crack pie – a delicious smash-up of oat cookie base and ooey gooey buttery brown sugar filling – and now crack-like creations can be found across the city. My pie takes salted crackers, drenches them in melted butter and sugar, and bakes until caramelised, then breaks the crackers into crystalline shards to form a crunchy pie shell. It's filled with chocolate custard that's cooked until just set, then topped with salt flakes to set it all off. It is SO good.
Who was the most sugar-crazed character you met on your quest?
I'm generalising, but Americans are great talkers. So imagine a passionate NYC baker, patissier or ice cream maker amped up on sugar! There were quite a few. However the person who left the biggest impression on me was perhaps Maury Rubin of The City Bakery. We chatted for more than an hour about everything sweet in the city – how New York's sweet traditions go back over a century, the migrant influence, how neighbourhoods had changed over the decades, the first-wave bakery revival in the early '90s that The City Bakery was part of, the fantastic effect of Union Square greenmarket and the proliferation of farmers' markets all across the city, and how all these elements have shaped New York desserts today. For a history and culture nerd like me, it was fascinating. I should also add that I was eating the bakery's famed pretzel croissant and hot chocolate all the while (also one of my top 10 faves!).
Do you have another city in mind whose desserts you'd like to conquer next?
The obvious one is Paris. Yes, I've done it before, but not like I did in New York, so I have to do it again properly, right? Its desserts are genuinely out of this world (I'm not calling favourites, New York!). I also like the idea of Tokyo. It must also be noted that Sydney's desserts are becoming one to contend with, too.
This is an edited extract from The Desserts of New York by Yasmin Newman published by Hardie Grant Books, RRP $39.99, available in stores nationally.
How to eat them all
1. BE DEDICATED – Divide your time in New York by the number of desserts you want to try. This is your daily goal.
2. CREATE A GOOGLE MAP – Plot your hit list of venues, then access it via your phone. It's directions, notebook and nearby dessert locator in one, and will become your most valued tool.
3. WORK SMART – Choose a neighbourhood, block out the afternoon and check out all the sweet spots in one hit. Repeat.
4. SEIZE SPARE MOMENTS – Watching the Nicks at Madison Square Garden? Detour past Shake Shack. Walking home? Hey, there's dessert down the road. Your venue map becomes particularly handy here (see page 20).
5. CHECK HOURS OF OPERATION AND MENUS FIRST – Most restaurants have a different lunch and dinner line up, with the signature typically on at night only. Dessert disappointment is the pits.
6. GO OFF PEAK – Arriving before the shop opens, or making a restaurant reservation for late lunch, early dinner or late at night minimises wait time and greatly increases your chance of getting a seat. Also consider deep winter and high summer when queues actually cease to exist.
7. DINE SOLO – You can often get a single spot at the counter/bar, and without a reservation. Dessert is the only friend you need.
8. OR BRING SOMEONE – You can cover more sweet ground between two (or more) and the memories are really neat.
9. DRESS WISELY – Baggy clothes are your allies. And avoiding scales helps. Also, don't think about the calories. You can diet when you're dead.
10. BE CONSUMED – Devour Eater, Time Out, Serious Eats, Grub Street, New York Magazine, The New York Times and more, and get recommendations from local dessert lovers. In the ever-evolving sweet landscape that is
LEAVE YOUR COMMENT